Abstract
A quadrupole inductively coupled plasma mass spectrometer (Q-ICP-MS) has been used for determination of lead in plant materials using isotope-dilution inductively coupled plasma mass spectrometry. The accuracy of the method was demonstrated by analysis of a matrix certified reference material, NIST SRM 1547 Peach Leaves. Specific instrumental parameters of Q-ICP-MS, including isotope analysis mode, integration time per point, number of points per mass, and number of measurements, were optimized to obtain the best measurement precision. The precision (expressed as relative standard deviation) associated with replicate measurement of the 208Pb/206Pb isotope ratio and its mass-bias correction factor was <0.2%. Following "Example A7" of the Eurachem/CITAC Guide, the relative expanded uncertainty, U rel, (coverage factor k = 2) was found to be ±1.1%, which fulfilled the target value of ±2% maximum and was lower than the uncertainty of ±3.4% reported by NIST based on isotope-dilution thermal ionization mass spectrometry. Sample recovery of 99% was obtained.
Access options
Buy single article
Instant access to the full article PDF.
US$ 39.95
Tax calculation will be finalised during checkout.
Subscribe to journal
Immediate online access to all issues from 2019. Subscription will auto renew annually.
US$ 79
Tax calculation will be finalised during checkout.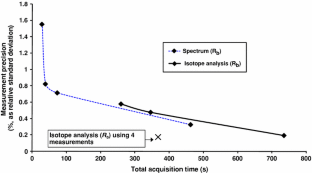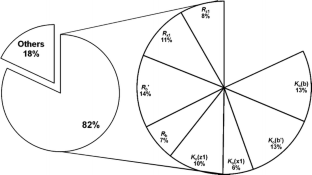 References
1.

Eurachem/CITAC Guide (2000) Quantifying uncertainty in analytical measurement, 2nd edn

2.

Yip YC, Chu HS, Chan KC, Chan KK, Cheung PY, Sham WC (2006) Determination of cadmium in oyster tissue using isotope dilution inductively coupled plasma mass spectrometry: comparison of results obtained in the standard and He/H2 cell modes. Anal Bioanal Chem 386:1475–1487

3.

May TW, Wiedmeyer RH (1998) A table of polyatomic interferences in ICP-MS. At Spectrosc 19:150–155

4.

De Laeter JR, Böhlke JK, De Bièvre P, Hidaka H, Peiser HS, Rosman KJR, Taylor PDP (2003) Atomic weights of the elements: review 2000. Pure Appl Chem 75:683–800

5.

Sargent M, Harrington C, Harte R (eds) (2002) Guidelines for achieving high accuracy in isotope dilution mass spectrometry. Royal Society of Chemistry, UK

6.

Aregbe Y, Taylor P (2003) CCQM-K24 key comparison. Cadmium amount content in rice. Metrologia 40:08001

7.

Henrion A (1994) Reduction of systematic errors in quantitative analysis by isotope dilution mass spectrometry (IDMS): an iterative method. Fresenius J Anal Chem 350:657–658

8.

Kragten J (1994) Calculation standard deviations and confidence intervals with a universally applicable spreadsheet technique. Analyst 119:2161–2165

9.

Quétel CR, Prohaska T, Nelms SM, Diemer J, Taylor PDP (2001) ICP-MS applied to isotope abundance ratio measurements: performance study and development of a method for combining uncertainty contributions from measurement correction factors. In: Holland G, Tanner SD (eds) Plasma source mass spectrometry the new millennium. The Royal Society of Chemistry, UK, pp 257–269
Acknowledgments
The authors are indebted to Dr T.L. Ting (Government Chemist) and Ms S.Y.K. Tam for their encouragement, advice and help. We would like to thank Mr K.K. Chan for laboratory assistance. The contents of this article do not necessarily reflect the views of the Government of the Hong Kong Special Administrative Region, nor does mention of trade names or commercial products constitute endorsement or recommendations of use.
About this article
Cite this article
Lam, J.C.W., Yip, Y.C. & Tong, W.F. Revisiting type-A uncertainties relating to the measurement of mass fraction of lead using isotope-dilution inductively coupled plasma mass spectrometry: a way of improving measurement precision and expanded uncertainty. Accred Qual Assur 13, 311–319 (2008). https://doi.org/10.1007/s00769-008-0384-8
Received:

Accepted:

Published:

Issue Date:
Keywords
Q-ICP-MS

ID-ICP-MS

Precision

Lead isotope ratios

Uncertainty