Abstract
Topographically induced Alpine regional groundwater flow systems below the unconsolidated valley fillings constitute a substantial unused geothermal resource. Within the framework of the INTERREG VB project GRETA (shallow geothermal energy in the Alpine region), we developed a method to quantify the groundwater flux of complex alpine aquifers. The basis of the study is a regional-scale hydraulic groundwater model, which is based on a 3D tectonic model of the Davos region in Switzerland. Based on data from a large pumping test, we were able to calibrate the hydraulic model and to calculate basics for various usage scenarios of energetic exploitation for the Arosa Dolomite aquifer. Favourable conditions for an energetic exploitation are related to large-scale topography differences between groundwater recharge and potential exfiltration areas in the valleys, thanks to the 3D geometry of the large-area tectonic nappe units with their root zone located within river valleys. In general, the proposed concept could be applied to manifold similar geological and hydrogeological settings of the Alpine belt.
Zusammenfassung
Regionale durch die Topografphie induzierte alpine Grundwassersysteme unterhalb von Lockergesteins-Talfüllungen stellen eine größtenteils ungenutzte geothermische Ressource dar. Im Rahmen des INTERREG VB-Projektes GRETA (shallow geothermal energy in the Alpine region) haben wir ein Konzept entwickelt, welches erlaubt, Bilanzen komplexer alpiner Aquifere zu quantifizieren. Mit Daten eines Großpumpversuches konnten wir das für die Region Davos aufgebaute Grundwassermodell kalibrieren und Grundlagen für verschiedene energetische Nutzungsszenarien für den Arosa-Dolomit-Aquifer berechnen. Aufgrund der 3D-Geometrie der großflächigen tektonischen Deckeneinheiten und deren Wurzelzone im Bereich der Flusstäler, sind die Voraussetzungen für großräumige Topographieunterschiede zwischen Grundwasseranreicherungs- und potenziellen Exfiltrationsgebieten in den Tälern gegeben. Grundsätzlich könnte das hier vorgeschlagene Konzept in verschiedenen Gebieten des Alpengürtels mit ähnlichen geologischen und hydrogeologischen Randbedingungen angewendet werden.
Access options
Buy single article
Instant access to the full article PDF.
US$ 39.95
Tax calculation will be finalised during checkout.
Subscribe to journal
Immediate online access to all issues from 2019. Subscription will auto renew annually.
US$ 61.73
Tax calculation will be finalised during checkout.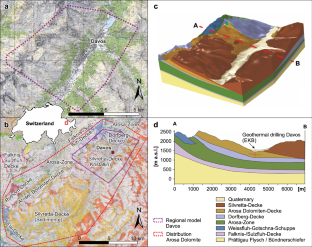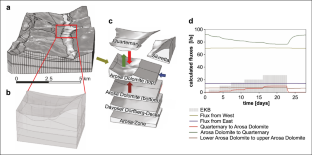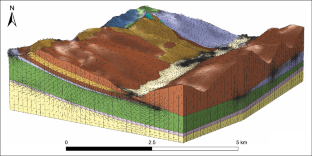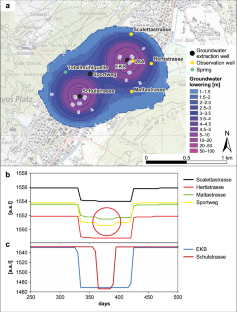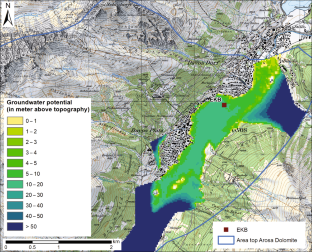 Notes
1.

Urs Eichenberger, Institut Suisse de Spéléologie et de Karstologie (ISSKA), La Chaux-de-Fonds; Adrian Pfiffner, Institut für Geologie, Universität Bern; Marino Maggetti, Département des Géosciences, Université de Fribourg; Olivier Kempf, Swisstopo, Bern.
References
BAFU: Hydrologischer Atlas der Schweiz. Geographisches Institut der Universität Bern, Bern (2015)

Butscher, C., Einstein, H.H., Huggenberger, P.: Effects of tunneling on groundwater flow and swelling of clay-sulfate rocks. Water Resour. Res. (2011). https://doi.org/10.1029/2011WR011023

Butscher, C., Scheidler, S., Farhadian, H., Dresmann, H., Huggenberger, P.: Swelling potential of clay-sulfate rocks in tunneling in complex geological settings and impact of hydraulic measures assessed by 3D groundwater modeling. Eng. Geol. 221, 143–153 (2017)

GEOTEST AG: Grundlagen der geothermalen Nutzung alpiner mitteltiefer Aquifere (GNAMA), Nutzung Erkundungsbohrung. GEOTEST AG, Davos (2017)

Groshong, R.H.: 3D structural geology: a practical guide to surface and subsurface map interpretation. Springer, Berlin (1999)

Ingebritsen, S.E., Sanford, W.E., Neuzil, C.E.: Groundwater in geologic processes, 2nd edn. Cambridge University Press, Cambridge (2006)

Kriesi, R.: Analyse von Erdwärmesondenanlagen, Abschätzung des Anteils unterkühlter Erdwärmesonden von Anlagen, die vor Einführung der SIA 384/6 erstellt wurden, Schlussbericht, EnergieSchweiz. Bundesamt für Energie BFE, Ittigen (2017)

Regli, C., Kleboth, P., Bolay, S.: Geothermische Ressourcenanalyse im Bereich des Kongresszentrums, 2. und 3. Projektphase: Erkundungsbohrung, Bohrlochmessungen und -versuche – Schlussbericht (2013)

Regli, C., Kleboth, P., Eichenberger, U., Schmassmann, S., Nyfeler, P., Bolay, St : Erste Erkenntnisse zur Prospektion und Charakterisierung des Aquifers der Aroser Dolomiten, Schweiz. Grundwasser 19(1), 29–38 (2014)

Regli, C., Kleboth, P., Krummenacher, B.: Geothermische Ressourcenanalyse im Bereich des Kongresszentrums, 1. Projektphase: Seismische Untersuchungen – Schlussbericht (2010)

Ross, M., Aitssi, L., Martel, R., Parent, M.: From geological to groundwater flow models: An example of inter-operability for semi-regular grids. Salt Lake City, Utah (2005)

Scheidler, S., Huggenberger, P., Butscher, C., Dresmann, H.: Tools to simulate changes in hydraulic flow systems in complex geologic settings affected by tunnel excavation. Bull. Eng. Geol. Environ. 78(2), 969–980 (2019)

Suppe, J.: Geometry and Kinematics of Fault-Bend Folding. Am. J. Sci. 283(7), 684–721 (1983)

Toth, J.: Gravity flow of groundwater: a geologic agent. Gravitational Systems of Groundwater Flow. Theory Eval. Util. (2009). https://doi.org/10.1017/Cbo9780511576546.005

Zanchi, A., Francesca, S., Stefano, Z., Simone, S., Graziano, G.: 3D reconstruction of complex geological bodies: examples from the alps. Comput. Geosci. 35(1), 49–69 (2009)
Acknowledgements
This work was co-financed under the NRP (SECO) through the Regional Development Fund and was accompanied by the Federal Office for Spatial Development (ARE). We would like to thank Gian-Paul Calonder (Community of Davos) and Hans-Ruedi Aebli (ANU) for their support and cooperation. For the technical input, especially in the creation of the 3D geological model, we also sincerely thank Urs Eichenberger (ISSKA). All maps have been reproduced by permission of swisstopo (BA19058).
Additional information
Publisher's Note
Springer Nature remains neutral with regard to jurisdictional claims in published maps and institutional affiliations.
About this article
Cite this article
Scheidler, S., Anders, B., Regli, C. et al. Geothermal use of an Alpine aquifer—Davos pilot study. Grundwasser - Zeitschrift der Fachsektion Hydrogeologie 24, 277–286 (2019). https://doi.org/10.1007/s00767-019-00433-y
Received:

Revised:

Accepted:

Published:

Issue Date:
Keywords
SGE (Shallow Geothermal Energy)

Regional Groundwater Circulation

Alpine Hydrogeology

3D Geologic Model