Zusammenfassung
Der Opalinuston wird in der Schweiz als Wirtgestein für die Lagerung radioaktiver Abfälle detailliert untersucht. Bei der Erstellung eines Erdwärmesondenfeldes in Lausen (Kanton Basel-Landschaft, Schweiz) bot sich die Möglichkeit, eine hydraulisch-hydrochemische Charakterisierung des Opalinustons von der Verwitterungszone bis in den unverwitterten Fels durchzuführen, um die vorhandene Datenbasis zu Dekompaktionseffekten zu verbessern und zu ergänzen. Dazu konnte eine der 146 m tiefen Erdwärmesondenbohrungen als Kernbohrung durch den oberflächennahen Opalinuston abgeteuft werden. Mit einer Serie von hydraulischen Packertests in unterschiedlichen Tiefen wurde eine Abnahme der hydraulischen Durchlässigkeit von 10−4 m/s im verwitterten oberen Bereich des Opalinustons bis 10−13 m/s ab 28 m Tiefe unterhalb der Dekompaktionszone ermittelt. Des Weiteren konnten in den dekompaktierten Bereichen verschiedene Grundwassertypen nachgewiesen werden. Auch die Strukturuntersuchungen zeigen ab einer Tiefe von 18 m das Ende der Verwitterungszone und ab 28 m das Ende des Einflusses der Dekompaktion auf die hydraulische Durchlässigkeit an.
Abstract
In Switzerland, the Opalinus Clay is being investigated in detail as a host rock for disposal of radioactive waste. To complement and improve existing data on near-surface decompaction effects, hydraulic-hydrochemical characterization of the Opalinus Clay from the weathering zone into the unweathered rock below was performed. For these investigations, one borehole of a borehole heat-exchanger field in Lausen (Canton Basel-Landschaft, Switzerland), which penetrates the near-surface Opalinus Clay, was completely cored. The hydraulic conductivity was determined by means of hydraulic tests in different depths and shows an decrease from 10−4 m/s at the very shallow weathered zone to 10−13 m/s starting at a depth of 28 m below the decompaction zone. In addition, different groundwater types could be identified. Moreover, the structural investigations indicate the end of the weathering zone at a depth of 18 m and that decompaction has no influence on hydraulic conductivity from 28 m onwards.
This is a preview of subscription content, log in to check access.
Access options
Buy single article
Instant access to the full article PDF.
US$ 39.95
Price includes VAT for USA
Subscribe to journal
Immediate online access to all issues from 2019. Subscription will auto renew annually.
US$ 99
This is the net price. Taxes to be calculated in checkout.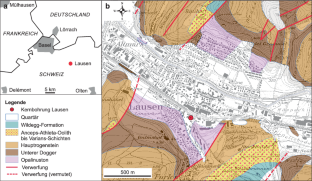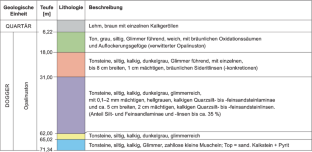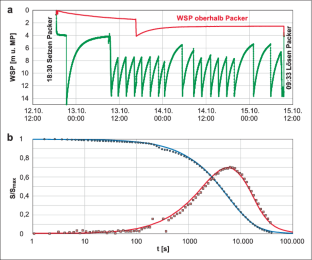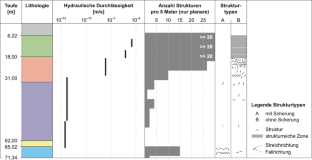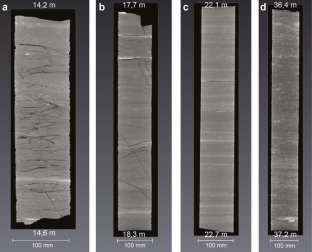 Literatur
Beauheim, R.L.: Hydraulic conductivity and head distributions in the host rock formations of the proposed siting regions. Nagra Arbeitsbericht NAB 13-013. Nagra, Wettingen (2013)

Brod, M., Heinz, M., Hekel, U.: Memory-Effekte bei hydraulischen Versuchen in Geringleitern. Wasserwirtschaft 88, 634–638 (1998)

Bourdet, D., Whittle, T.M., Douglas, A.A., Pirard, Y.M.: A new set of type curves simplifies well test analysis. World Oil, Houston TX (1983)

Cooper Jr., H.H., Bredehoeft, J.D., Papadopulos, I.S.: Response of a finite-diameter well to an instantaneous charge of water. Water Resour Res 3, 263–269 (1967)

ENSI: Spezifische Auslegungsgrundsätze für geologische Tiefenlager und Anforderungen an den Sicherheitsnachweis. Richtlinie für die schweizerischen Kernanlagen ENSI-G03. Eidgenössisches Nuklearsicherheitsinspektorat (ENSI), Villigen (2009)

Gautschi, A.: Hydrogeology of a fractured shale (Opalinus Clay): Implications for deep geological disposal of radioactive wastes. Hydrogeol J 9, 97–107 (2001)

Geologisches Landesamt Baden-Württemberg: Forschungsprojekt "Gebirgseigenschaften mächtiger Tonsteinserien". Geologisches Landesamt Baden-Württemberg, Freiburg i. Br. (1992)

Gringarten, A.C., Bourdet, D., Landell, P.A., Kniazeff, V.J.: A comparison between different skin and wellbore storage type-curves for early-time transient analysis. SPE-AIME 54th Annual Technical Conference and Exhibition. SPE-8205. Society of Petroleum Engineers, Las Vegas (1979)

Haug, A.: Feldmethoden zur Grundwasserentnahme aus Tiefbohrungen und zur hydrochemischen Überwachung der Bohrspülung. Nagra Technischer Bericht NTB 85-07. Nagra, Wettingen (1985)

Hekel, U.: Hydrogeologische Erkundung am Beispiel des Opalinustons (Unteres Aalenium). Tübinger Geowissenschaftliche Arbeiten C 18. Institut und Museum für Geologie und Paläontologie der Universität Tübingen, Tübingen (1994)

Huxol, S., Mair, C., Heidinger, M., Eichinger, F.: Interpretation der hydrochemischen und isotopenhydrologischen Analysen von Wasserproben aus dem Opalinuston einer Kernbohrung für eine Erdwärmesonde in Lausen. Nagra Arbeitsbericht NAB 16-057. Nagra, Wettingen (2016)

Ferrari, A., Favero, V., Manca, D., Laloui, L.: Geotechnical characterization of core samples from the geothermal borehole Schlattingen SLA-1. Nagra Arbeitsbericht NAB 12-50. Nagra, Wettingen (2012)

Jäckli, H.: Kriterien zur Klassifikation von Grundwasservorkommen. Eclogae Geol Helvetiae 62, 2 (1970)

Mazurek, M., Alexander, W.R., MacKenzie, A.B.: Contaminant retardation in fractured shales: matrix diffusion and redox front entrapment. J Contam Hydrol 21, 71–84 (1996)

Mazurek, M., Alt-Epping, P., Bath, A., Gimmi, T., Waber, H.N.: Natural tracer profiles across argillaceous formations: the CLAYTRAC project. NEA No. 6253. OECD Nuclear Energy Agency, Paris (2009)

Nagra: Sondierbohrung Benken Untersuchungsbericht. Nagra Technischer Bericht NTB 00-01. Nagra, Wettingen (2001)

Nagra: Projekt Opalinuston. Synthese der geowissenschaftlichen Untersuchungsergebnisse. Entsorgungsnachweis für abgebrannte Brennelemente, verglaste hochaktive sowie langlebige mittelaktive Abfälle. Nagra Technischer Bericht NTB 02-03. Nagra, Wettingen (2002)

Nagra: SGT Etappe 2: Vorschlag weiter zu untersuchender geologischer Standortgebiete mit zugehörigen Standortarealen für die Oberflächenanlage. Geologische Grundlagen. Dossier IV. Geomechanische Grundlagen. Nagra Technischer Bericht NTB 14-02. Nagra, Wettingen (2014)

Odenwald, B., Hekel, U., Thormann, H.: Grundwasserströmung – Grundwasserhaltung. In: Grundbau-Taschenbuch, Teil 2: Geotechnische Verfahren. Ernst & Sohn, Berlin (2009)

Papadopulos, S.S., Bredehoeft, J.D., Cooper Jr., H.H.: On the analysis of 'slug test' data. Water Resour Res 9, 1087–1089 (1973)

Romero, E., Gómez, R.: Water and air permeability tests on deep core samples from Schlattingen SLA-1 borehole. Nagra Arbeitsbericht NAB 13-51. Nagra, Wettingen (2013)

Theis, C.V.: The relation between the lowering of the piezometric surface and the rate and duration of discharge of a well using groundwater storage. Trans Am Geophys Union 16, 519–524 (1935)

Thury, M., Bossart, P.: The Mont Terri rock laboratory, a new international research project in a Mesozoic shale formation, in Switzerland. Eng Geol 52, 347–359 (1999)
Danksagung
Wir danken der Vorsorgestiftung der Häring & Co. AG für die Erlaubnis, die EWS-Bohrung als Kernbohrung samt Bohrlochversuchen durchführen zu dürfen. Des Weiteren bedanken wir uns bei Hansruedi Fisch, Herwig Müller, Felix Stefani, Martin Jung, Rachael Colldeweih, Daniel Rufer, Michael Lampert und Erich Binder bei der Unterstützung während der Feldarbeit. Für die lithostratigraphische Bearbeitung der Bohrkerne bedanken wir uns bei Hansruedi Bläsi und Gaudenz Deplazes und für die Erstellung der XCT Scans bei Lukas Keller.
About this article
Cite this article
Vogt, T., Hekel, U., Ebert, A. et al. Hydrogeologische Untersuchungen im oberflächennahen Opalinuston (Bohrloch Lausen, Schweiz). Grundwasser 22, 209–220 (2017). https://doi.org/10.1007/s00767-017-0363-2
Received:

Revised:

Accepted:

Published:

Issue Date:
Keywords
Opalinus Clay

Hydraulic conductivity

Hydraulic test

Hydrochemistry

Decompaction

Weathering