Zusammenfassung
Vulnerabilitätskarten sind Standardwerkzeuge zur Abschätzung der Verschmutzungsempfindlichkeit des Grundwassers. Durch die zunehmende Etablierung in praxisrelevanten Regelwerken wurden sie in den letzten Jahren zum Stand der Technik im Ressourcenmanagement. Dabei wurden von Seiten der Hydrogeologie und der Bodenkunde jeweils eigenständige Verfahren entwickelt, die das Prozessverständnis des eigenen Fachgebiets sehr gut, dasjenige der Nachbardisziplin aber nicht ausreichend berücksichtigen. Da sich von Seiten der Bodenkunde die Datengrundlage zur Bewertung der Schutzfunktion des Bodens in den letzten Jahren hinsichtlich Qualität, Flächenabdeckung und Verfügbarkeit stark verbessert hat, ist es an der Zeit, diesen Datensatz in etablierte hydrogeologische Konzepte zu integrieren. Für Baden-Württemberg wird exemplarisch ein Ansatz vorgestellt, der die bis Ende 2014 flächenhaft im Maßstab 1:50.000 vorliegende Bewertung der Filter- und Pufferfunktion der Böden in die hydrogeologische GLA- und PI-Methode integriert. Durch die neu erstellte Klasseneinteilung in der Gesamtschutzfunktion resultiert eine gleichmäßigere und aussagekräftigere Klassifizierung. Diese führt zu einer differenzierteren Wiedergabe der standörtlichen Verhältnisse und damit zu einer besseren Interpretierbarkeit der Schutzfunktion.
Abstract
Vulnerability maps are standard tools for the assessment of groundwater sensitivity to contamination. Due to their increased use in technical guidelines, vulnerability maps have become state-of-the-art tools in resource management. However, most approaches have been developed by hydrogeologists and soil scientists who incorporate the understanding of processes from their specific disciplines very well but have limitations in considering processes in other disciplines. A soil-specific database for vulnerability assessment has been significantly improved by soil scientists over the past several years and includes quality, spatial extension and availability. Hence, it is time to integrate this database into hydrogeological concepts. This work presents a vulnerability mapping approach that considers a new soil database that has been available since 2014 for the entire Baden-Württemberg region at a scale of 1:50.000, adapting the well-established GLA and PI methods. Due to the newly-developed classification scheme for the protective function, this approach provides a more balanced and meaningful classification. This leads to a distinct image of the study area and a better interpretation of vulnerability.
Access options
Buy single article
Instant access to the full article PDF.
US$ 39.95
Tax calculation will be finalised during checkout.
Subscribe to journal
Immediate online access to all issues from 2019. Subscription will auto renew annually.
US$ 61.73
Tax calculation will be finalised during checkout.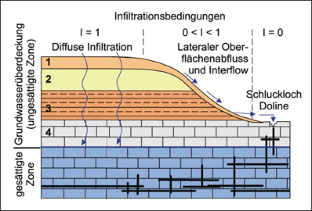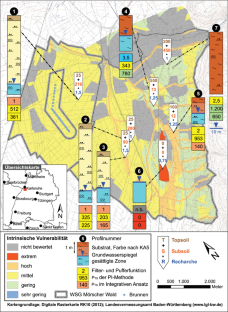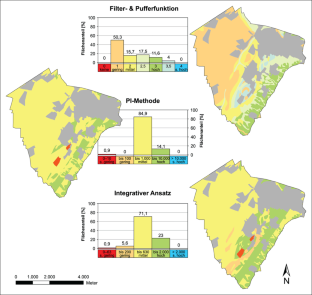 Literatur
Ad-hoc-AG Boden: Bodenkundliche Kartieranleitung (KA5), 5. Aufl., 438 S. Schweizerbart'sche Verlagsbuchhandlung, Hannover (2005)

Appelo, C.A.J., Postma, D.: Geochemistry, groundwater and pollution, 2. Aufl., S 668. A.A. Balkema Publishers, Amsterdam (2005)

Blume, H.-P., Brümmer, G.W., Horn, R., Kandeler, E., Kögel-Knabner, I., Kretzschmar, R., Stahr, K., Wilke, B.-M.: Scheffer/Schachtschabel – Lehrbuch der Bodenkunde, 16. Aufl., 569 S. Springer Verlag, Heidelberg (2010)

DIN EN ISO 14688-1: Geotechnische Erkundung und Untersuchung – Benennung, Beschreibung und Klassifizierung von Boden, Teil 1: Benennung und Beschreibung. (2013)

DVGW: Technische Mitteilung, Hinweis W 1001 "Sicherheit in der Trinkwasserversorgung – Risikomanagement im Normalbetrieb", 19 S. Bonn (2008)

Fleck, W., Fritz, C.: Digitale Bodenkarte von Baden-Württemberg 1: 50 000 – Neue Wege in der bodenkundlichen Landesaufnahme. LGRB-Informationen 25, 83–94; Freiburg i. Br. (2010)

Goldscheider, N.: Karst groundwater vulnerability mapping – application of a new method in the Swabian Alb. Hydrogeology Journal 13, 555–564 (2005)

Goldscheider, N., Klute, M., Sturm, S., Hötzl, H.: The PI method – a GIS-based approach to mapping groundwater vulnerability with special consideration of karst aquifers. Z. Angew. Geol. 46(3), 157–166 (2000)

HGK | Umweltministerium Baden-Württemberg & Ministerium für Umwelt, Forsten und Verbraucherschutz Rheinland-Pfalz: Hydrogeologische Kartierung und Grundwasserbewirtschaftung im Raum Karlsruhe-Speyer (2007)

Hölting, B., Haertle, T., Hohberger, K.-H., Nachtigal, K.H., Villinger, E., Weinzierl, W., Wrobel, J.-P.: Konzept zur Ermittlung der Schutzfunktion der Grundwasserüberdeckung. Geol. Jahrb. C 63, 5–24; Hannover (1995)

LUBW: Bewertung von Böden nach ihrer Leistungsfähigkeit. Leitfaden für Planungen und Gestattungsverfahren. Bodenschutz 23, Karlsruhe (2011)

Magiera, P.: Methoden zur Abschätzung der Verschmutzungsempfindlichkeit des Grundwassers. Grundwasser 5(3), 103–114 (2000)

Neukum, C.: Ermittlung eines Validierungsparameters zum Vergleich von Vulnerabilitätskonzepten in Karstgebieten. 154 S., Diss. Univ. Karlsruhe (2006)

Neukum, C.: Eine Übersicht zu Methoden und Anwendungen der Validierung von Vulnerabilitätsbewertungen. Grundwasser 18(1), 15–24 (2013)

Neukum, C., Hötzl, H.: Standardization of vulnerability maps. Environ. Geol. Vol. 51(5), 689–694 (2006)

Neukum, C., Hötzl, H., Himmelsbach, T.: Validation of vulnerability mapping methods by field investigations and numerical modelling. Hydrogeology Journal 16(2), 641–658 (2008)

Schwarz, M.: Evolution und Struktur des Oberrheingrabens – quantitative Einblicke mit Hilfe dreidimensionaler thermomechanischer Modellrechnungen. Diss. Univ. Freiburg (2005)

UM BaWü – Ministerium für Umwelt Baden-Württemberg: Bewertung von Böden nach ihrer Leistungsfähigkeit – Leitfaden für Planungen und Gestattungsverfahren. 57 S. Luft, Boden, Abfall 31; Stuttgart (1995)

WHO – World Health Organization: Guidelines for drinking-water quality. 595 S., Genf. Resource document (2006)

Zwahlen, F. (Hrsg.): Vulnerability and Risk mapping for the protection of carbonate (karst)aquifers. Final report COST action 620. 315 S., Resource document. European Communities, Luxembourg (2003)
About this article
Cite this article
Wirsing, T., Neukum, C., Goldscheider, N. et al. Integration der bodenkundlichen Filter- und Pufferfunktion in die hydrogeologische Vulnerabilitätsbewertung. Grundwasser 20, 97–106 (2015). https://doi.org/10.1007/s00767-014-0273-5
Received:

Revised:

Published:

Issue Date:
Keywords
Groundwater vulnerability mapping

PI method

Water resources management

Risk management

Protective function of soils

DVGW W 1001