Zusammenfassung
Der Blautopf, eine der größten Karstquellen Deutschlands, entwässert ein 165 km2 großes Einzugsgebiet auf der Schwäbischen Alb. Dort befinden sich zwei große, aktive Karsthöhlen: das Blauhöhlensystem (10 km) und die Hessenhauhöhle (3,5 km). Aufgrund deren schwerer Zugänglichkeit war über die interne Entwässerungsstruktur dieses Karstsystems bisher nichts bekannt. Im Frühjahr 2012 wurde der erste Markierungsversuch mit Tracereingaben direkt in die beiden Höhlenflüsse durchgeführt, um die Verbindung zwischen den Höhlen zu lokalisieren. Durch zwei weitere Eingaben an der Geländeoberfläche sollte die Anbindung des Einzugsgebiets an die Höhlen erkundet werden. Mittels Feldfluorimetern wurden die Tracer-Durchgangskurven im Höhlensystem beobachtet. So konnte ein dendritischer Aufbau der unterirdischen Entwässerung nachgewiesen und für beide Höhlenflüsse eigene Teileinzugsgebiete abgegrenzt werden, die jeweils etwa 50 % zur Gesamtschüttung beitragen. Neue geologisch-tektonische Befunde ermöglichten eine verbesserte hydrogeologische Modellvorstellung. Demnach liegt ein komplexes Karstsystem mit zwei Grundwasserstockwerken und hydraulischer Kontinuität durch eine bisher als weitgehend trennend geltende Mergelformation hindurch vor.
Abstract
The Blautopf ("blue pot"), one of Germany's largest karst springs, drains a catchment area of 165 km2 in the Swabian Alb. There are two large, active caves: the Blue Cave System (10 km) and the Hessenhau Cave (3.5 km). Because of the difficult accessibility, the internal drainage structure had previously been unknown. The first tracer injections directly into cave streams were conducted in 2012 to localize connections between the two caves. Two surface injections in remote parts of the catchment were aimed at investigating drainage towards the caves. Field fluorometers allowed tracer monitoring in the caves. This demonstrated the dendritic structure of the drainage network and identified two sub-catchments that each contribute about 50 % to the total discharge. New geologic-tectonic findings allowed an improved conceptual model, according to which the karst system consists of two aquifers with hydraulic continuity across a marl aquitard previously considered as impervious.
Access options
Buy single article
Instant access to the full article PDF.
US$ 39.95
Tax calculation will be finalised during checkout.
Subscribe to journal
Immediate online access to all issues from 2019. Subscription will auto renew annually.
US$ 61.73
Tax calculation will be finalised during checkout.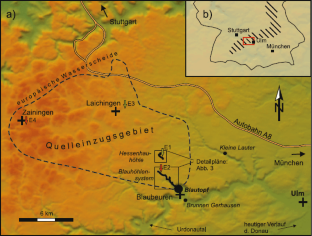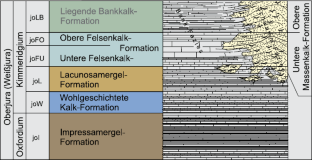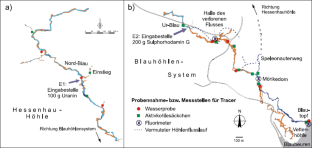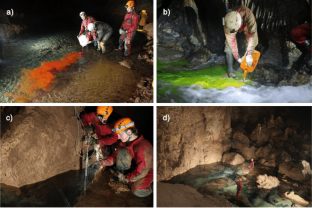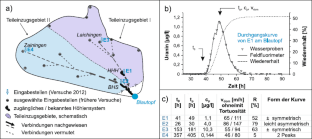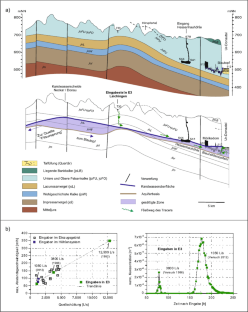 Literatur
Arbeitsgemeinschaft Blautopf: Faszination Blautopf – Vorstoß in unbekannte Höhlenwelten. 160 S.; Jan Thorbecke, Ostfildern (2011)

Armbuster, V., Selg, M.: Der Abfluss des Blautopfs im Spiegel der Grundwasserneubildung (Oberjura-Karst, Süddeutschland). Tüb. Geowiss. Arb., C 98, 1–16 (2006)

Bartenbach, M., Möbius, R., Aigner, T.: Neue Daten zur Geologie (Schichtenfolge, Fazies) des Oberjuras im Einzugsgebiet des Blautopfs. Laich. Höhlenfreund 44, 73–88 (2009)

Bartenbach, M., Ufrecht, W.: Stratigraphie und Fazies des Oberjuras im Umfeld der Blaubeurer Talschlinge – Ergebnisse einer Bohrung und Untertagekartierung im Blauhöhlensystem. Laich. Höhlenfreund 44, 89–106 (2009)

Bohnert, J.: Zum Stand der speläologischen Erforschung von Hessenhauhöhle (7524/117) und Seligengrundhöhle (7524/119) durch die Arbeitsgemeinschaft Blaukarst. Laich. Höhlenfreund 44, 37–44 (2009)

Dreybrodt, W., Romanov, D., Kaufmann, G.: Evolution of caves in porous limestone by mixing corrosion: a model approach. Geol. Cro. 63(2) (2010)

Gabrovsek, F., Romanov, D., Dreybrodt, W.: Early karstification in a dual-fracture aquifer: the role of exchange flow between prominent fractures and a dense net of fissures. J. Hydrol. 299(1–2), 45–66 (2004)

Geyer, T., Selg, M., Gudera, T., Sauter, M.: Langzeitabflussverhalten der Gallusquelle und des Blautopfs – relative Bedeutung der Matrix und des Großkluftsystems. Laich. Höhlenfreund 46, 63–74 (2011)

Goldscheider, N., Meiman, J., Pronk, M., Smart, C.: Tracer tests in karst hydrogeology and speleology. Int. J. Speleol. 37(1), 27–40 (2008)

Göppert, N., Goldscheider, N.: Solute and colloid transport in Karst conduits under low- and high-flow conditions. Ground Water 46(1), 61–68 (2008)

Hauns, M., Jeannin, P.-Y., Atteia, O.: Dispersion, retardation and scale effect in tracer breakthrough curves in karst conduits. J. Hydrol. 241(3–4), 177–193 (2001)

Kücha, A., Jantschke, H.: Zum Stand der speläologischen Erforschung der Blautopfhöhle im Blauhöhlensystem (7524/30). Laich. Höhlenfreund 44, 9–22 (2009)

Mayer, J.: Vorstellung Deß jüngst-erschienenen Cometen/… Deme beyegefügt Eine wahrhaffte Erzehlung und Beschreibung/deß im Decembri obigen Jahrs entstandenen weit-beschreyten Erdbruchs bey Blaubeyren. 56 S.; Ulm (1681)

Meiman, J., Groves, C., Herstein, S.: In-cave dye tracing and drainage basin divides in the Mammoth Cave karst aquifer Kentucky. US Geol. Survey Water Resour. Invest. Rep. 01–4011, 179–185 (2001)

Palmer, A.N.: Origin and morphology of limestone caves. Geol. Soc. Am. Bull. 103(1), 1–21 (1991)

Perrin, J., Jeannin, P.-Y., Cornaton, F.: The role of tributary mixing in chemical variations at a karst spring, Milandre, Switzerland. J. Hydrol. 322(1–2), 158–173 (2007)

Pronk, M., Goldscheider, N., Zopfi, J.: Particle-size distribution as indicator for fecal bacteria contamination of drinking water from Karst springs. Environ. Sci. Technol. 41(27), 8400–8405 (2007)

Pronk, M., Goldscheider, N., Zopfi, J., Zwahlen, F.: Percolation and particle transport in the unsaturated zone of a Karst aquifer. Ground Water 47(3), 361–369 (2009)

Regierungspräsidium Tübingen: Hydrogeologische Erkundung Baden-Württemberg, Mittlere Alb. Bd. 3: Hydrogeologischer Bau, Grundwasserhaushalt, 23 S.; Tübingen (2009)

Selg, M., Schopper, M., Straub, R.: Kurzzeitdynamik und Direktabfluss des Blautopfs (Oberjura-Karst, Süddeutschland). Tüb. Geowiss. Arb., C 98, 45–72 (2006)

Selg, M., Schwarz, K.: Am Puls der schönen Lau – zur Hydrogeologie des Blautopf-Einzugsgebietes. Laich. Höhlenfreund 44, 45–72 (2009)

Ufrecht, W.: Schichtlagerung und Bruchtektonik im Einzugsgebiet des Blautopfs und dessen Umfeld (Mittlere Schwäbische Alb). Laich. Höhlenfreund 44, 107–148 (2009)

Ufrecht, W.: Karstgenese, Karstformenschatz und Karsthydrogeologie der Mittleren Schwäbischen Alb. Jber. Mitt. Oberrhein. Geol. Ver., N.F. 93, 331–366 (2011)

Villinger, E.: Zur Karsthydrogeologie des Blautopfs und seines Einzugsgebietes (Schwäbische Alb). Abh. Geol. Landesamts Baden-Württemb. 8, 59–127 (1978)

Villinger, E.: Der Blautopf bei Blaubeuren als Beispiel für die Entwicklung des Karstsystems im schwäbischen Malm. Geol. Jahrb., Reihe C Hydrogeol. Ingenieurgeol. 49, 71–103 (1987)

Villinger, E., Ufrecht, W.: Ergebnisse neuer Markierungsversuche im Einzugsgebiet des Blautopfs (mittlere Schwäbische Alb). Mitt. Verb. Dt. Höhlen- u. Karstforscher 35(1/2), 25–38 (1989)

Worthington, S., Ford, D.: Self-organized permeability in carbonate aquifers. Ground Water 47(3), 326–336 (2009)
Danksagung
Wir danken den Höhlenforschern der Arge Blautopf und Blaukarst – insbesondere den Projektleitern Andreas Kücha und Jürgen Bohnert –, den Gemeinden Zainingen und Laichingen, der Stadt Blaubeuren, der freiwilligen Feuerwehr Blaubeuren, der Landesanstalt für Umwelt, Messungen und Naturschutz Baden-Württemberg und dem Landesamt für Geologie, Rohstoffe und Bergbau Baden-Württemberg für ihre Unterstützung. Das Projekt wurde durch die Umweltstiftung Hofbräu Stuttgart finanziell unterstützt.
About this article
Cite this article
Lauber, U., Ufrecht, W. & Goldscheider, N. Neue Erkenntnisse zur Struktur der Karstentwässerung im aktiven Höhlensystem des Blautopfs. Grundwasser 18, 247–257 (2013). https://doi.org/10.1007/s00767-013-0239-z
Received:

Revised:

Published:

Issue Date:
Keywords
Karst aquifer

Cave system

Karst conduit

Tracer test

Karst network