Abstract
A high-performance thin-layer chromatography method for the simultaneous quantitative determination of salicylic acid, kaempferol, gallic acid, and protocatechuic acid in hydro-alcoholic fractions of Cinnamomum verum J. Presl bark was developed for the first time in this species. For achieving good separation, a mobile phase of toluene‒ethyl acetate‒formic acid (5:4:1, V/V) was used. Densitometric determination was carried out at specified wavelengths for different standard compounds in reflection/absorption mode. The calibration curves were linear in the range of 100‒600 ng per spot for salicylic acid, kaempferol, gallic acid, and protocatechuic acid. During the analysis, defatted hydro-alcoholic fraction from C. verum J. Presl bark showed the presence of salicylic acid (0.098% w/w), kaempferol (0.24% w/w), gallic acid (0.01% w/w), and protocatechuic acid (0.27% w/w). The proposed method is simple, precise, specific, and accurate. The statistical analysis of the data obtained proves that the method is reproducible and selective and can be used for the routine analysis of the reported phenolic compounds in crude drug and extracts. The simultaneous quantification of these biomarkers has not yet been reported in C. verum J. Presl which may be utilized for the proper standardization of the drug. Research also provides new herbal options for different medicinally valuable secondary metabolites in polar categories with different therapeutic potentials. Exploration of bioactive metabolites in C. verum J. Presl bark can also increase its industrial value, which may promote its cultivation and may create a good commercial option for our farmers.
Access options
Buy single article
Instant access to the full article PDF.
US$ 39.95
Tax calculation will be finalised during checkout.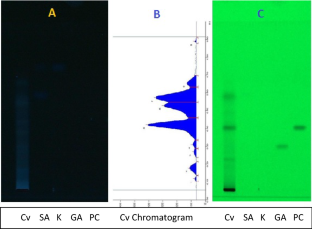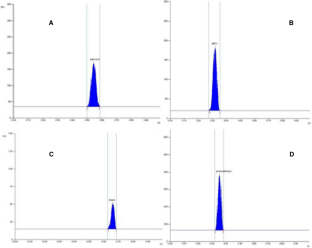 References
1.

Inder SR, Aarti S, Rashmi G (2011) In vitro study of antibacterial activity of aromatic and medicinal plants essential oils with special references to cinnamon oil. Int J Pharm Pharm Sci 3(4):376–380

2.

Aneja K, Joshi R, Sharma C (2009) Antimicrobial activity of Dalchini (Cinnamomum zeylanicum bark) extracts on some dental caries pathogens. J Pharm Res 2(9):1387–1390

3.

Gupta C, Kumari A, Garg AP, Catanzaro R, Marotta F (2011) Comparative study of cinnamon oil and clove oil on some oral microbiota. Acta Biomed 82(3):197–199

4.

Shan B, Cai YZ, Brooks JD, Corke H (2007) Antioxidant capacity of 26 spice extracts and characterization of their phenolic constituents. J Agric Food Chem 55(14):5484–5490

5.

Chatterjee A, Chatterjee S, Bandyopadhyay SK (2012) H. pylori-induced gastric ulcer: pathophysiology and herbal remedy. Int J Biol Med Res 3(1):1461–1465

6.

Torizuka K (1998) Pharmacological effect of cinnamon. Kampo Med 11:431–436

7.

Vaibhavi J, Rakesh P, Pankaj K, Neeraj P, Sunil G, Anupriya P (2010) Cinnamon: a pharmacological review. J Adv Sci Res 1(2):19–23

8.

Abdelgadir AA, Hassan HM, Eltaher AM, Khnsaa Mohammed GA, Lamya Mohammed AA, Hago TB, Aboalbashar TH, Aalim TH, Ahmed AM, Mohamed AK (2020) Hypolipidemic effect of cinnamon (Cinnamomum zeylanicum) bark ethanolic extract on triton X-100 induced hyperlipidemia in albino rats. Med Aromat Plants 9(3):351

9.

Cheng SS, Liu JY, Huang CG, Hsui YR, Chen WJ, Chang ST (2009) Insecticidal activities of leaf essential oils from Cinnamomum osmophloeum against three mosquito species. Bioresour Technol 100(1):457–464

10.

Bandara T, Uluwaduge I, Jansz ER (2012) Bioactivity of cinnamon with special emphasis on diabetes mellitus: a review. Int J Food Sci Nutr 63(3):380–386

11.

Lu J, Zhang K, Nam S, Anderson RA, Jove R, Wen W (2010) Novel angiogenesis inhibitory activity in cinnamon extract blocks VEGFR2 kinase and downstream signaling. Carcinogenesis 31(3):481–488

12.

Koppikar SJ, Choudhari AS, Suryavanshi SA, Kumari S, Chattopadhyay S, Kaul-Ghanekar R (2010) Aqueous cinnamon extract (ACE-c) from the bark of Cinnamomum cassia causes apoptosis in human cervical cancer cell line (SiHa) through loss of mitochondrial membrane potential. BMC Cancer 10(1):210

13.

Hossein N, Zahra Z, Abolfazl M, Mahdi S, Ali K (2013) Effect of Cinnamon zeylanicum essence and distillate on the clotting time. J Med Plants Res 7(19):1339–1343

14.

Sreelatha GL, Lakshmeesha TR, Sharath KL, Soumya K, Sharmila T (2015) Anti-yeast efficacy of Cinnamomum verum extracts on dermatologically prevalent yeast malassezia furfur. Int J Adv Res 3(7):1292–1298

15.

Tung YT, Chua MT, Wang SY, Chang ST (2008) Anti-inflammation activities of essential oil and its constituents from indigenous cinnamon (Cinnamomum osmophloeum) twigs. Bioresour Technol 99:3908–3913

16.

ICH-Q2A (1994) Text on validation of analytical procedures, harmonized tripartite guideline prepared within the international conference on harmonization of technical requirements for the registration of pharmaceuticals for human use, Geneva

17.

ICH-Q2B (1996) Validation of analytical procedures: methodology, harmonized tripartite guideline prepared within the international conference on harmonization of technical requirements for the registration of pharmaceuticals for human use, Geneva
Acknowledgements
The authors are thankful to the Director of CSIR–NBRI for providing all the facilities to conduct this research work.
Ethics declarations
Conflict of Interest
The authors declare that they have no conflict of interest.
About this article
Cite this article
Verma, S., Dwivedi, J., Srivastava, R. et al. Simultaneous estimation of four different biomarkers in Cinnamomum verum J. Presl bark using a validated high-performance thin-layer chromatography method. JPC-J Planar Chromat (2021). https://doi.org/10.1007/s00764-021-00082-z
Received:

Accepted:

Published:
Keywords
Cinnamomum verum J. Presl

Salicylic acid

Kaempferol

Gallic acid

Protocatechuic acid

HPTLC