Access options
Buy single article
Instant access to the full article PDF.
USD 39.95
Price excludes VAT (USA)
Tax calculation will be finalised during checkout.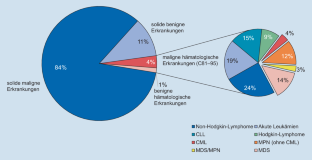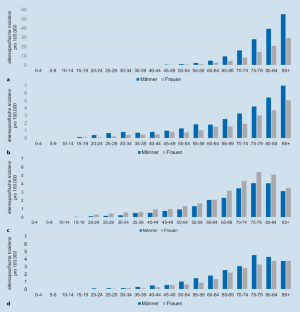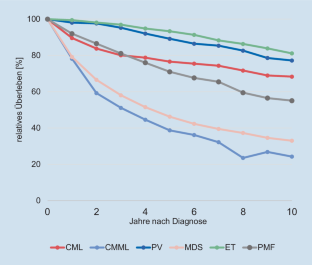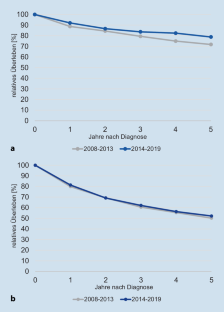 Literatur
Kraywinkel K, Barnes B, Dahm S, Haberland J, Nennecke A, Stabenow R (2014) Von regionalen Daten zu bundesweiten Aussagen. Bundesgesundheitsblatt Gesundheitsforschung Gesundheitsschutz 57(1):13–21

Robert Koch-Institut, Gesellschaft der epidemiologischen Krebsregister in Deutschland e. V. (Hrsg) (2021) Krebs in Deutschland für 2017/2018. 13. Ausgabe. Robert Koch-Institut, Gesellschaft der epidemiologischen Krebsregister in Deutschland e. V., Berlin

Dickman PW, Coviello E (2015) Estimating and modeling relative survival. Stata J 15(1):186–215

Holleczek B, Gordon A, Brenner H (2009) PeriodR—an R package to calculate long-term cancer survival estimates using period analysis. Methods 48(2):123–128

Corazziari I, Quinn M, Capocaccia R (2004) Standard cancer patient population for age standardising survival ratios. Eur J Cancer 40(15):2307–2316. https://doi.org/10.1016/j.ejca.2004.07.002

Statistisches Bundesamt (2022) Mortalität und Todesursachen. www.gbe-bund.de. Zugegriffen: 12. Jan. 2023

Arber DA, Orazi A, Hasserjian R, Thiele J, Borowitz MJ, Le Beau MM, Bloomfield CD, Cazzola M, Vardiman JW (2016) The 2016 revision to the World Health Organization classification of myeloid neoplasms and acute leukemia. Blood 127(20):2391–2405. https://doi.org/10.1182/blood-2016-03-643544

Haematological Malignancy Research Network (HMRN) Cancer Factsheets: Chronic myeloid leukaemia 2022 and Cancer Factsheets: Myelodysplastic syndromes 2022. https://hmrn.org/factsheets#chronic_myeloid_leukaemia; https://hmrn.org/factsheets#myelodysplastic_/_myeloproliferative_neoplasm_unclassified. Zugegriffen: 16. Jan. 2023

Surveillance, Epidemiology, and End Results (SEER) Program. SEER*Stat Database; 5‑year survival: SEER 17 areas (San Francisco, Connecticut, Hawaii, Iowa, New Mexico, Seattle, Utah, Atlanta, San Jose-Monterey, Los Angeles, Alaska Native Registry, Rural Georgia, California excluding SF/SJM/LA, Kentucky, Louisiana, New Jersey and Georgia excluding ATL/RG).Created by https://seer.cancer.gov/statistics-network/explorer. Zugegriffen: 15. Jan. 2023

Association of the Nordic Cancer Registries (NORDCAN 2.0). Factsheets: Chronic myeloid leukaemias; Myelodysplastic Syndromes (Denmark, Finland, Norway, Sweden). Data version: 9.2 (2022-06). https://nordcan.iarc.fr/en/factsheets. Zugegriffen: 16. Jan. 2023
Ethics declarations
Interessenkonflikt
P. Neuser, K. Kraywinkel und S.-Z. Kim-Wanner geben an, dass kein Interessenkonflikt besteht.
Für diesen Beitrag wurden von den Autor/-innen keine Studien an Menschen oder Tieren durchgeführt. Für die aufgeführten Studien gelten die jeweils dort angegebenen ethischen Richtlinien.
About this article
Cite this article
Neuser, P., Kraywinkel, K. & Kim-Wanner, SZ. Faktenblatt: Epidemiologie der myeloproliferativen Neoplasien und des myelodysplastischen Syndroms in Deutschland 2017 bis 2019. Onkologie 29, 281–286 (2023). https://doi.org/10.1007/s00761-023-01326-9
Accepted:

Published:

Issue Date:

DOI: https://doi.org/10.1007/s00761-023-01326-9
Schlüsselwörter
Chronische myeloische Leukämie

Essenzielle Thrombozythämie

Überlebensraten

Epidemiologie

Krebsregister