Zusammenfassung
Hintergrund
Maligne Neubildungen der Haut haben sich zu den weltweit häufigsten Krebsarten entwickelt. Rechtzeitig erkannt ist diese Krebsart heilbar. Zur möglichst frühen Detektion dieser Erkrankung wurde 2008 in Deutschland flächendeckend die gesetzliche Früherkennungsuntersuchung auf Hautkrebs, das Hautkrebs-Screening, eingeführt. Allerdings ist dessen Nutzen bis heute umstritten: Die Gründe hierfür könnten in Zusammenhang mit Qualitätsdefiziten stehen.
Fragestellung
Untersucht wurden die Wirksamkeit des gesetzlichen Hautkrebs-Screenings, wahrgenommene Qualität der Ganzkörperuntersuchung, wahrgenommene Qualität der ärztlichen Beratung während der Screening-Untersuchung, Inanspruchnahme des Hautkrebs-Screenings.
Material und Methode
Es erfolgte die Diskussion von Grundlagenarbeiten und Expert:innenempfehlungen, Analyse von Forschungsergebnissen und Trendanalysen.
Ergebnisse
Die aktuell verfügbare Evidenz zur Wirksamkeit des Haukrebs-Screenings ist unzureichend. Die bisherigen Evaluationen zu Struktur- und Prozessqualität sind schwach. Es zeigen sich deutliche Defizite bei der ordnungsgemäßen Durchführung der standardisierten Ganzkörperuntersuchung. Auch die Beratung zu protektiven Verhaltensweisen, individuellen Risikofaktoren und zur Durchführung der Hautselbstuntersuchung findet häufig gar nicht statt. In der Zeit von 2009 bis 2018 nahmen mehr als 42 % der anspruchsberechtigten gesetzlich Versicherten überhaupt nicht am Hautkrebs-Screening teil. Im Jahr 2020 sank die Teilnahme weiter.
Schlussfolgerungen
Zur Ausschöpfung des Potenzials des gesetzlichen Hautkrebs-Screenings und zur Optimierung der Früherkennung ist eine umfassende Qualitätsoffensive notwendig, die sowohl die Durchführungsqualität als auch die Dokumentation und Evaluation zum Ziel hat.
Abstract
Background
Malignant neoplasms of the skin have become the most common types of cancer worldwide. Detected in time, this type of cancer is curable. In order to detect the disease as early as possible, a systematic skin cancer screening program was introduced nationwide in Germany in 2008. However, its benefits are still controversial today: the reasons could be related to deficits in quality.
Objectives
Effectiveness of the nationwide skin cancer screening program, perceived quality of the visual whole-body examination, perceived quality of medical advice during the screening and participation in the skin cancer screening were assessed.
Materials and methods
Discussion of basic scientific work and expert recommendations, analysis of research results and trend analyses.
Results
The current data situation regarding the effectiveness of skin cancer screening is insufficient. Previous evaluations of structural and process quality are weak. There are clear deficits in the proper performance of the standardized whole-body skin examination. Moreover, medical advice on protective behaviors, individual risk factors and how to carry out the skin self-examination is rarely given. From 2009 to 2018, more than 42% of eligible patients with statutory health insurance did not participate in the skin cancer screening at all. In 2020, participation continued to decline.
Conclusions
In order to reach full potential of the systematic skin cancer screening program and to optimize early detection, a profound quality offensive is necessary. It should address the quality of implementation as well as documentation and evaluation.
Access options
Buy single article
Instant access to the full article PDF.
USD 39.95
Price includes VAT (USA)
Tax calculation will be finalised during checkout.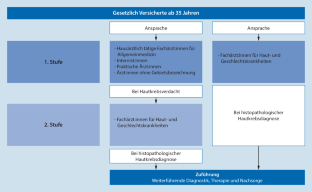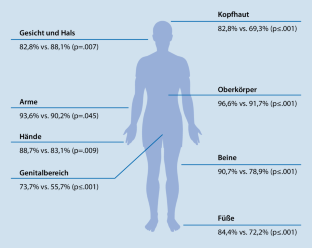 Notes
1.

Dieser Altersbeginn wurde gewählt, da hier der erste erkennbare Inzidenzanstieg, berechnet auf der Basis der Krebsregister des Saarlandes und Schleswig-Holsteins, zu verzeichnen ist. Damit hat die Zielpopulation eine Größe von rund 45 Mio. Bürger:innen, die alle 2 Jahre anspruchsberechtigt sind.
Literatur
1.

Boniol M, Autier P, Gandini S (2015) Melanoma mortality following skin cancer screening in Germany. Bmj Open 5(9):e8158

2.

Breitbart EW et al (2012) Systematic skin cancer screening in Northern Germany. J Am Acad Dermatol 66(2):201–211

3.

Datzmann T et al (2021) Patients benefit from participating in the German skin cancer screening program? A large cohort study based on administrative data. Br J Dermatol. https://doi.org/10.1111/bjd.20658

4.

Gemeinsamer Bundesausschuss (2020) Richtlinie des Gemeinsamen Bundesausschussess über die Früherkennung von Krebserkrankungen. (Krebsfrüherkennungs-Richtlinie/KFE-RL). https://www.g-ba.de/downloads/62-49-2238/KFE-RL_2020-06-18_iK-2020-08-28.pdf. Zugegriffen: 23. Aug. 2021

5.

Görig T et al (2021) Is the quality of skin cancer screening in Germany related tot he specialization oft he physician who performs it?: Results of a nationwide survey among participants of skin cancer screening. Photodermatol Photoimmunol Photomed. https://doi.org/10.1111/phpp.12815

6.

Großmann E, Hübner IM (2021) Haukebs-Screening aus Patient*innen-Sicht: Report und Zusammenfassung einer Online-Befragung mit 166 Hautkrebs-Patient*innen. https://www.unserehaut.de/download/Projekte/HKS/2021-03-21_Report-HKS-Patienten-Sicht.pdf. Zugegriffen: 26. Aug. 2021

7.

Mangiapane S et al (2021) Veränderung der vertragsärztlichen Leistungsinanspruchnahme während der COVID-Krise. Tabellarischer Trendreport für das Jahr 2020. https://www.zi.de/fileadmin/images/content/Publikationen/Trendreport_4_Leistungsinanspruchnahme_COVID_2021-04-19.pdf. Zugegriffen: 30. Aug. 2021

8.

Katalinic A, Eisemann N, Waldmann A (2015) Hautkrebsscreening in Deutschland. Erfassung der Melanominzidenz und -sterblichkeit von 2008 bis 2013. Dtsch Arztebl 112(38):629–634

9.

Katalinic A et al (2012) Does skin cancer screening save lives?: an observational study comparing trends in melanoma mortality in regions with and without screening. Cancer 118(21):395–402

10.

Leitlinienprogramm Onkologie (2021) S3-Leitlinie Prävention von Hautkrebs. Version 2.0. – März 2021. AWMF-Registernummer: 032/052OL. https://www.leitlinienprogramm-onkologie.de/fileadmin/user_upload/Downloads/Leitlinien/Hautkrebspraeventationsleitlinie_1.1/Version_2/LL_Praevention_von_Hautkrebs_Langversion_2.0.pdf. Zugegriffen: 24. Aug. 2021

11.

Lüken F, Batz D, Kutschmann M (2016) Evaluation der Screeninguntersuchungen auf Hautkrebs gemäß Krebsfrüherkennungs-Richtlinie des Gemeinsamen Bundesausschusses. Abschlussbericht der Jahre 2011–2013, im Auftrag des Gemeinsamen Bundesausschusses, Stand 30. September 2016. https://www.g-ba.de/downloads/17-98-4300/2016-12-16_BQS-HKS-Abschlussbericht-2011-2013.pdf. Zugegriffen: 25. Aug. 2021

12.

Stang A, Jockel KH (2016) Does skin cancer screening save lives? A detailed analysis of mortality time trends in Schleswig-Holstein and Germany. Cancer 122(3):432–437

13.

Tillmanns H, Schillinger G, Drähter H (2020) Inanspruchnahme von Früherkennungsleistungen der gesetzlichen Krankenversicherung durch AOK-Versicherte im Erwachsenenalter. 2009 bis 2018. https://www.wido.de/fileadmin/Dateien/Dokumente/Forschung_Projekte/Ambulante_Versorgung/wido_frueherkennung_bei_erwachsenen_2009-2018.pdf. Zugegriffen: 27. Aug. 2021
Ethics declarations
Interessenkonflikt
Y. de Buhr, H. Bunde, E. Großmann und E.W. Breitbart geben an, dass kein Interessenkonflikt besteht.
Für diesen Beitrag wurden von den Autoren keine Studien an Menschen oder Tieren durchgeführt. Für die aufgeführten Studien gelten die jeweils dort angegebenen ethischen Richtlinien.
Additional information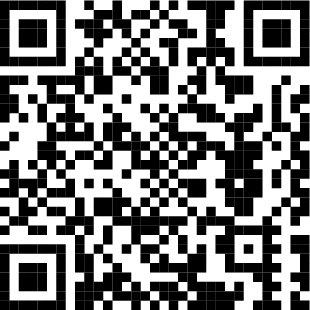 QR-Code scannen & Beitrag online lesen
About this article
Cite this article
de Buhr, Y., Bunde, H., Großmann, E. et al. Prävention von Hautkrebs. Onkologe (2021). https://doi.org/10.1007/s00761-021-01047-x
Schlüsselwörter
Präventive medizinische Leistungen

Krebsfrüherkennung

Hauterkrankungen

Primärprävention

Beratung
Keywords
Preventive health services

Early detection of cancer

Skin diseases

Primary prevention

Counseling