Zusammenfassung
Hintergrund
Die Therapie des frühen Mammakarzinoms hat sich im letzten Jahr erheblich verändert.
Ziel
Wichtige, neu vorgestellte Studiendaten des letzten Jahres werden zusammengefasst.
Material und Methoden
Es erfolgte eine selektive Literaturrecherche in der Datenbank PubMed zur Systemtherapie des frühen Mammakarzinoms ab 2020.
Ergebnisse
In der erweiterten adjuvanten Anti-HER2-Therapie mit Neratinib gibt es positive erste Daten aus der nichtinterventionellen, deutschen Phase-IV-Studie ELEANOR. Gemäß MonarchE-Studie führt die Zugabe des CDK4/6-Inhibitors Abemaciclib zur endokrinen Standardtherapie des hormonrezeptorpositiven (HR+) HER2-negativen Mammakarzinoms zu einem Vorteil im krankheitsfreien Überleben (DFS). Beim tripelnegativen Mammakarzinom (TNBC) wird durch Chemotherapie plus Checkpointinhibitor die pathologisch komplette Remissionsrate erhöht, im Update der GeparNuevo-Studie mit Durvalumab zeigt sich auch eine Verbesserung des DFS. Auch im Update der KEYNOTE-522-Studie ergab sich eine statistisch signifikante Verbesserung des invasiven DFS. In die OlympiA-Studie wurde die Schnittmenge der beiden Subpopulationen des Mammakarzinoms, BRCA1/2-positive Patientinnen, eingeschlossen. Hier wurden Patientinnen mit Hochrisiko- oder residueller Erkrankung nach neoadjuvanter Chemotherapie randomisiert vs. Placebo mit dem Inhibitor der Poly(ADP-Ribose)-Polymerase (PARPi) Olaparib über ein Jahr behandelt. Bei HR+-Patientinnen wurde die Hormontherapie leitlinienkonform dazu gegeben. Es kam zur Risikoreduktion von 48 % für den Endpunkt DFS.
Schlussfolgerung
Für HR+-Hochrisikopatientinnen gibt es die Möglichkeit der Gabe von Olaparib bei BRCA1/2-Positivität oder von Abemaciclib. Die Kombination aus PARPi und Checkpointinhibitor bietet neue Chancen für die Deeskalation von Chemotherapie beim TNBC.
Abstract
Background
The treatment options for early breast cancer have changed significantly during the last year.
Aim
Important data presented in the last year are summarized.
Materials and methods
This paper is based on a selective literature search of the databank PubMed on systemic therapy of primary breast cancer from 2020 onwards.
Results
In extended adjuvant anti-HER2 therapy with neratinib, positive data from the non-interventional, German phase IV study ELEANOR were reported. The results of the MonarchE trial, adding the CDK4/6 inhibitor abemaciclib to standard endocrine therapy of hormone receptor positive (HR+) HER2-negative breast cancer, show an advantage in disease-free survival (DFS). In triple-negative breast cancer, the combination of chemotherapy plus checkpoint inhibitor leads to an increased pathological complete remission rate and in the update of the GeparNuevo trial with durvalumab an improvement of DFS was reported. Recently, the update of the KEYNOTE 522 study also showed a statistically significant improvement of invasive DFS. The intersection of both subpopulations of breast cancer is BRCA1/2-positive disease; these patients were included in the OlympiA study. Here, patients with high-risk or residual disease after neoadjuvant chemotherapy were treated in a placebo-controlled fashion with the PARP inhibitor (PARPi) olaparib for one year. In HR+ patients, guideline-based endocrine treatment was given on top of olaparib. There was a 48% risk reduction for the endpoint DFS.
Conclusion
For high-risk HR+ patients, there is the option of treatment with olaparib in BRCA1/2-positive patients or the administration of abemaciclib. The combination of PARPi and checkpoint inhibitor offers new opportunities for de-escalation of chemotherapy in triple-negative breast cancer.
Access options
Buy single article
Instant access to the full article PDF.
USD 39.95
Price includes VAT (USA)
Tax calculation will be finalised during checkout.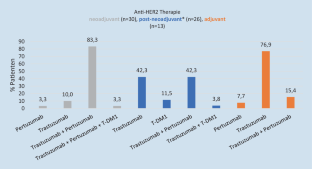 Literatur
1.

Harbeck N, Gluz O, Christgen M, Kuemmel Sm Grischke E, Braun M, Augustin D, Potenberg J, Krauss K, Schumacher C, Forstbauer H, Reimer T, Stefek A, Fischer H, Pelz E, Graeser M, zu Eulenburg C, Kates R, Wuerstlein R, Kreipe H, Nitz U (2021) De-escalated neoadjuvant pertuzumab+trastuzumab with or without weekly paclitaxel in HER2+/HR+ early breast cancer: ADAPT HER2+/HR+ biomarker and survival results. Clin Oncol 39(suppl 15):503

2.

Chan A, Moy B, Mansi J, Ejlertsen B, Holmes FA, Chia S, Iwata H, Gnant M, Loibl S, Barrios CH, Somali I, Smichkoska S, Martinez N, Alonso MG, Link JS, Mayer IA, Cold S, Murillo SM, Senecal F, Inoue K, Ruiz-Borrego M, Hui R, Denduluri N, Patt D, Rugo HS, Johnston SRD, Bryce R, Zhang B, Xu F, Wong A, Martin M, ExteNET Study Group.Chan A (2021) Final efficacy results of neratinib in HER2-positive hormone receptor-positive early-stage breast cancer from the phase III ExteNET trial. Clin Breast Cancer 21(1):80–91

3.

Bartsch R, Lüftner D, Balic M, Rinnenthaler G, Jackisch D, Müller V, Schmidt M, Harbeck N (2021) Study in progress: extended adjuvant treatment of patients with HER2+ early breast cancer with neratinib: a multi-centric, prospective, non-interventional study (NIS) in Germany and Austria (ELEANOR). Breast 56(suppl 1):18

4.

Kuemmel S et al (2020) Neoadjuvant nab-paclitaxel weekly versus dose-dense paclitaxel followed by dose-dense EC in high risk HR+/HER2- early BC by: results from the neoadjuvant part of ADAPT HR+/HER2- trial. In: San Antonio Breast Cancer Symposium 2020, S GS4-03

5.

Untch M et al (2019) NAB-Paclitaxel improves disease-free survival in early breast cancer: GBG 69-GeparSepto. J Clin Oncol 37(25):2226–2234

6.

Kalinsky K et al (2020) SWOG S1007: adjuvant trial randomized ER+ patients who had a Recurrence Score <25 and 1–3 positive nodes to endocrine therapy (ET) versus ET + chemotherapy. In: San Antonio Breast Cancer Symposium 2020, S GS3-00

7.

O'Shaughnessy JA et al (2020) Primary outcome analysis of invasive disease-free survival for monarchE: abemaciclib combined with adjuvant endocrine therapy for high risk early breast cancer. In: San Antonio Breast Cancer Symposium 2020, S GS1-01

8.

Harbeck NJS, Fasching P, Martin M, Toi M, Rastogi P, Song C, Molthrop D, Vuky J, Yamashita T, Jaliffe GG, Gumus M, Headley D, Wei R, Barriga S, Munoz M, Method M, Andre V, Kreipe H, O'Shaughnessy J (2020) High Ki-67 as a biomarker for identifying patients with high risk early breast cancer treated in monarchE. In: San Antonio Breast Cancer Symposium 2020

9.

Loibl S et al (2020) Phase III study of palbociclib combined with endocrine therapy (ET) in patients with hormone-receptor-positive (HR+), HER2-negative primary breast cancerand with high relapse risk after neoadjuvant chemotherapy (NACT): First results from PENELOPE‑B. In: San Antonio Breast Cancer Symposium 2020, S GS1-02

10.

Mayer E, Fesl C, Dueck A, Martin M, Burstein H, Prat A, Rubovsky G, Miller K, Pfeiler G, Winer E, Zdenkowski N, Anderson D, Nowetzki Z, Goetz M, Loibl S, Fohle H, Metzger O, Fumagalli D, Theali K, Hlauschek D, Gnant M, de Michele A (2020) Treatment exposure and discontinuation in the PALLAS trial: Palbociclibn Collaborative Adjuvant Study of palbociclib with adjuvant endocrine therapy for HER2/HER2- early breast cancer. In: San Antonio Breast Cancer Symposium, S PD2-03

11.

Harbeck N et al (2020) IMpassion031: results from a phase III study of neoadjuvant (neoadj) atezolizumab + chemotherapy in early triple-negative breast cancer (TNBC). Ann Oncol 31(suppl_4):S1142–S1215. https://doi.org/10.1016/annonc/annonc325

12.

Schmid P et al (2020) Pembrolizumab for early triple-negative breast cancer. N Engl J Med 382(9):810–821

13.

Gianni L et al (2019) Pathologic complete response (pCR) to neoadjuvant treatment with or without atezolizumab in triple negative, early high-risk and locally advanced breast cancer. NeoTRIPaPDL1 Michelangelo randomized study. In: San Antonio Breast Cancer Symposium 2019, S GS3-04

14.

Loibl S, Schneeweiss A, Huober J, Braun M, Rey J, Blohmer J, Furlanetto J, Zahm D, Hanusch C, Thomalla J, Jackisch C, Staib P, Link T, Rhiem K, Solback C, Fasching P, Burchardi N, Denkert C, Untch M (2021) Durvalumab improves loong-term outcome in TNBC: results from the phase II randomized GeparNuevo study investigating neoadjuvanz durvalumab in addition to an anthracycline/taxane based neoadjuvant chemotherapy in early triple-negative brreast cancer (TNBC). J Clin Oncol 39(suppl 15):506

15.

Litton J, Becl T, Jones J, Anersen J, Blum J, Mina L, Brig R, Danso M, Yuan Y, Abbatista A, Noonan K, Chakrabarti J, Czibere A, Symmans W, Telli M (2021) Neoadjuvant talazoparib in patients with germline BRCA1/2 mutation-positive, early HER2-negative breast cancer: results of a phase 2 study. Clin Oncol 39(suppl 15):505

16.

Tutt A, Garber J, Kaufman B, Viale G, Fumafalli D, Rastogi P, Gelber R, de Azambuja E, Fielding A, Gelpi J, Gelmon K, Baker N, Arahmani A, Senkus-Konefka E, Mc Fadden E, Karantza V, Lakhani S, Yothers F, Campbell C, Geyer C (2021) A phase III, multicenter, randomized, place-controlled trial of adjuvant olaparib after (neo)adjuvant chemotherapy in patients with germline BRCA1/2 mutations and high-risk HER2-negative early breast cancer. Clin Oncol 39(suppl 15):LBA1
Ethics declarations
Interessenkonflikt
D. Lüftner und S. Hegewisch-Becker geben an, dass kein Interessenkonflikt besteht.
Für diesen Beitrag wurden von den Autoren keine Studien an Menschen oder Tieren durchgeführt. Für die aufgeführten Studien gelten die jeweils dort angegebenen ethischen Richtlinien.
Additional information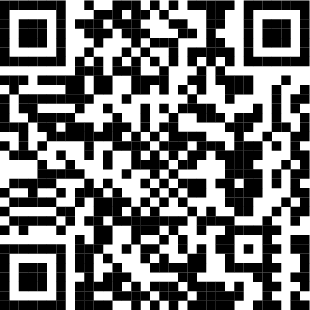 QR-Code scannen & Beitrag online lesen
Redaktion
J. Blohmer, Berlin
About this article
Cite this article
Lüftner, D., Hegewisch-Becker, S. Neues zur primär systemischen Therapie des Mammakarzinoms. Onkologe 27, 1206–1212 (2021). https://doi.org/10.1007/s00761-021-01035-1
Accepted:

Published:

Issue Date:
Schlüsselwörter
Mammaneoplasien

Zyklinabhängige-Kinase-Inhibitor-Proteine

Immuntherapie

Olaparib

Neratinib
Keywords
Breast neoplasms

Cyclin-dependent kinase inhibitor proteins

Immunotherapy

Olaparib

Neratinib