Zusammenfassung
Hintergrund
Die Beobachtung, dass tumorinfiltrierende Lymphozyten (TIL) nach Ex-vivo-Amplifikation Tumoren langfristig kontrollieren können, führte zu dem Konzept, zytolytische T‑Zellen des Patienten durch einen Rezeptor mit definierter Spezifität spezifisch gegen den Tumor zu richten.
Fragestellung
Entwicklung eines rekombinanten Rezeptor-Signal-Moleküls (chimärer Antigenrezeptor, CAR) zur Erhöhung der Wirksamkeit und Selektivität einer T‑Zell-vermittelten Antitumorantwort.
Methode
Darstellung des Prototyps eines CAR, wesentlicher Aspekte der modularen Struktur und des Entwicklungspotenzials der CAR für die adoptive Immuntherapie.
Ergebnisse
Intensive Forschung in den letzten zwei Dekaden hat aufgezeigt, wie die CAR-vermittelte T‑Zell Aktivierung gezielt beeinflusst werden kann, unter anderem durch die Affinität der Bindung, das Epitop des Zielantigens, dessen Expressionsdichte und Zugänglichkeit auf den Tumorzellen sowie durch die Signaleinheiten und deren Kombination zur Aktivierung der T‑Zellen. Durch Änderung der CAR-Module können Qualität und Dauer der T‑Zell-Antwort weiterhin moduliert werden; durch die CAR-vermittelte Freisetzung transgener, therapeutisch wirksamer Proteine können CAR-T-Zellen als "biopharmazeutische Fabriken" ("T-cells redirected for unrestricted cytokine-mediated killing", TRUCK) im Gewebe aktiv werden.
Schlussfolgerung
Die adoptive Immuntherapie mit CAR-T-Zellen wird erfolgreich zur Therapie hämatologischer Tumoren eingesetzt; die Therapie solider Tumoren ist in der Entwicklung. Forschungen zielen unter anderem dahin, allogene CAR-T-Zellen für eine große Anzahl von Patienten "off the shelf" zur Verfügung zu stellen. Es besteht weiterhin ein erhebliches Entwicklungspotenzial der CAR hin zu anderen therapeutischen Anwendungen, wie für die Therapie von Autoimmunerkrankungen.
Abstract
Background
The observation that tumor-infiltrating lymphocytes (TIL) after ex vivo amplification can control tumors in the long term led to the concept of redirecting patients' cytolytic T‑cells by a receptor with defined specificity against the tumor.
Objectives
Development of a recombinant receptor-signal molecule (chimeric antigen receptor, CAR) to increase selectivity and enhance anti-tumor immunity.
Methods
Description of a prototype CAR, overview of the modular composition and further development of CAR technology for use in adoptive immune cell therapy.
Results
Intensive research over the last two decades has shown how CAR-mediated T‑cell activation is influenced by factors such as binding affinity, the epitope of the target antigen, its expression density and accessibility on the tumor cells, as well as by the signaling domains and their combination to induce T‑cell activation. The quality and duration of the T‑cell response can be specifically modulated by modifying the modular composition of the CAR; CAR T‑cells can act as "biopharmaceutical factories" (T-cells redirected for unrestricted cytokine-mediated killing, TRUCK) in the tissue by CAR-mediated release of transgenic therapeutic proteins.
Conclusion
Adoptive CAR T‑cell therapy has shown clinical efficacy in the treatment of hematological malignancies; the treatment of solid tumors, however, is more challenging. Allogeneic CAR T‑cell technology is aimed at generating "off-the-shelf" CAR T‑cells that are accessible for a large number of patients. A further promising approach is the use of CAR T‑cells for other therapeutic applications such as the treatment of autoimmune diseases.
Access options
Buy single article
Instant access to the full article PDF.
US$ 39.95
Tax calculation will be finalised during checkout.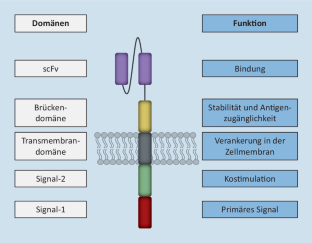 Literatur
1.

Cartellieri M, Feldmann A, Koristka S et al (2016) Switching CAR T‑cells on and off: a novel modular platform for retargeting of T‑cells to AML blasts. Blood Cancer J 6:e458

2.

Chmielewski M, Hombach AA, Abken H (2014) Of CARs and TRUCKs: chimeric antigen receptor (CAR) T‑cells engineered with an inducible cytokine to modulate the tumor stroma. Immunol Rev 257:83–90

3.

Eshhar Z, Waks T, Gross G, Schindler D (1993) Specific activation and targeting of cytotoxic lymphocytes through chimeric single chains consisting of antibody-binding domains and the gamma or zeta subunits of the immunoglobulin and T‑cell receptors. Proc Natl Acad Sci U A 90:720–724

4.

Faitschuk E, Nagy V, Hombach AA, Abken H (2016) A dual chain chimeric antigen receptor (CAR) in the native antibody format for targeting immune cells towards cancer cells without the need of an scFv. Gene Ther 23:718–726

5.

Fedorov VD, Themeli M, Sadelain M (2013) PD-1- and CTLA-4-based inhibitory chimeric antigen receptors (iCARs) divert off-target immunotherapy responses. Sci Transl Med 5:215ra172

6.

Finney HM, Lawson AD, Bebbington CR, Weir AN (1998) Chimeric receptors providing both primary and costimulatory signaling in T‑cells from a single gene product. J Immunol 161:2791–2797

7.

Haso W, Lee DW, Shah NN et al (2013) Anti-CD22-chimeric antigen receptors targeting B‑cell precursor acute lymphoblastic leukemia. Blood 121:1165–1174

8.

Hombach A, Sent D, Schneider C et al (2001) T‑cell activation by recombinant receptors: CD28 costimulation is required for interleukin 2 secretion and receptor-mediated T‑cell proliferation but does not affect receptor-mediated targeT-cell lysis. Cancer Res 61:1976–1982

9.

Kawalekar OU, O'Connor RS, Fraietta JA et al (2016) Distinct signaling of coreceptors regulates specific metabolism pathways and impacts memory development in CAR T‑cells. Immunity 44:380–390

10.

Kobold S, Grassmann S, Chaloupka M et al (2015) Impact of a new fusion receptor on PD-1-mediated immunosuppression in adoptive T‑cell therapy. J Natl Cancer Inst 107:djv146

11.

Köhl U, Arsenieva S, Holzinger A, Abken H (2018) CAR T‑cells in trials: recent achievements and challenges that remain in the production of modified T‑cells for clinical applications. Hum Gene Ther 29:559–568

12.

Ma Q, Garber HR, Lu S et al (2016) A novel TCR-like CAR with specificity for PR1/HLA-A2 effectively targets myeloid leukemia in vitro when expressed in human adult peripheral blood and cord blood T‑cells. Cytotherapy 18:985–994

13.

Poirot L, Philip B, Schiffer-Mannioui C et al (2015) Multiplex genome-edited T‑cell manufacturing platform for "off-the-shelf" adoptive T‑cell immunotherapies. Cancer Res 75:3853–3864

14.

Roybal KT, Williams JZ, Morsut L et al (2016) Engineering T‑cells with customized therapeutic response programs using synthetic notch receptors. Cell 167:419–432.e16

15.

Ruella M, Barrett DM, Kenderian SS et al (2016) Dual CD19 and CD123 targeting prevents antigen-loss relapses after CD19-directed immunotherapies. J Clin Invest 126:3814–3826

16.

Srivastava S, Riddell SR (2015) Engineering CAR-T-cells: design concepts. Trends Immunol 36:494–502

17.

Stewart-Jones G, Wadle A, Hombach A et al (2009) Rational development of high-affinity T‑cell receptor-like antibodies. Proc Natl Acad Sci U S A 106:5784–5788

18.

Urbanska K, Lanitis E, Poussin M et al (2012) A universal strategy for adoptive immunotherapy of cancer through use of a novel T‑cell antigen receptor. Cancer Res 72:1844–1852

19.

Wilkie S, van Schalkwyk MCI, Hobbs S et al (2012) Dual targeting of ErbB2 and MUC1 in breast cancer using chimeric antigen receptors engineered to provide complementary signaling. J Clin Immunol 32:1059–1070
Ethics declarations
Interessenkonflikt
H. Abken hält Patente/Patentanmeldungen auf dem Gebiet der CAR-T-Zellen, ist Scientific Advisor von Miltenyi Biotec, HumOrigin und Celyad, ist Gründer von TriArm Therapeutics Ltd und erhielt Vortrags‑/Reisehonorare von Gilead, Novartis, Pfizer, Roche. A. Holzinger gibt an, dass kein Interessenkonflikt besteht.
Für diesen Beitrag wurden von den Autoren keine Studien an Menschen oder Tieren durchgeführt. Für die aufgeführten Studien gelten die jeweils dort angegebenen ethischen Richtlinien.
Additional information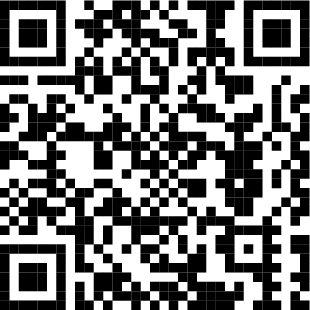 QR-Code scannen & Beitrag online lesen
About this article
Cite this article
Holzinger, A., Abken, H. Chimäre Antigenrezeptoren (CAR) – universelle Werkzeuge in der zellulären Immuntherapie. Onkologe (2021). https://doi.org/10.1007/s00761-021-01031-5
Schlüsselwörter
CAR-T-Zell-Therapie

"T-cells redirected for unrestricted cytokine-mediated killing" (TRUCK)

CD28-Kostimulation

Adoptive Immuntherapie

"Biopharmazeutische Fabriken"
Keywords
CAR T cell therapy

T‑cells redirected for unrestricted cytokine-mediated killing (TRUCK)

CD28 costimulation

Immunotherapy, adoptive

"Biopharmaceutical factories"