Zusammenfassung
Hintergrund
Der Einzug der Checkpoint-Inhibitoren (CPI) in die onkologische Therapielandschaft stellte einen wesentlichen Fortschritt der Immuntherapie in der letzten Dekade dar.
Ziel der Arbeit
In diesem Beitrag wird der Wirkmechanismus der CPI und deren aktuelle klinische Anwendung in der Systemtherapie unterschiedlicher Tumorentitäten erläutert.
Material und Methoden
Relevante Artikel wurden in der PubMed-Datenbank identifiziert. Informationen zu klinischen Studien wurden aus dem Studienregister Clinicaltrials.gov extrahiert, Arzneimittelzulassungen aus den öffentlichen Schreiben der European Medicines Agency (EMA) und der US Food and Drug Administration (FDA).
Schlussfolgerung
Obwohl durch CPI wesentliche Fortschritte in der Behandlung vieler Malignome erzielt wurden, können robuste Ansprechraten und ein Langzeitüberleben nur bei wenigen Patienten beobachtet werden. Die Entwicklung prädiktiver Biomarker zur Maximierung der Effektivität und Minimierung potenzieller immunvermittelter Nebenwirkungen kann neben neuen Kombinationstherapien dazu beitragen, das volle Potenzial der CPI zu entfalten.
Abstract
Background
The introduction of immune checkpoint inhibitors (ICI) into the therapeutic landscape in oncology over the last decade represents a fundamental advancement in cancer immunotherapy.
Objectives
We review the mechanism of action of ICI and their current use in the systemic therapy of various cancers.
Materials and methods
Relevant articles were identified in the PubMed database. Clinical trial information was extracted from the Clinicaltrials.gov registry; information on drug approvals were obtained from the European Medicines Agency and the U.S. Food and Drug Administration databases.
Conclusions
Although substantial improvements in the treatment of many types of cancer have been achieved by ICI, durable responses and long-term survival can only be observed in a small number of patients. The development of predictive biomarkers to maximize efficacy and minimize immune-related toxicity, in addition to new combination regimens, may help unleash the full potential of ICI in cancer immunotherapy.
Access options
Buy single article
Instant access to the full article PDF.
US$ 39.95
Tax calculation will be finalised during checkout.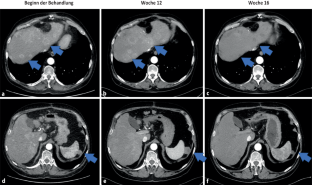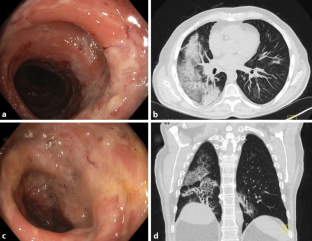 Literatur
1.

André T, Shiu K‑K, Kim TW et al (2020) Pembrolizumab in microsatellite-instability-high advanced colorectal cancer. N Engl J Med 383:2207–2218

2.

Brahmer JR, Lacchetti C, Schneider BJ et al (2018) Management of immune-related adverse events in patients treated with immune checkpoint inhibitor therapy: American Society of Clinical Oncology clinical practice guideline. J Clin Oncol 36:1714–1768

3.

Das S, Johnson DB (2019) Immune-related adverse events and anti-tumor efficacy of immune checkpoint inhibitors. J Immunother Cancer 7:306

4.

Doroshow DB, Bhalla S, Beasley MB et al (2021) PD-L1 as a biomarker of response to immune-checkpoint inhibitors. Nat Rev Clin Oncol 18:345–362

5.

European Medicines Agency European medicines agency medicines database. Online database. https://www.ema.europa.eu/en/medicines. Zugegriffen: 6. Juli 2021

6.

Finn RS, Qin S, Ikeda M et al (2020) Atezolizumab plus bevacizumab in unresectable hepatocellular carcinoma. N Engl J Med 382:1894–1905

7.

Green SE, Mccusker MG, Mehra R (2020) Emerging immune checkpoint inhibitors for the treatment of head and neck cancers. Expert Opin Emerg Drugs 25:501–514

8.

Gutzmer R, Stroyakovskiy D, Gogas H et al (2020) Atezolizumab, vemurafenib, and cobimetinib as first-line treatment for unresectable advanced BRAF(V600) mutation-positive melanoma (IMspire150): primary analysis of the randomised, double-blind, placebo-controlled, phase 3 trial. Lancet 395:1835–1844

9.

Haanen J, Carbonnel F, Robert C et al (2017) Management of toxicities from immunotherapy: ESMO Clinical Practice Guidelines for diagnosis, treatment and follow-up. Ann Oncol 28:iv119–iv142

10.

Haas M, Burger M, Schnabel MJ (2021) Blasenkarzinomsystemtherapie [Systemic treatment of bladder cancer]. Urologe A. https://doi.org/10.1007/s00120-021-01535-3

11.

Havel JJ, Chowell D, Chan TA (2019) The evolving landscape of biomarkers for checkpoint inhibitor immunotherapy. Nat Rev Cancer 19:133–150

12.

Heinzerling L, Ascierto PA, Dummer R et al (2019) Adverse events 2.0-Let us get SERIOs: new reporting for adverse event outcomes needed in the era of immunooncology. Eur J Cancer 112:29–31

13.

Heinzerling L, De Toni E, Schett G et al (2019) Checkpoint Inhibitors. Dtsch Arztebl Int 116:119–126

14.

Ishida Y, Agata Y, Shibahara K et al (1992) Induced expression of PD‑1, a novel member of the immunoglobulin gene superfamily, upon programmed cell death. EMBO J 11:3887–3895

15.

Kato K, Cho BC, Takahashi M et al (2019) Nivolumab versus chemotherapy in patients with advanced oesophageal squamous cell carcinoma refractory or intolerant to previous chemotherapy (ATTRACTION-3): a multicentre, randomised, open-label, phase 3 trial. Lancet Oncol 20:1506–1517

16.

Larkin J, Chiarion-Sileni V, Gonzalez R et al (2019) Five-Year Survival with Combined Nivolumab and Ipilimumab in Advanced Melanoma. N Engl J Med 381:1535–1546

17.

Leach DR, Krummel MF, Allison JP (1996) Enhancement of antitumor immunity by CTLA‑4 blockade. Science 271:1734–1736

18.

Long GV, Atkinson V, Lo S et al (2021) Five-year overall survival from the anti-PD1 brain collaboration (ABC Study): Randomized phase 2 study of nivolumab (nivo) or nivo+ipilimumab (ipi) in patients (pts) with melanoma brain metastases (mets). J Clin Oncol 39:9508–9508

19.

Marabelle A, Le DT, Ascierto PA et al (2020) Efficacy of pembrolizumab in patients with noncolorectal high microsatellite instability/mismatch repair-deficient cancer: results from the phase II KEYNOTE-158 study. J Clin Oncol 38:1–10

20.

Marin-Acevedo JA, Kimbrough EO, Lou Y (2021) Next generation of immune checkpoint inhibitors and beyond. J Hematol Oncol 14:45

21.

Martins F, Sofiya L, Sykiotis GP et al (2019) Adverse effects of immune-checkpoint inhibitors: epidemiology, management and surveillance. Nat Rev Clin Oncol 16:563–580

22.

Mignard C, Deschamps Huvier A, Gillibert A et al (2018) Efficacy of immunotherapy in patients with metastatic mucosal or uveal melanoma. J Oncol 2018:1908065

23.

Mushti SL, Mulkey F, Tang S et al (2020) Immune response evaluation and treatment with immune checkpoint inhibitors beyond clinical progression: response assessments for cancer immunotherapy. Curr Oncol Rep 22:116

24.

Ribas A, Wolchok JD (2018) Cancer immunotherapy using checkpoint blockade. Science 359:1350–1355

25.

Salik B, Smyth MJ, Nakamura K (2020) Targeting immune checkpoints in hematological malignancies. J Hematol Oncol 13:111

26.

Topalian SL, Drake CG, Pardoll DM (2015) Immune checkpoint blockade: a common denominator approach to cancer therapy. Cancer Cells 27:450–461

27.

Robert C, Ribas A, Hamid O, Daud A, Wolchok JD, Joshua AM, et al (2018) Durable Complete Response After Discontinuation of Pembrolizumab in Patients With Metastatic Melanoma. J Clin Oncol 36(17):1668–1674.

28.

Valle JW, Kelley RK, Nervi B et al (2021) Biliary tract cancer. Lancet 397:428–444

29.

Xu W, Atkins MB, Mcdermott DF (2020) Checkpoint inhibitor immunotherapy in kidney cancer. Nat Rev Urol 17:137–150

30.

Zhou F, Qiao M, Zhou C (2021) The cutting-edge progress of immune-checkpoint blockade in lung cancer. Cell Mol Immunol 18:279–293
Ethics declarations
Interessenkonflikt
N. Ben Khaled, I. Piseddu, D.F.R. Boehmer, S. Zierold, L. Heinzerling, J. Mayerle und E.N. de Toni geben an, dass kein Interessenkonflikt besteht.
Für diesen Beitrag wurden von den Autoren keine Studien an Menschen oder Tieren durchgeführt. Für die aufgeführten Studien gelten die jeweils dort angegebenen ethischen Richtlinien.
Additional information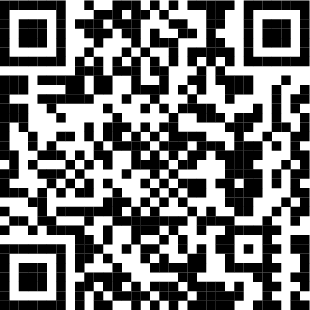 QR-Code scannen & Beitrag online lesen
About this article
Cite this article
Ben Khaled, N., Piseddu, I., Boehmer, D.F.R. et al. Checkpoint-Inhibition bei Tumorerkrankungen. Onkologe (2021). https://doi.org/10.1007/s00761-021-01021-7
Schlüsselwörter
Krebstherapie

Biomarker

CTLA-4-Inhibitor

Immuntherapie

PD-1-PD-L1-Blockade
Keywords
Cancer treatment

Biomarkers

CTLA-4-Inhibitor

Immunotherapy

PD-1-PD-L1 blockade