Zusammenfassung
Hintergrund
Lange Zeit blieb unklar, inwieweit immunologische Mechanismen zur Therapie von malignen Erkrankungen beitragen können. Mittlerweile ist jedoch bewiesen, dass unser Immunsystem sich als ein effizientes Verteidigungswerkzeug gegenüber malignen Erkrankungen darstellt. Aufgrund zunehmender Erkenntnisse auf dem Gebiet der Tumorimmunologie und neuer immunologischer Therapieansätze, die zunehmend erfolgversprechend sind, ist die Immunonkologie ein großes Teilgebiet der Krebsmedizin geworden.
Ziel der Arbeit
Der vorliegende komprimierte Übersichtsartikel soll wesentliche Grundlagen der Tumorimmunologie darstellen mit Schwerpunkt auf immunologischen Mechanismen der Tumorabwehr sowie Verteidigungsmechanismen des Tumors. An gesonderten Stellen wird auf einzelne immuntherapeutische Ansätze in der Klinik hingewiesen, um das Gebiet der immunologischen Onkologie in vereinfachter Darstellung einer breiten Zuhörerschaft zugänglich zu machen.
Material und Methoden
Der Artikel ist auf Basis derzeitiger Lehrmeinungen sowie aktueller Fachliteratur entstanden. Die Literaturrecherche erfolgte primär über die Datenbank PubMed sowie im Hinblick auf derzeit aktive klinische Studien erfolgte die Datenakquisition über "Clinicaltrials.gov".
Schlussfolgerung
Neue immuntherapeutische Ansätze zeigen sehr vielversprechende Ergebnisse. Es ist zu erwarten, dass ein zunehmendes immunologisches Verständnis auch zu weiteren neuen Therapien auf dem Gebiet der Onkologie führen wird. Besonders die Kombination verschiedenster immuntherapeutischer Mechanismen erscheint zukunftsweisend.
Abstract
Background
For a long time, it remained unclear to what extent immunological mechanisms can contribute to the treatment of cancer. In the meantime, however, it has been proven that our immune system is an efficient defense tool against cancer. Due to increasing knowledge in the field of tumour immunology and new immunological therapy approaches that are increasingly promising, immuno-oncology has become a major subdiscipline of cancer medicine.
Aim
In this review article, essentials of tumour immunology are presented with a spotlight on immunological mechanisms of tumour defense as well as defense mechanisms of the tumour itself. In separate sections, we provide explanations of current immunotherapeutic approaches in the clinic making the field of immuno-oncology accessible to a broad audience.
Materials and methods
The article was written based on current scientific consensus as well as current scientific literature. The literature search was primarily conducted in the PubMed database and with regard to currently ongoing clinical trials, data acquisition was conducted via Clinicaltrials.gov.
Conclusion
New immunotherapeutic approaches show very promising results. It is to be expected that an increasing immunological understanding will also lead to new therapies in the field of oncology. Especially the combination of various immunotherapeutic mechanisms seems to be promising.
Access options
Buy single article
Instant access to the full article PDF.
US$ 39.95
Tax calculation will be finalised during checkout.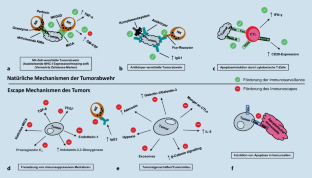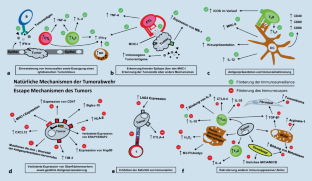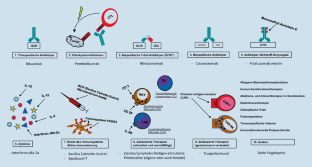 Literatur
1.

Coussens LM, Werb Z (2002) Inflammation and cancer. Nature 420(6917):860–867. https://doi.org/10.1038/nature01322

2.

Crowther MD, Dolton G, Legut M, Caillaud ME, Lloyd A, Attaf M, Galloway SAE, Rius C, Farrell CP, Szomolay B, Ager A, Parker AL, Fuller A, Donia M, McCluskey J, Rossjohn J, Svane IM, Phillips JD, Sewell AK (2020) Genome-wide CRISPR-Cas9 screening reveals ubiquitous T cell cancer targeting via the monomorphic MHC class I‑related protein MR1. Nat Immunol 21(2):178–185. https://doi.org/10.1038/s41590-019-0578-8

3.

Czystowska-Kuzmicz M, Sosnowska A, Nowis D, Ramji K, Szajnik M, Chlebowska-Tuz J, Wolinska E, Gaj P, Grazul M, Pilch Z, Zerrouqi A, Graczyk-Jarzynka A, Soroczynska K, Cierniak S, Koktysz R, Elishaev E, Gruca S, Stefanowicz A, Blaszczyk R, Borek B, Gzik A, Whiteside T, Golab J (2019) Small extracellular vesicles containing arginase‑1 suppress T‑cell responses and promote tumor growth in ovarian carcinoma. Nat Commun 10(1):3000. https://doi.org/10.1038/s41467-019-10979-3

4.

Dempke WCM, Fenchel K, Uciechowski P, Dale SP (2017) Second- and third-generation drugs for immuno-oncology treatment - the more the better? Eur J Cancer 74:55–72. https://doi.org/10.1016/j.ejca .2017.01.001

5.

Godfrey DI, Hammond KJ, Poulton LD, Smyth MJ, Baxter AG (2000) NKT cells: facts, functions and fallacies. Immunol Today 21(11):573–583. https://doi.org/10.1016/S0167-5699(00)01735-7

6.

Jhunjhunwala S, Hammer C, Delamarre L (2021) Antigen presentation in cancer: insights into tumour immunogenicity and immune evasion. Nat Rev Cancer. https://doi.org/10.1038/s41568-021-00339-z

7.

McGuire S (2016) World cancer report 2014. Geneva, Switzerland: world health organization, international agency for research on cancer, WHO press, 2015. Adv Nutr 7(2):418–419. https://doi.org/10.3945/an.116.012211

8.

Peng DH, Rodriguez BL, Diao L, Chen L, Wang J, Byers LA, Wei Y, Chapman HA, Yamauchi M, Behrens C, Raso G, Soto LMS, Cuentes ERP, Wistuba II, Kurie JM, Gibbons DL (2020) Collagen promotes anti-PD-1/PD-L1 resistance in cancer through LAIR1-dependent CD8+ T cell exhaustion. Nat Commun 11(1):4520. https://doi.org/10.1038/s41467-020-18298-8

9.

Raab S, Kropp KN, Steinle A, Klein G, Kanz L, Kopp H‑G, Salih HR (2014) Platelet-derived proteases ADAM10 and ADAM17 impair NK cell immunosurveillance of metastasizing tumor cells by diminishing NKG2D ligand surface expression. Blood 124(21):4164. https://doi.org/10.1182/blood.V124.21.4164.4164

10.

Rink L, Kruse A, Haase H (2018) Immunologie für Einsteiger, 2. Aufl. Springer Spektrum, Berlin

11.

Seo H, Chen J, González-Avalos E, Samaniego-Castruita D, Das A, Wang YH, López-Moyado IF, Georges RO, Zhang W, Onodera A, Wu C‑J, Lu L‑F, Hogan PG, Bhandoola A, Rao A (2019) TOX and TOX2 transcription factors cooperate with NR4A transcription factors to impose CD8+ T cell exhaustion. Proc Natl Acad Sci U S A 116(25):12410–12415. https://doi.org/10.1073/pnas.1905675116

12.

Seton-Rogers S (2018) Stop the shedding. Nat Rev Cancer 18(6):338–339. https://doi.org/10.1038/s41568-018-0012-9

13.

Sharonov GV, Serebrovskaya EO, Yuzhakova DV, Britanova OV, Chudakov DM (2020) B cells, plasma cells and antibody repertoires in the tumour microenvironment. Nat Rev Immunol 20(5):294–307. https://doi.org/10.1038/s41577-019-0257-x

14.

Togashi Y, Shitara K, Nishikawa H (2019) Regulatory T cells in cancer immunosuppression - implications for anticancer therapy. Nat Rev Clin Oncol 16(6):356–371. https://doi.org/10.1038/s41571-019-0175-7

15.

Waldman AD, Fritz JM, Lenardo MJ (2020) A guide to cancer immunotherapy: from T cell basic science to clinical practice. Nat Rev Immunol 20(11):651–668. https://doi.org/10.1038/s41577-020-0306-5

16.

Wiemann B, Starnes CO (1994) Coley's toxins, tumor necrosis factor and cancer research: a historical perspective. Pharmacol Ther 64(3):529–564. https://doi.org/10.1016/0163-7258(94)90023-X

17.

Yan J (2021) Antitumor γδ T cells need oxygen to function. Nat Immunol 22(3):268–269. https://doi.org/10.1038/s41590-021-00874-9
Ethics declarations
Interessenkonflikt
B. Rolles, P. Uciechowski und L. Rink geben an, dass kein Interessenkonflikt besteht.
Für diesen Beitrag wurden von den Autoren keine Studien an Menschen oder Tieren durchgeführt. Für die aufgeführten Studien gelten die jeweils dort angegebenen ethischen Richtlinien.
Additional information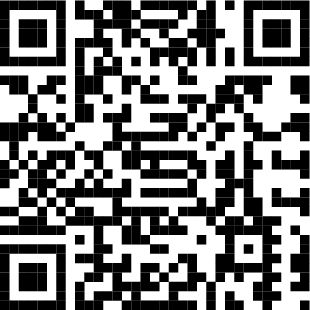 QR-Code scannen & Beitrag online lesen
About this article
Cite this article
Rolles, B., Uciechowski, P. & Rink, L. Grundlagen der Tumorimmunologie. Onkologe (2021). https://doi.org/10.1007/s00761-021-01010-w
Schlüsselwörter
Antigenmodulation

Immunüberwachung

Reaktionsweisen des Immunsystems

Tumorescape

Immuncheckpointinhibitoren
Keywords
Antigenic modulation

Immunologic surveillance

Immune systems reaction(s)

Tumor escape

Immune checkpoint inhibitors