Zusammenfassung
Hintergrund
Eine wichtige Entität der Lungenkarzinome ist das kleinzellige Lungenkarzinom , das aufgrund differenter Therapien von sog. nichtkleinzelligen Karzinomen und anderen blauzelligen Tumoren unterschieden werden muss.
Ziel
Der Schwerpunkt der Arbeit liegt in der Darstellung der typischen histomorphologischen, immunhistochemischen und genetischen Befunde eines kleinzelligen Karzinoms sowie der relevanten Differenzialdiagnosen.
Material und Methoden
Es erfolgte eine Literaturrecherche in der Datenbank PubMed sowie in der gängigen pathologischen Fachliteratur.
Ergebnisse
Eine sichere Diagnosestellung dieser aggressiven Tumorentität ist von größter Bedeutung, um schnellstmöglich eine adäquate Therapie beginnen zu können. Hierfür sind immunhistochemische Untersuchungen unerlässlich.
Schlussfolgerung
Trotz maximaler Therapie zeigt sich eine eher geringe 5‑Jahres-Überlebenswahrscheinlichkeit. Neue Immuncheckpointtherapien könnten bei einem Teil der Patienten eine hohe Wirksamkeit haben.
Abstract
Background
Small cell carcinoma is a distinct histological and clinical entity within the range of lung cancers. It is important to differentiate between small cell lung carcinoma (SCLC) and non-small cell lung carcinoma (NSCLC) and other small, round and blue tumors due to differing therapeutic approaches.
Aim
The focus of this paper was to demonstrate typical morphological, immunohistochemical and genetic findings of SCLC as well as of the relevant differential diagnoses.
Materials and methods
We performed a literature research in the PubMed database and in the common pathological literature.
Results
A reliable diagnosis of this aggressive tumor entity is of highest importance in order to start adequate therapy as soon as possible. Immunohistochemical stains are essential for this.
Conclusion
It is a very aggressive tumor with poor survival despite therapy. Novel immune checkpoint therapies may be effective in at least a subset of lung cancer patients.
Access options
Buy single article
Instant access to the full article PDF.
US$ 39.95
Tax calculation will be finalised during checkout.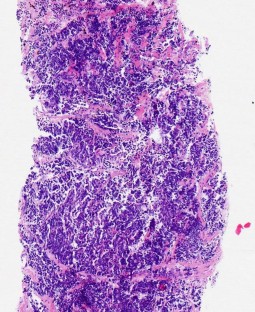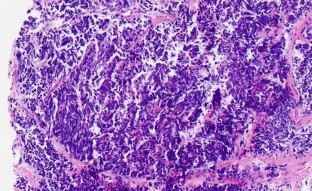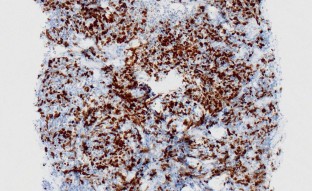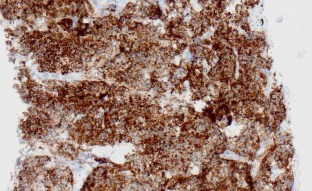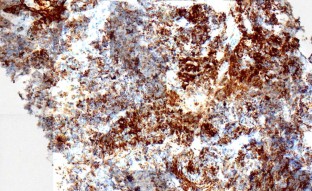 Literatur
1.

Alexandrov LB, Nik-Zainal S, Wedge DC et al (2013) Signatures of mutational processes in human cancer. Nature 500:415–421

2.

Altomare DA, Testa JR (2005) Perturbations of the AKT signaling pathway in human cancer. Oncogene 24:7455–7464

3.

Wittekind C (2017) TNM Klassifikation maligner Tumoren. Wiley-VCH, Weinheim (Lungen‑, Pleuratumoren und Thymustumoren)

4.

Travis WD, Brambilla E, Burke AP, Marx A, Nicholson AG (Hrsg) (2015) WHO classification of tumours of the lung, pleura, thymus and heart

5.

Travis W, Brambilla E, Müller-Hermelink HK, Harris CC (Hrsg) (2004) World Health Organization classification of tumours: pathology and genetics: tumours of the lung, pleura, thymus and heart. IARC, Lyon

6.

Brown FC, Cifani P, Drill E et al (2017) Genomics of primary chemoresistance and remission induction failure in paediatric and adult acute myeloid leukaemia. Br J Haematol 176:86–91

7.

Cerami E, Gao J, Dogrusoz U et al (2012) The cBio cancer genomics portal: an open platform for exploring multidimensional cancer genomics data. Cancer Discov 2:401–404

8.

Chen H, Chong W, Wu Q et al (2019) Association of LRP1B mutation with tumor mutation burden and outcomes in melanoma and non-small cell lung cancer patients treated with immune check-point blockades. Front Immunol 10:1113

9.

Cheng DT, Mitchell TN, Zehir A et al (2015) Memorial Sloan Kettering-integrated mutation profiling of actionable cancer targets (MSK-IMPACT): a hybridization capture-based next-generation sequencing clinical assay for solid tumor molecular oncology. J Mol Diagn 17:251–264

10.

Clevers H, Nusse R (2012) Wnt/beta-catenin signaling and disease. Cell 149:1192–1205

11.

French CA (2018) NUT carcinoma: clinicopathologic features, pathogenesis, and treatment. Pathol Int 68:583–595

12.

Gardner EE, Lok BH, Schneeberger VE et al (2017) Chemosensitive relapse in small cell lung cancer proceeds through an EZH2-SLFN11 axis. Cancer Cells 31:286–299

13.

George J, Lim JS, Jang SJ et al (2015) Comprehensive genomic profiles of small cell lung cancer. Nature 524:47–53

14.

Horn L, Mansfield AS, Szczesna A et al (2018) First-line atezolizumab plus chemotherapy in extensive-stage small-cell lung cancer. N Engl J Med 379:2220–2229

15.

Kim J, Hu Z, Cai L et al (2019) Author correction: CPS1 maintains pyrimidine pools and DNA synthesis in KRAS/LKB1-mutant lung cancer cells. Nature 569:E4

16.

Lane DP (1992) Cancer. p53, guardian of the genome. Nature 358:15–16

17.

Mehnert JM, Panda A, Zhong H et al (2016) Immune activation and response to pembrolizumab in POLE-mutant endometrial cancer. J Clin Invest 126:2334–2340

18.

Morris LG, Kaufman AM, Gong Y et al (2013) Recurrent somatic mutation of FAT1 in multiple human cancers leads to aberrant Wnt activation. Nat Genet 45:253–261

19.

Paz-Ares L, Dvorkin M, Chen Y et al (2019) Durvalumab plus platinum-etoposide versus platinum-etoposide in first-line treatment of extensive-stage small-cell lung cancer (CASPIAN): a randomised, controlled, open-label, phase 3 trial. Lancet 394:1929–1939

20.

Peifer M, Fernandez-Cuesta L, Sos ML et al (2012) Integrative genome analyses identify key somatic driver mutations of small-cell lung cancer. Nat Genet 44:1104–1110

21.

Qiu Z, Lin A, Li K et al (2019) A novel mutation panel for predicting etoposide resistance in small-cell lung cancer. Drug Des Devel Ther 13:2021–2041

22.

Ranganathan P, Weaver KL, Capobianco AJ (2011) Notch signalling in solid tumours: a little bit of everything but not all the time. Nat Rev Cancer 11:338–351

23.

Rudin CM, Durinck S, Stawiski EW et al (2012) Comprehensive genomic analysis identifies SOX2 as a frequently amplified gene in small-cell lung cancer. Nat Genet 44:1111–1116

24.

Sbaraglia M, Righi A, Gambarotti M et al (2020) Ewing sarcoma and Ewing-like tumors. Virchows Arch 476:109–119

25.

Soomro Z, Youssef M, Yust-Katz S et al (2020) Paraneoplastic syndromes in small cell lung cancer. J Thorac Dis 12:6253–6263

26.

Thway K, Fisher C (2014) Synovial sarcoma: defining features and diagnostic evolution. Ann Diagn Pathol 18:369–380

27.

Verset L, Arvanitakis M, Loi P et al (2011) TTF‑1 positive small cell cancers: Don't think they're always primary pulmonary! World J Gastrointest Oncol 3:144–147

28.

Williams KB, Largaespada DA (2020) New model systems and the development of targeted therapies for the treatment of neurofibromatosis type 1‑associated malignant peripheral nerve sheath tumors. Genes (Basel) 11(5):477
Ethics declarations
Interessenkonflikt
S. Steurer, R. Simon, G. Sauter und K. Möller geben an, dass kein Interessenkonflikt besteht.
Alle beschriebenen Untersuchungen am Menschen oder an menschlichem Gewebe wurden mit Zustimmung der zuständigen Ethikkommission, im Einklang mit nationalem Recht sowie gemäß der Deklaration von Helsinki von 1975 (in der aktuellen, überarbeiteten Fassung) durchgeführt. Von allen beteiligten Patienten liegt eine Einverständniserklärung vor.
About this article
Cite this article
Steurer, S., Simon, R., Sauter, G. et al. Pathologie und genetische Faktoren des kleinzelligen Lungenkarzinoms. Onkologe 27, 862–875 (2021). https://doi.org/10.1007/s00761-021-00961-4
Accepted:

Published:

Issue Date:
Schlüsselwörter
Lungentumoren

Pathologische Prozesse

Genetische Phänomene

Immuncheckpointinhibitoren

Neuroendokrines Karzinom
Keywords
Lung neoplasms

Pathologic processes

Genetic phenomena

Immune checkpoint inhibitors

Neuroendocrine carcinoma