Zusammenfassung
Hintergrund
Das kleinzellige Lungenkarzinom ("small-cell lung cancer", SCLC) tritt in etwa 15 % der Lungenkrebsfälle auf und zeichnet sich durch eine sehr hohe Proliferationsrate, frühe Metastasierung und schlechte Prognose aus. Ein starker Risikofaktor für das SCLC ist Zigarettenkonsum. Mehr als zwei Drittel aller PatientInnnen mit SCLC befinden sich schon bei Erstdiagnose in einem metastasierten Tumorstadium. Nur sehr wenige Patienten befinden sich initial in einem lokal begrenzten Stadium, welches einem potenziell kurativen, oft multimodalen Therapieansatz zugänglich ist.
Ergebnis
Genetische Analysen beim SCLC ergaben zahlreiche chromosomale Rearrangements und eine hohe Mutationslast, die nahezu immer mit einer funktionellen Inaktivierung des Tumorsuppressor-Gens TP53 und RB1 einhergeht. Aufgrund vieler darüber hinaus auftretender genetischer Veränderungen entsteht eine große intratumorale Heterogenität. Diese Heterogenität beeinflusst maßgeblich die Tumorentstehung, frühe Metastasierung und Therapieresistenz. Ein zunehmend besseres Verständnis der Tumorbiologie des SCLC hat zur Detektion potenzieller Zielstrukturen geführt. Die positiven Ergebnisse durch Hinzunahme der Immuntherapie zur Standardchemotherapie im metastasierten Tumorstadium haben nach langer Zeit der Maßnahmenstagnation Hoffnung auf ein verbessertes Therapie-Outcome gemacht. Der besondere Fokus liegt sicher hierbei auch auf der kleinen Subgruppe der Patienten, bei denen unter Immuntherapie eine langanhaltende Krankheitsstabilisierung erzielt werden konnte. Das Ziel sollte es sein, weitere spezifische Zielstrukturen zu detektieren, um diese Ergebnisse auf ein größeres Patientenkollektiv übertragen zu können.
Abstract
Background
Small cell lung cancer (SCLC) represents about 15% of all lung cancers and is characterized by an exceptionally high proliferative rate, strong predilection for early metastasis and poor prognosis. SCLC is strongly associated with exposure to tobacco carcinogens. Most patients have metastatic disease at diagnosis. Less than a third of the patients have earlier stage disease at initial diagnosis, so they can receive a potentially curative multimodal therapy.
Results
Extensive chromosomal rearrangements and high mutation burden, almost always associated with functional inactivation of the tumour suppressor genes TP53 and RB1, were found in genomic profiling of SCLCs. Different subtypes of disease based on the relative expression of dominant transcriptional regulators revealed substantial intratumoural heterogeneity. Aspects of this heterogeneity have been implicated in tumour evolution, metastasis and acquired therapeutic resistance. A better understanding of tumour biology has led to the identification of potential targets. Further strategies to direct targeted therapies to those patients who are most likely to respond are needed. The recent introduction of immune checkpoint blockade into the treatment of patients with SCLC is highly promising. A small subgroup of patients shows a prolonged benefit under treatment with immunotherapy and should be explored closer. The objective must be to extend this durable benefit of effective antitumour immunity to a larger patient collective.
Access options
Buy single article
Instant access to the full article PDF.
USD 39.95
Price includes VAT (USA)
Tax calculation will be finalised during checkout.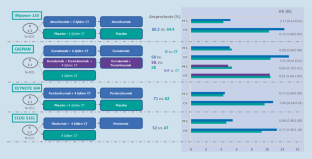 Literatur
1.

Alexandrov LB, Nik-Zainal S, Wedge DC et al (2013) Signatures of mutational processes in human cancer. Nature 500:415–421

2.

Anonymous Data from the Surveillance, Epidemiology and End Results (SEER) registry database.

3.

Bray F, Ferlay J, Soerjomataram I et al (2018) Global cancer statistics 2018: Globocan estimates of incidence and mortality worldwide for 36 cancers in 185 countries. CA Cancer J Clin 68:394–424

4.

Chung HC, Piha-Paul SA, Lopez-Martin J et al (2020) Pembrolizumab after two or more lines of previous therapy in patients with recurrent or metastatic SCLC: results from the keynote-028 and keynote-158 studies. J Thorac Oncol 15:618–627

5.

Farago AF, Drapkin BJ, Lopez-Vilarino De Ramos JA et al (2019) Atlantis: a Phase III study of lurbinectedin/doxorubicin versus topotecan or cyclophosphamide/doxorubicin/vincristine in patients with small-cell lung cancer who have failed one prior platinum-containing line. Future Oncol 15:231–239

6.

Gadgeel SM, Pennell NA, Fidler MJ et al (2018) Phase II study of maintenance pembrolizumab in patients with extensive-stage small cell lung cancer (SCLC). J Thorac Oncol 13:1393–1399

7.

George J, Lim JS, Jang SJ et al (2015) Comprehensive genomic profiles of small cell lung cancer. Nature 524:47–53

8.

Goldman JW, Dvorkin M, Chen Y et al (2021) Durvalumab, with or without tremelimumab, plus platinum-etoposide versus platinum-etoposide alone in first-line treatment of extensive-stage small-cell lung cancer (Caspian): updated results from a randomised, controlled, open-label, phase 3 trial. Lancet Oncol 22:51–65

9.

Gozzard P, Woodhall M, Chapman C et al (2015) Paraneoplastic neurologic disorders in small cell lung carcinoma: a prospective study. Neurology 85:235–239

10.

Huang R, Wei Y, Hung RJ et al (2015) Associated links among smoking, chronic obstructive pulmonary disease, and small cell lung cancer: a pooled analysis in the international lung cancer consortium. EBioMedicine 2:1677–1685

11.

Leal T, Wang Y, Dowlati A et al (2020) Randomized phase II clinical trial of cisplatin/carboplatin and etoposide (CE) alone or in combination with nivolumab as frontline therapy for extensive-stage small cell lung cancer (ES-SCLC): ECOG-ACRIN EA5161. J Clin Oncol 38:9000–9000

12.

Liu SV, Reck M, Mansfield AS et al (2021) Updated overall survival and PD-L1 subgroup analysis of patients with extensive-stage small-cell lung cancer treated with Atezolizumab, Carboplatin, and Etoposide (IMpower133). J Clin Oncol 39:619–630

13.

Maddison P, Gozzard P, Grainge MJ et al (2017) Long-term survival in paraneoplastic Lambert-Eaton myasthenic syndrome. Neurology 88:1334–1339

14.

Mansfield AS, Każarnowicz A, Karaseva N et al (2020) Safety and patient-reported outcomes of atezolizumab, carboplatin, and etoposide in extensive-stage small-cell lung cancer (IMpower133): a randomized phase I/III trial. Ann Oncol 31:310–317

15.

Marabelle A, Fakih M, Lopez J et al (2020) Association of tumour mutational burden with outcomes in patients with advanced solid tumours treated with pembrolizumab: prospective biomarker analysis of the multicohort, open-label, phase 2 Keynote-158 study. Lancet Oncol 21:1353–1365

16.

Mcgranahan N, Furness AJ, Rosenthal R et al (2016) Clonal neoantigens elicit T cell immunoreactivity and sensitivity to immune checkpoint blockade. Science 351:1463–1469

17.

Owonikoko TK, Kim HR, Govindan R et al (2019) Nivolumab (nivo) plus ipilimumab (ipi), nivo, or placebo (pbo) as maintenance therapy in patients (pts) with extensive disease small cell lung cancer (ED-SCLC) after first-line (1L) platinum-based chemotherapy (chemo): results from the double-blind, randomized phase III CheckMate 451 study. Ann Oncol 30:ii77

18.

Ready N, Farago AF, De Braud F et al (2019) Third-line nivolumab monotherapy in recurrent SCLC: checkmate 032. J Thorac Oncol 14:237–244

19.

Rizvi NA, Hellmann MD, Snyder A et al (2015) Cancer immunology. Mutational landscape determines sensitivity to PD‑1 blockade in non-small cell lung cancer. Science 348:124–128

20.

Rudin CM, Awad MM, Navarro A et al (2020) Keynote-604: Pembrolizumab (pembro) or placebo plus etoposide and platinum (EP) as first-line therapy for extensive-stage (ES) small-cell lung cancer (SCLC). J Clin Oncol 38:9001–9001

21.

Spigel DR, Vicente D, Ciuleanu TE et al (2021) Second-line nivolumab in relapsed small-cell lung cancer: checkmate 331. Ann Oncol. https://doi.org/10.1016/j.annonc.2021.01.071

22.

Trigo J, Subbiah V, Besse B et al (2020) Lurbinectedin as second-line treatment for patients with small-cell lung cancer: a single-arm, open-label, phase 2 basket trial. Lancet Oncol 21:645–654
Ethics declarations
Interessenkonflikt
M. Horn weist auf folgende Beziehungen hin: Honorare für Vorträge und Beratung von Amgen, AstraZeneca, BMS, Boehringer-Ingelheim, Lilly, MSD, Roche, Takeda. M. Reck weist auf folgende Beziehungen hin: Honorare für Vorträge und Beratung von Amgen, AstraZeneca, BMS, Boehringer-Ingelheim, Lilly, Merck, Mirati, MSD, Novartis, Pfizer, Sanofi, Roche, Samsung Bioepis. I. Watermann gibt an, dass kein Interessenkonflikt besteht.
Für diesen Beitrag wurden von den Autoren keine Studien an Menschen oder Tieren durchgeführt. Für die aufgeführten Studien gelten die jeweils dort angegebenen ethischen Richtlinien.
About this article
Cite this article
Horn, M., Watermann, I. & Reck, M. Systemtherapie für das kleinzellige Lungenkarzinom im Stadium IV. Onkologe 27, 876–886 (2021). https://doi.org/10.1007/s00761-021-00960-5
Accepted:

Published:

Issue Date:
Schlüsselwörter
Tumormetastasierung

Radiochemotherapie

Chemotherapieschemata

Tumorsuppressorgene

Immuntherapie
Keywords
Neoplasm metastasis

Chemoradiotherapy

Antineoplastic protocols

Tumor suppressor genes

Immunotherapy