Zusammenfassung
Hintergrund
Nichtmelanotischer Hautkrebs wird in den Landeskrebsregistern Deutschlands unterschiedlich erfasst.
Pilotprojekt
Das Krebsregister Rheinland-Pfalz registriert in einem Pilotprojekt ausgewählte nichtmelanotische Hauttumoren mit erhöhtem Metastasierungs- und Mortalitätsrisiko. Die Auswirkungen auf Abläufe der Krebsregistrierung und auf das Meldeverhalten der Dermatologen sollen evaluiert werden. Ebenfalls sollen Datenanalysen zur Epidemiologie dieser Hautkrebsarten, aber auch zu klinischen Fragestellungen durchgeführt werden.
Ausblick
Eine bundesweite Vereinheitlichung der Registrierung wird angestrebt und ist Grundlage für die Betrachtung der Versorgungssituation dieser Tumoren in Deutschland.
Abstract
Background
Non-melanoma skin cancer is recorded heterogeneously in state cancer registries in Germany.
Pilot project
The Cancer Registry of Rhineland–Palatinate registers selected non-melanoma skin tumors with increased risk of metastasis and mortality within a pilot project. The effects on cancer registration processes and reporting behavior of dermatologists will be evaluated. Data analyses on epidemiological and clinical issues will be performed.
Outlook
A nationwide standardization of the registration is aspired and is the basis for the evaluation of the care situation of these tumors in Germany.
Access options
Buy single article
Instant access to the full article PDF.
US$ 39.95
Tax calculation will be finalised during checkout.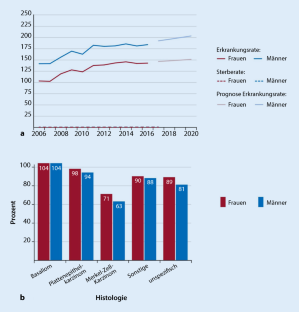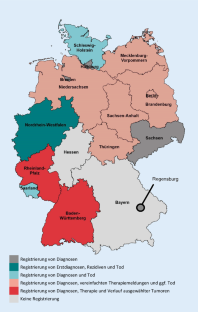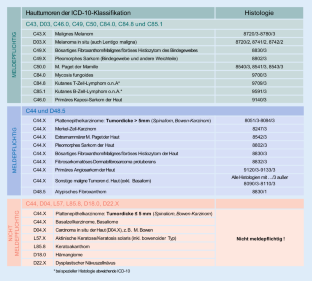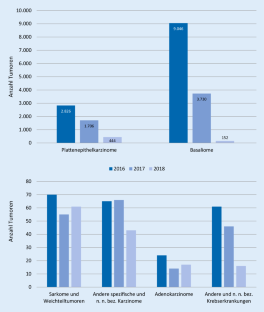 Literatur
1.

Becker JC, Stang A, Decaprio JA, Cerroni L, Lebbè C, Veness M, Nghiem P (2017) Merkel cell carcinoma. Nat Rev Dis Primers 3:17077

2.

Berking C, Hauschild A, Kölbl O, Mast G, Gutzmer R (2014) Basalzellkarzinom – Therapieoptionen für den häufigsten Hautkrebs. Dtsch Arztebl Int 111:389–395

3.

Einheitlicher Onkologischer Basisdatensatz von Arbeitsgemeinschaft Deutscher Tumorzentren e. V. (ADT) und Gesellschaft der epidemiologischen Krebsregister in Deutschland e. V. (GEKID) (2014). Bundesanzeiger

4.

Entwurf eines Gesetzes zur Zusammenführung von Krebsregisterdaten (Kabinett: 10.02.2021). https://www.bundesgesundheitsministerium.de/fileadmin/Dateien/3_Downloads/Gesetze_und_Verordnungen/GuV/K/Krebsregisterdaten-GE_Kabinett.pdf. Zugegriffen: 06.04.2021

5.

Ferlay J, Ervik M, Lam F, Colombet M, Mery L, Piñeros M, Znaor A, Soerjomataram I, Bray F (2020) Global Cancer Observatory: Cancer Today. Lyon, France: International Agency for Research on Cancer. https://gco.iarc.fr/today. Zugegriffen: 6. Apr. 2021

6.

Fields RC, Busam KJ, Chou JF, Panageas KS, Pulitzer MP, Allen PJ, Kraus DH, Brady MS, Coit DG (2012) Recurrence after complete resection and selective use of adjuvant therapy for stage I through III Merkel cell carcinoma. Cancer 118(13):3311–3320

7.

Gesetz zur Weiterentwicklung der Krebsfrüherkennung und zur Qualitätssicherung durch klinische Krebsregister (Krebsfrüherkennungs- und -registergesetz – KFRG) (2013). Bundesgesetzblatt

8.

Gupta S, Reintjes R, Trialonis-Suthakharan N (2019) Analysis of the methodology of skin cancer incidence registration in German cancer registries. Ann Cancer Epidemiol 3:8

9.

Deutsche Krebsgesellschaft, Deutsche Krebshilfe, AWMF (2020) Leitlinienprogramm Onkologie:S3-Leitlinie Aktinische Keratose und Plattenepithelkarzinom der Haut, Langversion 1.1, AWMF Registernummer: 032/022OL. https://www.leitlinienprogrammonkologie.de/leitlinien/aktinische-keratosen-und-plattenepithelkarzinom-der-haut/. Zugegriffen: 24. März 2021

10.

Robert Koch-Institut, Gesellschaft der epidemiologischen Krebsregister in Deutschland e. V. (Hrsg) (2019) Krebs in Deutschland für 2015/2016, 12. Aufl.

11.

van der Zwan JM, Trama A, Otter R, Larrañaga N, Tavilla A, Marcos-Gragera R, Dei Tos AP, Baudin E, Poston G, Links T, Rarecare WG (2013) Rare neuroendocrine tumours: results of the surveillance of rare cancers in Europe project. Eur J Cancer 49(11):2565–2578
Danksagung
Die Autorinnen bedanken sich bei Prof. Dr. Stephan Grabbe, Direktor der Hautklinik und Poliklinik der Universitätsmedizin der Johannes Gutenberg-Universität Mainz, und Herrn Dr. Ralph von Kiedrowski, Landesvorsitzender Rheinland-Pfalz des Berufsverbands (BVDD), für die Beratung und Unterstützung im Rahmen der Einführung des Modellprojekts.
Ethics declarations
Interessenkonflikt
M. Schoeps, M. Effenberger und S.R. Zeißig geben an, dass kein Interessenkonflikt besteht.
Für diesen Beitrag wurden von den Autoren keine Studien an Menschen oder Tieren durchgeführt. Für die aufgeführten Studien gelten die jeweils dort angegebenen ethischen Richtlinien.
About this article
Cite this article
Schoeps, M., Effenberger, M. & Zeißig, S.R. Krebsregistrierung nichtmelanotischer Hauttumoren in Deutschland. Onkologe (2021). https://doi.org/10.1007/s00761-021-00950-7
Schlüsselwörter
Krebsregister

Nichtmelanotische Hauttumoren

Epidemiologie

Qualitätssicherung
Keywords
Cancer registries

Non-melanoma skin cancer

Epidemiology

Quality assurance