Abstract
Background
The treatment regime for head and neck cancer (HNC) includes surgery, radiotherapy and chemotherapy. Treatment modalities are used alone or in combination. Long-term survivors of HNC may experience a range of therapy-dependent effects. Although research has been done on the acute and medium-term problems that occur for this patient group, the toxicities that persist long-term or present very late are less known.
Objectives
To review what is known about the occurrence of toxicities among former HNC patients who have survived at least 5 years.
Methods
PubMed was searched for relevant articles published in English or German that used the Common Terminology Criteria for Adverse Events (CTCAE) to report on one or more of 11 preselected toxicities.
Results
Of 42 articles identified, the full text of 40 could be obtained. Three relevant articles were identified; all of which included nasopharynx patients who had received radiotherapy or chemotherapy or a combination of both. The long-term toxicities identified concerned hearing impairment, dry mouth, dysphagia, trismus, neuropathy, fibrosis, and pain. No information on the oral health of the survivors was found. Only one study reported detailed results, with dry mouth, hearing loss, and dysphagia being particularly prevalent. One study reported that 49% of long-term survivors had at least one grade 3 toxicity, of which approximately one third concerned hearing problems.
Conclusions
Only a few studies aimed primarily at assessing the longterm toxicities in this survivor group are available but they are necessary to understand how to best support this patient group.
Zusammenfassung
Hintergrund
Das Behandlungsschema für Kopf- und Halstumoren (HNC) umfasst Operationen, Strahlentherapie und Chemotherapie. Diese Behandlungsmodalitäten werden allein oder in Kombination angewendet. Obwohl akute und mittelfristige Folgen dieser Behandlungen bei Patienten mit HNC bereits untersucht wurden, ist zu den Toxizitäten, die langfristig bestehen bleiben oder erst sehr spät vorkommen, wenig bekannt.
Fragestellung
Wie häufig kommen Toxizitäten bei ehemaligen HNC-Patienten vor, die mindestens fünf Jahre überlebt haben?
Methoden
PubMed wurde systematisch nach englisch- und deutschsprachigen Artikeln durchsucht, in denen anhand der Common Terminology Criteria for Adverse Events (CTCAE) mindestens eine von 11 ausgewählten Toxizitäten berichtet wurde.
Ergebnisse
Von 42 identifizierten Artikeln waren 40 Volltexte verfügbar. Insgesamt wurden drei relevante Artikel identifiziert, welche alle ausschließlich Patienten mit Nasopharynxtumoren einschlossen, die eine Strahlentherapie oder Chemotherapie oder eine Kombination aus beiden erhalten hatten. Es gab keine Artikel zu CTCAE-Langzeittoxizitäten bei anderen HNC-Tumorentitäten. Die Langzeittoxizitäten bei den Nasopharynxtumorüberlebenden waren Hörstörungen, Mundtrockenheit, Dysphagie, Trismus, Neuropathie, Fibrosen und Schmerzen. Es wurden keine Informationen zur Mundgesundheit der Überlebenden gefunden. Nur eine Studie berichtete detaillierte Ergebnisse, wobei hier Mundtrockenheit, Hörverlust und Dysphagie besonders häufig waren. Eine Studie berichtet, dass 49 % der Patienten nach 5 Jahren noch an einer Toxizität dritten Grades litten, von der ein Drittel auf Hörstörungen entfiel.
Schlussfolgerungen
Es gibt nur wenig Studien, die sich mit den Langzeitfolgen der Kopf-Hals-Tumor-Therapie befassen, sie sind aber zwingend notwendig, um potenzielle Bedürfnisse zu erkennen und darauf eingehen zu können.
Access options
Buy single article
Instant access to the full article PDF.
US$ 39.95
Tax calculation will be finalised during checkout.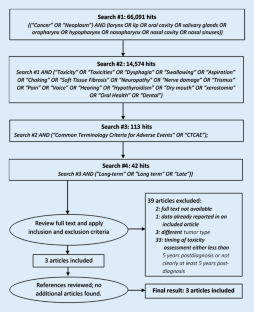 References
1.

Cohen EE, LaMonte SJ, Erb NL, Beckman KL, Sadeghi N, Hutcheson KA, Stubblefield MD, Abbott DM, Fisher PS, Stein KD et al (2016) American Cancer Society head and neck cancer survivorship care guideline. CA Cancer J Clin 66(3):203–239

2.

Fingeret MC, Hutcheson KA, Jensen K, Yuan Y, Urbauer D, Lewin JS (2013) Associations among speech, eating, and body image concerns for surgical patients with head and neck cancer. Head Neck 35(3):354–360

3.

Robert Koch-Institut, Gesellschaft der epidemiologischen Krebsregister in Deutschland (eds) (2019) Krebs in Deutschland für 2015/2016, 12 edn. RKI, Berlin

4.

Machtay M, Moughan J, Trotti A, Garden AS, Weber RS, Cooper JS, Forastiere A, Ang KK (2008) Factors associated with severe late toxicity after concurrent chemoradiation for locally advanced head and neck cancer: an RTOG analysis. J Clin Oncol 26(21):3582–3589

5.

Grabenbauer GG, Rödel C, Ernst-Stecken A, Brunner T, Hornung J, Kittel K, Steinhart H, Iro H, Sauer R, Schultze-Mosgau S (2003) Neck dissection following radiochemotherapy of advanced head and neck cancer—for selected cases only? Radiother Oncol 66(1):57–63

6.

Weber C, Dommerich S, Pau HW, Kramp B (2010) Limited mouth opening after primary therapy of head and neck cancer. Oral Maxillofac Surg 14(3):169–173

7.

Jham BC, Reis PM, Miranda EL, Lopes RC, Carvalho AL, Scheper MA, Freire AR (2008) Oral health status of 207 head and neck cancer patients before, during and after radiotherapy. Clin Oral Investig 12(1):19–24

8.

Wang CJ, Huang EY, Hsu HC, Chen HC, Fang FM, Hsiung CY (2005) The degree and time-course assessment of radiation-induced trismus occurring after radiotherapy for nasopharyngeal cancer. Laryngoscope 115(8):1458–1460

9.

Al-Mamgani A, Van Rooij P, Tans L, Teguh DN, Levendag PC (2013) Toxicity and outcome of intensity-modulated radiotherapy versus 3‑dimensional conformal radiotherapy for oropharyngeal cancer: a matched-pair analysis. Technol Cancer Res Treat 12(2):123–130

10.

Liu WS, Hsin CH, Chou YH, Liu JT, Wu MF, Tseng SW, Lee JK, Tseng HC, Wang TH, Su MC et al (2010) Long-term results of intensity-modulated radiotherapy concomitant with chemotherapy for hypopharyngeal carcinoma aimed at laryngeal preservation. BMC Cancer 10:102

11.

Leitlinienprogramm Onkologie (Deutsche Krebsgesellschaft, Deutsche Krebshilfe, AWMF) (2019) S3-Leitlinie Diagnostik und Therapie des Mundhöhlenkarzinoms, Langversion 3.01 (Konsultationsfassung), AWMF Registernummer: 007/100OL. https://www.leitlinienprogramm-onkologie.de/leitlinien/mundhoehlenkarzinom/. Zugegriffen: 21. Dez. 2020

12.

Al-Mamgani A, Mehilal R, van Rooij PH, Tans L, Sewnaik A, Levendag PC (2012) Toxicity, quality of life, and functional outcomes of 176 hypopharyngeal cancer patients treated by (chemo)radiation: the impact of treatment modality and radiation technique. Laryngoscope 122(8):1789–1795

13.

Department of Health (2017) Common terminology criteria for adverse events (CTCAE) v 5.0. https://ctep.cancer.gov/protocoldevelopment/electronic_applications/docs/CTCAE_v5_Quick_Reference_8.5x11.pdf. Zugegriffen: 21. Dez. 2020

14.

Takiar V, Ma D, Garden AS, Li J, Rosenthal DI, Beadle BM, Frank SJ, Fuller CD, Gunn GB, Morrison WH et al (2016) Disease control and toxicity outcomes for T4 carcinoma of the nasopharynx treated with intensity-modulated radiotherapy. Head Neck 38(Suppl 1):E925–E933

15.

Tsai WL, Huang TL, Liao KC, Chuang HC, Lin YT, Lee TF, Huang HY, Fang FM (2014) Impact of late toxicities on quality of life for survivors of nasopharyngeal carcinoma. BMC Cancer 14:856

16.

Zeng L, Tian YM, Sun XM, Chen CY, Han F, Xiao WW, Deng XW, Lu TX (2014) Late toxicities after intensity-modulated radiotherapy for nasopharyngeal carcinoma: patient and treatment-related risk factors. Br J Cancer 110(1):49–54

17.

Bray F, Ferlay J, Soerjomataram I, Siegel RL, Torre LA, Jemal A (2018) Global cancer statistics 2018: GLOBOCAN estimates of incidence and mortality worldwide for 36 cancers in 185 countries. CA Cancer J Clin 68(6):394–424

18.

Xiao WW, Huang SM, Han F, Wu SX, Lu LX, Lin CG, Deng XW, Lu TX, Cui NJ, Zhao C (2011) Local control, survival, and late toxicities of locally advanced nasopharyngeal carcinoma treated by simultaneous modulated accelerated radiotherapy combined with cisplatin concurrent chemotherapy: long-term results of a phase 2 study. Cancer 117(9):1874–1883

19.

Wijers OB, Levendag PC, Braaksma MM, Boonzaaijer M, Visch LL, Schmitz PI (2002) Patients with head and neck cancer cured by radiation therapy: a survey of the dry mouth syndrome in long-term survivors. Head Neck 24(8):737–747

20.

Yeh SA, Tang Y, Lui CC, Huang YJ, Huang EY (2005) Treatment outcomes and late complications of 849 patients with nasopharyngeal carcinoma treated with radiotherapy alone. Int J Radiat Oncol Biol Phys 62(3):672–679

21.

Hohenberger R, Baumann I, Plinkert PK, Brinster R, Krisam J, Affolter A, Hein M, Flechsig P, Rathke H, Oladokun D et al (2019) Validating the Xerostomia Inventory in a radiation-induced xerostomia population in German language. Oral Dis 25(7):1744–1750

22.

O'Neil KH, Purdy M, Falk J, Gallo L (1999) The dysphagia outcome and severity scale. Dsyphagia 14:139–145
Ethics declarations
Conflict of interest
K. Taylor, M. Krüger and S. Singer declare that they have no competing interests.
For this article no studies with human participants or animals were performed by any of the authors. All studies performed were in accordance with the ethical standards indicated in each case.
The supplement containing this article is not sponsored by industry.
About this article
Cite this article
Taylor, K., Krüger, M. & Singer, S. Long-term toxicity among head and neck cancer patients—A systematic review. Onkologe (2021). https://doi.org/10.1007/s00761-021-00914-x
Keywords
CTCAE

Carcinoma

Late sequelea

Dry mouth

Nasopharynx
Schlüsselwörter
CTCAE

Karzinom

Spätfolge

Trockener Mund

Nasopharynx