Zusammenfassung
Hintergrund
Die spätere Kinderwunscherfüllung von Patient*innen mit Tumoren im Kindes- und Jugendalter kann aufgrund ihrer Erkrankung und deren Therapie eingeschränkt sein.
Fragestellung
Untersucht werden die Prävalenz von und Risikofaktoren für Fertilitätsstörungen. Mögliche fruchtbarkeitserhaltende Maßnahmen werden erörtert.
Material und Methode
Es handelt sich um Auswertungen der aktuellen Literatur, Leitlinien und Gesetzeslage in Deutschland und der Schweiz zum Fertilitätserhalt bei Tumoren im Kindes- und Jugendalter.
Ergebnisse
Nach Chemo- und/oder Strahlentherapie ist die Fruchtbarkeit bei etwa einem Drittel der Patient*innen mit einem Tumor beeinträchtigt, nach einer Stammzelltransplantation sind über zwei Drittel betroffen. Fruchtbarkeitserhaltende Maßnahmen für Patient*innen stehen zur Verfügung. Laut Beschluss des Gemeinsamen Bundesausschusses (G-BA) vom Juli 2020 sind die Kryokonservierung von Ei- und Samenzellen sowie die dazugehörigen medizinischen Maßnahmen künftig unter bestimmten Voraussetzungen Leistung der gesetzlichen Krankenkassen in Deutschland.
Schlussfolgerung
Kinderwunsch und Kinderwunscherfüllung ehemaliger kinderonkologischer Patient*innen sollten durch eine frühzeitige und umfassende Aufklärung über das individuelle Risiko für Fruchtbarkeitsstörungen und fertilitätserhaltende Maßnahmen unterstützt werden. Den Betroffenen und ihren Familien soll eine selbstbestimmte Entscheidung in der Familienplanung ermöglicht werden.
Abstract
Background
Survivors of childhood and adolescent cancer with a desire to have children may face fertility impairment due to the cancer itself or as a consequence of treatment.
Objectives
Prevalence and risk factors of fertility impairment were evaluated. Available fertility preserving treatments are discussed.
Materials and methods
The current literature, guidelines and legal situation in Germany and Switzerland concerning fertility preservation in children and adolescents are assessed.
Results
Fertility impairment following chemotherapy and/or radiotherapy occurs in approximately one third of cancer patients and in more than two thirds of patients who underwent stem cell transplantation. According to the G‑BA (German: Gemeinsame Bundesausschuss) resolution of July 2020, the cryopreservation of egg and sperm cells as well as the associated medical measures will be covered by the statutory health insurance under certain conditions in Germany in the future.
Conclusions
Survivors of childhood and adolescent cancer should be reassured regarding their desire to have children. The treating physician should provide comprehensive medical information about the individual risk of fertility disorders and fertility-preserving measures. Sufficient and early counseling allows patients and their families to make a self-determined decision on their (future) family planning.
Access options
Buy single article
Instant access to the full article PDF.
US$ 39.95
Tax calculation will be finalised during checkout.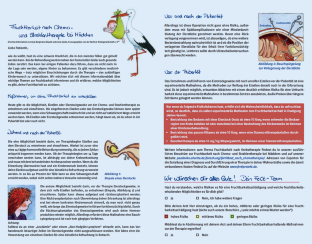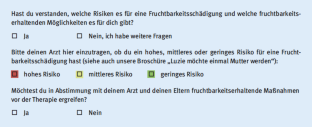 Literatur
1.

Institut für Demoskopie Allensbach (2007) Allensbacher Berichte. Unfreiwillige Kinderlosgkeit

2.

Arbeitsgemeinschaft Der Wissenschaftlichen Medizinischen Fachgesellschaften (Awmf) (2015) S1 Leitlinie 025-034. Beeinträchtigung der Gonadenfunktion nach Chemo- und Strahlentherapie im Kindes- und Jugendalter: Risiken, Diagnostik, Prophylaxe- und Behandlungsmöglichkeiten. Überarbeitete Version: 31. Mai 2020.

3.

Balcerek M, Reinmuth S, Hohmann C et al (2012) Suspected infertility after treatment for leukemia and solid tumors in childhood and adolescence. Dtsch Arztebl Int 109:126–131

4.

Balcerek M, Schilling R, Schlack R et al (2015) Nationwide Survey on the Health of Offspring from Former Childhood Cancer Patients in Germany. Klin Padiatr 227:350–354

5.

Borgmann-Staudt A, Kunstreich M, Schilling R et al (2019) Fertility knowledge and associated empowerment following an educational intervention for adolescent cancer patients. Psychooncology 28:2218–2225

6.

Borgmann-Staudt A, Rendtorff R, Reinmuth S et al (2012) Fertility after allogeneic haematopoietic stem cell transplantation in childhood and adolescence. Bone Marrow Transplant 47:271–276

7.

Bundesamt Für Gesundheit Bag (2019) Verordnung des EDI über Leistungen in der obligatorischen Krankenpfegeversicherung (Krankenpflege-Leistungsverordnung, KLV) Änderung vom 6. Juni 2019. https://www.bag.admin.ch/bag/de/home/gesetze-und-bewilligungen/gesetzgebung/gesetzgebung-versicherungen/gesetzgebung-krankenversicherung/kvg/aenderungen-in-der-klv.html. Zugegriffen: 11.02.2021

8.

Diesch T, Rovo A, Von Der Weid N et al (2017) Fertility preservation practices in pediatric and adolescent cancer patients undergoing HSCT in Europe: a population-based survey. Bone Marrow Transplant 52:1022–1028

9.

Dittrich R, Kliesch S, Schüring A et al (2018) Fertility Preservation for Patients with Malignant Disease. Guideline of the DGGG, DGU and DGRM (S2k-Level, AWMF Registry No. 015/082, November 2017)—Recommendations and Statements for Girls and Women. Geburtshilfe Frauenheilkd 78:567–584

10.

Eliyahu S, Shalev E (1994) A successful pregnancy after bone marrow transplantation for severe aplastic anaemia with pre-transplant conditioning of total lymph-node irradiation and cyclophosphamide. Br J Haematol 86:649–650

11.

Gemeinsamer Bundesausschuss (2020) Gemeinsamer Bundesausschuss (2020) Kryokonservierung von Ei- und Samenzellen als GKV-Leistung – G‑BA beschließt Richtlinie, Pressemitteilung Nr. 34. https://www.g-ba.de/presse/pressemitteilungen/878/. Zugegriffen: 11.02.2021

12.

Green DM, Kawashima T, Stovall M et al (2009) Fertility of female survivors of childhood cancer: a report from the childhood cancer survivor study. J Clin Oncol 27:2677–2685

13.

Green DM, Sklar CA, Boice JD Jr. et al (2009) Ovarian failure and reproductive outcomes after childhood cancer treatment: results from the Childhood Cancer Survivor Study. J Clin Oncol 27:2374–2381

14.

Hohmann C, Borgmann-Staudt A, Rendtorff R et al (2011) Patient counselling on the risk of infertility and its impact on childhood cancer survivors: results from a national survey. J Psychosoc Oncol 29:274–285

15.

Howell SJ, Shalet SM (2002) Effect of cancer therapy on pituitary-testicular axis. Int J Androl 25:269–276

16.

Kaatsch P. GD, Spix C. (2018) German Childhood Cancer Registry—Annual Report 2018 (1980–2017). In, Institute of Medicl Biostatistics Epidemiology and Infromatics (IMBEI) at the University Medical Center of the Johannes Gutenberg University Mainz, 2019. https://www.kinderkrebsregister.de/dkkr/ergebnisse/jahresberichte.html

17.

Lawrenz B, Henes M, Neunhoeffer E et al (2021) Pregnancy after successful cancer treatment: what needs to be considered? Onkologie 35:128–132

18.

Leiper A, Houwing M, Davies EG et al (2020) Correction: Anti-Müllerian hormone and Inhibin B after stem cell transplant in childhood: a comparison of myeloablative, reduced intensity and treosulfan-based chemotherapy regimens. Bone Marrow Transplant 56(2):521. https://doi.org/10.1038/s41409-020-0914-5

19.

Mauz-Körholz C, Metzger ML, Kelly KM et al (2015) Pediatric Hodgkin Lymphoma. J Clin Oncol 33:2975–2985

20.

Mueller BA, Chow EJ, Kamineni A et al (2009) Pregnancy outcomes in female childhood and adolescent cancer survivors: a linked cancer-birth registry analysis. Arch Pediatr Adolesc Med 163:879–886

21.

Pfitzer C, Chen CM, Wessel T et al (2014) Dynamics of fertility impairment in childhood brain tumour survivors. J Cancer Res Clin Oncol 140:1759–1767

22.

Pfitzer C, Orawa H, Balcerek M et al (2015) Dynamics of fertility impairment and recovery after allogeneic haematopoietic stem cell transplantation in childhood and adolescence: results from a longitudinal study. J Cancer Res Clin Oncol 141:135–142

23.

Reinmuth S, Hohmann C, Rendtorff R et al (2013) Impact of chemotherapy and radiotherapy in childhood on fertility in adulthood: the FeCt-survey of childhood cancer survivors in Germany. J Cancer Res Clin Oncol 139:2071–2078

24.

Reulen RC, Zeegers MP, Wallace WH et al. (2009) Pregnancy outcomes among adult survivors of childhood cancer in the British Childhood Cancer Survivor Study. Cancer epidemiology, biomarkers & prevention : a publication of the American Association for Cancer Research, cosponsored by the American Society of Preventive Oncology 18:2239–2247

25.

Sanger N, Jarisch A, Ochsendorf F et al (2018) Fertility preservation in prepubertal und pubertal children and adolescents. Klin Padiatr. https://doi.org/10.1055/s-0044-100396

26.

Sommerhäuser G, Borgmann-Staudt A, Astrahantseff K et al (2020) Health outcomes in offspring born to survivors of childhood cancers following assisted reproductive technologies. J Cancer Surviv. https://doi.org/10.1007/s11764-020-00929-0

27.

Tallen G, Henze G, Creutzig U et al (2010) Auswirkungen der. EU, Direktive fuer klinische Studien auf Kinder und Jugendliche mit Krebserkrankungen in Europa

28.

Wallace WH, Anderson RA, Irvine DS (2005) Fertility preservation for young patients with cancer: who is at risk and what can be offered? Lancet Oncol 6:209–218

29.

Wenzel L, Dogan-Ates A, Habbal R et al (2005) Defining and measuring reproductive concerns of female cancer survivors. J Natl Cancer Inst Monographs 34:94–98

30.

Wessel T, Balcerek M, Reinmuth S et al (2012) Age at menarche in childhood cancer survivors: results of a nationwide survey in Germany. Horm Res Paediatr 77:108–114
Ethics declarations
Interessenkonflikt
A. Borgmann-Staudt, G. Sommerhäuser und M. Balcerek geben an, dass kein Interessenkonflikt besteht.
Alle beschriebenen Untersuchungen am Menschen wurden mit Zustimmung der zuständigen Ethikkommission, im Einklang mit nationalem Recht sowie gemäß der Deklaration von Helsinki von 1975 (in der aktuellen, überarbeiteten Fassung) durchgeführt. Von allen beteiligten Patient*innen liegt eine Einverständniserklärung vor.
About this article
Cite this article
Borgmann-Staudt, A., Sommerhäuser, G. & Balcerek, M. Fertilitätserhalt bei Tumoren im Kindes- und Jugendalter. Onkologe (2021). https://doi.org/10.1007/s00761-021-00908-9
Schlüsselwörter
Fertilität

Chemotherapie

Strahlentherapie

Tumorerkrankungen

Kontinuität der Patientenversorgung
Keywords
Fertility

Chemotherapy

Radiotherapy

Neoplasms

Continuity of patient care