Zusammenfassung
Hintergrund
Immuntherapieverfahren bei Kindern und Jugendlichen mit Krebserkrankungen nehmen an Bedeutung zu, allerdings unterscheiden sich die Einsatzmöglichkeiten teilweise im Vergleich zu Krebserkrankungen bei Erwachsenen.
Ziel
Etablierte Immuntherapieverfahren und mögliche Perspektiven für die pädiatrische Onkologie werden beleuchtet.
Methoden
Diese Arbeit basiert auf einer Literaturrecherche in der Datenbank PubMed zum Thema Immuntherapie in der pädiatrischen Onkologie
Ergebnisse
Das Rückgrat sind monoklonale Antikörper und deren Konjugate, die bei der Behandlung von Leukämien, Lymphomen und auch beim Neuroblastom mittlerweile zum Behandlungsstandard zählen. Deren hochspezifische Bindungseigenschaften ermöglichten die Entwicklung von bispezifischen Antikörpern und von chimären Antigenrezeptoren, die bei B‑Vorläufer-Leukämien klinische Wirksamkeit zeigen. Im Gegensatz zur Erwachsenenonkologie spielt das relativ neue Prinzip der Hemmung inhibitorischer Signale durch Immuncheckpointblockade bei den klassischen pädiatrisch onkologischen Diagnosen bislang kaum eine Rolle, da diese kaum eine präformierte antitumorale Immunantwort aufweisen. Das liegt u. a. an einer im Durchschnitt um den Faktor 14 niedrigeren Mutationsfrequenz bei Kinderkrebserkrankungen und damit einer geringeren Häufigkeit von Neoantigenen.
Schlussfolgerung
Ein möglicher Nutzen einer Immuncheckpointblockade bei Kindern mit Krebserkrankungen liegt am ehesten in der Entwicklung von Kombinationstherapien, die sowohl eine Erhöhung von antitumoral wirksamen Effektorzellen im Tumor und gleichzeitig die Hemmung inhibitorischer Signale im Tumormikromilieu erreichen. Neue Konstrukte und innovative Kombinationen lassen einen weiteren Zuwachs wirksamer Immuntherapien in der Zukunft erwarten.
Abstract
Background
The importance of immunotherapy for children and adolescents with cancer is increasing, but their applicability is somewhat different compared to their use in adult cancer patients.
Aim
Immunotherapy approaches and their perspectives in pediatric oncology are discussed.
Methods
This manuscript is based on a literature search in PubMed related to the topic of immunotherapy in pediatric oncology.
Results
The backbone of cancer immunotherapy is the use of monoclonal antibodies and conjugates, which are today standard of care for the treatment of leukemia, lymphoma and neuroblastoma. Their highly specific antigen binding characteristics allowed for the development of bispecific antibodies and chimeric antigen receptors, which have shown clinical efficacy in B‑precursor leukemia. In contrast to treatment of adults with cancer, the relatively new principle of inhibition of negative immune regulation by immune checkpoint blockade has not become established in pediatric oncology, due to the absence of a pre-existing anti-tumor immune response in most pediatric oncology cases. This may be due, among other things, to a 14-fold lower frequency of somatic mutations on average in pediatric cancers, which leads to a lower level of neoantigen formation.
Conclusion
The future of immune checkpoint blockade may lie in combination therapies that induce an increase of anti-tumor effector cells and concomitant inhibition of immune suppressive signals in the tumor microenvironment. The steady increase of novel constructs and innovative combinations raise expectations for additional effective future immunotherapeutics for children with cancer.
Access options
Buy single article
Instant access to the full article PDF.
US$ 39.95
Tax calculation will be finalised during checkout.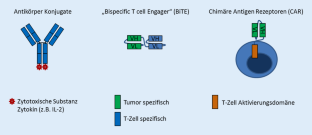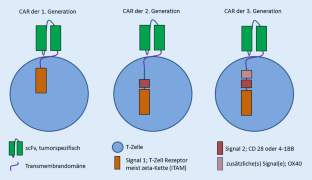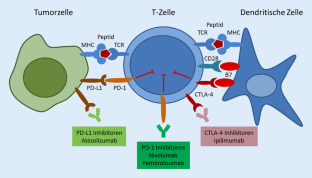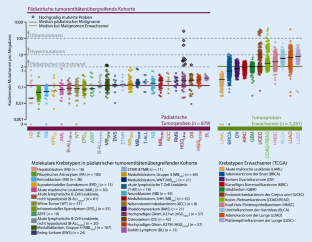 Literatur
1.

Curran E, Stock W (2019) Taking a "BiTE out of ALL": blinatumomab approval for MRD-positive ALL. Blood 133:1715–1719

2.

Ebb D, Meyers P, Grier H et al (2012) Phase II trial of trastuzumab in combination with cytotoxic chemotherapy for treatment of metastatic osteosarcoma with human epidermal growth factor receptor 2 overexpression: a report from the children's oncology group. J Clin Oncol 30:2545–2551

3.

Ehlert K, Hansjuergens I, Zinke A et al (2020) Nivolumab and dinutuximab beta in two patients with refractory neuroblastoma. J Immunother Cancer 8(1):e540. https://doi.org/10.1136/jitc-2020-000540

4.

Frey B, Ruckert M, Deloch L et al (2017) Immunomodulation by ionizing radiation-impact for design of radio-immunotherapies and for treatment of inflammatory diseases. Immunol Rev 280:231–248

5.

Grobner SN, Worst BC, Weischenfeldt J et al (2018) The landscape of genomic alterations across childhood cancers. Nature 555:321–327

6.

Grosser R, Cherkassky L, Chintala N et al (2019) Combination immunotherapy with CAR T cells and checkpoint blockade for the treatment of solid tumors. Cancer Cells 36:471–482

7.

Heczey A, Louis CU, Savoldo B et al (2017) CAR T cells administered in combination with lymphodepletion and PD‑1 inhibition to patients with neuroblastoma. Mol Ther 25:2214–2224

8.

Hellmann MD, Paz-Ares L, Bernabe Caro R et al (2019) Nivolumab plus Ipilimumab in advanced non-small-cell lung cancer. N Engl J Med 381:2020–2031

9.

Janus A, Robak T (2019) Moxetumomab pasudotox for the treatment of hairy cell leukemia. Expert Opin Biol Ther 19:501–508

10.

June CH, Sadelain M (2018) Chimeric antigen receptor therapy. N Engl J Med 379:64–73

11.

Kantarjian HM, Vandendries E, Advani AS (2016) Inotuzumab ozogamicin for acute lymphoblastic leukemia. N Engl J Med 375:2100–2101

12.

Ladenstein R, Potschger U, Valteau-Couanet D et al (2018) Interleukin 2 with anti-GD2 antibody ch14.18/CHO (dinutuximab beta) in patients with high-risk neuroblastoma (HR-NBL1/SIOPEN): a multicentre, randomised, phase 3 trial. Lancet Oncol 19:1617–1629

13.

Larkin J, Chiarion-Sileni V, Gonzalez R et al (2019) Five-year survival with combined nivolumab and ipilimumab in advanced melanoma. N Engl J Med 381:1535–1546

14.

Long AH, Haso WM, Shern JF et al (2015) 4‑1BB costimulation ameliorates T cell exhaustion induced by tonic signaling of chimeric antigen receptors. Nat Med 21:581–590

15.

Louis CU, Savoldo B, Dotti G et al (2011) Antitumor activity and long-term fate of chimeric antigen receptor-positive T cells in patients with neuroblastoma. Blood 118:6050–6056

16.

Ma J, Ma P, Zhao C et al (2016) B7-H3 as a promising target for cytotoxicity T cell in human cancer therapy. Oncotarget 7:29480–29491

17.

Naing A, Lorusso P, Fu S et al (2012) Insulin growth factor-receptor (IGF-1R) antibody cixutumumab combined with the mTOR inhibitor temsirolimus in patients with refractory Ewing's sarcoma family tumors. Clin Cancer Res 18:2625–2631

18.

Neri D, Sondel PM (2016) Immunocytokines for cancer treatment: past, present and future. Curr Opin Immunol 40:96–102

19.

Okazaki T, Chikuma S, Iwai Y et al (2013) A rheostat for immune responses: the unique properties of PD‑1 and their advantages for clinical application. Nat Immunol 14:1212–1218

20.

Pearson ADJ, Rossig C, Lesa G et al (2020) ACCELERATE and European medicines agency paediatric strategy forum for medicinal product development of checkpoint inhibitors for use in combination therapy in paediatric patients. Eur J Cancer 127:52–66

21.

Pule MA, Savoldo B, Myers GD et al (2008) Virus-specific T cells engineered to coexpress tumor-specific receptors: persistence and antitumor activity in individuals with neuroblastoma. Nat Med 14:1264–1270

22.

Sharma P, Allison JP (2015) The future of immune checkpoint therapy. Science 348:56–61

23.

Siebert N, Zumpe M, Juttner M et al (2017) PD‑1 blockade augments anti-neuroblastoma immune response induced by anti-GD2 antibody ch14.18/CHO. OncoImmunology 6:e1343775

24.

Younes A, Bartlett NL, Leonard JP et al (2010) Brentuximab vedotin (SGN-35) for relapsed CD30-positive lymphomas. N Engl J Med 363:1812–1821

25.

Yu AL, Gilman AL, Ozkaynak MF et al (2010) Anti-GD2 antibody with GM-CSF, interleukin‑2, and isotretinoin for neuroblastoma. N Engl J Med 363:1324–1334
Ethics declarations
Interessenkonflikt
H.N. Lode gibt an Forschungförderung durch EUSA Pharma und Roche zu erhalten.
Für diesen Beitrag wurden vom Autor keine Studien an Menschen oder Tieren durchgeführt. Für die aufgeführten Studien gelten die jeweils dort angegebenen ethischen Richtlinien.
About this article
Cite this article
Lode, H.N. Tumorimmuntherapie in der pädiatrischen Onkologie. Onkologe (2021). https://doi.org/10.1007/s00761-020-00890-8
Schlüsselwörter
Monoklonale Antikörper, humanisierte

Bispezifische Antikörper

Einzelkettenantikörper

Chimäre Antigenrezeptoren

Immuncheckpointproteine
Keywords
Monoclonal antibodies, humanized

Bispecific antibodies

Single-chain antibodies

Chimeric antigen receptors

Immune checkpoint proteins