We're sorry, something doesn't seem to be working properly.
Please try refreshing the page. If that doesn't work, please contact support so we can address the problem.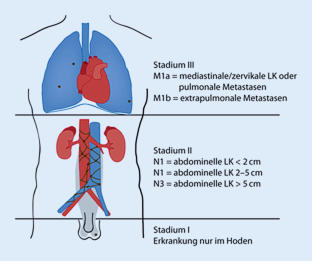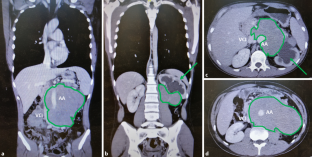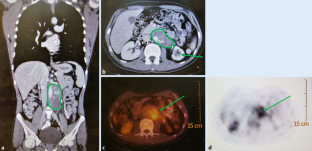 Literatur
1.

AWMF (2020) S3-Leitlinie Diagnostik, Therapie und Nachsorge der Keimzelltumoren des Hodens. In: Leitlinienprogr. Onkol. https://www.leitlinienprogramm-onkologie.de/fileadmin/user_upload/LL_Hodentumoren_Langversion_0.1.pdf. Zugegriffen: 3. Aug. 2020

2.

Cathomas R, Klingbiel D, Bernard B et al (2018) Questioning the value of fluorodeoxyglucose positron emission tomography for residual lesions after chemotherapy for metastatic seminoma: results of an International Global Germ Cell Cancer Group Registry. J Clin Oncol. https://doi.org/10.1200/JCO.18.00210

3.

Dieckmann K‑P, Radtke A, Geczi L et al (2019) Serum levels of microRNA-371a-3p (M371 test) as a new biomarker of testicular germ cell tumors: results of a prospective multicentric study. J Clin Oncol 37:1412–1423. https://doi.org/10.1200/JCO.18.01480

4.

Lorch A (2012) Stadiengerechte Therapie des Keimzelltumors des Mannes. J Onkol 8:453–463

5.

Mead GM et al (1997) International germ cell consensus classification: A prognostic factor-based staging system for metastatic germ cell cancers. J Clin Oncol 15:594–603. https://doi.org/10.1200/JCO.1997.15.2.594

6.

Schriefer P, Hartmann M, Oechsle K et al (2019) Positron emission tomography in germ cell tumors in men: possibilities and limitations. Urologe 58:418–423. https://doi.org/10.1007/s00120-018-0797-x

7.

Oechsle K, Schilling G, Oing C, Bokemeyer C (2013) Spättoxizität und Survivorship bei Keimzelltumoren. Onkologe 19:573–581

8.

(2020) Onkopedia Leitlinie – Keimzelltumoren des Mannes. https://www.onkopedia.com/de/onkopedia/guidelines/keimzelltumoren-des-mannes/@@guideline/html/index.html. Zugegriffen: 15. Okt. 2020
Ethics declarations
Interessenkonflikt
C. Oing: Reisekostenerstattung: PharmaMar, IPSEN und medac Pharma. Vortragshonorare von IPSEN und medac Pharma. Forschungsförderung: Roche, PharmaMar. C. Bokemeyer: Reisekostenerstattung: Merck Serono, Sanofi, Pfizer, Bristol-Myers Squibb. Vortragshonorare: Merck, Sanofi, Roche, Bayer, Bristol-Myers Squibb, AstraZeneca, Merck Sharp & Dohme. Advisory Board: Lilly/ImClone, Merck Serono, Sanofi, Bayer Schering Pharma, Merck Sharp & Dohme, GSO, AOK Krankenversicherung. Forschungsförderung: AbbVie, ADC Therapeutics, Agile Therapeutics, Alexion Pharmaceuticals, Amgen, Apellis Pharmaceuticals, Astellas Pharma, AstraZeneca, Bayer, BerGenBio, Blueprint Medicines, Bristol-Myers Squibb, Boehringer Ingelheim, Celgene, Daiichi Sankyo, Eisai, Gilead Sciences, Glycotope GmbH, GlaxoSmithKline, Incyte, IO Biotech, Isofol Medical, Janssen-Cilag, Karyopharm Therapeutics, Lilly, Millenium, MSD, Nektar, Novartis, Rafael Pharmaceuticals, Roche, SpringWorks Therapeutics, Taiho Pharmaceutical.
Für diesen Beitrag wurden von den Autoren keine Studien an Menschen oder Tieren durchgeführt. Für die aufgeführten Studien gelten die jeweils dort angegebenen ethischen Richtlinien. Für Bildmaterial oder anderweitige Angaben innerhalb des Manuskripts, über die Patienten zu identifizieren sind, liegt von ihnen und/oder ihren gesetzlichen Vertretern eine schriftliche Einwilligung vor.
The supplement containing this article is not sponsored by industry.
Additional information
Redaktion
K. Höffken
C. Oing
M. Christopeit
About this article
Cite this article
Oing, C., Bokemeyer, C. 28/m mit Rückenschmerzen und Vorwölbung der Bauchwand. Onkologe (2021). https://doi.org/10.1007/s00761-020-00867-7
Schlüsselwörter
Hodentumor

Seminom

Serumtumormarker

Positronenemissionstomographie

Residualtumor