Zusammenfassung
Hintergrund und Ziel
Die Diskussion über Versorgungsqualität ist allgegenwärtig. Die Komplexität, diese zu messen, gerät dabei zuweilen aus dem Blickwinkel. Der Artikel soll die für die Versorgungsqualität relevanten Merkmale von Darmkrebszentren überblicksartig darstellen.
Ergebnisse
Analysen sowohl der im Zertifizierungssystem erhobenen Daten als auch solche von Daten Dritter (Statistisches Bundesamt, Krebsregister, Krankenkassen) liefern eine zunehmende Zahl an Hinweisen für eine höhere Versorgungsqualität in Darmkrebszentren im Vergleich zur Versorgung außerhalb dieses Systems.
Schlussfolgerungen
Durch die Einbettung des Zertifizierungssystems der Darmkrebszentren in den Qualitätszyklus in der Onkologie und das 3‑Stufen-Modell der onkologischen Versorgung konnte sich die Versorgungsqualität positiv weiterentwickeln. Dies gelang durch die Behandlung in interdisziplinären Netzwerken auf Basis evidenzbasierter Leitlinien und durch die Etablierung und systematische Anwendung von Qualitätsindikatoren. In den letzten Jahren haben sich in Ergänzung hierzu die Teilnahme der Zentren an qualitativ hochwertigen Studien und die Erhebung von Patient-Reported Outcomes (PRO) als weitere qualitätsrelevante Instrumente etabliert.
Abstract
Background and objective
The discussion about quality of care is omnipresent. The complexity of measuring this is sometimes lost sight of. The article aims to provide an overview of the characteristics of colorectal cancer centers (CCC) that are relevant for the quality of care.
Results
Analyzes of both the data collected in the certification system and data from third parties (German Federal Statistical Office, cancer registries, statutory health insurance companies) provide an increasing number of indications for a higher quality of care in CCC compared to care outside this system.
Conclusion
By embedding the certification system of colorectal cancer centers in the quality cycle of oncology and the three-tier model of oncological care, quality of care has developed positively. This was made possible by treatment in interdisciplinary networks on the basis of evidence-based guidelines and by the establishment and systematic application of quality indicators. In addition, the participation of colorectal cancer centers in high-quality studies and their work in collecting patient-reported outcomes (PROs) has contributed to development of quality-relevant instruments.
This is a preview of subscription content, log in to check access.
Access options
Buy single article
Instant access to the full article PDF.
US$ 39.95
Tax calculation will be finalised during checkout.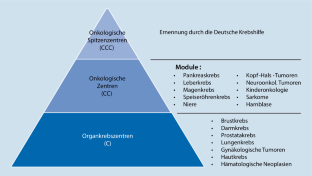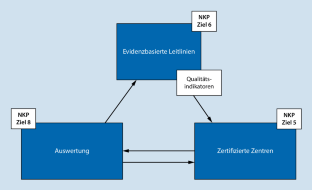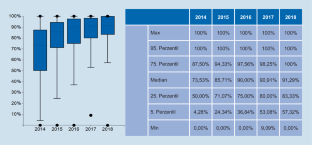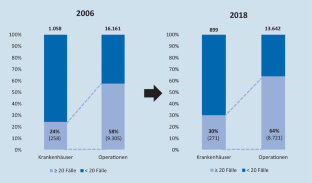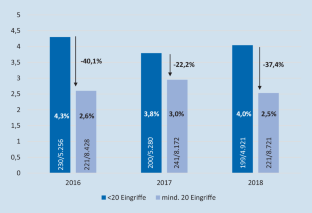 Literatur
1.

Adam H, Sibert NT, Bruns J, Wesselmann S (2018) Krebspatienten qualitätsgesichert, multidisziplinär und evidenzbasiert versorgen: das Zertifizierungssystem der Deutschen Krebsgesellschaft. In: BARMER Gesundheitswesen aktuell, S 136–155

2.

Beckmann MW, Brucker C, Hanf V et al (2011) Quality assured health care in certified breast centers and improvement of the prognosis of breast cancer patients. Onkologie 34:362–367

3.

Benz S, Wesselmann S, Seufferlein T (2020) Stellenwert von zertifizierten Darmkrebszentren in der Behandlung des kolorektalen Karzinoms. Gastroenterologe 15:310–316

4.

Breidenbach C, Sibert NT (2018) Neues aus der Patientenperspektive – das Projekt EDIUM läuft an. Forum. https://doi.org/10.1007/s12312-018-0483-3

5.

Butea-Bocu MC, Müller G, Pucheril D, Kröger E, Otto U (2020) Is there a clinical benefit from prostate cancer center certification? An evaluation of functional and oncologic outcomes from 22,649 radical prostatectomy patients. World J Urol. https://doi.org/10.1007/s00345-020-03411-9

6.

Deutsche Krebsgesellschaft e. V. (2019) Datenblatt der zertifizierten Darmkrebszentren (Auditjahr 2020 / Kennzahlenjahr 2019). https://www.krebsgesellschaft.de/zertdokumente.html?file=files/dkg/deutsche-krebsgesellschaft/content/pdf/Zertifizierung/Erhebungs-und-Kennzahlenboegen/eb_dz-J1-1_daten_190920.xlsx&cid=85878. Zugegriffen: 23. Sept. 2020

7.

Deutsche Krebsgesellschaft e. V. (2020) Kennzahlenauswertung 2020 – Jahresbericht der zertifizierten Darmkrebszentren Auditjahr 2019 / Kennzahlenjahr 2018. https://www.krebsgesellschaft.de/jahresberichte.html?file=files/dkg/deutsche-krebsgesellschaft/content/pdf/Zertifizierung/Jahresberichte%20mit%20DOI%20und%20ISBN/qualit%C3%A4tsindikatoren_darmkrebs_2020-A1_200317.pdf&cid=83323. Zugegriffen: 22. Sept. 2020

8.

Donabedian A (1996) Evaluating the quality of medical care. Milibank Meml Fund 44:166–203

9.

Gerull P (2012) Sozialwirtschaftliches Qualitätsmanagement: Grundlagen, Konzepte, Instrumente. AV Akademikerverlag, Saarbrücken

10.

Greger B, Altendorf-Hofmann A, Kletzke K (2018) Improved outcome in certified colorectal cancer centers in a German county. Oncol Res Treat 41(suppl 1):VII–221

11.

Haj A, Doenitz C, Schebesch KM, Ehrensberger D et al (2017) Extent of resection in newly diagnosed Glioblastoma: impact of a specialized neuro-oncology care center. Brain Sci 8(1):5

12.

Hoffmann H, Passlick B, Ukena D, Wesselmann S (2018) Mindestmengen in der Thoraxchirurgie: Argumente aus der deutschen DRG-Statistik in Dormann, Klauber, Kuhlen (Hrsg.). In: Qualitätsmonitor 2018. Medizinisch Wissenschaftliche Verlagsgesellschaft, Berlin

13.

Kowalski C, Wesselmann S, Ferencz J et al (2016) Die StudyBox für Darmkrebsstudien. Forum. https://doi.org/10.1007/s12312-016-0128-3

14.

Kowalski C, Wesselmann S (2017) Ergebnisqualität messen und vergleichen. Onkol Heute 2/2017:28–29

15.

Kowalski C, Post S, Seufferlein T et al (2018) Barriers and facilitating factors for research involvement in cancer centers: a survey of colorectal cancer center coordinators in Germany, Austria, and Switzerland. Cancer Control 25:1–10

16.

Kreienberg R, Wöckel A, Wischnewsky M (2018) Highly significant improvement in guideline adherence, relapse-free and overall survival in breast cancer patient when treated at certified breast cancer centres: An evaluation of 8323 patients. Breast 40:54–59. https://doi.org/10.1016/j.breast.2018.04.002

17.

Langer T, Wesselmann S, Kowalski C (2017) Qualitätsindikatoren in der Onkologie. Onkol Heute 4/2017:52–53

18.

Mensah J, Graeven U, Wesselmann S (2017) Nationales Zertifizierungsprogramm Krebs: Ausgangspunkt – Entwicklung – Ausblick. Onkologe. https://doi.org/10.1007/s00761-017-0272-0

19.

Leitlinienprogramm Onkologie (Deutsche Krebsgesellschaft, Deutsche Krebshilfe, AWMF) (2019) S3-Leitlinie Kolorektales Karzinom, Langversion 2.1, 2019, AWMF Registrierungsnummer: 021/007OL. http://www.leitlinienprogramm-onkologie.de/leitlinien/kolorektales-karzinom/. Zugegriffen: 22. Sept. 2020

20.

OnkoZert GmbH (2020) OncoMap – Liste der zertifizierten Krebszentren. www.oncomap.de. Zugegriffen: 22. Sept. 2020

21.

Trautmann F, Reißfelder C, Pecqueux M et al (2018) Evidence-based quality standards improve prognosis in colon cancer care. Eur J Surg Oncol. https://doi.org/10.1016/j.ejso.2018.05.013

22.

Vogg I, Fleßa S (2012) Qualitätsmanagement in der ambulanten Versorgung: Leitfaden zur Einführung eines QM-Systems in Arztpraxen. Gabler, Wiesbaden

23.

Völkel V, Draeger T, Gerken M et al (2018) Langzeitüberleben von Patienten mit Kolon- und Rektumkarzinomen: Ein Vergleich von Darmkrebszentren und nicht zertifizierten Krankenhäusern. Gesundheitswesen. https://doi.org/10.1055/a-0591-3827

24.

Weinhold et al (2018) Nutzenanalyse onkologischer Zentrenbildung im Bereich der Behandlung des kolorektalen Karzinoms. Zentralbl Chir 143(02):181–192. https://doi.org/10.1055/s-0042-122854

25.

Wesselmann S (2012) Entwicklung der Zertifizierungsverfahren für Organkrebszentren und Onkologische Zentren der Deutschen Krebsgesellschaft. Onkologe 18(6):511–516
Ethics declarations
Interessenkonflikt
J. Rückher ist ärztlicher Referent Zertifizierung bei der Deutschen Krebsgesellschaft e. V. S. Wesselmann ist Bereichsleiterin Zertifizierung bei der Deutschen Krebsgesellschaft e. V. T. Seufferlein ist Präsident der Deutschen Krebsgesellschaft und Sprecher des Lenkungsausschusses des Onkologischen Leitlinienprogramms von AWMF, DKG und DKH.
Für diesen Beitrag wurden von den Autoren keine Studien an Menschen oder Tieren durchgeführt. Für die aufgeführten Studien gelten die jeweils dort angegebenen ethischen Richtlinien.
About this article
Cite this article
Rückher, J., Wesselmann, S. & Seufferlein, T. Zertifizierte Darmkrebszentren. Onkologe (2020). https://doi.org/10.1007/s00761-020-00864-w
Schlüsselwörter
Darmkrebs

Zertifizierung

Versorgungsqualität

Leitlinienadhärenz

Qualitätssicherung, Gesundheitswesen
Keywords
Colorectal neoplasms

Certification

Quality of care

Guideline adherence

Quality assurance, health care