Zusammenfassung
Hintergrund
Studien zeigen, dass sich junge Erwachsene mit einer Krebserkrankung Informationen über die Erkrankungssituation und die Behandlung sowie emotionale Unterstützung zusätzlich zu professionellen Angeboten von gleichaltrigen ehemaligen Tumorpatienten wünschen, um von ihren Erfahrungswerten zu profitieren. Entwicklung und Evaluierung solcher Peer-Support-Interventionen stehen bislang aus.
Ziel der Arbeit
Die Pilotstudie überprüft Akzeptanz, Inanspruchnahme und subjektive Zufriedenheit sowie psychosoziale Parameter des Mentorenprojekts Peer2Me für junge Krebspatienten.
Material und Methoden
Für die Mixed-methods-Studie im Prä-post-Design wurden Krebspatienten zwischen 18 und 39 Jahren eingeschlossen, die Interesse an einer 3‑monatigen mentoriellen Begleitung durch einen ehemaligen Tumorpatienten hatten. Zur Erfassung von Machbarkeit, Inanspruchnahme und Zufriedenheit wurden qualitative Interviews durchgeführt sowie Teilnahme- und Abbruchrate ermittelt. Anhand validierter Fragebögen wurden Depressivität ("Patient Health Questionnaire", PHQ-9), Angstsymptomatik (Generalizied Anxiety Disorder Scale, GAD-7) und Selbstwirksamkeitserwartung (Skala zur Allgemeinen Selbstwirksamkeitserwartung, SWE) erfasst.
Ergebnisse
Es nahmen N = 19 Patienten (davon 14 Frauen) im mittleren Alter von 34 Jahren (SD = 4,7; Range 23–39 Jahre) an Peer2Me teil. Die Mehrzahl der Patienten war mit der Intervention sehr zufrieden. Die Selbstwirksamkeitserwartung verbesserte sich signifikant zwischen den beiden Erhebungszeitpunkten (t(17) = 2,48, p < 0,5). Depressivität und Ängstlichkeit verringerten sich mit kleiner Effektstärke, aufgrund der kleinen Fallzahl aber nicht signifikant.
Diskussion
Peer2Me leistet einen Beitrag zur psychosozialen Versorgung junger Tumorpatienten, der sich über professionelle Angebote hinaus spezifisch an der Lebenswelt dieser Patientengruppe durch geschulte Selbsthilfe orientiert und dem Wunsch nach emotionaler Unterstützung und Informationsvermittlung gerecht wird. Peer2Me stellt einen vielversprechenden Versorgungsansatz dar, der wissenschaftlich weiter überprüft werden sollte.
Abstract
Background
Previous studies have indicated that an increasing number of young adults diagnosed with cancer seek exchange with peer survivors about the disease, treatments, and their life situation to improve information and emotional well-being. The development and evaluation of suitable peer support interventions are still pending.
Objectives
The pilot study examines acceptance, utilization, satisfaction, and psychosocial parameters of the mentoring project Peer2Me for young cancer patients.
Materials and methods
In this mixed-methods study with a pre–post design, cancer patients between 18 and 39 years of age who were interested in a 3-month mentoring support by a former cancer patient were included. In order to assess feasibility, utilization, and satisfaction, qualitative interviews were conducted and participation and dropout rates were determined. Validated questionnaires were used to assess depression (Patient Health Questionnaire, PHQ-9), anxiety (Generalizied Anxiety Disorder Scale, GAD-7), and self-efficacy (General Self-Efficacy Scale, SWE).
Results
A total of 19 patients (14 women; mean age 34 years; standard deviation = 4.7; range 23–39 years) were enrolled in the Peer2Me program. The majority of patients were very satisfied with the intervention. Self-efficacy expectations improved significantly between the two survey time points (t(17) = 2.48, p < 0.5). Depression and anxiety decreased with small to medium effect size, but not significantly due to the small number of cases.
Discussion
Peer2Me contributes to the psychosocial care of young cancer patients, which goes beyond professional services, is specifically oriented to the lifestyle of this age group through trained self-help, and meets the desire for emotional support and information transfer. Peer2Me represents a promising approach to care, which should be further investigated.
This is a preview of subscription content, log in to check access.
Access options
Buy single article
Instant access to the full article PDF.
US$ 39.95
Tax calculation will be finalised during checkout.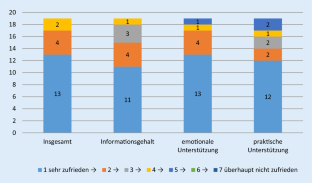 Literatur
1.

Boyes A, Turon H, Hall A, Watson R, Proietto A, Sanson-Fisher R (2018) Preferences for models of peer support in the digital era: a cross-sectional survey of people with cancer. Psychooncology 27(9):2148–2154. https://doi.org/10.1002/pon.4781

2.

Bradford NK, Chan RJ (2017) Health promotion and psychological interventions for adolescent and young adult cancer survivors: a systematic literature review. Cancer Treat Rev 55:57–70. https://doi.org/10.1016/j.ctrv.2017.02.011

3.

Breuer N, Sender A, Daneck L, Mentschke L, Leuteritz K, Friedrich M, Nowe E, Stöbel-Richter Y, Geue K (2017) How do young adults with cancer perceive social support? A qualitative study. J Psychosoc Oncol 35(3):292–308. https://doi.org/10.1080/07347332.2017.1289290

4.

Coccia PF, Pappo AS, Beaupin L, Borges VF, Borinstein SC, Chugh R, Dinner S et al (2018) Adolescent and young adult oncology, version 2.2018, NCCN clinical practice guidelines in oncology. J Natl Compr Canc Netw 16(1):66–97. https://doi.org/10.6004/jnccn.2018.0001

5.

Docherty SL, Kayle M, Maslow GR, Santacroce SJ (2015) The adolescent and young adult with cancer: a developmental life course perspective. Semin Oncol Nurs 31(3):186–196. https://doi.org/10.1016/j.soncn.2015.05.006

6.

Geue K, Götze H, Friedrich M, Leuteritz K, Mehnert-Theuerkauf A, Sender A, Stöbel-Richter Y, Köhler N (2019) Perceived social support and associations with health-related quality of life in young versus older adult patients with haematological malignancies. Health Qual Life Outcomes 17(1):145. https://doi.org/10.1186/s12955-019-1202-1

7.

Hinz A, Schumacher J, Albani C, Schmid G, Brähler E (2006) Bevölkerungsrepräsentative Normierung der Skala zur Allgemeinen Selbstwirksamkeitserwartung. Diagnostica 52(1):26–32. https://doi.org/10.1026/0012-1924.52.1.26

8.

Kaluarachchi T, McDonald F, Patterson P, Newton-John TRO (2020) Being a teenager and cancer patient: what do adolescents and young adults with cancer find valuable and challenging with their friends and cancer peers? J Psychosoc Oncol 38(2):195–209. https://doi.org/10.1080/07347332.2019.1672847

9.

Kent EE, Smith AW, Keegan THM, Lynch CF, Wu X‑C, Hamilton AS, Kato I, Schwartz SM, Harlan LC (2013) Talking about cancer and meeting peer survivors: social information needs of adolescents and young adults diagnosed with cancer. J Adolesc Young Adult Oncol 2(2):44–52. https://doi.org/10.1089/jayao.2012.0029

10.

Kroenke K, Spitzer RL, Williams JB (2001) The PHQ-9: validity of a brief depression severity measure. J Gen Intern Med 16(9):606–613. https://doi.org/10.1046/j.1525-1497.2001.016009606.x

11.

Löwe B, Decker O, Müller S, Brähler E, Schellberg D, Herzog W, Herzberg PY (2008) Validation and standardization of the Generalized Anxiety Disorder Screener (GAD-7) in the general population. Med Care 46(3):266–274. https://doi.org/10.1097/MLR.0b013e318160d093

12.

Marshall S, Grinyer A, Limmer M (2018) The experience of adolescents and young adults treated for cancer in an adult setting: a review of the literature. J Adolesc Young Adult Oncol 7(3):283–291. https://doi.org/10.1089/jayao.2017.0123

13.

Mayring P (2017) Qualitative Inhaltsanalyse. In: Mayring P (Hrsg) Qualitative Forschung : ein Handbuch. rowohlts enzyklopädie. Rowohlt, Reinbek bei Hamburg, S 468–475

14.

Pennant S, Lee CS, Holm S, Triplett KN, Howe-Martin L, Campbell R, Germann J (2019) The role of social support in adolescent/young adults coping with cancer treatment. Children. https://doi.org/10.3390/children7010002

15.

Schwarzer R, Jerusalem M (1995) Measures in health psychology: a user's portfolio. Causal and control beliefs. Causal Control Belief 1:35–37

16.

Sender A, Friedrich M, Leuteritz K, Nowe E, Stöbel-Richter Y, Mehnert A, Geue K (2019) Unmet supportive care needs in young adult cancer patients: associations and changes over time. Results from the AYA-Leipzig study. J Cancer Surviv 13(4):611–619. https://doi.org/10.1007/s11764-019-00780-y

17.

Trama A, Bernasconi A, McCabe MG, Guevara M, Gatta G, Botta L, Ries L, Bleyer A (2019) Is the cancer survival improvement in European and American adolescent and young adults still lagging behind that in children? Pediatr Blood Cancer 66(1):e27407. https://doi.org/10.1002/pbc.27407

18.

Warner EL, Kent EE, Trevino KM, Parsons HM, Zebrack BJ, Kirchhoff AC (2016) Social well-being among adolescents and young adults with cancer: A systematic review. Cancer 122(7):1029–1037. https://doi.org/10.1002/cncr.29866

19.

Wittenberg L, Yutsis M, Taylor S, Giese-Davis J, Bliss-Isberg C, Star P, Spiegel D (2010) Marital status predicts change in distress and well-being in women newly diagnosed with breast cancer and their peer counselors. Breast J 16(5):481–489. https://doi.org/10.1111/j.1524-4741.2010.00964.x

20.

Zentrum für Krebsregisterdaten im Robert Koch-Institut (Letzte Aktualisierung: 2019) Datenbankabfrage mit Schätzung der Inzidenz, Prävalenz und des Überlebens von Krebs in Deutschland auf Basis der epidemiologischen Landeskrebsregisterdaten. Mortalitätsdaten bereitgestellt vom Statistischen Bundesamt. https://doi.org/10.18444/5.03.01.0005.0014.0001. www.krebsdaten.de/abfrage. Zugegriffen: 17. Juli 2020
Ethics declarations
Interessenkonflikt
D. Richter, A. Sender, K. Leuteritz, A. Mehnert-Theuerkauf und K. Geue geben an, dass kein Interessenkonflikt besteht.
Für diesen Beitrag wurden von den Autoren keine Studien an Menschen oder Tieren durchgeführt. Für die aufgeführten Studien gelten die jeweils dort angegebenen ethischen Richtlinien.
About this article
Cite this article
Richter, D., Sender, A., Leuteritz, K. et al. Evaluation des Peer2Me-Mentorenprogramms für junge Erwachsene mit Krebs aus Patientensicht. Onkologe (2020). https://doi.org/10.1007/s00761-020-00862-y
Schlüsselwörter
Peer Support

Emotionale Unterstützung

Supportive Therapie

Psychoonkologie
Keywords
Peer support

Emotional support

Supportive therapy

Psycho-oncology