Zusammenfassung
Dieser Artikel bietet eine Übersicht zum Forschungsstand der Tanz- und Bewegungstherapie ("dance movement therapy", engl. Abk.: DMT) für Menschen mit einer Krebserkrankung. Tanz- und Bewegungstherapie ist eine Therapie an der Schnittstelle von Bewegung, Kunst und Psychotherapie. Als künstlerische Therapie adressiert sie neben den Wirkfaktoren der Bewegung auch ästhetische und ganzheitliche Wirkfaktoren wie Schönheitserleben in der eigenen Bewegung und Einheitserleben von Leib und Seele. Dieser aktuellen Übersicht liegen Ergebnisse einer Recherche der englischen und deutschen Literatur zwischen 1960 und 03/2020 zugrunde. Die überwiegende Mehrheit der vorhandenen Studien wurde bei Frauen mit Brustkrebs durchgeführt. Die Resultate liefern zum Teil ermutigende evidenzbasierte Ergebnisse, die jedoch wegen der unzureichenden Datenbasis noch nicht konklusiv sind. Benötigt werden mehr Primärstudien mit rigoroseren evidenzbasierten Designs und replizierbaren Studienprotokollen, Wirkfaktorenstudien, qualitative Synthesen, Prozessevaluationen und stärker partizipatorisch angelegte Studien, die Erwartungen, Ziele und Wirkfaktoren aus Sicht der Klient*innen beschreiben.
Abstract
This article provides an overview of the state of research in dance and movement therapy (DMT) for people with cancer. Dance movement therapy is a therapy at the interface of movement, art, and psychotherapy. As a creative arts therapy it addresses aesthetic and holistic aspects (e.g. experience of beauty in movement, experience of body–mind unity) in addition to the factors of movement. This current overview is based on search results of English and German sources from 1960 to March 2020. The majority of the available studies were conducted with women with breast cancer. The results provide partly encouraging evidence-based findings. However, they are not conclusive yet due to the insufficient database. The field needs more primary studies with rigorous evidence-based designs and replicable study protocols, mechanism studies, qualitative syntheses, process evaluations, and participatory studies which describe expectations, goals and therapeutic factors from the clients' perspective.
Access options
Buy single article
Instant access to the full article PDF.
US$ 39.95
Tax calculation will be finalised during checkout.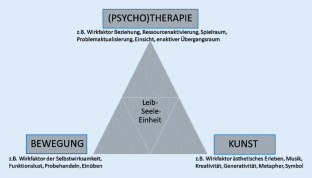 Literatur
1.

Archer S, Buxton S, Sheffield D (2015) The effect of creative psychological interventions on psychological outcomes for adult cancer patients: a systematic review of randomised controlled trials. Psychooncology 24(1):1–10

2.

Boehm K, Cramer H, Staroszynski T, Ostermann T (2014) Arts therapies for anxiety, depression, and quality of life in breast cancer patients: a systematic review and meta-analysis. Evid Based Complement Alternat Med. https://doi.org/10.1155/2014/103297

3.

Boing L, Rafael AD, de Braga HO, Moraes A, Sperandio FF, de Azevedo Guimarães AC (2017) Dance as treatment therapy in breast cancer patients—a systematic review. Rev Bras Ativ Fís Saúde 22(4):319–331

4.

Bradt J, Shim M, Goodill SW (2015) Dance/movement therapy for improving psychological and physical outcomes in cancer patients. Cochrane Database Syst Rev. https://doi.org/10.1002/14651858.CD007103.pub3

5.

Bräuninger I (2017) Tanztherapie in der Krebsbehandlung. Z Sportpsychol 24(2):54–64

6.

Berufsverband der TanztherapeutInnen Deutschlands e. V. (BTD) (2020) http://www.btd-tanztherapie.de/index.php?cid=347&pid=347. Zugegriffen: 21. Apr. 2020

7.

Crane-Okada R, Kiger H, Sugerman F, Uman GC, Shapiro SL, Wyman-McGinty W, Anderson NL (2012) Mindful movement program for older breast cancer survivors. Cancer Nurs 35(4):E1–E13 (Primärstudie dieses Reviews)

8.

Dennis J (2004) Benefits of a dance program for women survivors of breast cancer. Ithaca College Theses. Paper 68. Ithaca College, Ithaca, NY (Primärstudie dieses Reviews)

9.

Dibbell-Hope S (2000) The use of dance/movement therapy in psychological adaptation to breast cancer. Arts Psychother 27(1):51–68 (Primärstudie dieses Reviews)

10.

Ginsburgs VH, Goodill SW (2009) A dance/movement therapy clinical model for women with gynecologic cancer undergoing high dose rate brachytherapy. Am J Dance Ther 31(2):136

11.

Goldov NB (2011) The effects of individualized brief medical dance/movement therapy on body image in women with breast cancer. Argosy University, Seattle (Primärstudie dieses Reviews)

12.

Goodill SW (2018) Accumulating evidence for dance/movement therapy in cancer care. Front Psychol 9:1778

13.

Grawe K, Donati R, Bernauer F (2020) Psychotherapie im Wandel. Hogrefe, Göttingen (https://www.hogrefe.de/shop/psychotherapie-im-wandel-64104.html)

14.

Grossert A, Meinlschmidt G, Schaefert R (2017) A case series report of cancer patients undergoing group body psychotherapy. F1000Res 6:1646 (Primärstudie dieses Reviews)

15.

Grossert A, Meffert C, Hess V, Rochlitz C, Pless M, Hunziker S et al (2019) A clinical trial of group-based body psychotherapy to improve bodily disturbances in post-treatment cancer patients in combination with randomized controlled smartphone-triggered bodily interventions (KPTK): study protocol. BMC Psychol 7(1):90

16.

Hardena A, Thomas J, Cargo M, Harris J, Pantoja T, Flemming K et al (2018) Cochrane Qualitative and Implementation Methods Group guidance series-paper 5: methods for integrating qualitative and implementation evidence within intervention effectiveness reviews. J Clin Epidemiol 97:70–78

17.

Hertrampf R‑S, Wärja M (2017) The effect of creative arts therapy and arts medicine on psychological outcomes in women with breast or gynecological cancer: A systematic review of arts-based interventions. Arts Psychother 56:93–110

18.

Hölter G (2011) Bewegungstherapie bei psychischen Erkrankungen: Grundlagen und Anwendung, 1. Aufl. Deutscher Ärzteverlag, Köln (Unter Mitarbeit von H. Deimel, A. Degener. H. Schwiertz und M. Welsche)

19.

Ho RTH (2005) Effects of dance movement therapy on Chinese cancer patients: a pilot study in Hong Kong. Arts Psychother 32(5):337–345 (Primärstudie dieses Reviews)

20.

Ho RTH, Fong TCT, Cheung IKM, Yip PSF, Luk M‑Y (2016) Effects of a short-term dance movement therapy program on symptoms and stress in patients with breast cancer undergoing radiotherapy: a randomized, controlled, single-blind trial. J Pain Symptom Manage 51(5):824–831 (Primärstudie dieses Reviews)

21.

Ho RTH, Lo PHY, Luk MY (2016) A good time to dance? A mixed-methods approach of the effects of dance movement therapy for breast cancer patients during and after radiotherapy. Cancer Nurs 39(1):32–41

22.

Ho RTH, Fong TCT, Yip PSF (2018) Perceived stress moderates the effects of a randomized trial of dance movement therapy on diurnal cortisol slopes in breast cancer patients. Psychoneuroendocrinology 87:119–126 (Primärstudie dieses Reviews)

23.

Kaltsatou A, Mameletzi D, Douka S (2011) Physical and psychological benefits of a 24-week traditional dance program in breast cancer survivors. J Bodyw Mov Ther 15(2):162–167 (Primärstudie dieses Reviews)

24.

Koch SC, Fischman D (2011) Embodied enactive dance/movement therapy. Am J Dance Ther 33(1):57

25.

Koch SC (2017) Arts and health: active factors and a theory framework of embodied aesthetics. Arts Psychother 54:85–91

26.

Koch SC, Riege RFF, Tisborn K, Biondo J, Martin L, Beelmann A (2019) Effects of dance movement therapy and dance on health-related psychological outcomes. A meta-analysis update. Front Psychol 10:1806

27.

Lacour ME (2006) Dance/movement therapy: a resource for oncological patients and an approach to comprehensive patient care. In: Bräuninger I, Koch SC (Hrsg) Advances in dance/movement therapy: theoretical perspectives and empirical findings, 1. Aufl. Logos, Berlin, S 168–182

28.

Madden JR, Mowry P, Gao D, Cullen PM, Foreman NK (2010) Creative arts therapy improves quality of life for pediatric brain tumor patients receiving outpatient chemotherapy. J Pediatr Oncol Nurs 27(3):133–145

29.

Mannheim EG, Weis J (2005) Tanztherapie mit Krebspatienten. Musik Tanz Kunstther 16(3):121–128 (Primärstudie dieses Reviews)

30.

Mannheim EG, Helmes A, Weis J (2013) Tanztherapie in der stationären onkologischen Rehabilitation. Complement Med Res 20(1):33–41 (Primärstudie dieses Reviews)

31.

Sandel SL, Judge JO, Landry N, Faria L, Ouellette R, Majczak M (2005) Dance and movement program improves quality-of-life measures in breast cancer survivors. Cancer Nurs 28(4):301–309 (Primärstudie dieses Reviews)

32.

Selman LE, Williams J, Simms V (2012) A mixed-methods evaluation of complementary therapy services in palliative care: yoga and dance therapy. Eur J Cancer Care 21(1):87–97 (Primärstudie dieses Reviews)

33.

Serlin IA, Goldov N, Hansen E (2017) Dance/movement therapy and breast cancer care. In: Karkou V, Oliver S, Lycouris S (Hrsg) The Oxford handbook of dance and wellbeing. Oxford University Press, Oxford

34.

Sharma DKB (2016) Dance/movement therapy (DMT) for cancer survivors and caregivers in Fairbanks, Alaska. Lopez EDS, editor. University of Alaska Fairbanks. https://scholarworks.alaska.edu/handle/11122/6875. Zugegriffen: 21. Apr. 2020

35.

Sturm I, Baak J, Storek B, Traore A, Thuss-Patience P (2014) Effect of dance on cancer-related fatigue and quality of life. Support Care Cancer 22(8):2241–2249 (Primärstudie dieses Reviews)

36.

Tortora S (2019) Children are born to dance! Pediatric medical dance/movement therapy: the view from integrative pediatric oncology. Children. https://doi.org/10.3390/children6010014
Danksagung
Unser Dank geht an Lily Martin für die Durchführung der Literaturrecherche für die Studie und an Seohyun Ryu und Nilufar Yesmin, die die Aufarbeitung von Tab. 1 unterstützten. Wir möchten an dieser Stelle unseren Respekt und Dank an die Kollegin Elana Mannheim aussprechen, die mit großem persönlichem Einsatz die Pionierarbeit für die tanztherapeutische Forschung in der Onkologie in Deutschland geleistet hat.
Ethics declarations
Interessenkonflikt
S.C. Koch und I. Bräuninger erklären, dass die Forschung in Abwesenheit jeglicher kommerzieller oder finanzieller Interessen durchgeführt wurde, die als Interessenkonflikt gelten könnten.
Für diesen Beitrag wurden von den Autorinnen keine Studien an Menschen oder Tieren durchgeführt. Für die aufgeführten Studien gelten die jeweils dort angegebenen ethischen Richtlinien.
Anhang
Anhang
"Search terms" die in PRIMO und Google Scholar verwendet wurden:
"movement therap*" OR "dance therap*" OR "body psychotherap*" OR "creative therap*" AND "oncology"

"movement therap*" OR "dance therap*" OR "body psychotherap*" OR "creative therap*" AND "cancer"

"movement therap*" OR "dance therap*" OR "body psychotherap*" OR "creative therap*" AND "neoplasm"

"movement therap*" OR "dance therap*" OR "body psychotherap*" OR "creative therap*" AND "psycho-oncology"

Bewegungstherap* OR Tanztherap* OR "Tanz- und Bewegungstherap*" OR "Integrative Bewegungstherap*" AND "Krebs"

"Konzentrative Bewegungstherap*" OR Körperpsychotherap* OR "Körperorientierte Psychotherap*" AND "Krebs"

Bewegungstherap* OR Tanztherap* OR "Tanz- und Bewegungstherap*" OR "Integrative Bewegungstherap*" AND "Onkologie"

"Konzentrative Bewegungstherap*" OR Körperpsychotherap* OR "Körperorientierte Psychotherap*" AND "Onkologie"

Bewegungstherap* OR Tanztherap* OR "Tanz- und Bewegungstherap*" OR "Integrative Bewegungstherap*" AND "Psychoonkologie"

"Konzentrative Bewegungstherap*" OR Körperpsychotherap* OR "Körperorientierte Psychotherap*" AND "Psychoonkologie"
About this article
Cite this article
Koch, S.C., Bräuninger, I. Tanz- und Bewegungstherapie in der Onkologie – Übersicht zum Forschungsstand. Onkologe 26, 826–836 (2020). https://doi.org/10.1007/s00761-020-00790-x
Schlüsselwörter
Tanz- und Bewegungstherapie

Review

Krebsbehandlung

Brustkrebs

Psychoonkologie

Künstlerische Therapien
Keywords
Dance movement therapy

Review

Cancer care

Breast cancer

Psycho-oncology

Creative arts therapies