Zusammenfassung
Der Artikel gibt einen Überblick über die Epidemiologie primärer Hirntumoren in Deutschland, basierend auf den Daten der bevölkerungsbezogenen Krebsregister der Bundesländer, Krebsregistern und dem deutschen Kinderkrebsregister. Etwa 6700 Personen erkrankten im Jahr 2014 in Deutschland an einem bösartigen Hirntumor, davon 229 Kinder. 5770 Menschen starben im Jahr 2015 an dieser Erkrankung. Die alterststandardisierten Erkrankungs- und Sterberaten zeigen seit 1999 keine wesentlichen Veränderungen. Bei Erwachsenen machen die hochmalignen Glioblastome (Astrozytome WHO-Grad IV) mehr als zwei Drittel aller Erkrankungen aus, während bei Kindern die embryonalen Tumoren mit etwa einem Drittel der Fälle die häufigste Form darstellen. Die Prognose ist abhängig von der Histologie; relative Fünfjahresüberlebensraten liegen zwischen Werten deutlich unter 10 % (Astrozytom IV) und um 80 % (Ependymome und Keimzelltumoren). Nichtmaligne Tumoren des hirneigenen Gewebes (ohne Tumoren der Hirnnerven und -häute) sind mit geschätzten rund 850 Neuerkrankungen pro Jahr vergleichsweise selten.
Abstract
This article presents an overview of the epidemiology of primary brain tumors in Germany, based on the results of the population-based federal state cancer registries and the German childhood cancer registry. Approximately 6700 cases of malignant brain tumors were diagnosed in Germany in 2014, including 229 children. In 2015 malignant brain tumors caused 5770 deaths. Age-standardized incidence and mortality rates have been relatively stable since 1999. Among adults the highly malignant glioblastomas (astrocytoma WHO grade 4) accounted for more than two thirds of cases, while among children embryonal tumors were the most frequent subtype and constituted approximately one third of the cases. The prognosis is dependent on the histological subtype with 5‑year relative survival rates ranging from less than 10% (grade 4 astrocytomas) to around 80% (ependymomas and germ cell tumors). Non-malignant tumors of the brain (excluding meningeomas and cranial nerve tumors) are relatively rare with an estimated approximately 850 new cases per year.
Access options
Buy single article
Instant access to the full article PDF.
USD 39.95
Price includes VAT (USA)
Tax calculation will be finalised during checkout.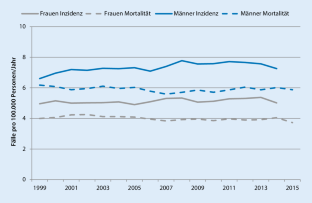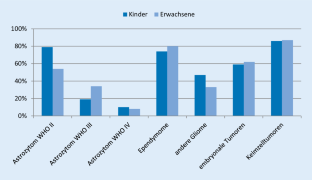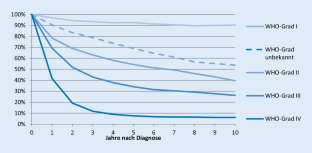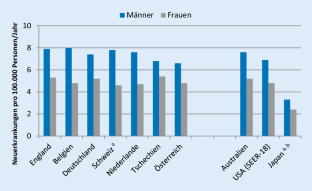 Literatur
1.

Robert Koch-Institut, Gesellschaft der epidemiologischen Krebsregister in Deutschland e. V. (Hrsg) (2017) Krebs in Deutschland für 2013/2014. 11. Ausgabe

2.

Kraywinkel K, Barnes B, Dahm S, Haberland J, Nennecke A, Stabenow R (2014) Von regionalen Daten zu bundesweiten Aussagen. Bundesgesundheitsblatt Gesundheitsforschung Gesundheitsschutz 57(1):13–21

3.

Kaatsch P, Grabow D, Spix C (2017) German Childhood Cancer Registry—annual report 2016 (1980–2016). Institute of Medical Biostatistics, Epidemiology and Informatics (IMBEI) at the University Medical Center of the Johannes Gutenberg University Mainz, Mainz

4.

Brenner H, Gefeller O, Hakulinen T (2004) Period analysis for 'up-to-date' cancer survival data: theory, empirical evaluation, computational realisation and applications. Eur J Cancer 40(3):326–335

5.

Steliarova-Foucher E, Stiller C, Lacour B, Kaatsch P (2005) International classification of childhood cancer, third edition. Cancer 103:1457–1467

6.

Louis DN, Perry A, Reifenberger G, von Deimling A, Figarella-Branger D, Cavenee WK, Ohgaki H, Wiestler OD, Kleihues P, Ellison DW (2016) The 2016 World Health Organization Classification of tumors of the central nervous system: a summary. Acta Neuropathol 131(6):803–820

7.

Ferlay J, Ervik M, Lam F, Colombet M, Mery L, Piñeros M, Znaor A, Soerjomataram I, Bray F (2018) Global cancer observatory: cancer today. International Agency for Research on Cancer, Lyon (https://gco.iarc.fr/today, accessed 20 Nov 2018)

8.

Office for National Statstics (2018) Cancer registration statistics, England. https://www.ons.gov.uk/peoplepopulationandcommunity/healthandsocialcare/conditionsanddiseases/datasets/cancerregistrationstatisticscancerregistrationstatisticsengland. Zugegriffen: 20. Nov. 2018

9.

Visser O, Ardanaz E, Botta L, Sant M, Tavilla A, Minicozzi P (2015) Survival of adults with primary malignant brain tumours in europe; results of the EUROCARE-5 study. Eur J Cancer 51:2231–2241

10.

Gatta G, Botta L, Rossi S, Aareleid T, Bielska-Lasota M, Clavel J, Dimitrova N, Jakab Z, Kaatsch P, Lacour B, Mallone S et al (2014) Childhood cancer survival in Europe 1999–2007: results of EUROCARE-5-a population-based study. Lancet Oncol 15:35–47

11.

Eurostat (2018) Statistics on causes of death (COD). http://ec.europa.eu/eurostat/web/health/causes-death/data/database. Zugegriffen: 21. Nov. 2018
Ethics declarations
Interessenkonflikt
K. Kraywinkel und C. Spix geben an, dass kein Interessenkonflikt besteht.
Dieser Beitrag beinhaltet keine von den Autoren durchgeführten Studien an Menschen oder Tieren.
About this article
Cite this article
Kraywinkel, K., Spix, C. Epidemiologie primärer Hirntumoren bei Kindern und Erwachsenen in Deutschland. Onkologe 25, 5–9 (2019). https://doi.org/10.1007/s00761-018-0501-1
Schlüsselwörter
Inzidenz

Überleben

Epidemiologie

Krebsregister

Deutschland
Keywords
Incidence

Survival

Epidemiology

Cancer registries

Germany