Zusammenfassung
Dieses Faktenblatt bietet eine Übersicht zum Hodgkin-Lymphom in Deutschland. Dabei werden für beide Geschlechter die Inzidenz und Mortalität sowie das Fünfjahresüberleben für Hodgkin-Lymphome insgesamt und teilweise für einzelne histologische Subtypen dargestellt.
Abstract
In Germany, approximately 2400 people per year are diagnosed with Hodgkin's lymphoma (in 2014) and the disease was responsible for approximately 300 deaths in 2015. Hodgkin's lymphoma is one of the rare oncological diagnoses accounting for approximately 0.5% of all cancer cases; however, in the age group 15–29 years the proportion is just over 10%. At this age, Hodgkin's lymphoma has the first peak of incidence and the second peak is between 75–84 years of age. While approximately the same number of women as men develop the disease in young adulthood, men are affected more frequently than women in old age. Overall, the gender ratio is approximately 1.3:1. The average age of onset is 43 years (men 45 years, women 38 years). The nodular sclerosing subtype is the most prevalent (69% in women, 53% in men), followed by the mixed cell type (women 23%, men 35%). Since 1999, age standardized incidence rates have been slightly rising in Germany, while mortality rates are decreasing for both sexes. Differences in incidence rates between western industrialized countries seem to be more pronounced in men than in women and there is no apparent geographical pattern. The reported incidence is highest in Switzerland and lowest in Austria for both genders, while German rates are average. The relative 5‑year survival has somewhat increased since the end of the twentieth century and decreases with age at diagnosis. The lymphocyte-rich subtype shows the most favorable survival rates, while patients with the lymphocyte-poor subtype have the worst prognosis. More than 10 years after a primary Hodgkin's lymphoma, the probability of developing a solid tumor is about twice as high as in the general population. In particular cancer of the stomach, colon and rectum, lungs and breast occur more frequently.
Access options
Buy single article
Instant access to the full article PDF.
USD 39.95
Price includes VAT (USA)
Tax calculation will be finalised during checkout.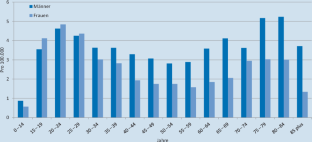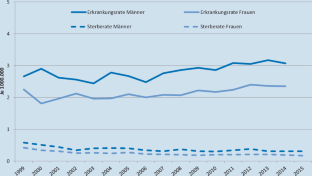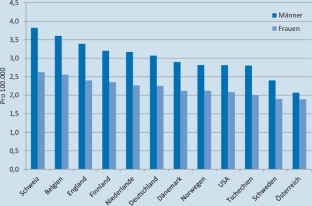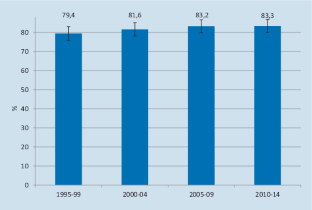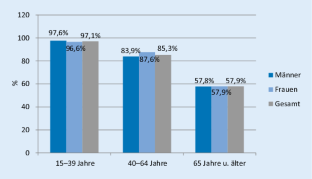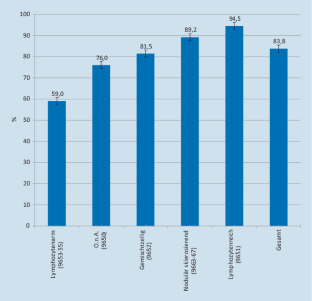 Literatur
1.

Baras N, Dahm S, Haberland J, Janz M, Emrich K, Kraywinkel K, Salama A (2017) Subsequent malignancies among long term survivors of Hodgkin lymphoma and non-Hodgkin lymphoma: a pooled analysis of German cancer registry data (1990–2012). Br J Haematol 177:226–242

2.

Kraywinkel K, Barnes B, Dahm S, Haberland J, Nennecke A, Stabenow R (2014) Von regionalen Daten zu bundesweiten Aussagen. Bundesgesundheitsblatt Gesundheitsforschung Gesundheitsschutz 57(1):13–21

3.

Robert Koch-Institut, Gesellschaft der epidemiologischen Krebsregister in Deutschland e. V. (Hrsg) (2017) Krebs in Deutschland für 2013/2014. 11. Ausgabe

4.

Statistisches Bundesamt (2017) Ergebnisse der Todesursachenstatistik für Deutschland. www.gbe-bund.de. Zugegriffen: 28. Jan. 2018 (Gesundheitsberichterstattung des Bundes)
Ethics declarations
Interessenkonflikt
S. Hermann und K. Kraywinkel geben an, dass kein Interessenkonflikt besteht.
Dieser Beitrag beinhaltet keine von den Autoren durchgeführten Studien an Menschen oder Tieren.
About this article
Cite this article
Hermann, S., Kraywinkel, K. Faktenblatt: Epidemiologie der Hodgkin-Lymphome in Deutschland. Onkologe 24, 280–285 (2018). https://doi.org/10.1007/s00761-018-0362-7
Schlüsselwörter
Krebsregister

Deutschland

Überleben

Inzidenz

Mortalität
Keywords
Cancer register

Germany

Survival

Incidence

Mortality