Zusammenfassung
Hintergrund
Patienten mit bösartigen Tumoren, die einer Strahlentherapie zugeführt werden, haben bereits primär häufig einen deutlich reduzierten Ernährungszustand. Dies kann tumor-, patienten- und therapiebedingt sein.
Material und Methoden
Darstellung der Ursachen der Malnutrition, insbesondere hinsichtlich der Strahlentherapie und Radiochemotherapie, und möglicher Therapieoptionen mit Hilfe von Literaturdaten sowie der Einbeziehung der aktuellen Leitlinien.
Ergebnisse
Insbesondere bei Patienten mit Tumoren der Kopf-Hals-Region und der Speiseröhre kommt es durch die Strahlentherapie/Radiochemotherapie zu einer Entzündung der Schleimhäute, einer Reduktion des Speichelflusses und einem Verlust der Geschmacksempfindung mit konsekutiver Dysphagie und Reduktion der Nahrungsaufnahme. Langfristig kann bei diesen Patienten eine Dysphagie durch eine Fibrose der Schluckmuskulatur ausgelöst werden; hinzu kommen Xerostomie und eine Verschlechterung des Zahnstatus. Durch verschiedene Methoden der Ernährungsbehandlung, diätetische Beratung, enterale Ernährung über Sonden, insbesondere der PEG, konnte in randomisierten Studien gezeigt werden, dass damit eine Verbesserung des Ernährungstatus und der Lebensqualität der Patienten erreicht werden kann. Die Patienten sollten bereits prätherapeutisch eine individuelle Ernährungsberatung erhalten; bei Bedarf sollte eine Sondenernährung zusätzlich erfolgen. Medikamentöse Maßnahmen zur Behandlung von Ernährungsstörungen während der Strahlentherapie haben sich in den letzten Jahren nicht durchgesetzt.
Schlussfolgerung
Durch eine konsequente Ernährungsberatung, der Verfügbarkeit enteraler Ernährung, der Verwendung von Sonden, insbesondere der PEG, können der Ernährungsstatus und die Lebensqualität von Tumorpatienten in der Regel während einer Strahlentherapie aufrechterhalten oder sogar verbessert werden.
Abstract
Background
Patients with malignant tumors who are treated with radiotherapy are frequently in a reduced nutritional state even before any treatment. The reasons for malnutrition can be tumor, patient and therapy-related.
Material and methods
Review of the effects of malnutrition, particularly caused by radiotherapy and/or concurrent chemoradiotherapy and of possible therapy options for malnutrition. The review is based on literature data and current guidelines.
Results
Patients with advanced head and neck cancer and esophageal cancer treated by radiotherapy or concurrent chemoradiotherapy frequently suffer from mucositis and loss of the sense of taste. These side effects can result in dysphagia, reduction in food intake and subsequently in loss of weight. Long-term side effects of radiotherapy can be fibrosis of the pharyngeal constrictor muscles and xerostomia. In randomized controlled trials the nutritional status and the quality of life of these patients could be maintained or improved during and following radiotherapy by various methods of nutritional treatment with the help of dietary counseling and enteral nutrition via tubes, especially percutaneous endoscopic gastrostomy (PEG); therefore, patients with these forms of cancer should be given dietary counseling before therapy and if necessary enteral nutrition via tubes should be initiated. There is no proven effect of different drugs on the nutritional status during radiotherapy.
Conclusion
During and following radiotherapy the nutritional status of cancer patients can be maintained or even improved with the help of dietary counseling, oral or enteral nutritional support, if necessary by tube feeding and particularly with PEG.
Access options
Buy single article
Instant access to the full article PDF.
USD 39.95
Price includes VAT (USA)
Tax calculation will be finalised during checkout.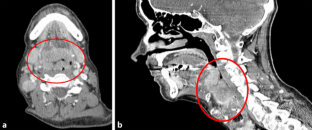 Literatur
1.

Fietkau R et al (1991) Percutaneous endoscopically guided gastrostomy in patients with head and neck cancer. Recent Results Cancer Res 121:269–282

2.

Naumann P et al (2013) Outcome after neoadjuvant chemoradiation and correlation with nutritional status in patients with locally advanced pancreatic cancer. Strahlenther Onkol 189(9):745–752

3.

Unsal D et al (2006) Evaluation of nutritional status in cancer patients receiving radiotherapy: a prospective study. Am J Clin Oncol 29(2):183–188

4.

Merten R et al (2014) Increased skin and mucosal toxicity in the combination of vemurafenib with radiation therapy. Strahlenther Onkol 190(12):1169–1172

5.

Levy A et al (2014) Concurrent use of cisplatin or cetuximab with definitive radiotherapy for locally advanced head and neck squamous cell carcinomas. Strahlenther Onkol 190(9):823–831

6.

Selzer E et al (2015) Primary radiotherapy or postoperative radiotherapy in patients with head and neck cancer: comparative analysis of inflammation-based prognostic scoring systems. Strahlenther Onkol 191(6):486–494

7.

Silver HJ, Dietrich MS, Murphy BA (2007) Changes in body mass, energy balance, physical function, and inflammatory state in patients with locally advanced head and neck cancer treated with concurrent chemoradiation after low-dose induction chemotherapy. Head Neck 29(10):893–900

8.

Isenring EA, Capra S, Bauer JD (2004) Nutrition intervention is beneficial in oncology outpatients receiving radiotherapy to the gastrointestinal or head and neck area. Br J Cancer 91(3):447–452

9.

van den Berg MG et al (2014) Nutritional status, food intake, and dysphagia in long-term survivors with head and neck cancer treated with chemoradiotherapy: a cross-sectional study. Head Neck 36(1):60–65

10.

Lee JH et al (1998) Prophylactic gastrostomy tubes in patients undergoing intensive irradiation for cancer of the head and neck. Arch Otolaryngol Head Neck Surg 124(8):871–875

11.

García-Peris P et al (2005) Prospective study of resting energy expenditure changes in head and neck cancer patients treated with chemoradiotherapy measured by indirect calorimetry. Nutrition 21:11–12

12.

Fietkau R et al (2013) A disease-specific enteral nutrition formula improves nutritional status and functional performance in patients with head and neck and esophageal cancer undergoing chemoradiotherapy: results of a randomized, controlled, multicenter trial. Cancer 119(18):3343–3353

13.

van der Laan HP et al (2015) Acute symptoms during the course of head and neck radiotherapy or chemoradiation are strong predictors of late dysphagia. Radiother Oncol 115(1):56–62

14.

Tribius S et al (2015) Residual deficits in quality of life one year after intensity-modulated radiotherapy for patients with locally advanced head and neck cancer: results of a prospective study. Strahlenther Onkol 191(6):501–510

15.

Haderlein M et al (2014) Dose-dependent deterioration of swallowing function after induction chemotherapy and definitive chemoradiotherapy for laryngopharyngeal cancer. Strahlenther Onkol 190(2):192–198

16.

Vergeer MR et al (2009) Intensity-modulated radiotherapy reduces radiation-induced morbidity and improves health-related quality of life: results of a nonrandomized prospective study using a standardized follow-up program. Int J Radiat Oncol Biol Phys 74(1):1–8

17.

Nutting CM et al (2011) Parotid-sparing intensity modulated versus conventional radiotherapy in head and neck cancer (PARSPORT): a phase 3 multicentre randomised controlled trial. Lancet Oncol 12(2):127–136

18.

Stromberger C et al (2016) Comparative treatment planning study on sequential vs. simultaneous integrated boost in head and neck cancer patients: differences in dose distributions and potential implications for clinical practice. Strahlenther Onkol 192:17–24

19.

Silander E et al (2012) Impact of prophylactic percutaneous endoscopic gastrostomy on malnutrition and quality of life in patients with head and neck cancer: a randomized study. Head Neck 34(1):1–9

20.

Corry J et al (2009) Prospective study of percutaneous endoscopic gastrostomy tubes versus nasogastric tubes for enteral feeding in patients with head and neck cancer undergoing (chemo)radiation. Head Neck 31(7):867–876

21.

Ravasco P et al (2005) Impact of nutrition on outcome: a prospective randomized controlled trial in patients with head and neck cancer undergoing radiotherapy. Head Neck 27(8):659–668

22.

Ravasco P et al (2005) Dietary counseling improves patient outcomes: a prospective, randomized, controlled trial in colorectal cancer patients undergoing radiotherapy. J Clin Oncol 23(7):1431–1438

23.

Langius JA et al (2013) Effect of nutritional interventions on nutritional status, quality of life and mortality in patients with head and neck cancer receiving (chemo)radiotherapy: a systematic review. Clin Nutr 32(5):671–678

24.

Elia M et al (2006) Enteral (oral or tube administration) nutritional support and eicosapentaenoic acid in patients with cancer: a systematic review. Int J Oncol 28(1):5–23

25.

Arends J et al (2015) S3-Leitline der Deutschen Gesellschaft für Ernährungsmedizin e. V. (DGEM) in Kooperation mit der Deutschen Gesellschaft für Hämatologie und Onkologie e. V. (DGHO), der Arbeitsgemeinschaft "Supportive Maßnahmen in der Onkologie, Rehabilitation und Sozialmedizin" der Deutschen Krebsgesellschaft (ASORS) und der Österreichischen Arbeitsgemeinschaft für klinische Ernährung (AKE). DGEM 40:e1–e74

26.

Fietkau R, Thiel HJ, Iro H (1987) Einsatzmöglichkeiten der perkutanen endoskopischen Gastrostomie bei Patienten mit Tumoren im Kopf-Hals-Bereich. Medwelt 38:40–44

27.

Hughes CD et al (2013) Ratio of cesarean deliveries to total operations and surgeon nationality are potential proxies for surgical capacity in central Haiti. World J Surg 37(7):1526–1529

28.

Grant et al (2009) Compliance following gastrostomy tube insertion in patients with head and neck cancer: a prospective multi-institution study, systematic review and meta-analysis. Clin Otolaryngol 34:103–112

29.

Mekhail TM et al (2001) Enteral nutrition during the treatment of head and neck carcinoma: is a percutaneous endoscopic gastrostomy tube preferable to a nasogastric tube? Cancer 91(9):1785–1790

30.

Oozeer NB et al (2011) The impact of enteral feeding route on patient-reported long term swallowing outcome after chemoradiation for head and neck cancer. Oral Oncol 47(10):980–983

31.

Williams GF et al (2012) Enteral feeding outcomes after chemoradiotherapy for oropharynx cancer: a role for a prophylactic gastrostomy? Oral Oncol 48(5):434–440

32.

Koyfman SA, Adelstein DJ (2012) Enteral feeding tubes in patients undergoing definitive chemoradiation therapy for head-and-neck cancer: a critical review. Int J Radiat Oncol Biol Phys 84(3):581–589

33.

Fietkau R et al (1997) Supportive use of megestrol acetate in patients with head and neck cancer during radio(chemo)therapy. Eur J Cancer 33(1):75–79

34.

Gruber S et al (2015) Modulation of radiation-induced oral mucositis by pentoxifylline: preclinical studies. Strahlenther Onkol 191(3):242–247

35.

Huang EY et al (2000) Oral glutamine to alleviate radiation-induced oral mucositis: a pilot randomized trial. Int J Radiat Oncol Biol Phys 46(3):535–539

36.

Kozelsky TF et al (2003) Phase III double-blind study of glutamine versus placebo for the prevention of acute diarrhea in patients receiving pelvic radiation therapy. J Clin Oncol 21(9):1669–1674

37.

Vidal-Casariego A et al (2014) Efficacy of glutamine in the prevention of acute radiation enteritis: a randomized controlled trial. J Parenter Enteral Nutr 38(2):205–213

38.

Gu J et al (2014) Effect of amifostine in head and neck cancer patients treated with radiotherapy: a systematic review and meta-analysis based on randomized controlled trials. PLOS ONE 9(5):e95968
Ethics declarations
Interessenkonflikt
R. Fietkau gibt folgenden Interessenkonflikt an: Vorträge und Beratung für Fresenius AG, Roche AG, Novartis, Lilly, Pierre Fabre.
Dieser Beitrag beinhaltet keine von den Autoren durchgeführte Studien an Menschen oder Tieren.
About this article
Cite this article
Fietkau, R. Einfluss der Ernährung bei Strahlen- und Radiochemotherapie. Onkologe 22, 268–274 (2016). https://doi.org/10.1007/s00761-016-0012-x
Schlüsselwörter
Malnutrition

Krebs

Beratung

Enterale Ernährung

Perkutane endoskopische Gastrostomie
Keywords
Malnutrition

Cancer

Counseling

Enteral feeding

Percutaneous endoscopic gastrostomy