Zusammenfassung
Der onkologische Behandlungsalltag unterscheidet sich wesentlich von den Fragestellungen randomisierter, kontrollierter, klinischer Studien. In der Behandlungsroutine werden Patienten aller Altersgruppen mit teilweise erheblichen Komorbiditäten betreut. Die Ergebnisse aus klinischen Studien sind daher oft nur eingeschränkt in den Behandlungsalltag übertragbar. Klinische Tumorregister können diese Lücke durch systematische Dokumentation und Analyse des Behandlungsalltags füllen. Der vorliegende Beitrag gibt eine Einführung in die Methodik von Tumorregistern und erläutert, welche Fragestellungen mit Hilfe klinischer Tumorregister beantwortet werden können. Zwei Beispiele für klinische Krebsregistrierung in der deutschen Versorgungslandschaft veranschaulichen die Darstellung.
Abstract
Routine care of cancer patients differs substantially from the setting of randomized controlled clinical trials. In routine care patients of all age groups are treated and often suffer from multiple comorbidities. Therefore, results from clinical trials cannot always be directly applied to the routine care setting. Clinical tumor registries can fill this gap by systematic documentation and analysis of the routine care setting. This report gives an introduction to the methodology of tumor registries and shows what types of questions can be investigated with such data. Two examples of German clinical tumor registries will be described to illustrate the topic.
This is a preview of subscription content, log in to check access.
Access options
Buy single article
Instant access to the full article PDF.
US$ 39.95
Tax calculation will be finalised during checkout.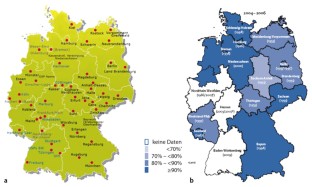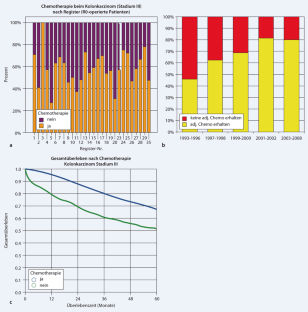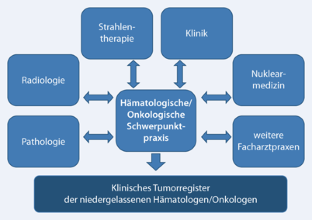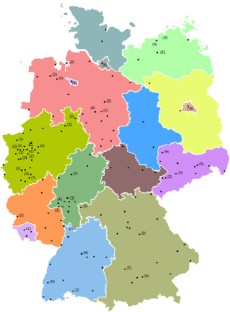 Literatur
1.

Altmann U, Garbe C, Hofstädter F, Katalinic A (2007) Klinische und epidemiologische Kebsregister in Deutschland. Forum 22:28–29

2.

Ananda S, Field KM, Kosmider S et al (2008) Patient age and comorbidity are major determinants of adjuvant chemotherapy use for stage iii colon cancer in routine clinical practice. J Clin Oncol 26:4516–4517

3.

Bundesministerium für gesundheit. www.bmg.bund.de, Nationaler Krebsplan: Prognos Gutachten

4.

Berufsverband der Niedergelassenen Hämatologen und Onkologen in Deutschland (BNHO) e. V. Qualitätsbericht der onkologischen Schwerpunktpraxen 2010

5.

Bundesweite onkologische Qualitätskonferenz 2010, Deutscher Krebskongress 2010, www.tumorzentren.de

6.

Charlson ME, Pompei P, Ales KL, MacKenzie CR (1987) A new method of classifying prognostic comorbidity in longitudinal studies: development and validation. J Chronic Dis 40:373–383

7.

Eccles M, Grimshaw J, Campbell M, Rumsay C (2003) Research designs for studies evaluating the effectiveness of change and improvement strategies. Qual Saf Health Care 12:47–52

8.

Freier W, Rauh J, Hutzschenreuter U et al (2010) The pattern of metastases in colorectal cancer. Data from a clinical registry. Onkologie 33(Suppl 6):175

9.

Freier W, Rauh J, Kindler M et al (2011) Survival and palliative treatment course of colorectal cancer patients in German outpatient centres. Data from the clinical registry – TKK Registry. Onkologie 34(Suppl 6):189

10.

Gross PA, Greenfield S, Cretin S, Lorenz W (2000) Optimal methods for guideline implementation. Conclusions from Leeds Castle meeting. Med Care 39(suppl 2):II85–II92

11.

Hofstädter F, Hölzel D (2008) Was leisten Tumorregister für die Qualitätssicherung in der Onkologie? Onkologie 14:1220–1233

12.

Hofstädter F, Klinkhammer-Schalke M (2011) Aufgaben und Strukturen für klinische Krebsregistrierung. Onkologie 2

13.

Knauf W, Abendhardt W, Aldaoud A et al (2011) Age-dependent differences in treatment of patients with Multiple Myeloma and Chronic Lymphocytic Leukemia in outpatient cancer centres in Germany. Data from a clinical registry – TLN Registry. Onkologie 34(Supp 6):21

14.

Krause S, Klinkhammer-Schalke M (2011) Treatment of B-cell lymphoma with chemotherapy plus rituximab: a survival benefit can be demonstrated in the routine data of a regional cancer registry, annals of hematology

15.

www.awmf.org

16.

Margolis C, Cretin S (1999) Implementing clinical practice guidelines. AHA Press, Chicago

17.

Moertel CG, Fleming TR, Macdonald JS et al (1990) Levamisole and fluorouracil for adjuvant therapy of resected colon carcinoma. N Engl J Med 322:352–358

18.

Müller L, Münch A, Goebell PJ et al (2011) Histology, metastases and palliative surgery in mRCC patients. Data from a clinical registry – RCC Registry. Onkologie 34(Supp 6):182

19.

Schmoll HJ, Grothey A, Kellermann J (2002) Deficits in management of patients with colorectal carcinoma in Germany. Results of multicenter documentation of therapy algorithms. Med Klin 97(5):270–277

20.

Tesch H, Rauh J, Fietz T et al (2010) Trends in surgical treatment of breast cancer. Data from a clinical registry. Onkologie 33(Suppl 6):54

21.

Tesch H, Rauh J, Fietz T et al (2011) Diabetes and breast cancer. Data from a clinical registry – TMK Registry. Onkologie 34(Supp 6):221

22.

Tessen HW, Hutzschenreuter U, Steffens CC et al (2011) The treatment of lung cancer in German outpatient centres. Data from a clinical registry – TLK Registry. Onkologie 34(Suppl 6):153
Interessenkonflikte
Der korrespondierende Autor weist auf folgende Beziehungen hin: Dr. Monika Klinkhammer-Schalke hat keine Interessenskonflikte. Prof. Ferdinand Hofstädter hat keinen Interessenskonflikt. Dr. Norbert Marschner ist medizinischer Berater der iOMEDICO AG.
About this article
Cite this article
Klinkhammer-Schalke, M., Marschner, N. & Hofstädter, F. Register in der onkologischen Versorgungsforschung. Onkologe 18, 142–150 (2012). https://doi.org/10.1007/s00761-011-2197-3
Schlüsselwörter
Krebs

Versorgungsforschung

Tumorregister

Dokumentation

Klinische Krebsregistrierung
Keywords
Cancer

Tumor registries

Health services research

Documentation

Clinical tumor registries