Zusammenfassung
Adenokarzinome der Gallengänge (sog. Cholangiokarzinome) können von den intrahepatischen und extrahepatischen Gängen ausgehen und sind seltene Tumoren. Als besondere Tumorentität wurden Karzinome der perihilären oder zentralen extrahepatischen Gallengänge (sog. Klatskin-Tumoren) abgegrenzt. Patienten mit solchen Karzinomen haben eine schlechte Prognose. Da die operativen Möglichkeiten sich ebenso verbessert haben wie die konservat iven Therapieansätze, wurden differenzierte TNM-Klassifikationen für Karzinome der verschiedenen Abschnitte des Gallengangssystems eingeführt, um die anatomische Ausbreitung möglichst genau beschreiben zu können. Die in der 7. Auflage der TNM-Klassifikation maligner Tumoren eingeführten neuen Klassifikationen bzw. Änderungen bestehender Klassifikationen beruhen auf Daten aus Asien und den USA. Die neue Klassifikation soll ab 01.01.2010 verbindlich angewendet werden.
Abstract
Adenocarcinomas of the bile ducts (so-called cholangiocarcinomas) may originate from both intrahepatic and extrahepatic bile ducts and constitute a rare tumor entity. Carcinomas of the perihilar and central extrahepatic bile ducts (so-called Klatskin's tumors) are demarcated as special tumor entities and patients with these carcinomas face a poor prognosis. As therapeutic options have improved with respect to both operative and conservative treatment strategies, sophisticated TNM classifications for the different parts of the bile duct system have been introduced in order to determine the anatomic spread as accurately as possible. The new classifications and modifications of the 7th edition are based on data from Asia and the U.S. Application of the new classifications is mandatory as of 1st January 2010.
Access options
Buy single article
Instant access to the full article PDF.
USD 39.95
Price excludes VAT (USA)
Tax calculation will be finalised during checkout.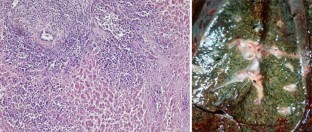 Literatur
AJCC (American Joint Committee on Cancer) (2009) In: Edge SB, Byrd DR, Compton CC et al (Hrsg) Cancer Staging Manual, 7. Aufl. Springer, New York

Albores-Saavedra J, Henson DE, Klimstra DS (2000) Armed Forces Institute of Pathology: Atlas of Tumour Pathology. Tumours of the gallbladder, extrahepatic bile ducts, and Ampulla of Vater. AFIP, Washington

Argani P, Shaukat A, Kaushal M et al (2001) Differing rates of loss of DPC4 expression and of p53 overexpression among carcinomas of the proximal and distal bile ducts. Cancer 91:1332–1341

Benckert C, Jonas S, Cramer T et al (2003) Transforming growth factor beta 1 stimulates vascular endothelial growth factor gene transcription in human cholangiocellular carcinoma cells. Cancer Res 63:1083–1092

Bheerappa N, Sastry RA (2001) Pancreatico-biliary ductal union. Trop Gastroenterol 22:190–193

Chung C, Bautista N, O'Connell TX (1998) Prognosis and treatment of bile duct carcinoma. Ann Surg 64:921–925

Fritz A, Percy C, Jack A et al (Hrsg) (2000) International Classification of Diseases for Oncology (ICD-0), 3. Aufl. WHO, Geneva

Hamilton SR, Aaltonen LA (Hrsg) (2000) WHO: Pathology and Genetics. Tumours of the Digestive System. IARC Press, Lyon, S 206–214

Han C, Demetris AJ, Wu T et al (2004) Cyclooxygenase-2 and prostaglandin E2 promote cholangiocarcinoma cell growth and invasion through EP1 receptor-mediated activation of epidermal growth factor receptor and AKT. Hepatology 40:301A, Abstract 318

Hansel DE, Rahman A, Hidalgo M et al (2003) Identification of novel cellular targets in biliary tract cancers using global gene expression technology. Am J Pathol 163:217–229

Heinrich PC, Behrmann I, Haan S et al (2003) Principles of Interleukin (IL)-6-type cytokine signalling and its regulation. Biochem J 374:1–20

Hong SM, Cho H, Lee OJ et al (2005) The number of metastatic lymph nodes in extrahepatic bile duct carcinoma as a prognostic factor. Am J Surg Pathol 29:1177–1183

Hong SM, Cho H, Moskaluk CA et al (2007) Measurement of the invasion depth of extrahepatic bile duct carcinoma: An alternative method overcoming the current T classification problems of the AJCC staging system. Am J Surg Pathol 31:199–206

Ince N, Monte SM de la, Wands JR (2000) Overexpression of human aspartyl (asparaginyl) beta-hydroxylase is associated with malignant transformation. Cancer Res 60:1261–1266

Kakar S, Burgart LJ (2005) Tumours of the biliary system. Curr Diagn Pathol 11:34–43

Klatskin G (1965) Adenocarcinoma of the hepatic duct at its bifurcation within the porta hepatis. An unusual tumor with distinctive clinical and pathological features. Am J Med 38:241–256

Kubicka S (2004) Cholangiozelluläres Karzinom und Gallenblasenkarzinom. [Cholangiocellular and gallbladder carcinoma]. Z Gastroenterol 42:397–402

Lee JC, Lin PW, Lin YJ et al (1995) Analysis of K-ras gene mutations in periampullary cancers, gallbladder cancers and cholangiocarcinomas from paraffin-embedded tissue sections. J Formos Med Assoc 94:719–723

Maeda T, Sepe P, Lahousse S et al (2003) Antisense oligodeoxynucleotides directed against aspartyl (asparaginyl) beta-hydroxylase suppress migration of cholangiocarcinoma cells. J Hepatol 38:615–622

Maeda T, Taguchi K, Aishima S et al (2004) Clinicopathological correlates of aspartyl (asparaginyl) beta-hydroxylase overexpression in cholangiocarcinoma. Cancer Detect Prev 28:313–318

McGlynn KA, Tarone RE, El-Serag HB (2006) A comparison of trends in the incidence of hepatocellular carcinoma and intrahepatic cholangiocarcinoma in the United States. Cancer Epidemiol Biomarkers Prev 15:1198–1203

Nathan H, Aloia TA, Vauthey JN (2009) A proposed staging system for intrahepatic cholangiocarcinoma. Ann Surg Oncol 16:14–22

Nishio H, Nagino M, Oda K et al (2005) TNM classification for perihilar cholangiocarcinoma: comparison between 5th and 6th editions of the AJCC/UICC staging system. Langenbecks Arch Surg 390:319–327

Ogasawara S, Yano H, Higaki K et al (2001) Expression of angiogenic factors, basic fibroblast growth factor and vascular endothelial growth factor, in human biliary tract carcinoma cell lines. Hepatol Res 20:97–113

Rijken AM, van Gulik TM, Polak MM et al (1998) Diagnostic and prognostic value of incidence of K-ras codon 12 mutations in resected distal bile duct carcinoma. J Surg Oncol 68:187–192

Satyanarayana A, Manns MP, Rudolph KL (2004) Telomeres and telomerase: a dual role in hepatocarcinogenesis. Hepatology 40:276–283

Shaib Y, El-Serag HB (2004) The epidemiology of cholangiocarcinoma. Semin Liver Dis 24:115–125

Tamada S, Shibahara H, Higashi M et al. (2006) MUC4 is a novel prognostic factor of extrahepatic bile duct carcinoma. Clin Cancer Res 12:4257–4264

Tanaka S, Sugimachi K, Kameyama T et al (2003) Human WISP1v, a member of the CCN family, is associated with invasive cholangiocarcinoma. Hepatology 37:1122–1129

Tannapfel A, Wittekind CH (2001) Anatomy and pathology of intrahepatic and extrahepatic bile duct tumors. Pathologe 22:114–123

Terada T, Okada Y, Nakanuma Y (1996) Expression of immunoreactive matrix metalloproteinases and tissue inhibitors of matrix metalloproteinases in human normal livers and primary liver tumors. Hepatology 23:1341–1344

UICC (International Union against Cancer) (1978) TNM Classification of Malignant Tumours In: Harmer MH (Hrsg), 3. Aufl. enlarged and revised 1982. Geneva

UICC (International Union against Cancer) (2002) TNM Classification of Malignant Tumours, In: Sobin LH, Wittekind Ch (Hrsg) 6. Aufl. Wiley & Sons, New York

UICC (International Union against cancer) (2010) TNM Classification of Malignant Tumors, In: Sobin LH, Gospodarowicz MK, Wittekind Ch (Hrsg) 7. Aufl. Blackwell Publishing Ltd., Oxford [Deutsche Übersetzung: UICC (2010) TNM-Klassifikation maligner Tumoren. Herausgegeben und übersetzt von Wittekind Ch, Meyer HJ (Hrsg) Wiley VCH, Weinheim]

Watanabe M, Asaka M, Tanaka J et al (1994) Point mutation of K-ras gene codon 12 in biliary tract tumours. Gastroenterology 107:1147–1153

Wiedmann M, Schoppmeyer K, Witzigmann H et al (2005) Aktuelle Diagnostik und Therapie von Gallengangs- und Gallenblasenkarzinomen. Z Gastroenterol 43:305–315

Wiedmann M, Schoppmeyer K, Witzigmann H et al (2005) Aktuelle Diagnostik und Therapie von Gallengangs- und Gallenblasenkarzinomen. Z Gastroenterol 44:473–475

Wistuba II, Albores-Saavedra J (1999) Genetic abnormalities involved in the pathogenesis of gallbladder carcinoma. J Hepatobiliary Pancreat Surg 6:237–244

Wistuba II, Gazdar AF, Roa I et al (1996) p53 protein overexpression in gallbladder carcinoma and its precursor lesions: an immunohistochemical study. Hum Pathol 27:360–365

Wittekind Ch (2006) Residualtumorklassifikation in der Onkologie. Anwendungen und Probleme. Onkologe 12:803–813

Wittekind Ch (2006) Extrahepatic biliary tract and the Ampulla of Vater cancers. In: Gospodarowicz MK, O'Sullivan B, Sobin LH (Hrsg) Prognostic factors in cancer, 3. Aufl. Wiley& Sons, New York, S 147–151

Witzigmann H, Berr F, Ringel U et al (2006) Surgical and palliative management and outcome in 184 patients with hilar cholangiocarcinoma: palliative photodynamic therapy plus stenting is comparable to R1/R2 resection. Ann Surg 244:230–239

Yamasaki S (2003) Intrahepatic cholangiocarcinoma: macroscopic type and stage classification. J Hepatobiliary Pancreat Surg 10:288–291
Interessenkonflikt
Der korrespondierende Autor gibt an, dass kein Interessenkonflikt besteht.
About this article
Cite this article
Wittekind, C., Oberschmid, B. Anatomie und Pathologie der zentralen Gallengangstumoren. Onkologe 16, 841–848 (2010). https://doi.org/10.1007/s00761-010-1878-7
Published:

Issue Date:

DOI: https://doi.org/10.1007/s00761-010-1878-7
Schlüsselwörter
Keywords