Zusammenfassung
Das Ösophaguskarzinom gehört in Deutschland zu den zehn häufigsten Krebstodesursachen und betrifft hauptsächlich Männer, die älter als 50 Jahre sind. Während bis vor 30 Jahren histologisch überwiegend Plattenepithelkarzinome (PC) diagnostiziert wurden, lässt sich in den letzten Jahren in den westlichen Industrienationen eine exponentielle Zunahme der Adenokarzinome (AC) feststellen. Ätiologische Faktoren für das PC sind bekanntermaßen das Rauchen und ein starker Alkoholkonsum, für das AC werden ein lange bestehender gastroösophagealer Reflux und Übergewicht sowie das Rauchen und in geringerem Maße der Alkoholkonsum verantwortlich gemacht. Durch die rasante Entwicklung der Endoskopietechnologie hin zu hochauflösenden Videoendoskopen und Magnifikationsendoskopen sowie neuer diagnostischer Verfahren wie die Chromoendoskopie und Minisonden-Endosonographie haben die diagnostischen Möglichkeiten insbesondere für die Früherkennung dieser Tumoren einen hohen Standard erreicht.
Abstract
Esophageal carcinoma is one of the ten most frequent causes of cancer death in Germany and mainly affects men aged >50 years. While 30 years ago histologic diagnosis of squamous cell carcinoma (SCC) predominated, the last few years have evidenced an exponential increase in the number of adenocarcinomas (AC) in Western industrialized nations. Well-known etiologic factors for SCC are smoking and heavy alcohol consumption. A long history of gastroesophageal reflux and obesity as well as smoking and to a lesser extent alcohol consumption are considered causative factors for AC. Rapid developments in endoscopic technology leading to high-resolution video endoscopes and magnification endoscopes as well as novel diagnostic procedures such as chromoendoscopy and endosonography with a mini-probe have resulted in a high standard of diagnostic options, particularly for early detection of these tumors.
Access options
Buy single article
Instant access to the full article PDF.
USD 39.95
Price excludes VAT (USA)
Tax calculation will be finalised during checkout.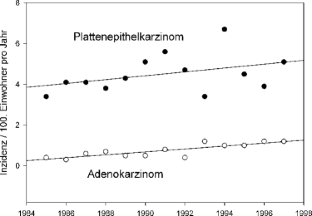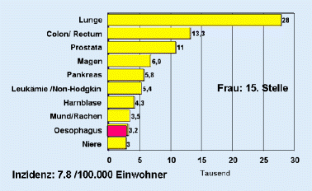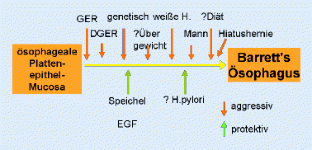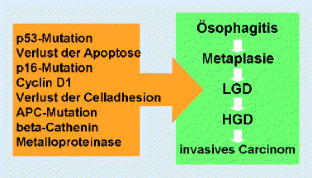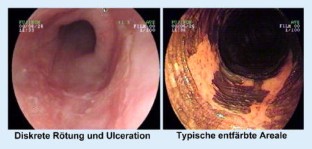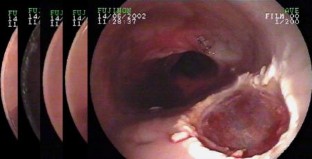 Literatur
Bareiss D, Stabenow R, Muller R et al (2002) Current epidemiology of carcinoma of the esophagus and cardia in Germany. Dtsch Med Wochenschr 127: 1367–1374

Bollschweiler E, Holscher A (2001) Carcinoma of the esophagus — actual epidemiology in Germany. Onkologie 24: 180–184

Bollschweiler E, Schroder W, Holscher A, Siewert J (2000) Preoperative risk analysis in patients with adenocarcinoma or squamous cell carcinoma of the oesophagus. Br J Surg 87: 1106–1110

Bollschweiler E, Wolfgarten E, Gutschow C, Holscher AH (2001) Demographic variations in the rising incidence of esophageal adenocarcinoma in white males. Cancer 92: 549–555

Bollschweiler E, Wolfgarten E, Nowroth T, Rosendahl U, Monig S, Holscher A (2002) Vitamin intake and risk of subtypes of esophageal cancer in Germany. J Cancer Res Clin Oncol 128: 575–580

Brabender J, Lord R, Danenberg K et al (2001) Increased c-myc mRNA expression in Barrett's esophagus and Barrett's-associated adenocarcinoma. J Surg Res 99: 301–306

Brabender J, Lord R, Metzger R et al (2003) Differential SPARC mRNA expression in Barrett's oesophagus. Br J Cancer 89: 1508–1512

Cameron A, Carpenter H (1997) Barrett's esophagus, high-grade dysplasia, and early adenocarcinoma: a pathological study. Am J Gastroenterol 92: 586–591

Canto M, Setrakia S, Petras RE (1996) Methylene blue selectively stains intestinal metaplasia in Barrett's esophagus. Gastrointest Endosc 44: 433–438

Chow W, Blot W, Vaughan T et al (1998) Body mass index and risk of adenocarcinomas of the esophagus and gastric cardia. J Natl Cancer Inst 90: 150–155

Coebergh JW, Janssen-Heijnen ML, Post PN, Razenberg PPA (1999) Serious co-morbidity among unselected cancer patients newly diagnosed in the southeastern part of the Netherlands in 1993–1996. J Clin Epidemiol 52: 1131–1136

Ell C (2002) Early esophageal carcinoma: diagnosis and endoscopic therapy. Z Gastroenterol 40 (Suppl 2): 12–14

Gossner L, Pech O, May A, Ell C (1999) Methylene blue staining for the detection of dysplasia or mucosal cancer in Barrett's esophagus. Gastroenterology 116: G1812

Gossner L, Sroka R, Stepp H, Ell C (1999) Photodynamic diagnosis versus random biopsies for dysplasia and invisible mucosal cancer in Barrett's esophagus. Gastroenterology 116: G0763

Lagergren J, Bergström R, Lindgren A, Nyren O (1999) Symptomatic gastroesophageal reflux as a risk factor for esophageal adenocarcinoma. N Engl J Med 18: 825–831

Lagergren J, Bergstrom R, Nyren O (1999) Association between body mass and adenocarcinoma of the esophagus and gastric cardia. Ann Intern Med 130: 883–890

Metzger R, Schneider PM, Warnecke-Eberz U, Brabender J, Holscher AH (2004) Molecular biology of esophageal cancer. Onkologie 27: 200–206

Meyer V, Burtin P, Bour B et al (1997) Endoscopic detection of early esophageal cancer in a high risk population: Does Lugol staining improve videoendoscopy? Gastrointest Endosc 45: 480–484

Pech O, Gossner L, May A, Ell C (2002) Früherkennung, Diagnostik und endoskopische Therapie früher Neoplasien des Ösophagus. Chirurgische Gastroenterologie 18: 105–109

Schneider P, Stoeltzing O, Roth J et al (2000) P53 mutational status improves estimation of prognosis in patients with curatively resected adenocarcinoma in Barrett's esophagus. Clin Cancer Res 6: 3153–3158

Vaughan T, Farrow D, Hansten P et al (1998) Risk of esophageal and gastric adenocarcinomas in relation to use of calcium channel blockers, asthma drugs, and other medications that promote gastroesophageal reflux. Cancer Epidemiol Biomarkers Prev 7: 749–756

Wang H, Hsieh C, Antonioli D (1994) Rising incidence rate of esophageal adenocarcinoma and use of pharmaceutical agents that relax the lower esophageal sphincter (United States). Cancer Causes Control 5: 573–578

Wolfgarten E, Rosendahl U, Nowroth T, Leers J, Metzger R, Holscher A, Bollschweiler E (2001) Coincidence of nutritional habits and esophageal cancer in Germany. Onkologie 24: 546–551

Wu A, Wan P, Bernstein L (2001) A multiethnic population-based study of smoking, alcohol and body size and risk of adenocarcinomas of the stomach and esophagus (United States). Cancer Causes Control 12: 721–732
About this article
Cite this article
Bollschweiler, E., Ell, C. Plattenepithelkarzinom und Adenokarzinom des Ösophagus. Onkologe 10, 1168–1178 (2004). https://doi.org/10.1007/s00761-004-0788-y
Issue Date:

DOI: https://doi.org/10.1007/s00761-004-0788-y
Schlüsselwörter
Keywords