Zusammenfassung
Die akute neu aufgetretene Drehschwindelattacke stellt in der Akutversorgung eine Herausforderung an die Medizin dar. Eine strukturierte interdisziplinäre Zusammenarbeit zwischen Notfallmedizin, Neurologie und Hals-, Nasen-, Ohrenheilkunde ist für die optimale Patientenbetreuung unerlässlich. Diese Arbeit schafft einen Überblick über die klinischen Hilfsmittel, die in der Entscheidungsfindung der klinischen Diagnostik zur Verfügung stehen. Die Einschätzung des klinisch relevanten Risikoprofils in Kombination mit der Rolle der akuten bildgebenden Verfahren werden in dieser Übersichtsarbeit anhand der bisherig publizierten Literatur behandelt.
Abstract
Acute rotatory vertigo often represents a considerable diagnostic challenge for the treating physician. A structured clinical protocol and efficient cooperation between otologists, neurologists and emergency room physicians is needed to ensure optimal patient care. This review concentrates on essential clinical signs and symptoms necessary to differentiate between acute vestibulopathy and acute vertigo of vascular origin, especially in the cerebellum. A review of relevant literature is also included.
This is a preview of subscription content, log in to check access.
Access options
Buy single article
Instant access to the full article PDF.
US$ 39.95
Price includes VAT for USA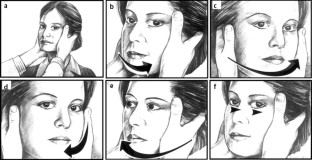 Literatur
1

Kerber KA, Meurer WJ, West BT, Fendrick AM (2008) Dizziness presentations in U.S. emergency departments, 1995–2004. Acad Emerg Med 15:744–750. doi:10.1111/j.1553-2712.2008.00189.x

2

Neuhauser HK (2007) Epidemiology of vertigo. Curr Opin Neurol 20:40–46. doi:10.1097/WCO.0b013e328013f432

3

Halmagyi GM, Cremer PD (2000) Assessment and treatment of dizziness. J Neurol Neurosurg Psychiatr 68:129–136.

4

Flossmann E, Rothwell PM (2003) Prognosis of vertebrobasilar transient ischaemic attack and minor stroke. Brain 126:1940–1954. doi:10.1093/brain/awg197

5

Lee H (2014) Isolated vascular vertigo. J Stroke 16:124–130. doi:10.5853/jos.2014.16.3.124

6

Lee C-C, Ho H-C, Su Y-C et al (2012) Increased risk of vascular events in emergency room patients discharged home with diagnosis of dizziness or vertigo: a 3-year follow-up study. PLoS ONE 7:e35923. doi:10.1371/journal.pone.0035923

7

Giles MF, Rothwell PM (2010) Systematic review and pooled analysis of published and unpublished validations of the ABCD and ABCD2 transient ischemic attack risk scores. Stroke 41:667–673. doi:10.1161/STROKEAHA.109.571174

8

Giles MF, Albers GW, Amarenco P et al (2010) Addition of brain infarction to the ABCD2 Score (ABCD2I): a collaborative analysis of unpublished data on 4574 patients. Stroke 41:1907–1913. doi:10.1161/STROKEAHA.110.578971

9

Saber Tehrani AS, Kattah JC, Mantokoudis G et al (2014) Small strokes causing severe vertigo: frequency of false-negative MRIs and nonlacunar mechanisms. Neurology 83:169–173. doi:10.1212/WNL.0000000000000573

10

Grewal K, Austin PC, Kapral MK et al (2015) Missed strokes using computed tomography imaging in patients with vertigo: population-based cohort study. Stroke 46:108–113. doi:10.1161/STROKEAHA.114.007087
Ethics declarations
Interessenkonflikt
B. Loader gibt an, dass kein Interessenkonflikt besteht.
Dieser Beitrag beinhaltet keine Studien an Menschen oder Tieren.
About this article
Cite this article
Loader, B. Akuter Schwindel. psychopraxis. neuropraxis 18, 53–55 (2015). https://doi.org/10.1007/s00739-015-0238-1
Schlüsselwörter
Akuter Drehschwindel

Vestibuläre neuritis

Vestibularisausfall

Schlaganfall

Kleinhirnischämie
Keywords
Vertigo

Vestibular neuritis

Vestibular diseases

Stroke

Cerebral ischemia