Abstract
Evidence suggests impairment in aspects of cognitive function in women with polycystic ovary syndrome (PCOS). Direct effects of raised testosterone levels associated with PCOS are a potential mechanism. We aimed to explore the relationship between testosterone levels and cognitive functioning in women. Women with a range of testosterone levels, including women with PCOS, were recruited. Depressive and anxiety symptoms were measured by self-report. Participants underwent a comprehensive battery of cognitive tests assessing psychomotor speed, visuospatial learning and memory, verbal learning and memory, and executive function. Free testosterone serum levels were assessed. All measures were completed at the same time point. Correlation analysis (Spearman's Rho) was used to explore associations between free testosterone and cognitive test variables. Eighty-one women were recruited, with 40 meeting diagnostic criteria for PCOS. Free testosterone was normally distributed, with significant overlap between women with PCOS and controls. Mean depressive and anxiety symptoms were in the mild range. Higher free testosterone levels were significantly correlated with poorer performance on measures assessing psychomotor speed and visuospatial learning. These significant correlations remained after adjusting for confounders (premorbid verbal IQ, depressive, and anxiety symptoms). Higher free testosterone levels in women were associated with poorer cognitive function, specifically psychomotor speed and visuospatial learning. Women with PCOS and raised free testosterone levels may experience impairment in these aspects of cognitive function which are not accounted for by mood or anxiety symptoms.
Access options
Buy single article
Instant access to the full article PDF.
USD 39.95
Price excludes VAT (USA)
Tax calculation will be finalised during checkout.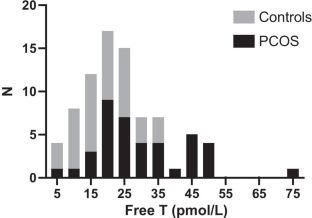 Data availability
Data available on request
References
Barnard L, Balen AH, Ferriday D, Tiplady B, Dye L (2007) Cognitive functioning in polycystic ovary syndrome. Psychoneuroendocrinology 32:906–914

Barry J, Parekh H, Hardiman P (2013) Visual-spatial cognition in women with polycystic ovarian syndrome: the role of androgens. Hum Reprod 28:2832–2837

Benton AL, Hamsher K (1989) Multilingual aphasia examination. AJA Associates, Iowa City, IA

Beyenburg S, Watzka M, Clusmann H, Blümcke I, Bidlingmaier F, Elger CE, Stoffel-Wagner B (2000) Androgen receptor mRNA expression in the human hippocampus. Neurosci Lett 294:25–28

Blair JA, Bhatta S, McGee H, Casadesus G (2015) Luteinizing hormone: evidence for direct action in the CNS. Horm Behav 76:57–62

Bourke C, Porter RJ, Carter JD, McIntosh VV, Jordan J, Bell C, Carter F, Colhoun H, Joyce PR (2012) Comparison of neuropsychological functioning and emotional processing in major depression and social anxiety disorder subjects, and matched healthy controls. Aust NZ J Psychiatry 46:972–981

Conway G, Dewailly D, Diamanti-Kandarakis E, Escobar-Morreale HF, Franks S, Gambineri A, Kelestimur F, Macut D, Micic D, Pasquali R (2014) The polycystic ovary syndrome: a position statement from the European Society of Endocrinology. Eur J Endocrinol 171:P1–P29

Cooney LG, Lee I, Sammel MD, Dokras A (2017) High prevalence of moderate and severe depressive and anxiety symptoms in polycystic ovary syndrome: a systematic review and meta-analysis. Hum Reprod 32:1075–1091

Corsi, P., 1972. Human memory and the medial temporal region of the brain [PhD thesis]. Montreal: McGill University, Montreal.

Douglas K, Porter R, Knight R, Maruff P (2011) Neuropsychological changes and treatment response in severe depression. Br J Psychiatry 198:115–122

Elder P, Lewis J (1985) An enzyme-linked immunosorbent assay (ELISA) for plasma testosterone. J Steroid Biochem 22:635–638

Hsu KJ, Young-Wolff KC, Kendler KS, Halberstadt LJ, Prescott CA (2014) Neuropsychological deficits in major depression reflect genetic/familial risk more than clinical history: a monozygotic discordant twin-pair study. Psychiatry Res 215:87–94

Huang A, Brennan K, Azziz R (2010) Prevalence of hyperandrogenemia in the polycystic ovary syndrome diagnosed by the National Institutes of Health 1990 criteria. Fertil Steril 93:1938–1941

Jarrett BY, Vantman N, Mergler RJ, Brooks ED, Pierson RA, Chizen DR, Lujan ME (2019) Dysglycemia, not altered sex steroid hormones, affects cognitive function in polycystic ovary syndrome. Journal of the Endocrine Society 3:1858–1868

Keevil BG, Adaway J, Fiers T, Moghetti P, Kaufman JM (2018) The free androgen index is inaccurate in women when the SHBG concentration is low. Clin Endocrinol (oxf) 88:706–710

Lewis JG, Longley NJ, Elder PA (1999) Monoclonal antibodies to human sex hormone-binding globulin (SHBG): characterization and use in a simple enzyme-linked immunosorbent assay (ELISA) of SHBG in plasma. Steroids 64:259–265

Lezak MD (2004) Neuropsychological assessment. Oxford University Press, USA

Luine VN (2014) Estradiol and cognitive function: past, present and future. Horm Behav 66:602–618

Nelson, H.E., Willison, J., 1991. National adult reading test (NART). Nfer-Nelson Windsor.

Pintzka CW, Evensmoen HR, Lehn H, Håberg AK (2016) Changes in spatial cognition and brain activity after a single dose of testosterone in healthy women. Behav Brain Res 298:78–90

Porter R, Bourke C, Gallagher P (2007) Neuropsychological impairment in major depression: its nature, origin and clinical significance. Aust N Z J Psychiatry 41:115–128

Postma A, Meyer G, Tuiten A, van Honk J, Kessels RP, Thijssen J (2000) Effects of testosterone administration on selective aspects of object-location memory in healthy young women. Psychoneuroendocrinology 25:563–575

Reitan RM (1958) Validity of the trail making test as an indicator of organic brain damage. Percept Mot Skills 8:271–276

Rock PL, Roiser JP, Riedel WJ, Blackwell AD (2013) Cognitive impairment in depression: a systematic review and meta-analysis. Psychol Med 44:2029–2040

Rosenberg L, Park S (2002) Verbal and spatial functions across the menstrual cycle in healthy young women. Psychoneuroendocrinology 27:835–841

Rotterdam ESHRE/ASRM-Sponsored PCOS Consensus Workshop Group (2004) Revised 2003 consensus on diagnostic criteria and long-term health risks related to polycystic ovary syndrome. Fertil Steril 81:19–25

Sarrieau A, Mitchell JB, Lal S, Olivier A, Quirion R, Meaney MJ (1990) Androgen binding sites in human temporal cortex. Neuroendocrinology 51:713–716

Schattmann L, Sherwin BB (2007) Testosterone levels and cognitive functioning in women with polycystic ovary syndrome and in healthy young women. Horm Behav 51:587–596

Sheehan M, Lecrubier Y, Sheehan K, Sheehan K, Amorim P, Janavs J, Weiller E, Hergueta T, Baker R, Dunbar G (1998) Diagnostic psychiatric interview for DSM-IV and ICD-10. J Clin Psychiatry 59:22–33

Snyder PJ, Bednar MM, Cromer JR, Maruff P (2005) Reversal of scopolamine-induced deficits with a single dose of donepezil, an acetylcholinesterase inhibitor. Alzheimers Dement 1:126–135

Snyder PJ, Jackson CE, Piskulic D, Olver J, Norman T, Maruff P (2008) Spatial working memory and problem solving in schizophrenia: the effect of symptom stabilization with atypical antipsychotic medication. Psychiatry Res 160:316–326

SPSS (2004) Statistical Package for the Social Sciences. SPSS Inc, Chicago, IL

Symonds C, Gallagher P, Thompson J, Young A (2004) Effects of the menstrual cycle on mood, neurocognitive and neuroendocrine function in healthy premenopausal women. Psychol Med 34:93–102

Tiffin J (1968) Purdue Pegboard examiner manual. Science Research Associates. Inc., Chicago, Illinois

Valderhaug TG, Hertel JK, Nordstrand N, Dale PO, Hofsø D, Hjelmesæth J (2015) The association between hyperandrogenemia and the metabolic syndrome in morbidly obese women. Diabetol Metab Syndr 7:46

Vermeulen A, Verdonck L, Kaufman JM (1999) A critical evaluation of simple methods for the estimation of free testosterone in serum. J Clin Endocrinol Metab 84:3666–3672

Zigmond AS, Snaith RP (1983) The hospital anxiety and depression scale. Acta Psychiatr Scand 67:361–370
Funding
KD was supported by a Sir Charles Hercus Health Research Fellowship from the Health Research Council of New Zealand (ref: 19/082) during completion of this paper.
Ethics declarations
Ethics approval
The study was approved by the University of Otago Human Ethics Committee (ref: H14/047).
Consent to participate
Informed consent was obtained from all participants.
Consent for publication
Informed consent was obtained from all participants.
Conflict of interest
RP and KD have used software provided by Scientific Brain Training Pro (SBT-Pro) for research at no cost. RP has received support for travel to educational meetings from Servier and Lundbeck.
Additional information
Publisher's note
Springer Nature remains neutral with regard to jurisdictional claims in published maps and institutional affiliations.
About this article
Cite this article
Sukhapure, M., Eggleston, K., Douglas, K. et al. Free testosterone is related to aspects of cognitive function in women with and without polycystic ovary syndrome. Arch Womens Ment Health 25, 87–94 (2022). https://doi.org/10.1007/s00737-021-01158-9
Received:

Accepted:

Published:

Issue Date:

DOI: https://doi.org/10.1007/s00737-021-01158-9
Keywords