Abstract
Listening Visits are a non-directive counseling intervention delivered by nurses to depressed postpartum women. In 2007, Listening Visits were listed as a recommended treatment in British national guidelines. They were removed from the guideline update, due to the small effect size drawn from a meta-analysis of five clinical trials with depressed and non-depressed postpartum women. The purpose of this meta-analysis is to provide an estimate of the true population effect of Listening Visits as a treatment for maternal depression compared to control conditions. A meta-analytic review was conducted of studies published before October 2020. Inclusion criteria required that the study was a pragmatic or randomized trial of Listening Visits delivered by non-mental health specialists to mothers with elevated symptoms of maternal depression. Post-treatment depression rates for the treatment and control groups were extracted from eligible studies. Six studies met eligibility criteria which included 703 participants. Analyses of observed effect sizes corrected for study artifacts revealed an estimate of 0.66 (95% CI: 0.32, 0.99) with high heterogeneity (Q = 17.95, p = 0.003, I2 = 72.14). After removing outliers and addressing heterogeneity across observed effect sizes, the meta-analytic estimate across four methodologically similar studies and 651 participants was 0.43 (95% CI: 0.24, 0.62). The moderate effect size for Listening Visits, considered together with the advantages afforded by how, where, and who provides this treatment, supports Listening Visits as a first-line intervention in a stepped care approach for mothers with mild to moderately severe depression symptoms.
Access options
Buy single article
Instant access to the full article PDF.
US$ 39.95
Tax calculation will be finalised during checkout.
Subscribe to journal
Immediate online access to all issues from 2019. Subscription will auto renew annually.
US$ 79
Tax calculation will be finalised during checkout.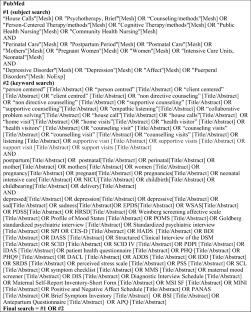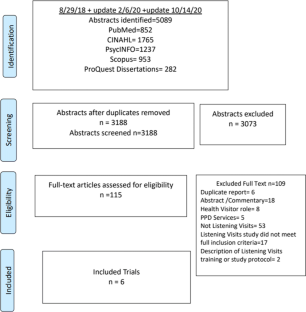 References
Atkins DC, Christensen A (2001) Is professional training worth the bother? A review of the impact of psychotherapy training on client outcome. Aust Psychol 36:122–130. https://doi.org/10.1080/00050060108259644

Brugha TS, Morrell CJ, Slade P, Walters SJ (2011) Universal prevention of depression in women postnatally: clustered randomized trial evidence in primary care. Psychol Med 41:739–748. https://doi.org/10.1017/S0033291710001467

Collaborators GBD, Nomura S (2018) Global, regional, and national incidence, prevalence, and years lived with disability for 354 diseases and injuries for 195 countries and territories, 1990–2017: a systematic analysis for the Global Burden of Disease Study 2017. Lancet 392:1789–1858. https://doi.org/10.1016/S0140-6736(18)32279-7

Cooper PJ, Murray L, Wilson A, Romaniuk H (2003) Controlled trial of the short-and long-term effect of psychological treatment of post-partum depression. I. Impact on maternal mood. Br J Psychiatry 182(5):412–419. https://doi.org/10.1192/bjp.182.5.412

Cowley S, Caan W, Dowling S, Weir H (2007) What do health visitors do? A national survey of activities and service organization. Public Health 121:869–879. https://doi.org/10.1016/j.puhe.2007.03.016

Cox, Holden JM, Sagovsky R (1987) Detection of postnatal depression: development of the 10-item Edinburgh Postnatal Depression Scale. Br J Psychiatry 150(6):782–786. https://doi.org/10.1192/bjp.150.6.782

Cuijpers P, Branmark JG, van Straten A (2008a) Psychological treatment of postpartum depression: a meta-analysis. J Clin Psychol 64:103–118. https://doi.org/10.1002/jclp.20432

Cuijpers P, Driessen E, Hollon SD, van Oppen P, Barth J, Andersson G (2012) The efficacy of non-directive supportive therapy for adult depression: a meta-analysis. Clin Psychol Rev 32:280–291. https://doi.org/10.1016/j.cpr.2012.01.003

Cuijpers P, Geraedts AS, van Oppen P, Andersson G, Markowitz JC, van Straten A (2011) Interpersonal psychotherapy for depression: a meta-analysis. Am J Psychiatr 168:581–592. https://doi.org/10.1176/appi.ajp.2010.10101411

Cuijpers P, van Straten A, van Oppen P, Andersson G (2008b) Are psychological and pharmacologic interventions equally effective in the treatment of adult depressive disorders? A meta-analysis of comparative studies. J Clin Psychiatry 69:1675–1685. https://doi.org/10.4088/jcp.v69n1102

Dennis C-L, Chung-Lee L (2006) Postpartum depression help-seeking barriers and maternal treatment preferences: a qualitative systematic review. Birth 33:323–331. https://doi.org/10.1111/j.1523-536X.2006.00130.x

Durlak J (1979) Comparative effectiveness of paraprofessional and professional helpers. Psychol Bull 86(1):80–92. https://doi.org/10.1037/0033-2909.86.1.80

Egger M, Davey Smith G, Schneider M, Minder C (1997) Bias in meta-analysis detected by a simple, graphical test. BMJ 315:629–634. https://doi.org/10.1136/bmj.315.7109.629

Glavin K, Smith L, Sørum R, Ellefsen B (2010) Supportive counselling by public health nurses for women with postpartum depression. J Adv Nurs 66:1317–1327. https://doi.org/10.1111/j.1365-2648.2010.05263.x

Hahn-Holbrook J, Cornwell-Hinrichs T, Anaya I (2018) Economic and health predictors of national postpartum depression prevalence: a systematic review, meta-analysis, and meta-regression of 291 studies from 56 countries. Front Psychiatry 8:248. https://doi.org/10.3389/fpsyt.2017.00248

Hattie JA, Sharpley C, Rogers HJ (1984) Comparative effectiveness of professional and paraprofessional helpers. Psychol Bull 95(3):534–541. https://doi.org/10.1037/0033-2909.95.3.534

Hedges LV (1981) Distribution theory for Glass's estimator of effect size and related estimators. J Educ Stat 6(2):107–128. https://doi.org/10.3102/10769986006002107

Henderson C, Dixon L, Bauer S, Knapp M, Morrell CJ, Slade P et al (2019) Cost-effectiveness of PoNDER health visitor training for mothers at lower risk of depression: findings on prevention of postnatal depression from a cluster-randomised controlled trial. Psychol Med 49:1324–1334. https://doi.org/10.1017/S0033291718001940

Higgins JPT, & Green S (2011). Cochrane handbook for systematic reviews of interventions version 5.1.0 [updated March 2011]: the Cochrane collaboration

Higgins JPT, Thompson SG, Deeks JJ, Altman DG (2003) Measuring inconsistency in meta-analyses. Br Med J (Clin Res Ed) 327:557–560. https://doi.org/10.1136/bmj.327.7414.557

Holden J (1996) The role of health visitors in postnatal depression. Int Rev Psychiatry 8:79–86. https://doi.org/10.3109/09540269609037820

Holden JM, Sagovsky R, Cox JL (1989) Counselling in a general practice setting: controlled study of health visitor intervention in treatment of postnatal depression. Br Med J 298:223–226. https://doi.org/10.1136/bmj.298.6668.223

Hunter JE, Schmidt FL (2004) Methods of meta-analysis: correcting error and bias in research findings. Sage, California

Ko JY, Farr SL, Dietz PM, Robbins CL (2012) Depression and treatment among U.S. pregnant and nonpregnant women of reproductive age, 2005-2009. J Women's Health 21:830–836. https://doi.org/10.1089/jwh.2011.3466

Kraemer HC, Knupfer DJ (2006) Size of treatment effects and their importance to clinical research and practice. Biol Psychiatry 59:990–996. https://doi.org/10.1016/j.biopsych.2005.09.014

Montgomery EC, Kunik ME, Wilson N, Stanley MA, Weiss B (2010) Can paraprofessionals deliver cognitive-behavioral therapy to treat anxiety and depressive symptoms? Bull Menn Clin 74:45–62. https://doi.org/10.1521/bumc.2010.74.1.45

Morrell CJ, Slade P, Warner R, Paley G, Dixon S, Walters SJ, Brugha T, Barkham M, Parry GJ, Nicholl J (2009) Clinical effectiveness of health visitor training in psychologically informed approaches for depression in postnatal women: pragmatic cluster randomised trial in primary care. Br Med J 338:a3045. https://doi.org/10.1136/bmj.a3045

National Institute for Health and Clinical Excellence. (2007). Antenatal and postnatal mental health: the NICE guideline on clinical management and service guidance (NICE guideline CG 45)

National Institute for Health and Clinical Excellence. (2014). Antental and postnatal mental health: clinical management and service guidance (Clinical guideline CG 192)

Nietzel MT, Fischer SG (1981) Effectiveness of professional and paraprofessional helpers: a comment on Durlak. Psychol Bull 89:555–565. https://doi.org/10.1037/0033-2909.89.3.555

Nolan, A. (2010). Detection and management of mothers with postnatal depression symptoms - a public health nurse descriptive study. In Lenus: The Irish health repository (Ed.)

O'Hara MW, McCabe JE (2013) Postpartum depression: current status and future directions. Annu Rev Clin Psychol 9:379–407. https://doi.org/10.1146/annurev-clinpsy-050212-185612

Orengo-Aguayo RE, Segre LS (2016) Depression treatment delivered at the point-of-care: a qualitative assessment of the views of low-income, US mothers. J Reprod Infant Psychol 34:35–48. https://doi.org/10.1080/02646838.2015.1101753

Rogers C (2009) On becoming a person. Constable, London

Segre LS, Brock RL, O'Hara MW (2015) Depression treatment for impoverished mothers by point-of-care providers: a randomized controlled trial. J Consult Clin Psychol 83(2):314–324. https://doi.org/10.1037/a0038495

Segre LS, O'Hara MW, Arndt S, Beck CT (2010) Screening and counseling for postpartum depression by nurses: the women's views. MCN: The American Journal of Maternal Child Nursing 35:280–285. https://doi.org/10.1097/NMC.0b013e3181e62679

Segre LS, Orengo-Aguayo RE, Chuffo Siewert R (2016) Depression management by NICU nurses: mother's views. Clin Nurs Res 25(3):273–290. https://doi.org/10.1177/1054773815592596

Segre LS, Trusty S, Gullickson R, Chuffo Davila R, O'Hara MW (2018) Brokering the evidence-practice gap: a strategy for moving evidence into clinical practice. Psychiatr Serv 69:852–854. https://doi.org/10.1176/appi.ps.201700416

Shakespeare J, Blake F, Garcia J (2006) How do women with postnatal depression experience listening visits in primary care? A qualitative interview study. J Reprod Infant Psychol 24:149–162. https://doi.org/10.1080/02646830600643866

Slade P, Morrell CJ, Rigby A, Ricci K, Spittlehouse J, Brugha T (2010) Postnatal women's experiences of management of depressive symptoms: a qualitative study. Br J Gen Pract 60:e440–e448. https://doi.org/10.3399/bjgp10X532611

Sockol LE, Epperson CN, Barber JP (2011) A meta-analysis of treatments for perinatal depression. Clin Psychol Rev 31:839–849. https://doi.org/10.1016/j.cpr.2011.03.009

Turner KM, Chew-Graham C, Folkes L, Sharp D (2010) Women's experiences of health visitor delivered listening visits as a treatment for postnatal depression: a qualitative study. Patient Educ Couns 78:234–239. https://doi.org/10.1016/j.pec.2009.05.022

Vesga-Lopez R, Blanco C, Keyes K, Olfson M, Grant BF, Hasin DS (2008) Psychiatric disorders in pregnant and postpartum women in the United States. Arch Gen Psychiatry 65:805–815

Wickberg B, Bendix M, Wetterholm MB, Skalkidou A (2019) Perinatal mental health around the world: priorities for research and service development in Sweden. BJPsych Int. https://doi.org/10.1192/bji.2019.23

Wickberg B, Hwang CP (1996) Counselling of postnatal depression: a controlled study on a population based Swedish sample. J Affect Disord 39:209–216. https://doi.org/10.1016/0165-0327(96)00034-1

Wiggins M, Oakley A, Roberts I, Turner H, Rajan L, Austerberry H, Mujica R, Mugford M, Barker M (2005) Postnatal support for mothers living in disadvantaged inner city areas: a randomised controlled trial. J Epidemiol Community Health 59:288–295. https://doi.org/10.1136/jech.2004.021808
Acknowledgments
Data extraction and coding was completed by DeLaney Fisher, Rachel Heuel, Neevetha Sivagurunathan, and Rachel Thompson. The authors would like to acknowledge Francesca Scheiber's assistance in initial stages of the study, as well as colleagues who reviewed a draft and provided helpful comments: Drs. Kathleen Buckwalter, Pim Cuijpers, Christopher Groves, Graham Nelson, Sara Stasik-O'Brien, J. Austin Williamson, Julie Zerwic, and the College of Nursing editor, Dr. Diana Colgan.
Ethics declarations
Conflict of interest
The authors declare that they have no conflict of interest.
Additional information
Publisher's note
Springer Nature remains neutral with regard to jurisdictional claims in published maps and institutional affiliations.
About this article
Cite this article
McCabe, J.E., Wickberg, B., Deberg, J. et al. Listening Visits for maternal depression: a meta-analysis. Arch Womens Ment Health (2021). https://doi.org/10.1007/s00737-020-01101-4
Received:

Accepted:

Published:
Keywords
Meta-analysis

Treatment

Listening Visits

Maternal depression

Nurses