Abstract
The main objective of the present study was to report the incidence, recurrence, prevalence, and course of depressive symptoms during the transition from late pregnancy to the postpartum period in healthy women with and without a history of depression. The study also aimed to examine the predictive value of a history of premenstrual syndrome (PMS)/premenstrual dysphoric disorder (PMDD) for peripartum depressive symptoms. A sample of 687 healthy women with (n = 192) and without (n = 495) a history of depression were included in the present analyses. Maternal depressive symptoms were assessed during late pregnancy, 1–2 weeks postpartum, and 4–6 weeks postpartum using the German version of the Edinburgh Postnatal Depression Scale. PMS/PMDD was assessed retrospectively using the German version of the Premenstrual Symptoms Screening Tool. Women with a history of depression were twice more likely to show peripartum depressive symptoms than women without a history of depression. A history of symptoms of PMS/PMDD prior to the current pregnancy was associated with increased odds of peripartum depressive symptoms (p values < .05). Peripartum depressive symptoms are highly prevalent, especially in women with a history of depression and co-existing symptoms of PMS/PMDD. Screening for depression in the antenatal period is highly recommended, particularly for individuals with previous PMS/PMDD or a history of depression.
This is a preview of subscription content,
to check access.
Access this article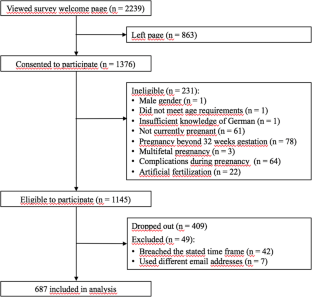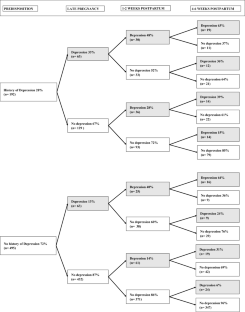 Similar content being viewed by others
References
American Psychiatric Association (2000) Diagnostic and statistical manual of mental disorders DSM-IV-TR. American Psychiatric Association, Washington DC

American Psychiatric Association (2013) Diagnostic and statistical manual of mental disorders DSM-5, 5th edn. American Psychiatric Publishing, Washington DC

Amiel Castro RT, Pataky EA, Ehlert U (2018) Associations between premenstrual syndrome and postpartum depression: a systematic literature review. Biol Psychol In Press

Banti S, Mauri M, Oppo A, Borri C, Rambelli C, Ramacciotti D, Montagnani MS, Camilleri V, Cortopassi S, Rucci P, Cassano GB (2011) From the third month of pregnancy to 1 year postpartum. Prevalence, incidence, recurrence, and new onset of depression. Results from the Perinatal Depression–Research & Screening Unit study. Compr Psychiatry 52:343–351

Beck CT (2001) Predictors of postpartum depression. An update. Nurs Res 50:275–285

Bentz D, Steiner M, Meinlschmidt G (2012) SIPS—Screening-Instrument für prämenstruelle symptoms. Die deutsche Version des Premenstrual Symptoms Screening Tool zur Erfassung klinisch relevanter Beschwerden Nervenarzt 83:33–39

Bergant AM, Nguyen T, Heim K, Ulmer H, Dapunto O (1998) Deutschsprachige Fassung und Validierung der Edinburgh postnatal depression scale. Dtsch Med Wochenschr 23:35–40

Biaggi A, Conroy S, Pawlby S, Pariante CM (2016) Identifying the women at risk of antenatal anxiety and depression: a systematic review. J Affect Disord 191:62–77

Bloch M, Daly C, Rubinow DR (2003) Endocrine factors in the etiology of postpartum depression. Compr Psychiatry 44:234–246

Bloch M, Rotenberg N, Koren D, Klein E (2005) Risk factors associated with the development of postpartum mood disorders. J Affect Disord 88:9–18

Bloch M, Rotenberg N, Koren D, Klein E (2006) Risk factors for early postpartum depressive symptoms. Gen Hosp Psychiatry 28:3–8

Buttner MM, Mott SL, Pearlstein T, Stuart S, Zlotnick C, O'Hara MW (2013) Examination of premenstrual symptoms as a risk factor for depression in postpartum women. Arch Womens Ment Health 16:219–225

Cooper PJ, Murray L (1995) Course and recurrence of postnatal depression evidence for the specificity of the diagnostic concept. Br J Psychiatry 166:191–195

Cox JL, Holden JM, Sagovsky R (1987) Detection of postnatal depression. Development of the 10-item Edinburgh postnatal depression scale. Br J Psychiatry 150:782–786

de Morais EA, Marini FC, Cabral ACV (2013) Association between emotional symptoms of premenstrual syndrome and the risk of developing depressive symptoms in the postpartum period. Rev Med Minas Gerais 23:273–275

Di Florio A, Meltzer-Brody S (2015) Is postpartum depression a distinct disorder? Curr Psychiatry Rep 17:1–6

Dietz PM, Williams SB, Callaghan WM, Bachman DJ, Whitlock EP, Hornbrook MC (2007) Clinically identified maternal depression before, during, and after pregnancies ending in live births. Am J Psychiatry 164:1515–1520

Epperson CN, Haga K, Mason GF, Sellers E, Gueorguieva R, Zhang W, Weiss E, Rothman DL, Krystal JH (2002) Cortical γ-aminobutyric acid levels across the menstrual cycle in healthy women and those with premenstrual dysphoric disorder: a proton magnetic resonance spectroscopy study. Arch Gen Psychiatry 59:851–858

Evans J, Heron J, Francomb H, Oke S, Golding J (2001) Cohort study of depressed mood during pregnancy and after childbirth. Br Med J 323:257–260

Field A (2009) Non-parametric models. In: Field A (ed) Discovering statistics using SPSS. Sage, London, pp 213–261

Gavin NI, Gaynes BN, Lohr KN, Meltzer-Brody S, Gartlehner G, Swinson T (2005) Perinatal depression: a systematic review of prevalence and incidence. Obstet Gynecol 106:1071–1083

Gaynes BN, Gavin N, Meltzer-Brody S, Lohr KN, Swinson T, Gartlehner G, Brody S, Miller WC (2005) Perinatal depression: prevalence, screening accuracy, and screening outcomes. Evid Rep Technol Assess 119:1–8

Halbreich U, Karkun S (2006) Cross-cultural and social diversity of prevalence of postpartum depression and depressive symptoms. J Affect Disord 91:97–111

Hoertel N, López S, Peyre H, Wall MM, González-Pinto A, Limosin F, Blanco C (2015) Are symptom features of depression during pregnancy, the postpartum period and outside the peripartum period distinct? Results from a nationally representative sample using item response theory (IRT). Depress Anxiety 32:129–140

Jacobi F, Höfler M, Strehle J, Mack S, Gerschler A, Scholl L, Busch MA, Maske U, Hapke U, Gaebel W, Maier W, Wagner M, Zielasek J, Wittchen HU (2014) Psychische Störungen in der Allgemeinbevölkerung: Studie zur Gesundheit Erwachsener in Deutschland und ihr Zusatzmodul Psychische Gesundheit (DEGS1-MH). Nervenarzt 85:77–87

Kupfer DJ, Frank E, Wamhoff J (1996) Mood disorders: update on prevention of recurrence. In: Mundt C, Goldstein MJ (eds) Interpersonal factors in the origin and course of affective disorders. Gaskell/Royal College of Psychiatrists, London, England, pp 289–302

Linden M, Maier W, Achberger M, Herr R, Helmchen H, Benkert O (1996) Psychological disorder and their treatment in general praxis in Germany: results of a world health organization (WHO) study. Nervenarzt 67:205–215

Lokuge S, Frey BN, Foster JA, Soares CN, Steiner M (2011) Depression in women: windows of vulnerability and new insights into the link between estrogen and serotonin. J Clin Psychiatry 72:e1563–e1569

Martini J, Petzoldt J, Einsle F, Beesdo-Baum K, Höfler M, Wittchen HU (2015) Risk factors and course patterns of anxiety and depressive disorders during pregnancy and after delivery: a prospective-longitudinal study. J Affect Disord 175:385–395

Meltzer-Brody S, Stuebe A (2014) The longterm psychiatric and medical prognosis of perinatal mental illness. Best Pract Res Clin Obstet Gynaecol 28:49–60

O'Hara MW, McCabe JE (2013) Postpartum depression: Current status and future directions. Annu Rev Clin Psychol 9:379–407

O'Hara MW, Swain AM (1996) Rates and risk of postpartum depression—a meta-analysis. Int Rev Psychiatry 8:37–54

Pampaka D, Papatheodorou SI, AlSeaidan M, Al Wotayan R, Wright RJ, Buring JE, Dockery DW, Christophi CA (2019) Postnatal depressive symptoms in women with and without antenatal depressive symptoms: results from a prospective cohort study. Arch Womens Ment Health 22:93–103

Payne JL, Teitelbaum Palmer J, Joffe H (2009) A reproductive subtype of depression: conceptualizing models and moving toward etiology. Harv Rev Psychiatry 17:72–86

Riecher-Rossler A, Hofecker Fallahpour M (2003) Postpartum depression: do we still need this diagnostic term? Acta Psychiatr Scand 418:51–56

Robertson E, Grace S, Wallington T, Stewart DE (2004) Antenatal risk factors for postpartum depression: a synthesis of recent literature. Gen Hosp Psychiatry 26:289–295

Sharma V, Mazmanian D (2014) The DSM-5 peripartum specifier: prospects and pitfalls. Arch Womens Ment Health 17:171–173

Soares CN, Zitek B (2008) Reproductive hormone sensitivity and risk for depression across the female life cycle: a continuum of vulnerability? J Psychiatry Neurosci 33:331–343

Stein A, Pearson RM, Goodman SH, Rapa E, Rahman A, McCallum M, Howard LM, Pariante CM (2014) Effects of perinatal mental disorders on the fetus and child. Lancet 384:1800–1819

Steiner M, Macdougall M, Brown E (2003) The premenstrual symptoms screening tool (PSST) for clinicians. Arch Womens Ment Health 6:203–209

Vos T, Haby MM, Barendregt JJ, Kruijshaar M, Corry J, Andrews G (2004) The burden of major depression avoidable by longer-term treatment strategies. Arch Gen Psychiatry 61:1097–1103
Acknowledgments
The authors wish to thank Corinne Hasler and Alessia Corso who helped to recruit the participants for the study. Special acknowledgment goes to Marina Haller for her support in the statistical analyses. We are also deeply thankful to Astrid Dörig for designing the flyer for the study, and to the women who kindly participated.
Funding
This research did not receive any specific grant from funding agencies in the public, commercial, or not-for-profit sectors.
Ethics declarations
Participants were asked for informed consent to be part of this study. Ethics approval from the Canton of Zurich was obtained before the commencement of the study.
Conflict of interest
The authors declare that they have no conflict of interest.
Additional information
Publisher's note
Springer Nature remains neutral with regard to jurisdictional claims in published maps and institutional affiliations.
About this article
Cite this article
Pataky, E.A., Ehlert, U. Longitudinal assessment of symptoms of postpartum mood disorder in women with and without a history of depression. Arch Womens Ment Health 23, 391–399 (2020). https://doi.org/10.1007/s00737-019-00990-4
Received:

Accepted:

Published:

Issue Date:

DOI: https://doi.org/10.1007/s00737-019-00990-4
Keywords