Abstract
Perinatal anxiety and depression are common and associated with negative outcomes if left untreated. Internet-delivered treatments can improve treatment accessibility and have demonstrated effectiveness in treating anxiety and depression in the general adult population. However, little is known about how effective and acceptable these interventions are for perinatal women. This paper describes a systematic review and preliminary meta-analysis of internet-delivered psychological interventions for the treatment of clinical anxiety and depression in perinatal women. A systematic search was carried out of seven electronic databases. Seven studies evaluating six distinct internet-delivered psychological interventions were identified. Of the seven studies included, two were open trials and five were randomized controlled trials with a total of 595 participants. Preliminary findings indicate large improvements in depression (Hedges g = 1.67; 95% CI 1.38–1.96) and anxiety (Hedges g = 1.08; 95% CI 0.80–1.36) from pre- to post-treatment. However, between-group differences between interventions and control conditions were only moderate for depression (Hedges g = 0.60; 95% CI 0.43–0.78) and anxiety (Hedges g = 0.54; 95% CI 0.24–0.85). While our preliminary findings are promising, this review identifies an area of research still in its early stages with significant gaps in the literature that need to be addressed. Further research is needed to establish the efficacy and acceptability of these interventions in this population, especially for antenatal depression and anxiety disorders.
Access options
Buy single article
Instant access to the full article PDF.
USD 39.95
Price excludes VAT (USA)
Tax calculation will be finalised during checkout.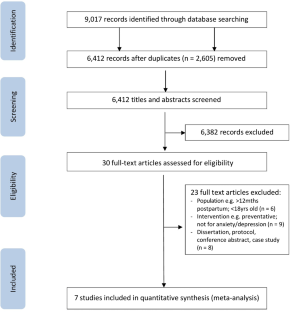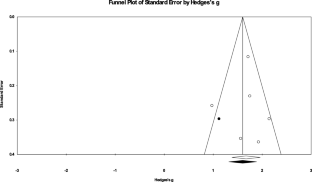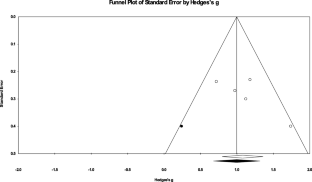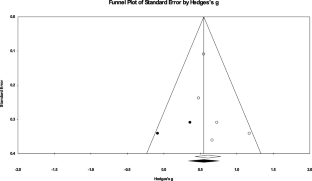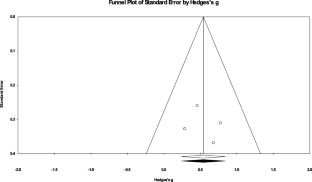 References
Andrews G, Cuijpers P, Craske MG, McEvoy P, Titov N (2010) Computer therapy for the anxiety and depressive disorders is effective, acceptable and practical health care: a meta-analysis. PLoS One 5(10):e13196

Andrews G, Basu A, Cuijpers P, Craske MG, McEvoy P, English C, Newby JM (2018) Computer therapy for the anxiety and depressive disorders is effective, acceptable and practical health care: an updated meta-analysis (in press). J Anxiety Disord 55:70–78

Ashford MT, Olander EK, Ayers S (2016) Computer- or web-based interventions for perinatal mental health: a systematic review. J Affect Disord 197:134–146

Balk EM, Earley A, Patel K, Trikalinos TA, Dahabreh IJ (2012) Empirical assessment of within-arm correlation imputation in trials of continuous outcomes. Retrieved from https://www.ncbi.nlm.nih.gov/books/NBK115797/pdf/Bookshelf_NBK115797.pdf: Agency for Healthcare Research and Quality

Beck AT, Steer RA, Brown GK (1996) Beck depression inventory (2nd edition) - manual. The Psychological Corporation, San Antonio, TX

Borenstein M, Hedges LV, Higgins J, Rothstein HR (2010) A basic introduction to fixed-effect and random-effects models for meta-analysis. Res Synth Methods 1(2):97–111

Carlbring P, Andersson G, Cuijpers P, Riper H, Hedman-Lagerlöf E (2018) Internet-based vs. face-to-face cognitive behavior therapy for psychiatric and somatic disorders: an updated systematic review and meta-analysis. Cogn Behav Ther 47(1):1–18

Cohen J (1988) Statistical power analysis for the behavioral sciences, 2nd edn. Lawrence Earlbaum Associates, Hillsdale, NJ

Cox JL, Holden JM, Sagovsky R (1987) Detection of postnatal depression: development of the 10-item Edinburgh Postnatal Depression Scale. Br J Psychiatry 150:782–786

Cuijpers P, Brännmark JG, van Straten A (2008) Psychological treatment of postpartum depression: a meta-analysis. J Clin Psychol 64(1):103–118

Cuijpers P, Donker T, van Straten A, Li J, Andersson G (2010a) Is guided self-help as effective as face-to-face psychotherapy for depression and anxiety disorders? A systematic review and meta-analysis of comparative outcome studies. Psychol Med 40(12):1943–1957

Cuijpers P, Smit F, Bohlmeijer E, Hollon SD, Andersson G (2010b) Efficacy of cognitive–behavioural therapy and other psychological treatments for adult depression: meta-analytic study of publication bias. Br J Psychiatry 196(3):173–178

Danaher BG, Milgrom J, Seeley JR, Stuart S, Schembri C, Tyler MS, … Kosty DB (2013) MomMoodBooster web-based intervention for postpartum depression: feasibility trial results. J Med Internet Res 15(11)

Dennis CL, Chung-Lee L (2006) Postpartum depression help-seeking barriers and maternal treatment preferences: a qualitative systematic review. Birth 33(4):323–331

Dennis CL, Falah-Hassani K, Shiri R (2017) Prevalence of antenatal and postnatal anxiety: systematic review and meta-analysis. Br J Psychiatry 210:315–323. https://doi.org/10.1192/bjp.bp.116.187179

Duval S, Tweedie R (2000) Trim and fill: a simple funnel-plot–based method of testing and adjusting for publication bias in meta-analysis. Biometrics 56(2):455–463

Forsell E, Bendix M, Holländare F, von Schultz BS, Nasiell J, Blomdahl-Wetterholm M, … Söderberg E (2017) Internet delivered cognitive behavior therapy for antenatal depression: a randomised controlled trial. J Affect Disord 221:56–64

Goodman JH (2009) Women's attitudes, preferences, and perceived barriers to treatment for perinatal depression. Birth 36(1):60–69

Hedges LV (1981) Distribution theory for Glass's estimator of effect size and related estimators. J Educ Stat 6(2):107–128

Hedman E, Ljótsson B, Kaldo V, Hesser H, El Alaoui S, Kraepelien M, … Andersson G (2014) Effectiveness of internet-based cognitive behaviour therapy for depression in routine psychiatric care. J Affect Disord 155:49–58

Higgins J, Green SM (2011) Cochrane handbook for systematic reviews of interventions version 5.1.0 [updated March 2011]. Retrieved from www.handbook.cochrane.org

Kim DR, Hantsoo L, Thase ME, Sammel M, Epperson C (2014) Computer-assisted cognitive behavioral therapy for pregnant women with major depressive disorder. J Women's Health 23(10):842–848

Kroenke K, Spitzer R, Williams J (2001) The PHQ-9: validity of a brief depression severity measure [electronic version]. J Gen Intern Med 16(9):606–613

Lau Y, Htun TP, Wong SN, Tam WSW, Klainin-Yobas P (2017) Therapist-supported internet-based cognitive behavior therapy for stress, anxiety, and depressive symptoms among postpartum women: a systematic review and meta-analysis. J Med Internet Res 19(4)

Lee EW, Denison FC, Hor K, Reynolds RM (2016) Web-based interventions for prevention and treatment of perinatal mood disorders: a systematic review. BMC Pregnancy Childbirth 16(1):38

Loughnan SA, Wallace M, Joubert AE, Haskelberg H, Andrews G, Newby JM (2018) A systematic review of psychological treatments for clinical anxiety during the perinatal period. Arch Women's Mental Health 21:481–490. https://doi.org/10.1007/s00737-018-0812-7

Lovibond P, Lovibond (1995) Manual for the depression anxiety stress scales. In: The Psychology Foundation of Australia Inc

Milgrom J, Danaher BG, Gemmill AW, Holt C, Holt CJ, Seeley JR, … Ericksen, J. (2016) Internet cognitive behavioral therapy for women with postnatal depression: a randomized controlled trial of MumMoodBooster. J Med Internet Res 18(3)

Moher D, Liberati A, Tetzlaff J, Altman DG (2009) Preferred reporting items for systematic reviews and meta-analyses: the PRISMA statement. PLoS Med 6(7):e1000097

Montgomery SA, Asberg M (1979) A new depression scale designed to be sensitive to change. Br J Psychiatry 134(4):382–389

Nieminen K, Andersson G, Wijma B, Ryding E-L, Wijma K (2016) Treatment of nulliparous women with severe fear of childbirth via the Internet: a feasibility study. J Psychosom Obstet Gynecol 37(2):37–43

O'Mahen HA, Woodford J, McGinley J, Warren FC, Richards DA, Lynch TR, Taylor RS (2013) Internet-based behavioral activation—treatment for postnatal depression (Netmums): a randomized controlled trial. J Affect Disord 150(3):814–822

O'Mahen H, Richards D, Woodford J, Wilkinson E, McGinley J, Taylor R, Warren F (2014) Netmums: a phase II randomized controlled trial of a guided Internet behavioural activation treatment for postpartum depression. Psychol Med 44(8):1675–1689

Pugh NE, Hadjistavropoulos HD, Dirkse D (2016) A randomised controlled trial of therapist-assisted, internet-delivered cognitive behavior therapy for women with maternal depression. PLoS One 11(3):e0149186

Sockol L, Epperson CN, Barber JP (2011) A meta-analysis of treatments for perinatal depression. Clin Psychol Rev 31(5):839–849

Spitzer RL, Kroenke K, Williams JB, Löwe B (2006) A brief measure for assessing generalized anxiety disorder: the GAD-7. Arch Intern Med 166(10):1092–1097

Stein A, Pearson RM, Goodman SH, Rapa E, Rahman A, McCallum M, … Pariante CM (2014) Effects of perinatal mental disorders on the fetus and child. Lancet 384(9956):1800–1819

Wijma K, Wijma B, Zar M (1998) Psychometric aspects of the W-DEQ; a new questionnaire for the measurement of fear of childbirth. J Psychosom Obstet Gynecol 19(2):84–97

Woody C, Ferrari A, Siskind D, Whiteford H, Harris M (2017) A systematic review and meta-regression of the prevalence and incidence of perinatal depression. J Affect Disord 219:86–92

Woolhouse H, Brown S, Krastev A, Perlen S, Gunn J (2009) Seeking help for anxiety and depression after childbirth: results of the maternal health study. Arch Womens Ment Health 12(2):75–83
Funding
This study was supported by the Australian Rotary Health and the David Henning Memorial Foundation in the form of a Ph.D. scholarship awarded to Siobhan Loughnan. Jill Newby is supported by an Australian National Health and Medical Research Council (NHMRC)/Medical Research Future Fund Career Development Fellowship (1145382).
Ethics declarations
Conflict of interest
The authors declare that they have no conflict of interest.
Protocol and registration
The protocol for this systematic review was developed according to the Cochrane Handbook for Systematic Reviews of Interventions (Higgins and Green 2011) and was registered with PROSPERO [CRD42016038032]. All reporting of this systematic review follows the PRISMA guidelines (Moher et al. 2009).
Disclaimer
NHMRC, Rotary Health Australia, and the David Henning Memorial Foundation had no role in the study design, collection, data analysis or interpretation of the data, writing the manuscript, or the decision to submit the paper for publication.
Additional information
Publisher's note
Springer Nature remains neutral with regard to jurisdictional claims in published maps and institutional affiliations.
Appendix
Appendix
PsychINFO Search
1.

(Perinatal OR peripartum OR antenatal OR antepartum OR prenatal OR pregnan* OR postnatal OR postpartum OR birth OR (after birth)).mp. [mp = title, abstract, heading word, table of contents, key concepts, original title, tests & measures]

2.

(Well-being OR (mental health) OR (mental disorder) OR psychopathology OR (psychological disorder) OR anxiety OR (anxiety disorder) OR stress OR depression OR (major depressive disorder) OR (major depression) OR affective OR mood OR emotion* OR unipolar OR (baby blues) OR psychosocial) mp. [mp = title, abstract, heading word, table of contents, key concepts, original title, tests & measures]

3.

(Intervention OR treatment OR therap* OR (treatment outcome) OR self-help OR counsel$ing OR psychotherapy* OR bibliotherapy OR (behave$ change) OR CBT OR (cognitive behave$ therapy) OR (cognitive therapy) OR (interpersonal psychotherapy) OR (psychodynamic therapy) OR relaxation).mp. [mp = title, abstract, heading word, table of contents, key concepts, original title, tests & measures]

4.

(Internet OR computer OR computer* OR online OR web OR e-therapy OR e-mental OR e-health OR telehealth OR telecare OR teletherapy OR telemedicine OR telemental OR technolog* OR virtual OR cyber OR cyberpsychology OR cybertherapy OR iCBT OR cCBT OR web-based OR web-guided OR web-supported OR web-delivered OR web-assisted OR web-aided OR web-facilitated OR computer-based OR computer-guided OR computer-supported OR computer-delivered OR computer-assisted OR computer-aided OR computer-facilitated OR internet-based OR internet-guided OR internet-supported OR internet-delivered OR internet-assisted OR internet-aided OR internet-facilitated OR online-based OR online-supported OR online-delivered OR online-assisted OR online-aided OR online-facilitated). mp. [mp = title, abstract, heading word, table of contents, key concepts, original title, tests & measures]

5.

1 and 2 and 3

6.

limit 4 to (human, adulthood, and English language)
About this article
Cite this article
Loughnan, S.A., Joubert, A.E., Grierson, A. et al. Internet-delivered psychological interventions for clinical anxiety and depression in perinatal women: a systematic review and meta-analysis. Arch Womens Ment Health 22, 737–750 (2019). https://doi.org/10.1007/s00737-019-00961-9
Received:

Accepted:

Published:

Issue Date:

DOI: https://doi.org/10.1007/s00737-019-00961-9
Keywords
Pregnancy

Postpartum

Anxiety

Depression

Internet