Abstract
The first aim of this article is to analyze the risk/benefit ratio of using psychotropic drugs approved in some countries for treating fibromyalgia syndrome (FMS) during pregnancy. Assessing the effectiveness of non-pharmacological interventions is the second scope of this article, in order to help clinicians to manage FMS in pregnancy in those countries were no drugs are approved for treating the disease. Following the PRISMA guidelines for systematic reviews, a literature search was conducted on PubMed and Google Scholar. Separate literature searches were performed for the three psychotropic drugs approved in the USA for treating FMS, psychotherapy, and transcranial magnetic stimulation (TMS). Perinatal duloxetine exposure is associated with increased risk of gestational and perinatal complications. With regards pregabalin, available information suggests that the drug is not devoid of structural teratogenicity potential. No data are available for milnacipran. Duloxetine and pregabalin should be only given to pregnant women diagnosed with severe forms of FMS after carefully weighing the benefits and risks for the mother-fetus dyad. On the other hand, we have to consider that the proportion of women who discontinue psychotropic drugs during pregnancy is as high as 85.4%. This figure raises further questions about adequate alternative treatment of FMS during the perinatal period. Moreover, neither duloxetine nor milnacipran or pregabalin have been approved by the EMEA for the treatment of FMS. Unfortunately, psychological treatment of FMS in perinatal women are not yet tested and data on TMS are conflicting.
This is a preview of subscription content, log in to check access.
Access options
Buy single article
Instant access to the full article PDF.
US$ 39.95
Price includes VAT for USA
Subscribe to journal
Immediate online access to all issues from 2019. Subscription will auto renew annually.
US$ 99
This is the net price. Taxes to be calculated in checkout.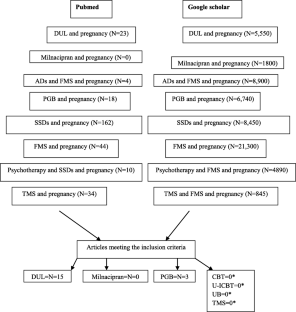 References
Abdy NA, Gerhart K (2013) Duloxetine withdrawal syndrome in a newborn. Clin Pediatr (Phila) 52:976–977

American Psychiatric Association (2013) Diagnostic and Statistical Manual of Mental Disorders, 4th edn. Arlington, VA, American Psychiatric Association

Atasever M, Namlı Kalem M, Sönmez Ç et al (2017) Lower serotonin level and higher rate of fibromyalgia syndrome with advancing pregnancy. J Matern Fetal Neonatal Med 30:2204–2211

Bellantuono C, Marini A, Lucarelli C (2013) Infant health and neurodevelopmental outcomes following prenatal exposure to duloxetine. Clin Drug Investig 33:685–688

Bérard A, Sheehy O, Zhao JP et al (2017) SSRI and SNRI use during pregnancy and the risk of persistent pulmonary hypertension of the newborn. Br J Clin Pharmacol 83:1126–1133

Bernardy K, Klose P, Welsch P et al (2018) Efficacy, acceptability and safety of cognitive behavioural therapies in fibromyalgia syndrome. A systematic review and meta-analysis of randomized controlled trials. Eur J Pain 22:242–260

Bidonde J, Busch AJ, van der Spuy I et al (2017) Whole body vibration exercise training for fibromyalgia. Cochrane Database Syst Rev 9:CD011755

Bollettino di informazione sui farmaci. (2017) http://www.agenziafarmaco.gov.it/wscs_render_attachment_by_id/111.285018.115401469992960af.pdf?id=111.285023.1154014700132. Accessed: September, 15, 2017

Boyce PM, Hackett LP, Ilett KF (2011) Duloxetine transfer across the placenta during pregnancy and into milk during lactation. Arch Womens Ment Health 14:169–172

Briggs GG, Ambrose PJ, Ilett KF et al (2009) Use of duloxetine in pregnancy and lactation. Ann Pharmacother 43:1898–1902

Brown HK, Ray JG, Wilton AS, Lunsky Y, Gomes T, Vigod SN (2017) Association between serotonergic antidepressant use during pregnancy and autism spectrum disorder in children. JAMA 317:1544–1552

De Ocampo MGP, Araneta MRG, Macera CA et al (2016) Risk of gestational hypertension and preeclampsia in women who discontinued or continued antidepressant medication use during pregnancy. Arch Womens Ment Health 19:1051–1061

Dresser R, Frader J (2009) Off-label prescribing: a call for heightened professional and government oversight. J Law Med Ethics 37:476–486

Einarson A, Smart K, Vial T, Diav-Citrin O, Yates L, Stephens S, Pistelli A, Kennedy D, Taylor T, Panchaud A, Malm H, Koren G, Einarson TR (2012) Rates of major malformations in infants following exposure to duloxetine during pregnancy: a preliminary report. J Clin Psychiatry 73:1471

EMEA. Refusal assessment report for Cymbalta (2008). http://www.ema.europa.eu/docs/en_GB/document_library/EPAR_-_Assessment_Report_-_Variation/human/000572/WC500076168.pdf. Accessed: February 16, 2018

EMEA. (2009) Milnacipran Pierre Fabre Medicament. http://www.ema.europa.eu/ema/index.jsp?curl=pages/medicines/human/medicines/001034/human_med_001311.jsp&murl=menus/medicines/medicines.jsp&mid=WC0b01ac058001d125. Accessed: February 16, 2018

Eyal R, Yaeger D (2008) Poor neonatal adaptation after in utero exposure to duloxetine. Am J Psychiatry 65:651

Furey K, Wilkins K (2016) Prescribing "off-label": what should a physician disclose? AMA J Ethics 18:587–593

Gentile S (2015) Early pregnancy exposure to selective serotonin reuptake inhibitors, risks of major structural malformations, and hypothesized teratogenic mechanisms. Expert Opin Drug Metab Toxicol 11:1585–1597

Gentile S (2014) Anxiety and sleep disorders, psychopharmacology and pregnancy. In: psychopharmacology and pregnancy. Galbally, Snellen, and Lewis Edts. Springer Verlab, Berlin, pp 87–102

Gentile S (2012) Bipolar disorder in pregnancy: to treat or not to treat? The real question is how to treat most effectively. Br Med J 345:e7367. https://doi.org/10.1136/bmj.e7367

Gentile S (2010) On categorizing gestational birth, and neonatal complications following late in utero exposure to antidepressants. The prenatal antidepressant exposure syndrome. CNS Spectr 15:167–185

Guzman F. (2018) Pharmacology corner. Pregabalin (Lyrica) not approved for fibromyalgia by the EMEA. http://pharmacologycorner.com/pregabalin-lyrica-not-approved-fibromyalgia-emea/. Accessed: February 16, 201

Hedman E, Axelsson E, Andersson E, Lekander M, Ljótsson B (2016) Exposure-based cognitive-behavioural therapy via the internet and as bibliotherapy for somatic symptom disorder and illness anxiety disorder: randomised controlled trial. Br J Psychiatry 209:407–413

Heider J, Köck K, Sehlbrede M, Schröder A (2017) Readiness to change as a moderator of therapy outcome in patients with somatoform disorders. Psychother Res 28:722–733. https://doi.org/10.1080/10503307.2016.1265686

Henningsen P, Zipfel S, Sattel H et al (2018) Management of functional somatic syndromes and bodily distress. Psychother Psychosom 87:12–31

Holland J, Brown R (2017) Neonatal venlafaxine discontinuation syndrome: a mini-review. Eur J Paediatr Neurol 21:264–268

Hoog SL, Cheng Y, Elpers J, Dowsett SA (2013) Duloxetine and pregnancy outcomes: safety surveillance findings. Int J Med Sci 10:413–419

Hudson JI, Wohlreich MM, Daniel K, Kajdasz DK (2005) Safety and tolerability of duloxetine in the treatment of major depressive disorder: analysis of pooled data from eight placebo-controlled clinical trials. Hum Psychopharmacol Clin Exp 20:327–341

Källén B, Borg N, Reis M (2013) The use of central nervous system active drugs during pregnancy. Pharmaceuticals 6:1221–1286

Khedr EM, Omran EAH, Ismail NM, el-Hammady DH, Goma SH, Kotb H, Galal H, Osman AM, Farghaly HSM, Karim AA, Ahmed GA (2017) Effects of transcranial direct current stimulation on pain, mood and serum endorphin level in the treatment of fibromyalgia: a double blinded, randomized clinical trial. Brain Stimul 10:893–901

Kleinstäuber M, Witthöft M, Hiller W (2011) Efficacy of short-term psychotherapy for multiple medically unexplained physical symptoms: a meta-analysis. Clin Psychol Rev 31:146–160

Knadler MP, Lobo E, Chappell J, Bergstrom R (2011) Duloxetine: clinical pharmacokinetics and drug interactions. Clin Pharmacokinet 50:281–294

Kjaersgaard MI, Parner ET, Vestergaard M et al (2013) Prenatal antidepressant exposure and risk of spontaneous abortion: a population-based study. PLoS One 8:e72095

Kroenke K (2000) Somatoform disorders and recent diagnostic controversies. Psychiatr Clin North Am 30:593–619

Leo RJ, Brooks VL (2006) Clinical potential of milnacipran, a serotonin and norepinephrine reuptake inhibitor, in pain. Curr Opin Investig Drugs 7:637–642

Li F, Chin C, Wangsa J, Ho J (2012) Excretion and metabolism of milnacipran in humans after oral administration of milnacipran hydrochloride. Drug Metab Dispos 40:1723–1735

Liberati A, Altman DG, Tetzlaff J et al (2009) The PRISMA statement for reporting systematic reviews and meta-analyses of studies that evaluate health care interventions: explanation and elaboration. Ann Intern Med 151:W-65

Lupattelli A, Wood M, Lapane K, Spigset O, Nordeng H (2017) Risk of preeclampsia after gestational exposure to selective serotonin reuptake inhibitors and other antidepressants: a study from the Norwegian Mother and Child Cohort Study. Pharmacoepidemiol Drug Saf 26:1266–1276

Magtanong GG, Spence AR, Czuzoj-Shulman N, Abenhaim HA (2017) Maternal and neonatal outcomes among pregnant women with fibromyalgia: a population-based study of 12 million births. J Matern Fetal Neonatal Med Sep 27:1–7. https://doi.org/10.1080/14767058.2017.1381684

Medscape. News and perspectives. (2008) Cymbalta approved for fibromyalgia. https://www.medscape.org/viewarticle/576320. Accessed February 16, 2018

Medscape. News and perspectives. (2009) FDA approves milnacipran for fibromyalgia https://www.medscape.com/viewarticle/586898. Accessed: February 16

Mostacci B, Poluzzi E, D'Alessandro R, On behalf of the ESPEA Study Group et al (2018) Adverse pregnancy outcomes in women exposed to gabapentin and pregabalin: data from a population-based study. J Neurol Neurosurg Psychiatry 89:223–224

Newport JD, Hostetter AL, Juul SH et al (2016) Prenatal psychostimulant and antidepressant exposure and risk of hypertensive disorders in pregnancy. J Clin Psychiatry 77:1538–1545

Patorno E, Bateman BT, Huybrechts KF (2017) Pregabalin use early in pregnancy and the risk of major congenital malformations. Neurology 88:2020–2025

Saa'd S, Many A, Jacob G et al (2013) High prevalence of fibromyalgia symptoms among healthy full-term pregnant women. Rheumatol Int 33:1555–1560

Saltychev M, Laimi K (2017) Effectiveness of repetitive transcranial magnetic stimulation in patients with fibromyalgia: a meta-analysis. Int J Rehabil Res 40:11–18

Savella Pregnancy Registry (2009) https://clinicaltrials.gov/ct2/show/NCT01026077. Last update: September 22, 2016. Accessed: February 17, 2018

Schaefer KM (2004) Breastfeeding in chronic illness: the voices of women with fibromyalgia. MCN Am J Matern Child Nurs 29:248–253

Schröder A, Heider J, Zaby A et al (2013) Cognitive behavioral therapy versus progressive muscle relaxation training for multiple somatoform disorders: results of a randomized controlled trial. CognitTher Res 37:296–306

Stahl SM, Grady MM, Moret C, et al (2005) SNRIs: their pharmacology, clinical efficacy, and tolerability in comparison with other classes of antidepressants. CNS Spectr 10:732–747

Sujan AC, Rickert ME, Öberg SA et al (2017) Associations of maternal antidepressant use during the first trimester of pregnancy with preterm birth, small for gestational age, autism spectrum disorder, and attention-deficit/hyperactivity disorder in offspring. JAMA 317:1553–1562

Sujan AC, Öberg AS, Quinn PD, D'Onofrio BM (2018) Annual Research Review: Maternal antidepressant use during pregnancy and offspring neurodevelopmental problems - a critical review and recommendations for future research. J Child Psychol Psychiatry. https://doi.org/10.1111/jcpp.13004

Tassone DM, Boyce E, Guyer J, Nuzum D (2007) Pregabalin: a novel gamma-aminobutyric acid analogue in the treatment of neuropathic pain, partial-onset seizures, and anxiety disorders. Clin Ther 29:26–48

Temple University (2006) Fibromyalgia increases pain and fatigue for pregnant women. ScienceDaily. ScienceDaily, 5. www.sciencedaily.com/releases/2006/07/060705184726.htm. Accessed: September 20, 2017

Trivedi MH, Desaiah D, Ossanna MJ et al (2008) Clinical evidence for serotonin and norepinephrine reuptake inhibition of duloxetine. Int Clin Psychopharmacol 23:161–169

Tulay KT, Emrullah T, Aydin A et al (2016) The effect of fibromyalgia syndrome to gravidity, parity and duration of breastfeeding; a prospective study from Turkey. Pak J Med Sci 32:545–549

van Dessel N, den Boeft M, van der Wouden JC et al (2014) On-pharmacological interventions for somatoform isorders and medically unexplained physical symptoms (MUPS) in adults. Cochr Database System Rev 11:CD011142

van Ravesteyn LM, Lambregtse-van den Berg MP, Hoogendijk WJP et al (2017) Interventions to treat mental disorders during pregnancy: a systematic review and multiple treatment meta-analysis. PLoS One 12:e0173397

Weiss N, Ivanova E (2008) Does the voltage-gated calcium channel alpha2delta-1 subunit play a dual function in skeletal muscle? J Physiol 586:2035–2037

Winterfeld U, Merlob P, Baud D, Rousson V, Panchaud A, Rothuizen LE, Bernard N, Vial T, Yates LM, Pistelli A, Ellfolk M, Eleftheriou G, de Vries LC, Jonville-Bera AP, Kadioglu M, Biollaz J, Buclin T (2016) Pregnancy outcome following maternal exposure to pregabalin may call for concern. Neurology 86(24):2251–2257. https://doi.org/10.1212/WNL.0000000000002767

Wolfe F, Clauw DJ, Fitzcharles MA et al (2011) Fibromyalgia criteria and severity scales for clinical and epidemiological studies: a modification of the ACR Preliminary Diagnostic Criteria for Fibromyalgia. J Rheumatol 38:1113–1122

Wolfe F, Wallitt BT, Katz RS et al (2014) Symptoms, the nature of fibromyalgia, and Diagnostic and Statistical Manual 5 (DSM-5) defined mental illness in patients with rheumatoid arthritis and fibromyalgia. PLoS One 9:e88740

Zioni T, Buskila D, Aricha-Tamir B, Wiznitzer A, Sheiner E (2011) Pregnancy outcome in patients with fibromyalgia syndrome. J Matern Fetal Neonatal Med 24:1325–1328

Zoega H, Kieler H, Nørgaard M, Furu K, Valdimarsdottir U, Brandt L, Haglund B (2015) Use of SSRI and SNRI antidepressants during pregnancy: a population-based study from Denmark, Iceland, Norway and Sweden. PLoS One 10:e0144474
Ethics declarations
Conflict of interest
The authors declare that they have no conflict of interest.
Ethical approval
This article does not contain any studies with human participants or animals performed by any of the authors.
About this article
Cite this article
Gentile, S., Fusco, M.L. Managing fibromyalgia syndrome in pregnancy no bridges between USA and EU. Arch Womens Ment Health 22, 711–721 (2019). https://doi.org/10.1007/s00737-018-0933-z
Received:

Accepted:

Published:

Issue Date:
Keywords
Cognitive behavioral therapy

Duloxetine

Fibromyalgia

Milnacipran

Pregabalin

Transcranial magnetic stimulation