Abstract
Approximately 400,000 adolescents give birth in the USA annually. Although one-half experience depressive symptoms, less than 25% comply with referrals for depression evaluation and treatment. The current study tested the effectiveness of an Internet-based depression intervention on seeking depression treatment. Based upon the theory of planned behavior (TPB), the intervention included vignettes, questions and answers, and resources. Before the intervention, immediately after the intervention, and 2 weeks later the adolescent mothers (n = 151) answered questions related to TPB variables and depression treatment. Data were compared to adolescent mothers (n = 138) in the control group. Data were collected in community organizations or home visits for the control group. Adolescent mothers in the intervention group answered questions and completed the intervention from a computer of their choice. The adolescents were primarily African American (89.2%), less than high school educated (51.7%), had given birth in last year (97.1%), with a mean age 18.2 years. The intervention led to significant changes in attitude, perceived control, intention to seek mental health treatment, and actually seeking depression treatment. Untreated postpartum depression dramatically impacts a mother's relationship with her child, her functioning at work and school, health care-seeking behaviors, mothering skills, and her development as well as the development of her child. An Internet-based depression intervention is an inexpensive method to increase rates of depression treatment.
This is a preview of subscription content, log in to check access.
Access options
Buy single article
Instant access to the full article PDF.
US$ 39.95
Price includes VAT for USA
Subscribe to journal
Immediate online access to all issues from 2019. Subscription will auto renew annually.
US$ 99
This is the net price. Taxes to be calculated in checkout.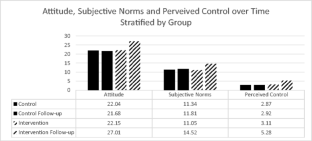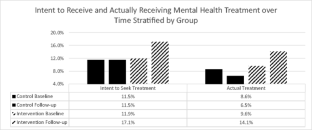 References
Ajzen I (1991) The theory of planned behavior. Organ Behav Hum Decis Process 50(2):179–211. https://doi.org/10.1016/0749-5978(91)90020-T

Ajzen I (1998) Models of human social behavior and their application to health psychology. Psychol Health 13(4):735–739. https://doi.org/10.1080/08870449808407426

Arroll B, Khin N, Kerse N (2003) Screening for depression in primary care with two verbally asked questions: cross sectional study. Br Med J 327(7424):1144–1146. https://doi.org/10.1136/bmj.327.7424.1144

Baker R, White KMW (2010–2011) In their own words: why teenagers don't use social networking sites. Cyberpsychol Behav Soc Netw 14(6):395–398. https://doi.org/10.1089/cyber.2010.0016

Bangor A, Kortum P, Miller J (2008) An empirical evaluation of the system usability scale. Int J Hum Comput Interact 24(6):574–594. https://doi.org/10.1080/10447310802205776

Beck CT (1995) The effects of postpartum depression on maternal-infant interaction: a meta-analysis. Nurse Res 44:298–304

Bennett G, Glasgow R (2009) The delivery of public health interventions via the internet: actualizing their potential. Annu Rev Public Health 30(1):273–292. https://doi.org/10.1146/annurev.publhealth.031308.100235

Bennett G, Herring S, Puleo E et al (2010) Web based weight loss in primary care: a randomized controlled trial. Interv Prev 18:308–313

Bennett GG, Warner ET, Glasgow RE, Askew S, Goldman J, Ritzwoller DP, Emmons KM, Rosner BA, Colditz GA, Be Fit, Be Well Study Investigators et al (2012) Obesity treatment for socioeconomically disadvantaged patients in primary care practice. Arch Intern Med 172(7):565–574. https://doi.org/10.1001/archinternmed.2012.1

Bishop LM (2002) Abstinence from vaginal intercourse among black adolescent females as a means of pregnancy prevention. Dissertations available from ProQuest Paper, AAI3072973 https://repository.upenn.edu/dissertations/AAI3072973

Bleakley A, Berzel C, VanDevanter N, Messeri P (2004) Computer access and Internet use among urban youths. Am J Public Health 94:744–746

Borner I, Braunstein JW, St. Victor R, Pollack J (2010) Evaluation of a 2-question screening tool for detecting depression in adolescents in primary care. Clin Pediatr (Phila) 49:947–953

Brennan PA, Andersen MJ, Hammen C, Bor W (2000) Chronicity, severity, and timing of maternal depressive symptoms: relationships with child outcomes at age 5. Dev Psychol 36(6):759–766. https://doi.org/10.1037/0012-1649.36.6.759

Campbell SB, Matestic P, von Stauffenberg C, Mohan R, Kirchner T (2007) Trajectories of maternal depressive symptoms, maternal sensitivity, and children's functioning at school entry. Dev Psychol 43(5):1202–1215. https://doi.org/10.1037/0012-1649.43.5.1202

Chae SY, Chae MH, Tyndall A, Ramirez MR, Winter RO (2012) Can we effectively use the two-item PHQ-2 to screen for postpartum depression? Fam Med 44(10):698–703

Chico E, Gonzalez A, Ali N, Steiner M, Fleming AS (2014) Executive function and mothering: challenges faced by teenage mothers. Dev Psychobiol 56(5):1027–1035. https://doi.org/10.1002/dev.21185

Christiansen H, Criffiths K, Jorm A (2004) Delivering interventions for depression by using the internet: randomised controlled trial. Br Med J 328(7434):265–260. https://doi.org/10.1136/bmj.37945.566632.EE

Cox CL, Cowell JM, Marion LN, Miller EH (1990) The health self-determinism index for children. Research in Nursing Health 13(4):237–246. https://doi.org/10.1002/nur.4770130406

Crutzen R, de Nooijer J, Brouwer W, Oenema A, Brug J, de Vries NK (2008) Internet-delivered interventions aimed at adolescents: a Delphi study on dissemination and exposure. Health Educ Res 23(3):427–439. https://doi.org/10.1093/her/cym094

Crutzen R, de Nooijer J, Brouwer W, Oenema A, Brug J, de Vries NK (2011) Strategies to facilitate exposure to internet-delivered health behavior change interventions aimed at adolescents or young adults: a systematic review. Health Educ Behav 38(1):49–62. https://doi.org/10.1177/1090198110372878

Danaher BG, Boles SM, Akers L, Gordon JS, Severson HH (2006) Defining participant exposure measures in Web-based health behavior change programs. J Med Internet Res 8(3):e15. https://doi.org/10.2196/jmir.8.3.e15

Dennis CL, Stewart DE (2004) Treatment of postpartum depression, part 1: a critical review of biological interventions. J Clin Psychiatry 65(9):1242–1251. https://doi.org/10.4088/JCP.v65n0914

Fishbein M, Von Haeften I, Appleyard J (2001) The role of theory in developing effective interventions: implications from project SAFER. Psychol Health Med 6:223–238

Fisher E, Turner A (1995) Attitudes toward seeking professional psychological help: a shortened form and considerations for research. J Coll Stud Dev 36:368–373

Fortney J, Rost K, Zhang M (1998) A joint choice model of the decision to seek depression treatment and choice of provider sector. Med Care 36(3):307–320. https://doi.org/10.1097/00005650-199803000-00008

Froman RD, Owen SV (1990) Mothers' and nurses' perceptions of infant care skills. Res Nurs Health 13(4):247–253. https://doi.org/10.1002/nur.4770130407

Gaynes BN, Gavin N, Meltzer-Brody S et al (2005) Perinatal depression: prevalence, screening accuracy, and screening outcomes. Evid Rep Technol Assess (Summary) 119:1–8

Gerend M, Lee S, Shepherd J (2007) Predictors of HPV acceptability among underserved women. Sex Transm Dis 34:468–471

Gillmore MR, Archibald ME, Morrison DM et al (2004) Teen sexual behavior: applicability of the theory of reasoned action. J Marriage Fam 64(4):885–897

Gjerdingen D (2003) The effectiveness of various postpartum depression treatments and the impact of antidepressant drugs on nursing infants. J Am Board Fam Med 16(5):372–382. https://doi.org/10.3122/jabfm.16.5.372

Guo S, Fraser M (2010) Propensity score analysis: statistical methods and applications. Sage, Thousand Oaks

Hauenstein EJ, Petterson S, Rovnyak V et al (2006) Rurality and mental health treatment. Admin Pol Ment Health 34:225–267

Kessler RC, Frank RG, Edlund M, Katz SJ, Lin E, Leaf P (1997) Differences in the use of psychiatric outpatient services between the United States and Ontario. N Engl J Med 336(8):551–557. https://doi.org/10.1056/NEJM199702203360806

Killien MG (1998) Postpartum return to work: mothering stress, anxiety, and gratification. Can J Nurs Res 30:53–66

Kingston D, Tough S, Whitfield H (2012) Prenatal and postpartum maternal psychological distress and infant development: a systematic review. Child Psychiatry Hum Dev 43(5):683–714. https://doi.org/10.1007/s10578-012-0291-4

Kinsler J, Sneed CD, Morisky DE, Ang A (2004) Evaluation of a school-based intervention for HIV/AIDS prevention among Belizean adolescents. Health Educ Res 19(6):730–738. https://doi.org/10.1093/her/cyg091

Klnd T, Huang Z, Farr D, Pomerantz K (2005) Internet and computer access and use for health information in an underserved community. Ambul Pediatr 5:117–121

Komiya N, Good GE, Sherrod NB (2000) Emotional openness as a predictor of college students' attitudes toward seeking psychological help. J Couns Psychol 47(1):138–143. https://doi.org/10.1037/0022-0167.47.1.138

Koo M, Skinner H (2005) Challenges of internet recruitment: a case study with disappointing results. J Med Internet Res 7(1):e6. https://doi.org/10.2196/jmir.7.1.e6

Leaf PJ, Bruce ML, Tischler GL, Freeman DH Jr, Weissman MM, Myers JK (1988) Factors affecting the utilization of specialty and general medical mental health services. Med Care 26(1):9–26. https://doi.org/10.1097/00005650-198801000-00002

Lenhart A, Purcell KP, Smith A, Zickuhr K (2010) Social media and mobile internet use among teens and young adults. http://pewinternet.org/Reports/2010/social-media-and-young-adults.aspx

Logsdon MC, Gohmann S (2008) Challenges and costs related to recruitment of female adolescents for clinical research. J Pediatr Nurs 23(5):331–336. https://doi.org/10.1016/j.pedn.2007.10.006

Logsdon MC, Birkimer JC, Simpson T, Looney S (2005) Postpartum depression and social support in adolescents. J Obstetet Gynecol Neonatal Nurs 34:46–54

Logsdon MC, Wisner KL, Pinto-Foltz MD (2006) The impact of postpartum depression on mothering. J Obstet, Genecol Neonatal Nurs 35:652–658

Logsdon MC, Ziegler C, Hertweck P, Pinto-Foltz M (2008) Testing a bioecological model to examine social support in postpartum adolescents. J Nurs Scholarsh 40(2):116–123. https://doi.org/10.1111/j.1547-5069.2008.00215.x

Logsdon MC, Hines-Martin V, Rakestraw V (2009a) Barriers to depression treatment in low-income, unmarried, adolescent mothers in a southern, urban area of the United States. Issues Ment Health Nurs 30(7):451–455. https://doi.org/10.1080/01612840902722187

Logsdon MC, Usui W, Pinto-Foltz M, Rakestraw VL (2009b) Intention to seek depression treatment in adolescent mothers and a comparison group of adolescent girls. Arch Psychiatr Nurs 23(1):41–49. https://doi.org/10.1016/j.apnu.2008.02.013

Logsdon MC, Wisner K, Hanusa BH (2009c) Does maternal role functioning improve with antidepressant treatment in women with postpartum depression? J Women's Health 18(1):85–90. https://doi.org/10.1089/jwh.2007.0635

Logsdon MC, Foltz MP, Stein B, Usui W, Josephson A (2010a) Adapting and testing telephone-based depression care management intervention for adolescent mothers. Arch Womens Ment Health 13:307–317

Logsdon MC, Pinto-Foltz MD, Scheetz J, Myers JA (2010b) Self-efficacy and postpartum teaching behaviors of hospital nurses. J Perinat Educ 19(4):10–16. https://doi.org/10.1624/105812410X530884

Logsdon MC, Barone M, Lynch T, Robertson A, Myers J, Morrison D, York S, Gregg J (2013) Testing of a protype web based intervention for adolescent mothers on postpartum depression. Appl Nurs Res 26(3):143–145. https://doi.org/10.1016/j.apnr.2013.01.005

Logsdon MC, Bennett G, Crutzen R, Martin L, Eckert D, Robertson A, Myers J, Tomasulo R, Gregg J, Barone M, Lynch T, Flamini L (2014) Preferred health resources and use of social media to obtain health and depression information by adolescent mothers. J Child Adolesc Psychiatr Nurs 27(4):163–168. https://doi.org/10.1111/jcap.12083

Logsdon MC, Mittelberg M, Myers J (2015) Use of social media and Internet to obtain health information by rural adolescent mothers. Appl Nurs Res 28(1):55–56. https://doi.org/10.1016/j.apnr.2014.04.006

Maughan A, Cicchetti D, Toth SL, Rogosch FA (2007) Early-occurring maternal depression and maternal negativity in predicting young children's emotion regulation and socioemotional difficulties. J Abnorm Child Psychol 35(5):685–703. https://doi.org/10.1007/s10802-007-9129-0

McNeil L, Viswanath K, Bennett GG, Puleo E, Emmons KM (2007) Feasibility of using a web-based nutrition intervention among residents of multiethnic working-class neighborhoods. Prev Chronic Dis 4:1–9

McPeak KE, Sandrock D, Spector ND, Pattishall AE (2015) Important determinants of newborn health: postpartum depression, teen parenting, and breast-feeding. Curr Opin Pediatr 27(1):138–144. https://doi.org/10.1097/MOP.0000000000000185

Murry V, Heflinger C, Suiter S, Brody G (2011) Examining perceptions about mental health care and help-seeking among rural African American families of adolescents. J Youth Adolesc 40(9):1118–1131. https://doi.org/10.1007/s10964-010-9627-1

National Academy of Sciences (2009) Committee on adolescent health care services and models of care for treatment, prevention, and healthy development adolescent health services: missing opportunities. National Academies Press, Washington, DC

NICHD Early Child Care Research Network (1999) Chronicity of maternal depressive symptoms, maternal sensitivity, and child functioning. Dev Psychol 35(5):1297–1310. https://doi.org/10.1037/0012-1649.35.5.1297

Norman CD, Skinner HA (2007) Engaging youth in e-health promotion: lessons learned from a decade of TeenNet research. Adolesc Med State Art Rev 18:357–369 xii

O'Hara MW, Stuart S, Gorman LL, Wenzel A (2000) Efficacy of interpersonal psychotherapy for postpartum depression. Arch Gen Psychiatry 57(11):1039–1045. https://doi.org/10.1001/archpsyc.57.11.1039

O'Kearney R, Kang K, Christensen H, Griffiths K (2009) A controlled trial of a school-based Internet program for reducing depressive symptoms in adolescent girls. Depress Anxiety 26(1):65–72. https://doi.org/10.1002/da.20507

Phipps MG, Raker CA, Ware CF, Zlotnick C (2013) Randomized controlled trial to prevent postpartum depression in adolescent mothers. Am J Obstet Gynecol 208:192.e1–192.e6

Rotheram-Borus MJ, O'Keefe Z, Kracker R, Foo HH (2000) Prevention of HIV among adolescents. Prev Sci 1(1):15–30. https://doi.org/10.1023/A:1010071932238

Steele RM, Mummery WK, Dwyer T (2009) A comparison of face-to-face or internet-delivered physical activity intervention on targeted determinants. Health Educ Behav 36(6):1051–1064. https://doi.org/10.1177/1090198109335802

Stephenson MT, Quick BL, Atkinson J, Tschida DA (2005) Authoritative parenting and drug-prevention practices: implications for antidrug ads for parents. Health Commun J 17:301–321

Strecher VJ, Shiffman S, West R (2006) Moderators and mediators of a web-based computer-tailored smoking cessation program among nicotine patch users. Nicotine Tob Res 1:S95–101

Swanson V, Power K, Kaur B, Carter H, Shepherd K (2006) The impact of knowledge and social influences on adolescents' breast-feeding beliefs and intentions. Public Health Nutr 9(3):297–305. https://doi.org/10.1079/PHN2006845

Unger JB, Rohrbach LA, Howard-Pitney B, Ritt-Olson A, Mouttapa M (2001) Peer influences and susceptibility to smoking among California adolescents. Subst Use Misuse 36(5):551–571. https://doi.org/10.1081/JA-100103560

Van Voorhees BW, Fogel J, Houston TK et al (2006) Attitudes and illness factors associated with low perceived need for depression treatment among young adults. Soc Psychiatry Psychiatr Epidemiol 41:746–754

Williams SB, O'Connor EA, Eder M, Whitlock EP (2009) Screening for child and adolescent depression in primary care settings: a systematic evidence review for the US Preventive Services Task Force. Pediatrics 123(4):e716–e735. https://doi.org/10.1542/peds.2008-2415

Wisdom J, Clarke G, Green C (2006) What teens want: barriers to seeking care for depression. Admin Pol Ment Health 33(2):133–145. https://doi.org/10.1007/s10488-006-0036-4

Yozwiak JA (2010) Postpartum depression and adolescent mothers: a review of assessment and treatment approaches. J Pediatr Adolesc Gynecol 23(3):172–178. https://doi.org/10.1016/j.jpag.2009.09.003
Funding
The study was supported by funding from the National Institute of Nursing Research, Award no. R15NR013563.
Ethics declarations
Conflict of interest
The authors declare that they have no conflict of interest.
Ethical statement
The study was approved by the Human Subjects Protection Program of the University, as well as the research committees of each clinical site. Participants provided informed consent.
About this article
Cite this article
Cynthia Logsdon, M., Myers, J., Rushton, J. et al. Efficacy of an Internet-based depression intervention to improve rates of treatment in adolescent mothers. Arch Womens Ment Health 21, 273–285 (2018). https://doi.org/10.1007/s00737-017-0804-z
Received:

Accepted:

Published:

Issue Date:
Keywords
Adolescent

Depression

Internet

Intervention