Abstract
Low uptake of treatment by women with symptoms of postnatal depression and anxiety is consistently reported. This study examined whether a brief motivational interviewing (MI) intervention delivered by Maternal and Child Health Nurses (MCHNs) during routine emotional health assessments improves help-seeking following childbirth. In this parallel two-group cluster randomised controlled trial, MCHNs delivered a MI intervention ('PRIMER', n = 20) or Routine Care (n = 20) at women's (n = 541) postnatal consultations. The primary outcome was help-seeking over the 12 months post-birth. Other outcomes were emotional distress measured by the Edinburgh Postnatal Depression Scale, Beck Depression Inventory-Revised and Depression Anxiety Stress Scales, and barriers to help-seeking obtained by self-report via a checklist of potential barriers that was presented to women to select from if applicable. 27.4% of the sample experienced emotional distress over the 12 months post-birth. When comparing women who experienced emotional distress with those who did not, odds of seeking help were 4.0 times higher for the MI condition than Routine Care (p = .004). Of the women who sought help from a psychologist, 47.6% in the MI condition attended 6 + sessions versus 20.0% in Routine Care (numbers too small for reliable significance test). There was a non-significant trend of lower depression, anxiety and stress in the MI condition. Three risk factors for postnatal depression predicted help-seeking: antenatal anxiety (OR = 2.8, p = .002), depression history (OR = 2.5, p = .002) and self-esteem (OR = 0.7, p = .04). Common barriers to seeking help were thinking that one would or should be able to manage without help (endorsed by 11.1%). Treatment uptake for postnatal distress can be increased with MI. Training MCHNs in MI was feasible and valued. Given the devastating effects of depression, further research is needed to ascertain whether MI can improve mental health outcomes. Australian New Zealand Clinical Trials Registry (ACTRN12611000635965), 22 June 2011.
This is a preview of subscription content, log in to check access.
Access options
Buy single article
Instant access to the full article PDF.
US$ 39.95
Price includes VAT for USA
Subscribe to journal
Immediate online access to all issues from 2019. Subscription will auto renew annually.
US$ 99
This is the net price. Taxes to be calculated in checkout.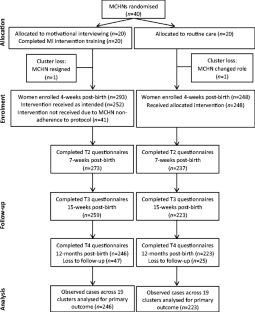 References
American Psychiatric Association (2013) Diagnostic and statistical manual of mental disorders, 5th edn. American Psychiatric Press, Arlington

Barnes DL (2006) Postpartum depression: its impact on couples and marital satisfaction. Journal of Systemic Therapies 25:25–42

Beck CT (2001a) Further validation of the postpartum depression screening scale. Nurs Res 50:155–164

Beck CT (2001b) Predictors of postpartum depression: an update. Nurs Res 50:275–285. doi:10.1097/00006199-200109000-00004

Beck AT, Steer RA, Brown GK (1996) Manual for the BDI-II. The Psychological Corporation, San Antonio

Campbell MK, Elbourne DR, Altman DG (2004) CONSORT statement: extension to cluster randomised trials. BMJ 328:702–708

Cohen J (1992) A power primer. Psychol Bull 112:155–159

Dennis CL, Chung-Lee L (2006) Postpartum depression help-seeking barriers and maternal treatment preferences: a qualitative systematic review. Birth 33:323–331

Don BP, Mickelson KD (2012) Paternal postpartum depression: the role of maternal postpartum depression, spousal support, and relationship satisfaction. Couple Fam Psychol Res Pract 1:323–334

Ericksen J et al (2005) Recognition and management of perinatal depression in general practice: a survey of GPs and postnatal women. Aust Fam Physician 34:787–790

Garcia EFY et al (2015) Pediatric-based intervention to motivate mothers to seek follow-up for depression screens: motivating our mothers (MOM) trial. Acad Pediatr 15:311–318

Gavin NI, Gaynes BN, Lohr KN, Meltzer-Brody S, Gartlehner G, Swinson T (2005) Perinatal depression: a systematic review of prevalence and incidence. Obstet Gynaecol 106:1071–1083

Gavin N, Meltzer-Brody S, Glover V, Gaynes B (2015) Is population-based identification of perinatal depression and anxiety desirable? A public health perspective on the perinatal depression care continuum. In: Milgrom J, Gemmill A (eds) Identifying perinatal depression and anxiety: evidence-based practice in screening, psychosocial assessment and management. Wiley, Chichester

Gemmill AW, Leigh B, Ericksen J, Milgrom J (2006) A survey of the clinical acceptability of screening for postnatal depression in depressed and non-depressed women. BMC Public Health 6:211. doi:10.1186/1471-2458-6-211

Gibson J, McKenzie-McHarg K, Shakespeare J, Price J, Gray R (2009) A systematic review of studies validating the Edinburgh postnatal depression scale in antepartum and postpartum women. Acta Psychiatr Scand 119:350–364

Grote NK, Bledsoe SE, Swartz H, Frank E (2004) Feasibility of providing culturally relevant, brief interpersonal psychotherapy for antenatal depression in an obstetrics clinic: a pilot study. Res Soc Work Pract 14:397–407

Grote NK, Swartz HA, Geibel SL, Zuckoff A, Houck PR, Frank E (2009) A randomized controlled trial of culturally relevant, brief interpersonal psychotherapy for perinatal depression. Psychiatr Serv 60:313-321

Ji S et al (2011) Validity of depression rating scales during pregnancy and the postpartum period: impact of trimester and parity. J Psychiatr Res 45:213–219. doi:10.1016/j.jpsychires.2010.05.017

Lovibond SH, Lovibond PF (1995) Manual for the depression anxiety stress scales. Psychology Foundation, Sydney

MacLellan A, Wilson D, Taylor A (1996) The self-reported prevalence of postnatal depression. Aust N Z J Obstet Gynaecol 36:313

McGarry J, Kim H, Sheng X, Egger M, Baksh L (2009) Postpartum depression and help-seeking behavior. Journal of midwifery & women's health 54:50–56

Meltzer H, Bebbington P, Brugha T, Farrell M, Jenkins R, Lewis G (2000) The reluctance to seek treatment for neurotic disorders. J Ment Health 9:319–327

Milgrom J, McCloud P (1996) Parenting stress and postnatal depression. Stress Med 12:177–186. doi:10.1002/(sici)1099-1700(199607)12:3<177::aid-smi699>3.0.co;2-w

Milgrom J, Westley D, Gemmill AW (2004) The mediating role of maternal responsiveness in some longer-term effects of postnatal depression on infant development. Infant Behav Dev 27:443–454

Milgrom J, Ericksen J, Negri L, Gemmill A (2005) Screening for postnatal depression in routine primary care: properties of the Edinburgh postnatal depression scale in an Australian sample. Aust N Z J Psychiatry 39:833–839

Milgrom J et al (2008) Antenatal risk factors for postnatal depression: a large prospective study. J Affect Disord 108:147–157

Milgrom J, Holt C, Gemmill A, Ericksen J, Leigh B, Buist A, Schembri C (2011) Treating postnatal depressive symptoms in primary care: a randomised controlled trial of GP management, with and without adjunctive counselling. BMC Psychiatry 11:–95

Miller WR, Rollnick S (2002) Motivational interviewing: preparing people for change, 2nd edn. The Guilford Press, New York

Moher D et al (2010) CONSORT 2010 explanation and elaboration: updated guidelines for reporting parallel group randomised trials. BMJ 340:c869

Mojtabai R, Olfson M, Mechanic D (2002) Perceived need and help-seeking in adults with mood, anxiety, or substance use disorders. Arch Gen Psychiatry 59:77–84

Murray D, Cox J (1990) Screening for depression during pregnancy with the Edinburgh depression scale (EPDS). J Reprod Infant Psychol 8:99–107

Murray L, Arteche A, Fearon P, Halligan S, Croudace T, Cooper PJ (2010) The effects of maternal postnatal depression and child sex on academic performance at age 16 years: a developmental approach. J Child Psychol Psychiatry 51:1150–1159. doi:10.1111/j.1469-7610.2010.02259.x

Murray L, Fearon P, Cooper PJ (2015) Postnatal depression, mother–infant interactions, and child development: prospects for screening and treatment. In: Milgrom J, Gemmill AW (eds) Identifying perinatal depression and anxiety: evidence-based practice in screening, psychosocial assessment and management. Wiley-Blackwell, Chichester, pp 139–164

Ross L, McLean L (2006) Anxiety disorders during pregnancy and the postpartum period: a systematic review. J Clin Psychiatry 67:14

Rubak S, Sandbaek A, Lauritzen T, Christiansen B (2005) Motivational interviewing: a systematic review and meta-analysis. Br J Gen Pract 55:305–312

Smith MV, Howell H, Wang H, Poschman K, Yonkers KA (2009) Success of mental health referral among pregnant and postpartum women with psychiatric distress. Gen Hosp Psychiatry 31:155–162

Swartz HA, Zuckoff A, Frank E, Spielvogle HN, Shear MK, Fleming MA, Scott J (2006) An open-label trial of enhanced brief interpersonal psychotherapy in depressed mothers whose children are receiving psychiatric treatment. Depress Anxiety 23:398–404

The ESEMeD/MHEDEA 2000 Investigators (2004) Use of mental health services in Europe: results from the European study of the epidemiology of mental disorders (ESEMeD) project. Acta Psychiatr Scand 109:47–54
Acknowledgements
This project has been made possible with funding from Australian Rotary Health.
We would like to acknowledge the support of the Victoria State Government Department of Education and Early Childhood Development, particularly the involvement of Banyule, Whittlesea and Moonee Valley Maternal and Child Health Services in this project.
Dr. Rochelle Cairns provided assistance in developing the MI training workshop and accompanying intervention manual. Dr. Sofia Rallis and Dr. Rochelle Cairns conducted the training workshops.
We would also like to acknowledge the Parent-Infant Research Institute team and in particular, Ms. Sofia Galgut, for conducting the follow-up telephone calls.
We would like to thank Ms. Rachel Sore for her statistical advice.
We thank the women who generously gave their time to participate in this study.
Ethics declarations
Disclosure of potential conflicts of interest
ᅟ
Funding
This study was funded by Australian Rotary Health.
Conflict of interest
The authors declare that they have no conflict of interest.
Ethical approval
All procedures performed in studies involving human participants were in accordance with the ethical standards of the institutional and/or national research ethics committee and with the 1964 Helsinki declaration and its later amendments or comparable standards.
Ethical approval for this study was obtained from the Austin Health Human Research Ethics Committee on 16 February, 2011 (Project no. 04180).
Informed consent
Informed consent was obtained from all individual participants included in this study.
Additional information
This article belongs to the Topical Collection: The EPDS: Thirty Years On
About this article
Cite this article
Holt, C., Milgrom, J. & Gemmill, A.W. Improving help-seeking for postnatal depression and anxiety: a cluster randomised controlled trial of motivational interviewing. Arch Womens Ment Health 20, 791–801 (2017). https://doi.org/10.1007/s00737-017-0767-0
Received:

Accepted:

Published:

Issue Date:
Keywords
Motivational interviewing

Postnatal depression

Postnatal anxiety

Cluster randomised controlled trial