Access options
Buy single article
Instant access to the full article PDF.
USD 39.95
Price includes VAT (USA)
Tax calculation will be finalised during checkout.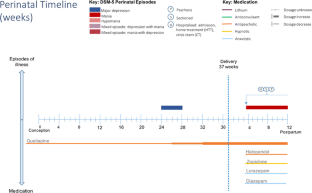 References
American Psychiatric Association (2013) Diagnostic and Statistical Manual of Mental Disorders, 5th edn. American Psychiatric Publishing, Arlington, VA

Di Florio A, Forty L, Gordon-Smith K et al (2013) Perinatal episodes across the mood disorder spectrum. JAMA Psychiatry 70:168–175

Viguera AC, Whitfield T, Baldessarini RJ et al (2007) Risk of recurrence in women with bipolar disorder during pregnancy: prospective study of mood stabilizer discontinuation. Am J Psychiatry 164:1817–1824; quiz 1923. doi:10.1176/appi.ajp.2007.06101639

Wesseloo R, Kamperman AM, Munk-Olsen T et al (2016) Risk of postpartum relapse in bipolar disorder and postpartum psychosis: a systematic review and meta-analysis. Am J Psychiatr 173:117–127. doi:10.1176/appi.ajp.2015.15010124

Wing JK, Babor T, Brugha T et al (1990) SCAN: schedules for clinical assessment in neuropsychiatry. Arch gen Psychiatry 47:589–593
Acknowledgements
The authors would like to thank the Stanley Medical Research Institute for funding this research and all members of the Bipolar Disorder Research Network (www.bdrn.org). We also wish to express our gratitude to all the individuals who kindly gave their time to participate in this research.
Ethics declarations
Funding
This study is funded by the Stanley Medical Research Institute (grant number 5710002223).
Conflict of interest
The authors declare that they have no conflict of interest.
About this article
Cite this article
Perry, A., Gordon-Smith, K., Jones, L. et al. A visual timeline tool for tracking mood and medication perinatally in affective disorders. Arch Womens Ment Health 20, 709–710 (2017). https://doi.org/10.1007/s00737-017-0743-8
Received:

Accepted:

Published:

Issue Date: