Abstract
Objectives
This study aimed to investigate associations of physical activity (PA) and sedentary behavior (SB) with depression and anxiety symptoms during pregnancy among Chinese, Malay, and Indian women.
Methods
Women answered PA and SB (sitting time and television time) interview questions and self-completed the Edinburgh Postnatal Depression Scale (EPDS) and State-Trait Anxiety Inventory (STAI) questionnaires, at week 26–28 gestation. Sufficient levels of PA (≥600MET-minutes/week) and higher sitting time (≥7 h/day) were determined. Associations of PA and SB with probable antenatal depression (EPDS-score ≥15), higher state anxiety (score ≥42), and higher trait anxiety (score ≥43) were determined by logistic regression analysis.
Results
Among the 1144 pregnant women included in the study, 7.3, 22.5, and 23.6 % had probable antenatal depression, higher state anxiety, and higher trait anxiety symptoms, respectively. In the adjusted models, women with sufficient level of PA were less likely to have probable antenatal depression (OR 0.54, 95 % CI 0.31–0.94, p = 0.030) and higher trait anxiety symptoms (OR 0.68, 95 % CI 0.48–0.94, p = 0.022). PA was not associated with state anxiety symptoms. SB was not associated with any of the investigated outcomes.
Conclusions
Sufficient PA was associated with a reduced likelihood of probable antenatal depression and trait anxiety symptoms. Further investigation of these findings is warranted to determine cause-effect relationships and identify potential preventive strategies.
Access options
Buy single article
Instant access to the full article PDF.
USD 39.95
Price includes VAT (USA)
Tax calculation will be finalised during checkout.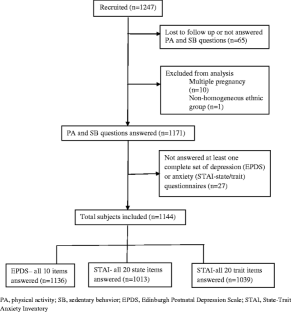 References
Ajinkya S, Jadhav PR, Srivastava NN (2013) Depression during pregnancy: prevalence and obstetric risk factors among pregnant women attending a tertiary care hospital in Navi Mumbai. Industrial Psychiatry J 22(1):37–40. doi:10.4103/0972-6748.123615

Anderson E, Shivakumar G (2013) Effects of exercise and physical activity on anxiety. Frontiers Psychiatry 4:27. doi:10.3389/fpsyt.2013.00027

Andersson L, Sundström-Poromaa I, Bixo M, Wulff M, Bondestam K, Åström M, Institutionen för klinisk, vetenskap, Medicinska, fakulteten, Psykiatri, Obstetrik och, gynekologi, & Umeå, universitet (2003) Point prevalence of psychiatric disorders during the second trimester of pregnancy: a population-based study. Am J Obstet Gynecol 189(1):148–154. doi:10.1067/mob.2003.336

Azevedo Da Silva M, Singh-Manoux A, Brunner EJ, Kaffashian S, Shipley MJ, Kivimaki M, Nabi H (2012) Bidirectional association between physical activity and symptoms of anxiety and depression: the Whitehall II study. Eur J Epidemiol 27(7):537–546

Bartley CA, Hay M, Bloch MH (2013) Meta-analysis: aerobic exercise for the treatment of anxiety disorders. Prog Neuropsychopharmacol Biol Psychiatry 45:34–39. doi:10.1016/j.pnpbp.2013.04.016

Bergink V, Kooistra L, den Berg L-v, Mijke P, Wijnen H, Bunevicius R, van Baar A, Pop V (2011) Validation of the Edinburgh Depression Scale during pregnancy. J Psychosom Res 70(4):385–389. doi:10.1016/j.jpsychores.2010.07.008

Bödecs T, Horváth B, Szilágyi E, Gonda X, Rihmer Z, Sándor J (2011) Effects of depression, anxiety, self-esteem, and health behaviour on neonatal outcomes in a population-based Hungarian sample. Eur J Obstet Gynecol Reprod Biol 154(1):45–50. doi:10.1016/j.ejogrb.2010.08.021

Costa DD, Rippen N, Dritsa M, Ring A (2003) Self-reported leisure-time physical activity during pregnancy and relationship to psychological well-being. J Psychosom Obstet Gynaecol 24(2):111–119. doi:10.3109/01674820309042808

de Wit L, van Straten A, Lamers F, Cuijpers P, Penninx B (2011) Are sedentary television watching and computer use behaviors associated with anxiety and depressive disorders? Psychiatry Res 186(2–3):239–243. doi:10.1016/j.psychres.2010.07.003

de Wit L, Jelsma JGM, van Poppel MNM, Bogaerts A, Simmons D, Desoye G, Corcoy R Kautzky-Willer A, Harreiter J, van Assche A, Devlieger R, Timmerman D, Hill D, Damm P, Mathiesen E. R, Wender-Ozegowska E, Zawiejska A, Rebollo P, Lapolla, A, Dalfrà MG, Del Prato S, Bertolotto A, Dunne F, Jensen DM, Andersen L, Snoek FJ (2015). Physical activity, depressed mood and pregnancy worries in European obese pregnant women: results from the DALI study. BMC Pregnancy Childbirth 15(1). doi: 10.1186/s12884-015-0595-z

Demissie Z, Siega-Riz AM, Evenson KR, Herring AH, Dole N, Gaynes BN (2011) Physical activity and depressive symptoms among pregnant women: the PIN3 study. Arch Womens Ment Health 14(2):145–157. doi:10.1007/s00737-010-0193-z

Dinas PC, Koutedakis Y, Flouris AD (2011) Effects of exercise and physical activity on depression. Ir J Med Sci 180(2):319–325. doi:10.1007/s11845-010-0633-9

Elements behavioral health (Producer) (2010) Is watching too much TV making you depressed? Studies say it can. https://www.elementsbehavioralhealth.com/featured/is-watching-too-much-tv-making-you-depressed/

Fadzil A, Balakrishnan K, Razali R, Sidi H, Malapan T, Japaraj RP, Midin M, Nik Jaafar NR, Das S, Manaf MR (2013) Risk factors for depression and anxiety among pregnant women in Hospital Tuanku Bainun, Ipoh. Malaysia Asia Pac Psychiatry 5(Suppl 1):7–13. doi:10.1111/appy.12036

Gibson J, McKenzie-McHarg K, Shakespeare J, Price J, Gray R (2009) A systematic review of studies validating the Edinburgh Postnatal Depression Scale in antepartum and postpartum women. Acta Psychiatr Scand 119(5):350–364. doi:10.1111/j.1600-0447.2009.01363.x

Goebert D, Morland L, Frattarelli L, Onoye J, Matsu C (2007) Mental health during pregnancy: a study comparing Asian, Caucasian and Native Hawaiian women. Matern Child Health J 11(3):249–255. doi:10.1007/s10995-006-0165-0

Granner ML, Mburia-Mwalili A (2010) Correlates of television viewing among African American and Caucasian women. Women Health 50(8):783–794. doi:10.1080/03630242.2010.533090

Grote NK, Bridge JA, Gavin AR, Melville JL, Iyengar S, Katon WJ (2010) A meta-analysis of depression during pregnancy and the risk of preterm birth, low birth weight, and intrauterine growth restriction. Arch Gen Psychiatry 67(10):1012–1024. doi:10.1001/archgenpsychiatry.2010.111

Hamer M, Coombs N, Stamatakis E (2014) Associations between objectively assessed and self-reported sedentary time with mental health in adults: an analysis of data from the Health Survey for England. BMJ Open 4(3):e004580. doi:10.1136/bmjopen-2013-004580

IPAQ Research Committee (Producer) (2005) Guidelines for data processing and analysis of the International Physical Activity Questionnaire (IPAQ). http://www.ipaq.ki.se/scoring.pdf

Kwan R, Bautista D, Choo R, Shirong C, Chee C, Saw SM, Chong Y-S, Kwek K, Meaney MJ, Rush AJ, Chen H (2015) The Edinburgh Postnatal Depression Scale as a measure for antenatal dysphoria. J Reprod Infant Psychol 33(1):28–41. doi:10.1080/02646838.2014.949642

Lee B-H, Kim Y-K, Kim H, Park S-H (2007) Decreased plasma BDNF level in depressive patients. J Affect Disord 101(1):239–244. doi:10.1016/j.jad.2006.11.005

Li Ling-Jun I, Kamran M, Broekman L, Cheung Carol Y-L, Chen H, Gooley Joshua J, Soh Shu- E, Gluckman P, Kwek K, Chong Yap-Seng M, Michael Wong T-Y, Saw S-M (2013) Antenatal mental health and retinal vascular caliber in pregnant women. Translational Vis Sci Technol 2(2):2. doi:10.1167/tvst.2.2.2

Loprinzi Paul D, Fitzgerald Elizabeth M, Cardinal Bradley J (2012) Physical activity and depression symptoms among pregnant women from the National Health and Nutrition Examination Survey 2005–2006. J Obstet Gynecol Neonatal Nurs 41(2):227

Madhavanprabhakaran GK, D'Souza MS, Nairy KS (2015) Prevalence of pregnancy anxiety and associated factors. Int J Africa Nursing Sci 3:1–7. doi:10.1016/j.ijans.2015.06.002

Marais L, Stein DJ, Daniels WM (2009) Exercise increases BDNF levels in the striatum and decreases depressive-like behavior in chronically stressed rats. Metab Brain Dis 24(4):587–597

Mata J, Thompson RJ, Gotlib IH (2010) BDNF genotype moderates the relation between physical activity and depressive symptoms. Health Psychol 29(2):130–133. doi:10.1037/a0017261

Nasreen HE, Kabir ZN, Forsell Y, Edhborg M (2010) Low birth weight in offspring of women with depressive and anxiety symptoms during pregnancy: results from a population based study in Bangladesh. BMC Public Health 10(1):515–515. doi:10.1186/1471-2458-10-515

Nasreen HE, Kabir ZN, Forsell Y, Edhborg M (2011) Prevalence and associated factors of depressive and anxiety symptoms during pregnancy: a population based study in rural Bangladesh. BMC Womens Health 11:22. doi:10.1186/1472-6874-11-22

Newham JJ, Westwood M, Aplin JD, Wittkowski A (2012) State-trait anxiety inventory (STAI) scores during pregnancy following intervention with complementary therapies. J Affect Disord 142(1):22–30. doi:10.1016/j.jad.2012.04.027

Padmapriya N, Shen L, Soh Shu- E, Shen Z, Kwek K, Godfrey Keith M, Gluckman Peter D, Chong Yap-Seng Saw S-M, Müller-Riemenschneider F (2015) Physical activity and sedentary behavior patterns before and during pregnancy in a multi-ethnic sample of Asian women in Singapore. Matern Child Health J 19(11):2523. doi:10.1007/s10995-015-1773-3

Perales M, Refoyo I, Coteron J, Bacchi M, Barakat R (2015) Exercise during pregnancy attenuates prenatal depression: a randomized controlled trial. Eval Health Prof 38(1):59–72. doi:10.1177/0163278714533566

Podvornik, Nusa, Globevnik, Vislava Velikonja, Praper Peter (2015) Depression and anxiety in women during pregnancy in Slovenia/Depresija In Anksioznost Pri Zenskah Med Nosecnostjo V Sloveniji. Zdravstveno Varstvo 54(1):45. doi:10.1515/sjph-2015-0006

Potts R, Sanchez D (1994) Television viewing and depression: no news is good news. J Broadcast Electron Media 38(1):79–90

Prady SL, Pickett KE, Croudace T, Fairley L, Bloor K, Gilbody S, Kiernan KE, Wright J (2013) Psychological distress during pregnancy in a multi-ethnic community: findings from the born in Bradford cohort study. PLoS One 8(4):e60693. doi:10.1371/journal.pone.0060693

Qiao Y-X, Wang J, Li J, Ablat A (2009) The prevalence and related risk factors of anxiety and depression symptoms among Chinese pregnant women in Shanghai. Aust N Z J Obstet Gynaecol 49(2):185–190. doi:10.1111/j.1479-828X.2009.00966.x

Rebar Amanda L, Vandelanotte C, van Uffelen J, Short C, Duncan Mitch J (2014) Associations of overall sitting time and sitting time in different contexts with depression, anxiety, and stress symptoms. Ment Health and Phys Act 7(2):105–110. doi:10.1016/j.mhpa.2014.02.004

Rebar AL, Stanton R, Geard D, Short C, Duncan MJ, Vandelanotte C (2015) A meta-meta-analysis of the effect of physical activity on depression and anxiety in non-clinical adult populations. Health Psychol Review 9(3):366–313. doi:10.1080/17437199.2015.1022901

Robledo-Colonia AF, Sandoval-Restrepo N, Mosquera-Valderrama YF, Escobar-Hurtado C, Ramirez-Velez R (2012) Aerobic exercise training during pregnancy reduces depressive symptoms in nulliparous women: a randomised trial. J Geophys Res 58(1):9–15. doi:10.1016/s1836-9553(12)70067-x

Rubertsson C, Börjesson K, Berglund A, Josefsson A, Sydsjö G, Linköpings, universitet, Barn- och, kvinnocentrum, Obstetrik och, gynekologi, Kvinnokliniken i, Linköping, Hälsouniversitetet, Institutionen för klinisk och experimentell, medicin, Östergötlands Läns, Landsting (2011) The Swedish validation of Edinburgh Postnatal Depression Scale (EPDS) during pregnancy. Nord J Psychiatry 65(6):414–418. doi:10.3109/08039488.2011.590606

Shakeel N, Eberhard-Gran M, Sletner L, Slinning K, Martinsen EW, Holme I, Jenum AK (2015) A prospective cohort study of depression in pregnancy, prevalence and risk factors in a multi-ethnic population. BMC Pregnancy Childbirth 15(1):1–11. doi:10.1186/s12884-014-0420-0

Soh Shu- E, Chong Y-S, Kwek K, Saw S-M, Meaney Michael J, Gluckman Peter D, Holbrook Joanna D, Godfrey Keith M, GUSTO Study Group (2014a) Insights from the growing up in Singapore towards healthy outcomes (GUSTO) cohort study. Ann Nutr Metab 64(3-4):218. doi:10.1159/000365023

Soh Shu- E, Tint Mya T, Gluckman Peter D, Godfrey Keith M, Rifkin-Graboi A, Chan Yiong H, Stünkel W, Holbrook Joanna D, Kwek K, Chong Y-S, Saw Seang M, Gusto Study Group (2014b) Cohort profile: growing up in Singapore towards healthy outcomes (GUSTO) birth cohort study. Int J Epidemiol 43(5):1401–1409. doi:10.1093/ije/dyt125

Strohle A (2009) Physical activity, exercise, depression and anxiety disorders. J Neural Transm (Vienna) 116(6):777–784. doi:10.1007/s00702-008-0092-x

Takahasi, Eliana Harumi Morioka, Alves, Maria Teresa Seabra Soares de Britto e, Alves, Gilberto Sousa, Silva, Antônio Augusto Moura da, Batista, Rosângela Fernandes Lucena, Simões, Vanda Maria Ferreira, Del-Ben, Cristina Marta, & Barbieri, Marco Antonio. (2013). Mental health and physical inactivity during pregnancy: a cross-sectional study nested in the BRISA cohort study. Cadernos de Saúde Pública, 29(8): 1583

Teixeira C, Figueiredo B, Conde A, Pacheco A, Costa R (2009) Anxiety and depression during pregnancy in women and men. J Affect Disord 119(1):142–148. doi:10.1016/j.jad.2009.03.005

Tendais I, Figueiredo B, Mota J, Conde A (2011) Physical activity, health-related quality of life and depression during pregnancy. Cad Saude Publica 27(2):219–228

Teychenne M, Ball K, Salmon J (2010) Sedentary behavior and depression among adults: a review. Int J Behav Med 17(4):246–254. doi:10.1007/s12529-010-9075-z

Teychenne M, Costigan SA, Parker K (2015) The association between sedentary behaviour and risk of anxiety: a systematic review. BMC Public Health 15(1):513. doi:10.1186/s12889-015-1843-x

U.S. Department of Health and Human Services (Producer) (2008) 2008 physical activity guidelines for Americans. https://health.gov/paguidelines/pdf/paguide.pdf

University of Warwick (Producer) (2015) Depression and weight gain in pregnancy linked to sitting down. http://www2.warwick.ac.uk/newsandevents/news/depression_and_weight/

van Uffelen JGZ, van Gellecum YR, Burton NW, Peeters G, Heesch KC, Brown WJ (2013) Sitting-time, physical activity, and depressive symptoms in mid-aged women. Am J Prev Med 45(3):276. doi:10.1016/j.amepre.2013.04.009

Watts JN, Miller YD, Marshall AL (2013) Depressive symptoms during pregnancy: exploring the role of sitting. Ment Health and Phys Act 6(1):36–42. doi:10.1016/j.mhpa.2012.08.001

WHO (Producer) (2010a) Global Physical Activity Questionnaire (GPAQ) Analysis Guide. http://www.who.int/chp/steps/resources/GPAQ_Analysis_Guide.pdf

WHO (Producer) (2010b) Global recommendations on physical activity for health. http://whqlibdoc.who.int/publications/2010/9789241599979_eng.pdf?ua=1

World Health Organization (2000). BMI classification. Retrieved from http://apps.who.int/bmi/index.jsp?introPage=intro_3.html
Acknowledgments
This research is supported by the Singapore National Research Foundation under its Translational and Clinical Research (TCR) Flagship Program and administered by the Singapore Ministry of Health's National Medical Research Council (NMRC), Singapore—NMRC/TCR/004-NUS/2008; NMRC/TCR/012-NUHS/2014. Additional funding is provided by the Singapore Institute for Clinical Sciences, Agency for Science Technology and Research (A*STAR), Singapore. K.M.G. is supported by the National Institute for Health Research through the NIHR Southampton Biomedical Research Centre and by the European Union's Seventh Framework Program (FP7/2007–2013), projects EarlyNutrition and ODIN under grant agreement numbers 289346 and 613977. We would like to thank the GUSTO study group, operational managers, research fellows, study coordinators, and data management team. We greatly appreciate voluntary participation of all participants and cooperation of maternity units in KK Women's and Children's Hospital and National University Hospital and their staff. The GUSTO study group includes Pratibha Agarwal, Arijit Biswas, Choon Looi Bong, Birit F.P. Broekman, Shirong Cai, Jerry Kok Yen Chan, Yiong Huak Chan, Cornelia Yin Ing Chee, Yin Bun Cheung, Amutha Chinnadurai, Chai Kiat Chng, Mary Foong-Fong Chong, Shang Chee Chong, Mei Chien Chua, Doris Fok, Marielle V. Fortier, Anne Eng Neo Goh, Yam Thiam Daniel Goh, Joshua J. Gooley, Wee Meng Han, Mark Hanson, Christiani Jeyakumar Henry, Joanna D. Holbrook, Chin-Ying Hsu, Neerja Karnani, Jeevesh Kapur, Ivy Yee-Man Lau, Bee Wah Lee, Yung Seng Lee, Ngee Lek, Sok Bee Lim, Iliana Magiati, Lourdes Mary Daniel, Cheryl Ngo, Krishnamoorthy Niduvaje, Wei Wei Pang, Anqi Qiu, Boon Long Quah, Victor Samuel Rajadurai, Mary Rauff, Salome A. Rebello, Jenny L. Richmond, Anne Rifkin-Graboi, Lynette Pei-Chi Shek, Allan Sheppard, Borys Shuter, Leher Singh, Shu-E Soh, Walter Stunkel, Lin Lin Su, Kok Hian Tan, Oon Hoe Teoh, Mya Thway Tint, Hugo P S van Bever, Rob M. van Dam, Inez Bik Yun Wong, P. C. Wong, Fabian Yap, and George Seow Heong Yeo.
Ethics declarations
The study protocol was approved by ethics committees of the hospitals involved: SingHealth Centralized Institutional Review Board and National Healthcare Group Domain Specific Review Board in Singapore. All participants gave written informed consent.
About this article
Cite this article
Padmapriya, N., Bernard, J.Y., Liang, S. et al. Association of physical activity and sedentary behavior with depression and anxiety symptoms during pregnancy in a multiethnic cohort of Asian women. Arch Womens Ment Health 19, 1119–1128 (2016). https://doi.org/10.1007/s00737-016-0664-y
Received:

Accepted:

Published:

Issue Date:
Keywords
Physical activity

Sedentary behavior

Pregnancy

Depression

Anxiety