Abstract
We examined plasma oxytocin concentration and postpartum depression (PPD) symptom severity in women who were not depressed during pregnancy and whether this differed by major depressive disorder (MDD) history. We assessed psychiatric history and plasma oxytocin in 66 healthy pregnant women in the third trimester (M = 35 ± 3 weeks) and depressive symptoms at 6 weeks postpartum (M = 5.9 ± 0.8 weeks). Linear regression analysis was used to examine oxytocin and PPD symptom severity and moderation of oxytocin and PPD by past MDD. Women with (n = 13) and without (n = 53) past MDD differed in third trimester depressive symptom severity, but not oxytocin level, demographic factors, or birth outcomes. Controlling for third trimester depressive symptoms, oxytocin level was unrelated to PPD symptom severity [B(SE) = −.019 (.084); β = −.025; t = −.227; p = .821]. However, oxytocin level interacted with past MDD to predict PPD symptom severity [B(SE) = 7.489 (2.429); β = .328; t = 3.084; p = .003]. Higher oxytocin predicted greater PPD symptom severity in women with past MDD (p = .019), but not in women without (p = .216). Replication in a larger sample and methodologic challenges are discussed.
Access options
Buy single article
Instant access to the full article PDF.
US$ 39.95
Tax calculation will be finalised during checkout.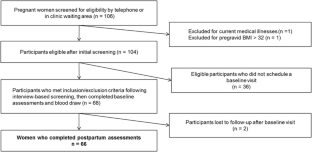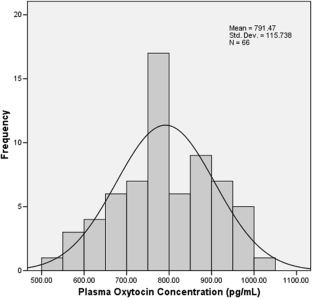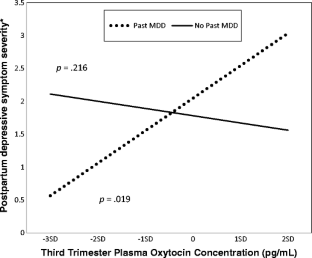 References
Albers HE (2015) Species, sex and individual differences in the vasotocin/vasopressin system: relationship to neurochemical signaling in the social behavior neural network. Front Neuroendocrinol 36:49–71

American College of Obstetricians and Gynecologists (ACOG) (2015) Screening for perinatal depression. Committee opinion no. 630. Obstet Gynecol 125:1268–1271

Bell AF, Carter CS, Steer CD, Golding J, Davis JM, Steffen AD, Rubin LH, Lillard TS, Gregory SP, Harris JC, Connelly JJ (2015) Interaction between oxytocin receptor DNA methylation and genotype is associated with risk of postpartum depression in women without depression in pregnancy. Front Genet 6:243

Carter CS (1998) Neuroendocrine perspectives on social attachment and love. Psychoneuroendocr 23(8):779–818

Carter CS (2014) Oxytocin pathways and the evolution of human behavior. Annu Rev Psychol 65:17–39

Carter CS, Altemus M (1997) Integrative functions of lactational hormones in social behavior and stress management. Ann NY Acad Sci 807:164–174

Carter CS, Altemus M, Chrousos GP (2001) Neuroendocrine and emotional changes in the post-partum period. Prog Brain Res 133:241–249

Cox JL, Chapman G, Murray D, Jones P (1996) Validation of the Edinburgh Postnatal Depression Scale (EPDS) in non-postnatal women. J Affect Disord 39(3):185–189

Cyranowski JM, Hofkens TL, Frank E, Seltman H, Cai HM, Amico JA (2008) Evidence of dysregulated peripheral oxytocin release among depressed women. Psychosom Med 70(9):967–975

Dennis CL, Chung‐Lee L (2006) Postpartum depression help‐seeking barriers and maternal treatment preferences: a qualitative systematic review. Birth 33(4):323–331

Eapen V, Dadds M, Barnett B, Kohlhoff J, Khan F, Radom N, Silove DM (2014) Separation anxiety, attachment and inter-personal representations: disentangling the role of oxytocin in the perinatal period. PLoS One 9:e107745

Feldman R (2012) Oxytocin and social affiliation in humans. Horm Behav 61(3):380–391

Feldman R, Gordon I, Zagoory‐Sharon O (2011) Maternal and paternal plasma, salivary, and urinary oxytocin and parent–infant synchrony: considering stress and affiliation components of human bonding. Dev Sci 14(4):752–761

Feldman R, Zagoory-Sharon O, Weisman O, Schneiderman I, Gordon I, Maoz R, Shalev I, Ebstein RP (2012) Sensitive parenting is associated with plasma oxytocin and polymorphisms in the OXTR and CD38 genes. Biol Psychiatry 72(3):175–181

Frank E, Landgraf R (2008) The vasopressin system—from antidiuresis to psychopathology. Eur J Pharmacol 583(2):226–242

Gainer H (1982) Precursors of vasopressin and oxytocin. Prog Brain Res 60:205–215

Goldman MB, Marlow-O'Connor M, Torres I, Carter CS (2008) Diminished plasma oxytocin in schizophrenic patients with neuroendocrine dysfunction and emotional deficits. Schizophr Res 98:247–255

Goodman JH (2009) Women's attitudes, preferences, and perceived barriers to treatment for perinatal depression. Birth 36(1):60–69

Gouin JP, Carter CS, Pournajafi-Nazarloo H, Glaser R, Malarkey WB, Loving TJ, Stowell J, Kiecolt-Glaser JK (2010) Marital behavior, oxytocin, vasopressin, and wound healing. Psychoneuroendocr 35(7):1082–1090

Hammock E, Veenstra-VanderWeele J, Yan Z, Kerr TM, Morris M, Anderson G, Carter CS, Cook EH, Jacob S (2012) Examining autism spectrum disorders by biomarkers: example from the oxytocin and serotonin systems. J Am Acad Child Adolesc Psychiatry 51:712–721

Hirschfeld RM, Williams JB, Spitzer RL, Calabrese JR, Flynn L, Keck PE Jr, Lewis L, McElroy SL, Post RM, Rapport DJ, Russell JM, Sachs GS, Zajecka J (2000) Development and validation of a screening instrument for bipolar spectrum disorder: the mood disorder questionnaire. Am J Psychiatry 157(11):1873–1875

Kim S, Soeken TA, Cromer SJ, Martinez SR, Hardy LR, Strathearn L (2014) Oxytocin and postpartum depression: delivering on what's known and what's not. Brain Res 1580:219–232

Klengel T, Pape J, Binder EB, Mehta D (2014) The role of DNA methylation in stress-related psychiatric disorders. Neuropharmacol 80:115–132

Lancaster K, Carter CS, Pournajafi-Nazarloo H, Karaoli T, Lillard TS, Jack A, Davis JM, Morris JP, Connelly JJ (2015) Plasma oxytocin explains individual differences in neural substrates of social perception. Front Hum Neurosci 9:132

MacKinnon AL, Gold I, Feeley N, Hayton B, Carter CS, Zelkowitz P (2014) The role of oxytocin in mothers' theory of mind and interactive behavior during the perinatal period. Psychoneuroendocr 48:52–63

Martin-Protean LLC (2015) Oxytocin quantification products. http://martin-protean.com/oxytocin.html. Accessed September 17, 2015

McCullough ME, Churchland PS, Mendez AJ (2013) Problems with measuring peripheral oxytocin: can the data on oxytocin and human behavior be trusted? Neurosci Biobehav Rev 37(8):1485–1492

McFarland J, Salisbury AL, Battle CL, Hawes K, Halloran K, Lester BM (2011) Major depressive disorder during pregnancy and emotional attachment to the fetus. Arch Womens Ment Health 14(5):425–434

Meyer-Lindenberg A, Domes G, Kirsch P, Heinrichs M (2011) Oxytocin and vasopressin in the human brain: social neuropeptides for translational medicine. Nat Rev Neurosci 12(9):524–538

Prevost M, Zelkowitz P, Tulandi T, Hayton B, Feeley N, Carter CS, Joseph L, Pournajafi-Nazarloo H, Yong EY, Abenhaim H, Gold I (2014) Oxytocin in pregnancy and the postpartum: relations to labor and its management. Front Pub Health 27(2):1

Robertson E, Grace S, Wallington T, Stewart DE (2004) Antenatal risk factors for postpartum depression: a synthesis of recent literature. Gen Hosp Psychiatry 26(4):289–295

Rubin LH, Carter CS, Drogos L, Pournajafi-Nazarloo H, Sweeney JA, Maki PM (2010) Peripheral oxytocin is associated with reduced symptom severity in schizophrenia. Schizophr Res 124:13–21

Rush AJ, Carmody T, Reimitz PE (2000) The Inventory of Depressive Symptomatology (IDS): clinician (IDS-C) and self-report (IDS-SR) ratings of depressive symptoms. Int J Method Psychiat Res 9:45–59

Rush AJ, Trivedi MH, Carmody TJ, Ibrahim HM, Markowitz JC, Keitner GI, Kornstein SG, Arnow B, Klein DN, Manber R, Dunner DL, Gelenberg AJ, Kocsis JH, Nemeroff CB, Fawcett J, Thase ME, Russell JM, Jody DN, Borlan FE, Keller MB (2005) Self-reported depressive symptom measures: sensitivity to detecting change in a randomized, controlled trial of chronically depressed, nonpsychotic outpatients. Neuropsychopharmacol 30:405–416

Seay JS, Lattie E, Schneiderman N, Antoni MH, Fekete EM, Mendez AJ, Szeto A, Fletcher MA (2014) Linear and quadratic associations of plasma oxytocin with depressive symptoms in ethnic minority women living with HIV. J Appl Biobehav Res 19(1):70–78

Sheehan DV, Lecubrier Y, Sheehan KH, Amorim P, Janavs J, Weiller E, Herqueta T, Baker R, Dunbar GC (1998) The Mini-International Neuropsychiatric Interview (MINI): the development and validation of a structured diagnostic psychiatric interview for DSM-IV and ICD-10. J Clin Psychiatry 59:22–33

Skrundz M, Bolten M, Nast I, Hellhammer DH, Meinlschmidt G (2011) Plasma oxytocin concentration during pregnancy is associated with development of postpartum depression. Neuropsychopharmacol 36(9):1886–1893

Sun H, Kennedy PJ, Nestler EJ (2013) Epigenetics of the depressed brain: role of histone acetylation and methylation. Neuropsychopharmacol 38(1):124–137

Szeto A, McCabe PM, Nation DA, Tabak BA, Rossetti MA, McCullough ME, Schneiderman N, Mendez AJ (2011) Evaluation of enzyme immunoassay and radioimmunoassay methods for the measurement of plasma oxytocin. Psychosom Med 73(5):393

Tops M, Buisman-Pijlman FTA, Carter CS (2013) Attachment and oxytocin as modulators of stress and resilience. In: Kent M, Davis MC, Reich JW (eds) Handbook of resilience: approaches to stress and trauma. Routledge, New York, pp 115–130

Unternaehrer E, Luers P, Mill J, Dempster E, Meyer AH, Staehli S, Lieb R, Hellhammer DH, Meinlschmidt G (2012) Dynamic changes in DNA methylation of stress-associated genes (OXTR, BDNF) after acute psychosocial stress. Trans Psychiatr 2(8):e150

Weisman O, Zagoory-Sharon O, Schneiderman I, Gordon I, Feldman R (2013) Plasma oxytocin distributions in a large cohort of women and men and their gender-specific associations with anxiety. Psychoneuroendocr 38(5):694–701

Wen SW, Liu S, Kramer MS, Joseph KS, Levitt C, Marcoux S, Liston RM (2000) Impact of prenatal glucose screening on the diagnosis of gestational diabetes and on pregnancy outcomes. Am J Epidemiol 152(11):1009–1014

Wisner KL, Chambers C, Sit DKY (2006) Postpartum depression: a major public health problem. J Am Med Assoc 296(21):2616–2618

Wisner KL, Sit DKY, McShea MC, Rizzo DM, Zoretich RA, Hughes CL, Eng HF, Luther JF, Wisniewski SR, Costantino ML, Confer AL, Moses-Kolko EL, Famy CS, Hanusa BH (2013) Onset timing, thoughts of self-harm, and diagnoses in postpartum women with screen-positive depression findings. JAMA Psychiatr 70(5):490–498

Yonkers KA, Wisner KL, Stewart DE, Oberlander TF, Dell DL, Stotland N, Ramin S, Chaudron L, Lockwood C (2009) The management of depression during pregnancy: a report from the American Psychiatric Association and the American College of Obstetricians and Gynecologists. Gen Hosp Psychiatry 31(5):403–413

Zelkowitz P, Gold I, Feeley N, Hayton B, Carter CS, Tulandi T, Abenhaim HA, Levin P (2014) Psychosocial stress moderates the relationships between oxytocin, perinatal depression, and maternal behavior. Horm Behav 66:351–360

Zlotnick C, Miller IW, Pearlstein T, Howard M, Sweeney P (2006) A preventive intervention for pregnant women on public assistance at risk for postpartum depression. Am J Psychiatry 163(8):1443–1445
Acknowledgments
We are deeply appreciative of the women who volunteered their time and efforts to participate in this study, and Rebecca L. Newmark, BA, for editorial assistance in the preparation of this manuscript for publication.
Ethics declarations
All procedures were approved by the Institutional Review Board of Northwestern University prior to conduct and were performed in accordance with the ethical standards as laid down in the 1964 Declaration of Helsinki and its later amendments.
Funding
This work was funded by the Evergreen Invitational Women's Health Grant from the Northwestern Memorial Foundation to Dr. Massey (9/12/13 agreement date), and grant K23 DA037913 from the National Institute on Drug Abuse (NIDA) to Dr. Massey. The Evergreen Invitational, Northwestern Memorial Foundation, and NIDA had no role in the study design, collection, analysis or interpretation of data, writing the manuscript, or the decision to submit the paper for publication.
Conflicts of interest
The Department of Psychiatry at Northwestern University received contractual fees for Dr. Wisner's consultation to Quinn Emanuel Urquhart & Sullivan, LLP (New York City), who represents Pfizer Pharmaceutical Company.
About this article
Cite this article
Massey, S.H., Schuette, S.A., Pournajafi-Nazarloo, H. et al. Interaction of oxytocin level and past depression may predict postpartum depressive symptom severity. Arch Womens Ment Health 19, 799–808 (2016). https://doi.org/10.1007/s00737-016-0616-6
Received:

Accepted:

Published:

Issue Date:
Keywords
Postpartum depression

Mood

Oxytocin

Biomarker

Hormone

Oxytocin receptor gene