Abstract
We evaluated the effect of the intervention WazzUp Mama?! on antenatal maternal distress in a non-randomized pre-post study including healthy women in 17 Dutch midwifery practices. The control group (n = 215) received antenatal care-as-usual. The experimental group (n = 218) received the intervention. Data were collected at the first and third trimester of pregnancy. Maternal distress (MD) was measured with the Edinburgh Depression Scale (EDS), State-Trait Anxiety Inventory (STAI), and Pregnancy-Related Anxiety Questionnaire (PRAQ). We used multivariate repeated-measure analysis to examine the across time changes and ANCOVA was used to examine the differences between the two groups. In the control group, mean EDS, STAI, and MD scores significantly increased from first to third trimester of pregnancy, mean PRAQ scores increased, but not significantly, the proportion of scores above cut-off level of EDS, STAI, and PRAQ significantly increased from first to third trimester, and the proportion of MD scores above cut-off level increased, but not significantly. Within the experimental group, the mean STAI, PRAQ, and MD scores significantly decreased from first to third trimester, the EDS mean scores decreased but not significantly, proportions of scores above cut-off level for PRAQ and MD significantly decreased from first to third trimester of pregnancy, the proportions of EDS and STAI scores above cut-off level decreased but not significantly. There was a moderate significant positive effect of WazzUP Mama?! on the MD scores (F(1.43) = 27.05, p < 0.001, d = 0.5). The results provide support for the effectiveness of the intervention WazzUp Mama?!
Access options
Buy single article
Instant access to the full article PDF.
US$ 39.95
Tax calculation will be finalised during checkout.
Subscribe to journal
Immediate online access to all issues from 2019. Subscription will auto renew annually.
US$ 79
Tax calculation will be finalised during checkout.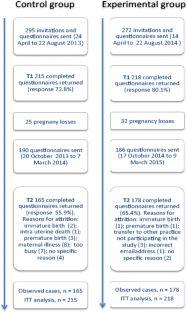 References
Ackerman PL, Cianciolo AT (2000) Cognitive, perceptual-speeds, and psychomotor determinants of individual differences during skill acquisition. J Exp Psychol Appl 6(4):259–290

Bartholomew L, Parcel G, Kok G, Gottlieb N, Fernàndez M (2011) Planning health promotion programs. An intervention mapping approach, 3rd edition. Jossey-Bass, San Francisco

Beddoe AE, Lee KA (2008) Mind-body interventions during pregnancy. J Obstetric, Gynecologic Neonatal Nursing 37:165–175

Bergink V, Kooistra M, van den Berg M, Wijnen H, Bunevicius R, van Baar A et al (2011) Validation of the Edinburgh depression scale during gestation. J Psychosom Res 70:385–389

Brouwers E, van Baar A, Pop V (2001) Maternal anxiety during pregnancy and subsequent infant development. Infant Behav Dev 24:95--106

Campbell NC, Murray E, Darbyshire J, Emery J, Farmer A, Griffiths F, Guthrie et al (2007) Designing and evaluating complex interventions to improve healthcare. BMJ 334:455–459

CBS. [Average income: households according to diverse characteristics]. 2014 Available at http://statline.cbs.nl/StatWeb/publication/?DM=SLNL&PA=80048NED&D1=a&D2=a&D3=0&D4=(l-1)-l&VW=T [Accessed April, 2015]

Crawford JR, Garthwaite PH (2002) Investigation of the single case in neuropsychology: confidence limits on the abnormality of test scores and test scores differences. Neuropsychologia 40:1196–1208

Cupples M, Stewart M, Percy A, Hepper P, Murphy C, Halliday H (2011) A RCT of peer-mentoring for first-time mothers in socially disadvantaged areas (The MOMENTS-study). Arch Dis Child 96:252–258

DiPietro J, Costigan K, Sipsma H (2008) Continuity in self-report measures of maternal anxiety, stress, and depressive symptoms from pregnancy through two years postpartum. J Psychosomatic Obstetrics Gynecology 1:1–10

Field A (2009) Discovering statistics using SPSS, 3rd edn. SAGE Publications Ltd, London

Fontein-Kuipers Y, Budé L, Ausems M, de Vries R, Nieuwenhuijze M (2014) Midwives' behavioural intentions of antenatal management of maternal distress and factors influencing these intentions: an exploratory survey. Midwifery 30:234–241

Fontein-Kuipers Y, van Limbeek E, Ausems M, de Vries R, Nieuwenhuijze M (2015a) Using Intervention Mapping for Systematic Development of a Midwife-Delivered Intervention for Prevention and Reduction of Maternal Distress during Pregnancy. Int J Womens Health Wellness 1:008

Fontein-Kuipers Y, Ausems M, Budé L, van Limbeek E, de Vries R, Nieuwenhuijze M (2015b) Factors influencing maternal distress among Dutch women with a healthy pregnancy. Women Birth 28(30):e36–e43

Harris A, McGregor J, Perencevich E, Furuno J, Zhu J, Peterson D et al (2006) The use of interpretation of quasi-experimental studies in medical informatics. J Am Med Inform Assoc 13(1):16–23

Heron J, O'Connor T, Evans J, Golding J, Glover V (2004) The course of anxiety and depression through pregnancy and the partum in a community sample. J Affect Disord 80:65–73

Huizink AC, Mulder EJ, de Medina PG R, Visser GH, Buitelaar JK (2004) Is pregnancy anxiety a distinctive syndrome? Early Hum Dev 79:81–91

Ickovics J, Reed E, Magriples U, Westdahk C, Schindler Rising S, Kershaw T (2011) Effects of group prenatal care on psychosocial risk in pregnancy: results from a randomised controlled trial. Psychol Health 26:235–250

Loomans E, van Dijk A, Vrijkotte T, van Eijsden M, Stronks K, Gemke R, et al. Psychosocial stress during pregnancy is related to adverse outcomes: results from a large multi-ethnic community-based birth cohort. The European Journal of Public Health. 2012;1–6

Lynn F, Alderdice F, Crealey G, McElnay J (2011) Associations between maternal characteristics and pregnancy-related stress among low-risk mothers: an observational cross-sectional study. Int J Nurs Stud 48:620–627

Matthey S (2010) Are we overpathologising motherhood? J Affect Disord 120:263–266

Matthey S, Phillips J, White T, Glossop P, Hopper U, Panasetis P et al (2004) Routine psychosocial assessment in the antenatal period: frequency of risk factors and implications for clinical service. Archives Womens Mental Health 7:223–229

Matthey S, Henshaw C, Elliot S, Barnett B (2006) Variability in use of cut-off scores and formats on the Edinburgh Postnatal Depression Scale—implications for clinical and research practice. Archives Womens Mental health 9:309–315

Mennes M, Stiers P, Lagae L, Van den Bergh B (2006) Long-term cognitive sequelae of antenatal maternal anxiety: involvement of the orbitofrontal cortex. Neurosci Biobehav Rev 30:1078--1086

Molenberghs G, Thijs H, Jansen I, Beunckens C, Kenward M, Mallinckrodt C et al (2004) Analyzing incomplete longitudinal clinical trial data. Biostatics 5(3):445–464

Morse C, Durkin S (2004) 'Staying the distance': characteristics of women who do not continue in a longitudinal study of pregnancy-related moods. Psychology, Health Med 9(3):293–305

MRC (2006) A framework for development and evaluation of RCTs for complex interventions to improve health. Medical Research Council, London

Mulder E, Robles de Medina P, Huizink A, Van den Bergh B, Buitelaar J, Visser G (2002) Prenatal maternal stress: effects on pregnancy and the (unborn) child. Early Human Development 70:3--14

Murray D, Cox J (1990) Screening for depression during pregnancy with the Edinburgh depression scale (EPDS). J Reproductive Infant Psychology 8:99–107

Nast I, Bolten M, Meinlschmidt G, Helhammer D (2013) How to measure prenatal stress? A systematic review of psychometric instruments to assess psychosocial stress during pregnancy. Paediatr Perinat Epidemiol 27:313–322

Poel Y, Swinkels P, de Vries J (2009) Psychological treatment of women with psychological complaints after pre-eclampsia. J Psychosom Obstet Gynecol 30(10):65–72

Pop V, Komproe I, van Son M (1992) Characteristics of the Edinburgh post-natal depression scale in the Netherlands. J Affect Disord 26:105–110

PRN (2013) The Netherlands perinatal registry trends 1999–2012. Stichting Perinatale Registratie, Utrecht

Reay R, Matthey S, Ellwood D, Scott M (2011) Long-term outcomes of participants in a perinatal depression early detection program. J Affect Disord 129:94–103

RIVM (2013) [Ethnicity: definitions and details] In: Volksgezondheid Toekomst Verkenning, Nationaal Kompas Volksgezondheid versie 4.14. RIVM, Bilthoven

Sauro J, Kindlund E. A method to standardize usability metrics into a single score. CHI. 2005;April 2–7:401–409

Spielberger CD, Gorsuch RL, Lushene RE (1970) Manual for the state trait anxiety inventory. Consulting Psychologists Press, Palo Alto

Svensson J, Barclay L, Cooke M (2009) Randomised-controlled trial of two antenatal education programmes. Midwifery 24:114–125

van Breukelen GJP (2006) ANCOVA versus change from baseline had more power in randomized studies and more bias in nonrandomized studies. J Clin Epidemiol 59:920–925

Van den Bergh B (1990) The influence of maternal emotions during pregnancy on fetal and neonatal behavior. J Prenatal Perinatal Psychology Health 5:119–130

Van den Bergh B, Calster B, Smits T, Van Huffel S, Lagae, L (2008) Antenatal maternal anxiety is related to HPA-axis dysregulation and self-reported depressive symptoms in adolescence: A prospective study on the fetal origins of depressed mood. Neuropsychopharmacology 33:536--545

van der Ploeg H, Defares P, Spielberger C (1980) Manual of self-reported questionnaire. A Dutch translation of the Spielberger State-Trait Anxiety Inventory. Swets and Zeitlinger BV, Lisse

Wiesen JP. Benefits, drawbacks, and pitfalls of z-score weighting. Las Vegas: 30th Annual IPMAAC Conference; 2006
Acknowledgments
The authors would like to thank all the participating midwives, practice assistants, and women who made this study possible and we would like to thank the Promoting Healthy Pregnancy consortium members for their support.
This study is part of the research project 'Promoting Healthy Pregnancy', funded by the Regional Attention and Action for Knowledge (RAAK PRO, ref. 2–014). RAAK is managed by the Foundation Innovation Alliance (SIA) with funding from the Ministry of Education, Culture and Science (OCW).
Contribution to authorship
MN and MA designed the study and YF collected and analysed the data. YF drafted the first manuscript. All authors interpreted the data, contributed to discussion and reviewed or edited the manuscript. All authors take responsibility for the integrity of the data and the accuracy of the data analysis. RdV supervised the study and is the guarantor.
Ethics declarations
Ethical approval was obtained by the Medical Ethical Committee Atrium-Orbis Medical Centre Zuyd (registration no. 13-N-45 (11-N-101)/11-4-2013). The study was registered with the Dutch Trial Registration (TC 4688).
Conflict of interest
"All authors declare that: no support from any organisation for the submitted work; no financial relationships with any organisations that might have an interest in the submitted work in the previous 3 years, no other relationships or activities that could appear to have influenced the submitted work."
About this article
Cite this article
Fontein-Kuipers, Y.J., Ausems, M., de Vries, R. et al. The effect of Wazzup Mama?! An antenatal intervention to prevent or reduce maternal distress in pregnancy. Arch Womens Ment Health 19, 779–788 (2016). https://doi.org/10.1007/s00737-016-0614-8
Received:

Accepted:

Published:

Issue Date:
Keywords
Antenatal intervention

Maternal distress

Depression

Anxiety

Pregnancy-related anxiety