Abstract
The aims of the study were to describe course of depression in both mothers and fathers from the third trimester of pregnancy through 6 months postpartum and to examine the relationship between maternal and paternal depression. Hypotheses were as follows: (a) Depressive symptoms would be correlated between parents and (b) earlier depressive symptoms in one parent would predict later increases in depression in the other. Eighty cohabitating primiparous couples were recruited from prenatal OBGYN visits and community agencies and enrolled during pregnancy, between 28-week gestation and delivery. Participants completed measures of depression on four occasions: baseline and 1, 3, and 6 months postpartum. Ninety-eight percent of the enrolled couples (78; 156 individuals) completed the study. For both mothers and fathers, symptom severity ratings and classification as a probable case were stable across time, with prenatal depression persisting through 6 months in 75 % of mothers and 86 % of fathers. Prenatal depression in fathers predicted worsening depressive symptom severity in mothers across the first six postpartum months but not vice versa. In both expecting/new mothers and fathers, depression demonstrates a stable pattern of occurrence and symptom severity between 28-month gestation and 6 months postpartum. Although prenatal maternal depression is not predictive of symptom change in fathers, mothers with prenatally depressed partners showed significant worsening in overall symptom severity during the first six postpartum months.
Access options
Buy single article
Instant access to the full article PDF.
US$ 39.95
Tax calculation will be finalised during checkout.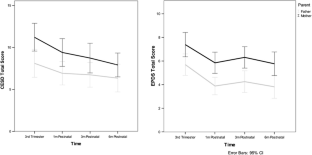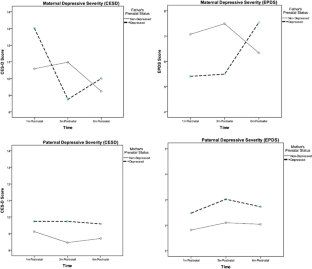 References
American College of Obstetricians and Gynecologists (2010) Screening for depression during and after pregnancy. ACOG, Albany

Beardslee WR, Versage EM, Gladstone TR (1998) Children of affectively ill parents: a review of the past 10 years. J Am Acad Child Adolesc Psychiatry 37:1134–1141

Bennett HA, Einarson A, Taddio A, Koren G, Einarson TR (2004) Prevalence of depression during pregnancy: systematic review. Obstet Gynecol 103:698–709

Bowen A, Bowen R, Butt P, Rahman K, Muhajarine N (2012) Patterns of depression and treatment in pregnant and postpartum women. Can J Psychiatry 57:161–167

Brennan P, Hammen C, Andersen M, Bor W (2000) Chronicity, severity, and timing of maternal depressive symptoms: relationship with child outcomes at age 5. Dev Psychol 36:759–766

Carothers AD, Murray L (1990) Estimating psychiatric morbidity by logistic regression: application to post-natal depression in a community sample. Psychol Med 20:695–702

Cooper PJ, Murray L (1995) Course and recurrence of postnatal depression. Evidence for the specificity of the diagnostic concept. Br J Psychiatry 166:191–195

Cox J (2005) Postnatal depression in fathers. Lancet 366:982

Cox J, Holden J, Sogovsky R (1987) Detection of postnatal depression-development of the 10-item Edinburgh postnatal depression scale. Br J Psychiatry 150:782–786

Davis RN, Davis MM, Freed GL, Clark SJ (2011) Fathers' depression related to positive and negative parenting behaviors with 1-year-old children. Pediatrics 127:612–618. doi:10.1542/peds.2010-1779

Deater-Deckard K, Pickering K, Dunn JF, Golding J (1998) Family structure and depressive symptoms in men preceding and following the birth of a child. The Avon longitudinal study of pregnancy and childhood study team. Am J Psychiatry 155:818–823

Dudley M, Roy K, Kelk N, Bernard D (2001) Psychological correlates of depression in fathers and mothers in the first postnatal year. J Reprod Infant Psychol 19:187–202

Gavin NI, Gaynes BN, Lohr KN, Meltzer-Brody S, Gartlehner G, Swinson T (2005) Perinatal depression: a systematic review of prevalence and incidence. Obstet Gynecol 106:1071–1083. doi:10.1097/01.AOG.0000183597.31630.db

Gaynes BN, Gavin N, Meltzer-Brody S et al (2005) Perinatal depression: prevalence, screening, accuracy, and screening outcomes. Evid Reprod Technol Assess (Summ) 119:1–8

Goodman JH (2004) Paternal postpartum depression, its relationship to maternal postpartum depression, and implications for family health. J Adv Nurs 45:26–35

Gotlib I, Whiffen V, Mount J, Milne K, Cordy N (1989) Prevalence rates and demographic characteristics associated with depression in pregnancy and postpartum. J Consult Clin Psychol 57:269–274

Heron J, O'Connor TG, Evans J, Golding J, Glover V (2004) The course of anxiety and depression through pregnancy and the postpartum in a community sample. J Affect Disord 80:65–73. doi:10.1016/j.jad.2003.08.004

Horowitz JA, Goodman J (2004) A longitudinal study of maternal postpartum depression symptoms. Res Theory Nurs Pract 18:149–163

Klier CM, Rosenblum KL, Zeller M, Steinhardt K, Bergemann N, Muzik M (2008) A multirisk approach to predicting chronicity of postpartum depression symptoms. Depress Anxiety 25:718–724. doi:10.1002/da.20419

Lee DT, Chung TK (2007) Postnatal depression: an update. Best Pract Res Clin Obstet Gynaecol 21:183–191. doi:10.1016/j.bpobgyn.2006.10.003

Lee AM, Lam SK, Sze Mun Lau SM, Chong CS, Chui HW, Fong DY (2007) Prevalence, course, and risk factors for antenatal anxiety and depression. Obstet Gynecol 110:1102–1112. doi:10.1097/01.AOG.0000287065.59491.70

Madsen SA, Juhl T (2007) Paternal depression in the postnatal period assessed with traditional and male depression scales. J Men's Health Gender 4:26–31

Matthey S, Barnett B, Ungerer J, Waters B (2000) Paternal and maternal depressed mood during the transition to parenthood. J Affect Disord 60:75–85

Matthey S, Barnett B, Kavanagh DJ, Howie P (2001) Validation of the Edinburgh Postnatal Depression Scale for men, and comparison of item endorsement with their partners. J Affect Disord 64:175–184

Monti F, Agostini F, Marano G, Lupi F (2008) The course of maternal depressive symptomatology during the first 18 months postpartum in an Italian sample. Arch Womens Ment Health 11:231–238. doi:10.1007/s00737-008-0017-6

Moss KM, Skouteris H, Wertheim EH, Paxton SJ, Milgrom J (2009) Depressive and anxiety symptoms through late pregnancy and the first year post birth: an examination of prospective relationships. Arch Womens Ment Health 12:345–349. doi:10.1007/s00737-009-0086-1

Paulson JF, Bazemore SD (2010) Prenatal and postpartum depression in fathers and its association with maternal depression: a meta-analysis. JAMA 303:1961–1969. doi:10.1001/jama.2010.605

Paulson JF, Keefe HA, Leiferman JA (2009) Early parental depression and child language development. J Child Psychol Psychiatry 50:254–262. doi:10.1111/j.1469-7610.2008.01973.x

Perren S, von Wyl A, Burgin D, Simoni H, von Klitzing K (2005) Depressive symptoms and psychosocial stress across the transition to parenthood: associations with parental psychopathology and child difficulty. J Psychosom Obstet Gynaecol 26:173–183

Radloff LS (1977) The CES-D scale: a self-report depression scale for research in the general population. J Appl Psychol Measure 1:385–401

Ramchandani P, Stein A, Evans J, O'Connor TG (2005) Paternal depression in the postnatal period and child development: a prospective population study. Lancet 365:2201–2205

Ramchandani PG, Stein A, O'Connor TG, Heron J, Murray L, Evans J (2008) Depression in men in the postnatal period and later child psychopathology: a population cohort study. J Am Acad Child Adolesc Psychiatry 47:390–398

Raskin VD, Richman JA, Gaines C (1990) Patterns of depressive symptoms in expectant and new parents. Am J Psychiatry 147:658–660

Schumacher M, Zubaran C, White G, White G (2008) Bringing birth-related paternal depression to the fore women and birth. J Aust College Midwives 21:65–70

Vredenburg K, Flett GL, Krames L (1993) Analog versus clinical depression - a critical reappraisal. Psychol Bull 113:327–344. doi:10.1037/0033-2909.113.2.327
Acknowledgments
Portions of this work were funded by a grant from the Eunice Kennedy Shriver National Institute of Child Health and Human Development (1R21HD060942). 3
Ethics declarations
Conflict of interest
The authors report no conflicts of interest.
About this article
Cite this article
Paulson, J.F., Bazemore, S.D., Goodman, J.H. et al. The course and interrelationship of maternal and paternal perinatal depression. Arch Womens Ment Health 19, 655–663 (2016). https://doi.org/10.1007/s00737-016-0598-4
Received:

Accepted:

Published:

Issue Date:
Keywords
Depression

Family

Fathers

Perinatal depression