Abstract
The purpose of this study is to examine the association between oral contraceptive use (any current use, duration, and type) and major depressive disorder (MDD), generalized anxiety disorder (GAD), and panic disorder (PD) in a nationally representative sample of women in the USA. Data were drawn from 1,105 women aged 20–39 in the National Health and Nutrition Examination Surveys from 1999 to 2004. The associations between self-reported use of oral contraceptives in the past year and DSM-IV diagnosed and subthreshold MDD, GAD, and PD in the past year were assessed comparing oral contraceptive users to all non-users, former users, and former long-term users. Women using oral contraceptives had a lower past-year prevalence of all disorders assessed, other than subthreshold MDD. When adjusted for confounders, women using oral contraceptives in the past year had significantly lower odds of subthreshold PD, compared to former users (odds ratio (OR) = 0.34, 95 % CI 0.14–0.84). Effects estimates were strongest for monophasic (versus multiphasic) oral contraceptive users. Hormonal contraceptive use was associated with reduced risk of subthreshold PD. A potential mental health benefit of hormonal contraceptives has substantial public health implications; prospective longitudinal studies are needed to confirm whether hormonal contraceptive use improves mental health.
Access options
Buy single article
Instant access to the full article PDF.
USD 39.95
Price excludes VAT (USA)
Tax calculation will be finalised during checkout.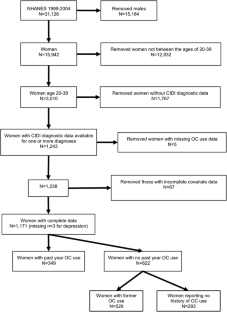 References
Abraham S, Luscombe G, Soo I (2003) Oral contraception and cyclic changes in premenstrual and menstrual experiences. J Psychosom Obstet Gynaecol 24(3):185–193

Altshuler LL, Hendrick V, Cohen LS (1998) Course of mood and anxiety disorders during pregnancy and the postpartum period. J Clin Psychiatry 59(Suppl 2):29–33

Arpels JC (1996) The female brain hypoestrogenic continuum from the premenstrual syndrome to menopause. A hypothesis and review of supporting data. J Reprod Med 41(9):633–639

Brambilla F, Biggio G, Pisu MG, Bellodi L, Perna G, Bogdanovich-Djukic V, Purdy RH, Serra M (2003) Neurosteroid secretion in panic disorder. Psychiatry Res 118(2):107–116

Burkman RT, Collins JA, Shulman LP, Williams JK (2001) Current perspectives on oral contraceptive use. Am J Obstet Gynecol 185(2 Supplement):S4–S12

Duke JM, Sibbritt DW, Young AF (2007) Is there an association between the use of oral contraception and depressive symptoms in young Australian women? Contraception 75(1):27–31

Fleischman DS, Navarrete CD, Fessler DM (2010) Oral contraceptives suppress ovarian hormone production. Psychol Sci 21(5):750–752

Greco T, Graham CA, Bancroft J, Tanner A, Doll HA (2007) The effects of oral contraceptives on androgen levels and their relevance to premenstrual mood and sexual interest: a comparison of two triphasic formulations containing norgestimate and either 35 or 25 microg of ethinyl estradiol. Contraception 76(1):8–17

Halbreich U, Kahn LS (2001) Role of estrogen in the aetiology and treatment of mood disorders. CNS Drugs 15(10):797–817

Jensen JT, Speroff L (2000) Health benefits of oral contraceptives. Obstet Gynecol Clin N Am 27(4):705–721

Joffe H, Cohen LS (1998) Estrogen, serotonin, and mood disturbance: where is the therapeutic bridge? Biol Psychiatry 44(9):798–811

Joffe H, Cohen LS, Harlow BL (2003) Impact of oral contraceptive pill use on premenstrual mood: predictors of improvement and deterioration. Am J Obstet Gynecol 189(6):1523–1530

Kaspi SP, Otto MW, Pollack MH, Eppinger S, Rosenbaum JF (1994) Premenstrual exacerbation of symptoms in women with panic disorder. J Anxiety Disord 8(2):131–138

Kessler RC, Petukhova M, Sampson NA, Zaslavsky AM, Wittchen HU (2012) Twelve-month and lifetime prevalence and lifetime morbid risk of anxiety and mood disorders in the United States. Int J Methods Psychiatr Res 21(3):169–184

Keyes KM, Cheslack-Postava K, Westhoff C, Heim CM, Haloossim MR, Walsh K, Koenen KC (2013) Hormonal contraception use is associated with reduced depressive symptoms: a national study of sexually active women in the US. Am J Epidemiol 178(9):1378–1388

Klein DF (1993) False suffocation alarms, spontaneous panics, and related conditions. An integrative hypothesis. Arch Gen Psychiatry 50(4):306–317

Logue CM, Moos RH (1986) Perimenstrual symptoms: prevalence and risk factors. Psychosom Med 48(6):388–414

Lopez LM, Kaptein AA, Helmerhorst FM (2012) Oral contraceptives containing drospirenone for premenstrual syndrome. Cochrane Database Syst Rev 2, CD006586. doi:10.1002/14651858.CD006586.pub4

Moreau C, Cleland K, Trussell J (2007) Contraceptive discontinuation attributed to method dissatisfaction in the United States. Contraception 76(4):267–272

Mosher WD, Jones J (2010) Use of contraception in the United States: 1982–2008. Center for Disease Control and Prevention, Washington, DC

Natale V, Albertazzi P (2006) Mood swings across the menstrual cycle: a comparison between oral contraceptive users and non-users. Biol Rhythm Res 37(6):489–495

National Center for Health Statistics (a). National Health and Nutrition Examination Survey, 2013–2014 overview. http://www.cdc.gov/nchs/data/nhanes/nhanes_13_14/2013-14_overview_brochure.pdf. Accessed 04/05/13

National Center for Health Statistics (b). NHANES response rates and population totals. http://www.cdc.gov/nchs/nhanes/response_rates_cps.htm. Accessed November 6, 2013

National Comorbidity Study. Table 2. 12-month prevalence of DSM-IV/WMH-CIDI disorders by sex and cohort (n = 9282). http://www.hcp.med.harvard.edu/ncs/ftpdir/NCS-R_12-month_Prevalence_Estimates.pdf. Accessed 05/01/2013

Nillni YI, Toufexis DJ, Rohan KJ (2011) Anxiety sensitivity, the menstrual cycle, and panic disorder: a putative neuroendocrine and psychological interaction. Clin Psychol Rev 31(7):1183–1191

Oinonen KA, Mazmanian D (2002) To what extent do oral contraceptives influence mood and affect? J Affect Disord 70(3):229–240

Payne JL (2003) The role of estrogen in mood disorders in women. Int Rev Psychiatry 15(3):280–290

Payne JL, Roy PS, Murphy-Eberenz K, Weismann MM, Swartz KL, McInnis MG, Nwulia E, Mondimore FM, MacKinnon DF, Miller EB, Nurnberger JI, Levinson DF, DePaulo JR Jr, Potash JB (2007) Reproductive cycle-associated mood symptoms in women with major depression and bipolar disorder. J Affect Disord 99(1–3):221–229

Peters L, Clark D, Carroll F (1998) Are computerized interviews equivalent to human interviewers? CIDI-Auto versus CIDI in anxiety and depressive disorders. Psychol Med 28(4):893–901

Rucci P, Gherardi S, Tansella M, Piccinelli M, Berardi D, Bisoffi G, Corsino MA, Pini S (2003) Subthreshold psychiatric disorders in primary care: prevalence and associated characteristics. J Affect Disord 76(1–3):171–181

Schultz-Zehden B, Boschitsch E (2006) User experience with an oral contraceptive containing ethinylestradiol 30mug and drospirenone 3 mg (Yasmin ®) in clinical practice. Treat Endocrinol 5(4):251–256

Short M (2009) User satisfaction with the combined oral contraceptive drospirenone 3 mg/ethinylestradiol 20 microg (Yasminelle) in clinical practice: a multi-country, questionnaire-based study. Clin Drug Investig 29(3):153–159

Stuart JE, Secura GM, Zhao Q, Pittman ME, Peipert JF (2013) Factors associated with 12-month discontinuation among contraceptive pill, patch, and ring users. Obstet Gynecol 121(2 Pt 1):330–336

Taneepanichskul S, Patrachai S (1998) Effects of long-term treatment with depot medroxy progesterone acetate for contraception on estrogenic activity. J Med Assoc Thai 81(12):944–946

Targum SD, Caputo KP, Ball SK (1991) Menstrual cycle phase and psychiatric admissions. J Affect Disord 22(1–2):49–53

Toffol E, Heihinheimo O, Koponen P, Luoto R, Partonen T (2011) Hormonal contraception and mental health: results of a population-based study. Hum Reprod 26(11):3085–3093

Walker A, Bancroft J (1990) Relationship between premenstrual symptoms and oral contraceptive use: a controlled study. Psychosom Med 52(1):86–96

Westhoff CL, Heartwell S, Edwards S, Zieman M, Stuart G, Cwiak C, Davis A, Robilotto T, Cushman L, Kalmuss D (2007) Oral contraceptive discontinuation: do side effects matter? Am J Obstet Gynecol 196(4):412, e411-416

WHO (1997) CIDI-Auto version 2.1: Administrator's guide and reference. Training and Reference Centre for WHO CIDI, Sydney

Wittchen HU (1994) Reliability and validity studies of the WHO-Composite International Diagnostic Interview (CIDI): a critical review. J Psychiatr Res 28(1):57–84

Young EA, Altemus M (2004) Puberty, ovarian steroids, and stress. Ann N Y Acad Sci 1021(1):124–133

Young EA, Midgley AR, Carlson NE, Brown MB (2000) Alteration in the hypothalamic-pituitary-ovarian axis in depressed women. Arch Gen Psychiatry 57(12):1157–1162

Zeidan MA, Igoe SA, Linnman C, Vitalo A, Levine JB, Klibanski A, Goldstein JM, Milad MR (2011) Estradiol modulates medial prefrontal cortex and amygdala activity during fear extinction in women and female rats. Biol Psychiatry 70(10):920–927
Acknowledgments
The authors would like to acknowledge Michelle Haloossim for the literature review and writing assistance and Kirstin H. Heinrich for the assistance with literature review and figure preparation. At the time of manuscript preparation, Ms. Haloossim was a student in the Department of Sociomedical Sciences and Ms. Heinrich was a student in the Department of Epidemiology at the Columbia University Mailman School of Public Health. Funding for this study was provided by the National Institute of Mental Health (2-T32-MH-13043 to KCP and SRL and K01-AA021511 to KMK).
Conflict of interest
The authors declare that they have no conflicts of interest.
About this article
Cite this article
Cheslack-Postava, K., Keyes, K.M., Lowe, S.R. et al. Oral contraceptive use and psychiatric disorders in a nationally representative sample of women. Arch Womens Ment Health 18, 103–111 (2015). https://doi.org/10.1007/s00737-014-0453-4
Received:

Accepted:

Published:

Issue Date:

DOI: https://doi.org/10.1007/s00737-014-0453-4
Keywords
Generalized anxiety disorder

Hormonal contraceptives

Major depressive disorder

Oral contraceptives

Panic disorder