Abstract
The purpose of this study is to develop a scale (Perinatal Anxiety Screening Scale, PASS) to screen for a broad range of problematic anxiety symptoms which is sensitive to how anxiety presents in perinatal women and is suitable to use in a variety of settings including antenatal clinics, inpatient and outpatient hospital and mental health treatment settings. Women who attended a tertiary obstetric hospital in the state of Western Australia antenatally or postpartum (n = 437) completed the PASS and other commonly used measures of depression and anxiety. Factor analysis was used to examine factor structure, and ROC analysis was used to evaluate performance as a screening tool. The PASS was significantly correlated with other measures of depression and anxiety. Principal component analyses (PCA) suggested a four-factor structure addressing symptoms of (1) acute anxiety and adjustment, (2) general worry and specific fears, (3) perfectionism, control and trauma and (4) social anxiety. The four subscales and total scale demonstrated high to excellent reliabilities. At the optimal cutoff score for detecting anxiety as determined by ROC analyses, the PASS identified 68 % of women with a diagnosed anxiety disorder. This was compared to the EPDS anxiety subscale which detected 36 % of anxiety disorders. The PASS is an acceptable, valid and useful screening tool for the identification of risk of significant anxiety in women in the perinatal period.
Access options
Buy single article
Instant access to the full article PDF.
US$ 39.95
Tax calculation will be finalised during checkout.
Subscribe to journal
Immediate online access to all issues from 2019. Subscription will auto renew annually.
US$ 79
Tax calculation will be finalised during checkout.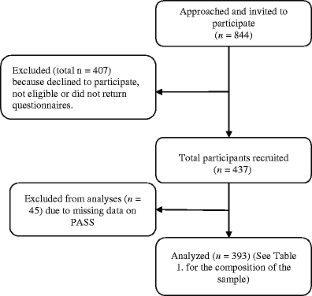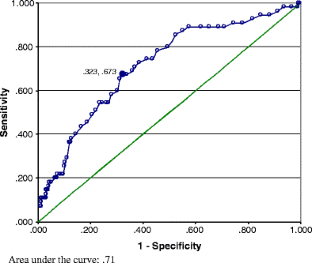 References
Andersson L, Sundström-Poromaa I, Wulff M, Åström M, Bixo M (2004) Implications of antenatal depression and anxiety for obstetric outcome. Obstet Gynecol 104:467–476

Austin M, Highet N (2011) Guidelines expert advisory committee: clinical practice guidelines for depression and related disorders—anxiety, bipolar disorder and puerperal psychosis—in the perinatal period. A guideline for primary care professionals. Beyond Blue - The National Depression Initiative, Melbourne

Beck A, Steer R, Ball R, Ranieri W (1996a) Comparison of Beck Depression Inventories—IA and II in psychiatric outpatients. J Pers Assess 67:588–597

Beck A, Steer R, Brown G (1996b) Beck Depression Inventory: second edition manual. Psychological Corporation, San Antonio

Beck AT, Steer RA (1993) Beck Anxiety Inventory Manual. Psychological Association, San Antonio

Beck CT (2004) Post-traumatic stress disorder due to childbirth: the aftermath. Nurs Res 53:216–224

Bergman K, Sarkar P, Glover V, O'Connor TG (2010) Maternal prenatal cortisol and infant cognitive development: moderation by infant-mother attachment. Biol Psychiatry 67:1026–1032

Beyondblue (2013) Anxiety during pregnancy and early parenthood from http://www.beyondblue.org.au/resources/for-me/pregnancy-and-early-parenthood/mental-heath-conditions/anxiety. Accessed 10 Jan 2013

Borri C, Mauri M, Oppo A, Banti S, Rambelli C, Ramacciotti D et al (2008) Axis I psychopathology and functional impairment at the third month of pregnancy: results from the Perinatal Depression-Research and Screening Unit (PND-ReScU) study. J Clin Psychiatry 69:1617–1624

Burns DD, Eidelson RJ (1998) Why are depression and anxiety correlated? A test of the tripartite model. J Consult Clin Psychol 66:461

Cattell RB (1966) The scree test for the number of factors. Multivar Behav Res 1:245–276

Condon JT, Corkindale CJ (1997) The assessment of depression in the postnatal period: a comparison of four self-report questionnaires. Aust N Z J Psychiatry 31:353–359

Cox J, Holden J, Sagovsky R (1987) Detection of postnatal depression. Development of the 10-item Edinburgh Postnatal Depression Scale. Br J Psychiatry 150:782–786

Field A (2009) Discovering statistics using SPSS, 3rd edn. Sage, London

Field T, Diego M, Hernandez-Reif M, Figueiredo B, Deeds O, Ascencio A et al (2010) Comorbid depression and anxiety effects on pregnancy and neonatal outcome. Infant Behav Dev 33:23–29

Field T, Diego M, Hernandez-Reif M, Figueiredo B, Schanberg S, Kuhn C (2007) Sleep disturbances in depressed pregnant women and their newborns. Infant Behav Dev 30:127–133

Figueiredo B, Conde A (2011) Anxiety and depression in women and men from early pregnancy to 3-months postpartum. Arch Wom Ment Health 14:247–255

George D, Mallery M (2003) Using SPSS for Windows step by step: a simple guide and reference. Allyn & Bacon, Boston

Glasheen C, Richardson GA, Fabio A (2010) A systematic review of the effects of postnatal maternal anxiety on children. Arch Wom Ment Health 13:61–74

Grant KA, McMahon C, Austin MP (2008) Maternal anxiety during the transition to parenthood: a prospective study. J Affect Disord 108:101–111

Harris B, Huckle P, Thomas R, Johns S, Fung H (1989) The use of rating scales to identify post-natal depression. Br J Psychiatry 154:813–817

Heron J, O'Connor TG, Evans J, Golding J, Glover V (2004) The course of anxiety and depression through pregnancy and the postpartum in a community sample. J Affect Disord 80:65–73

Huizink AC, Mulder EJH, Robles de Medina PG, Visser GHA, Buitelaar JK (2004) Is pregnancy anxiety a distinctive syndrome? Early Hum Dev 79:81–91

Ibanez G, Charles M, Forhan A, Magnin G, Thiebaugeorges O, Kaminski M, Saurel-Cubizolles M (2012) Depression and anxiety in women during pregnancy and neonatal outcome: data from the EDEN mother–child cohort. Early Hum Dev 88:643–649

Johnson RC, Slade P (2003) Obstetric complications and anxiety during pregnancy: is there a relationship? Psychosom Obstet Gynaecol 24:1–14

Joyce A, Hutchinson M (2012) Western Australia's Mothers and Babies 2010: Twenty-eighth Annual Report of the Western Australian Midwives' Notification System. Department of Health, Western Australia

Kincaid J P, Fishburne R P, Rogers R L, Chissom B S (1975) Derivation of New Readability Formulas (Automated Readability Index, Fog Count, and Flesch Reading Ease formula) for Navy Enlisted Personnel. Research Branch Report 8–75. Chief of Naval Technical Training, Naval Air Station Memphis

Lamers F, van Oppen P, Comijs HC, Smit JH, Spinhoven P, van Balkom AJ et al (2011) Comorbidity patterns of anxiety and depressive disorders in a large cohort study: the Netherlands Study of Depression and Anxiety (NESDA). J Clin Psychol 72:341–348

Levin JS (1991) The factor structure of the pregnancy anxiety scale. J Health Soc Behav 32:368–381

Lovibond PF, Lovibond SH (1995) The structure of negative emotional states: comparison of the Depression Anxiety Stress Scales (DASS) with the Beck Depression and Anxiety Inventories. Behav Res Ther 33:335–343

Matthey S (2008) Using the Edinburgh Postnatal Depression Scale to screen for anxiety disorders. Depression Anxiety 25:926–931

Matthey S, Fisher J, Rowe H (2013) Using the Edinburgh postnatal depression scale to screen for anxiety disorders: conceptual and methodological considerations. J Affect Disord 146:224–230

Matthey S, Barnett B, Howie P, Kavanagh DJ (2003) Diagnosing postpartum depression in mothers and fathers: whatever happened to anxiety? J Affect Disord 74:139–147

Meades R, Ayers S (2011) Anxiety measures validated in perinatal populations: a systematic review. J Affect Disord 133:1–15

Milgrom J, Gemmill AW, Bilszta JL, Hayes B, Barnett B, Brooks J et al (2008) Antenatal risk factors for postnatal depression: a large prospective study. J Affect Disord 108:147–157

Moss KM, Skouteris H, Wertheim EH, Paxton SJ, Milgrom J (2009) Depressive and anxiety symptoms through late pregnancy and the first year post birth: an examination of prospective relationships. Arch Wom Ment Health 12:345–349

Murray D, Cox JL (1990) Screening for depression during pregnancy with the Edinburgh Depression Scale (EDDS). J Reprod Infant Psychol 8:99–107

Muzik M, Klier CM, Rosenblum KL, Holzinger A, Umek W, Katschnig H (2000) Are commonly used self-report inventories suitable for screening postpartum depression and anxiety disorders? Acta Psychiatr Scand 102:71–73

O'Connor TG, Heron J, Golding J, Beveridge M, Glover V (2002) Maternal antenatal anxiety and children's behavioural/emotional problems at 4 years. Br J Psychiatry 180:502–508

O'Hara MW, Stuart S, Watson D, Dietz PM, Farr SL, D'Angelo D (2012) Brief scales to detect postpartum depression and anxiety symptoms. J Wom Health 21:1237–1243

Osman A, Wong JL, Bagge CL, Freedenthal S, Gutierrez PM, Lozano G (2012) The Depression Anxiety Stress Scales-21 (DASS21): further examination of dimensions, scale reliability, and correlates. J Clin Psychol 68:1322–1338

Phillips J, Sharpe L, Matthey S (2007) Rates of depressive and anxiety disorders in a residential mother–infant unit for unsettled infants. Aust N Z J Psychiatry 41:836–842

Phillips J, Sharpe L, Matthey S, Charles M (2009) Maternally focused worry. Arch Wom Ment Health 12:409–418

Ross LE, Gilbert Evans SE, Sellers EM, Romach MK (2003) Measurement issues in postpartum depression part 1: anxiety as a feature of postpartum depression. Arch Wom Ment Health 6:51–57

Ross LE, McLean LM (2006) Anxiety disorders during pregnancy and the postpartum period: a systematic review. J Clin Psychiatry 67:1285–1298

Rowe H, Fisher J, Loh W (2008) The Edinburgh Postnatal Depression Scale detects but does not distinguish anxiety disorders from depression in mothers of infants. Arch Wom Ment Health 11:103–108

Spielberger CD, Gorsuch R, Lushene R, Vagg P, Jacobs G (1983) Manual for the State-Trait Anxiety Inventory. Consulting Psychologists, Palo Alto

Stein A, Craske MG, Lehtonen A, Harvey A, Savage-McGlynn E, Davies B et al (2012) Maternal cognitions and mother-infant interaction in postnatal depression and generalized anxiety disorder. J Abnorm Psychol 121:795–809

Stevenson-Hinde J, Shouldice A, Chicot R (2011) Maternal anxiety, behavioral inhibition, and attachment. Attach Hum Dev 13:199–215

Sutter-Dallay A, Giaconne-Marcesche V, Glatigny-Dallay E, Verdoux H (2004) Women with anxiety disorders during pregnancy are at increased risk of intense postnatal depressive symptoms: a prospective survey of the MATQUID cohort. Eur Psychiatry 19:459

Swallow BL, Lindow S, Masson E, Hay D (2003) The use of the General Health Questionnaire (GHQ-28) to estimate prevalence of psychiatric disorder in early pregnancy. Psychol Health Med 8:213–217

Van den Bergh B (1989) De emotionele toestand van de (zwangere) vrouw, obstetrische complicaties en het gedrag en de ontwikkeling van de foetus en van het kind tot de leeftijd van zeven maanden [The emotional state of the (pregnant) woman, obstetrical complications and the behavior and development of fetus and child until seven months after birth] (PhD) Catholic University Leuven, Leuven

Velicer WF, Eaton CA, Fava JL (2000) Construct explication through factor or component analysis: a review and evaluation of alternative procedures for determining the number of factors or components. In: Goffin RD, Helmes E (eds) Problems and solutions in human assessment: honoring Douglas N Jackson at seventy. Kluwer, Boston

Wadhwa PD, Sandman CA, Porto M, Dunkel-Schetter C, Garite TJ (1993) The emotional state of the (pregnant) woman, obstetrical complications and the behavior and development of fetus and child until seven months after birth. Am J Obstet Gynecol 169:858

Zambaldi CF, Cantilino A, Farias JA, Moraes GP, Botelho Sougey E (2011) Dissociative experience during childbirth. J Psychosom Obstet Gynecol 32:204–209

Zigmond AS, Snaith R (1983) The Hospital Anxiety and Depression Scale. Acta Psychiatry Scand 67:361–370
Acknowledgments
The authors wish to thank the women who participated in this research. The authors would also like to thank the late Associate Prof. Jon Rampono, Dr. Jane Fisher, Dr. Janette Brooks, Nadia Cunningham, Maree Brice-Pozzi and the admissions and nursing staff at the Mother and Baby Unit for their input and support. We are grateful to Channel 7 Telethon for funding this project and the Women and Infants Research Foundation for providing research support.
Additional information
The PASS is copyrighted to the Western Australian Department of Health and is available via inquiry at PsychologicalMedicinePASS.WNHSWHCCU@health.wa.gov.au
Electronic supplementary material
Below is the link to the electronic supplementary material.
About this article
Cite this article
Somerville, S., Dedman, K., Hagan, R. et al. The Perinatal Anxiety Screening Scale: development and preliminary validation. Arch Womens Ment Health 17, 443–454 (2014). https://doi.org/10.1007/s00737-014-0425-8
Received:

Accepted:

Published:

Issue Date:
Keywords
Perinatal

Pregnancy

Postnatal

Screening

Anxiety disorders