Abstract
Previous longitudinal studies have demonstrated that poor sleep may precede depression and anxiety. The current study examined the association between self-reported sleeping difficulties and new onset depression and anxiety in young women. A nationally representative sample of 9,683 young women from the Australian Longitudinal Study of Women's Health was analyzed. Women were surveyed in 2000 (aged 22 to 25 years), 2003, 2006, and 2009. Generalized estimating equations were used to examine the association between sleeping difficulties in 2000 and new-onset depression (excluding postnatal depression) and anxiety at each subsequent survey. Significant increased risk of new onset depression (odds ratio (OR) = 2.6 in 2003; OR = 4.4 in 2006; OR = 4.4 in 2009) and anxiety (OR = 2.4 in 2006; OR = 2.9 in 2009) was found at each follow-up survey in women who reported sleeping difficulties "often" in 2000. Further research is needed to uncover the mechanisms underlying the link between sleep problems and mental health.
Access options
Buy single article
Instant access to the full article PDF.
USD 39.95
Price excludes VAT (USA)
Tax calculation will be finalised during checkout.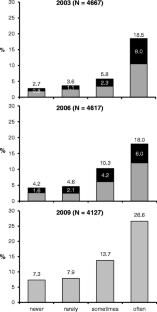 References
Armitage R, Trivedi M, Hoffmann R, Rush AJ (1997) Relationship between objective and subjective sleep measures in depressed patients and healthy controls. Depression Anx 5:97–102

Australian Longitudinal Study on Women's Health (2011) Women's Health Australia data map. http://www.alswh.org.au/images/content/pdf/InfoData/Data_Map/Data%20Map.pdf

Baglioni C, Battagliese G, Feige B, Spiegelhalder K, Nissen C, Voderholzer U, Lombardo C, Riemann D (2011) Insomnia as a predictor of depression: a meta-analytic evaluation of longitudinal epidemiological studies. J Affect Disord 135(1–3):10–19

Begg S, Vos T, Barker B, Stevenson C, Stanley L, Lopez AD (2007) The burden of disease and injury in Australia 2003. AIHW, Canberra

Blackwell T, Yaffe K, Ancoli-Israel S, Schneider JL, Cauley JA, Hillier TA, Fink HA, Stone KL (2006) Poor sleep is associated with impaired cognitive function in older women: the study of osteoporotic fractures. J Gerontol Series A 61(4):405–410

Breslau N, Roth T, Rosenthal L, Andreski P (1996) Sleep disturbance and psychiatric disorders: a longitudinal epidemiological study of young adults. Biol Psychiatry 39(6):411–418

Bruck D, Astbury J (2012) Population study on the predictors of sleeping difficulties in young Australian women. Behav Sleep Med 10(2):84–95

Buysse DJ, Angst J, Gamma A, Ajdacic V, Eich D, Rössler W (2008) Prevalence, course, and comorbidity of insomnia and depression in young adults. Sleep 31(4):473–480

Byles JE, Mishra GD, Harris MA (2005) The experience of insomnia among older women. Sleep 28(8):972–979

Byles JE, Mishra GD, Harris MA, Nair K (2003) The problems of sleep for older women: changes in health outcomes. Age Ageing 32(2):154–163

Carr-Gregg MRC, Enderby KC, Grover SR (2003) Risk-taking behaviour of young women in Australia: screening for health-risk behaviours. Medical J Aust 178:601–604

Carskadon MA (2002) Factors influencing sleep patterns of adolescents. In: Carskadon MA (ed) Adolescent sleep patterns: biological, social, and psychological influences. Cambridge University Press, New York, pp 4–26

Chang PP, Ford DE, Mead LA, Cooper-Patrick L, Klag MJ (1997) Insomnia in young men and subsequent depression. Am J Epidemiol 146(2):105–114

Clarke G, Harvey AG (2012) The complex role of sleep in adolescent depression. Child Adolesc Psychiatr Clin N Am 21(2):385–400

Colrain I, Baker F (2011) Changes in sleep as a function of adolescent development. Neuropsychol Rev 21(1):5–21. doi:10.1007/s11065-010-9155-5

Dobson KS, Dozois DJ (2011) Risk factors in depression. Academic, San Diego

Dodge R, Cline MG, Quan SF (1995) The natural history of insomnia and its relationship to respiratory symptoms. Arch Intern Med 155(16):1797–1800

Drake C, Richardson G, Roehrs T, Scofield H, Roth T (2004) Vulnerability to stress-related sleep disturbance and hyperarousal. Sleep 27(2):285–292

Gangwisch JE, Babiss LA, Malaspina D, Turner JB, Zammit GK, Posner K (2010) Earlier parental set bedtimes as a protective factor against depression and suicidal ideation. Sleep 33(1):97–106

Gillin JC (1998) Are sleep disturbances risk factors for anxiety, depressive and addictive disorders? Acta Psychiatrica Scand 98:39–43

Hall M, Buysse DJ, Nofzinger EA, Reynolds CF, Thompson W, Mazumdar S, Monk TH (2008) Financial strain is a significant correlate of sleep continuity disturbances in late-life. Biol Psychol 77:217–222

Hillman DR, Lack L (2013) Public health implications of sleep loss: the community burden. Medical J Aust 199(8):7–10

Jackson M, Bruck D (2012) Sleep abnormalities in chronic fatigue syndrome/myalgic encephalomyelitis: a review. J Clin Sleep Med 8:719–728

Jansson-Fröjmark M, Lindblom K (2008) A bidirectional relationship between anxiety and depression, and insomnia? A prospective study in the general population. J Psychosom Res 64(4):443–449

Johnson EO, Roth T, Breslau N (2006) The association of insomnia with anxiety disorders and depression: exploration of the direction of risk. J Psychiatr Res 40(8):700–708

Jorm AF (2000) Does old age reduce the risk of anxiety and depression? A review of epidemiological studies across the adult life span. Psychol Med 30(1):11–22

Lee C, Dobson AJ, Brown WJ, Bryson L, Byles J, Warner-Smith P, Young AF (2005) Cohort profile: the Australian Longitudinal Study on Women's Health. Int J Epidemiol 34:987–991

Leineweber C, Kecklund G, Janszky I, Akerstedt T, Orth-Gomer K (2003) Poor sleep increases the prospective risk for recurrent events in middle-aged women with coronary disease: the Stockholm Female Coronary Risk Study. J Psychosom Res 54(2):121–127

Majde JA, Krueger JM (2005) Links between the innate immune system and sleep. J Allergy Clin Immunol 116:1188–1198

Manber R, Edinger JD, Gress JL, San Pedro-Salcedo MG, Kuo TF, Kalista T (2008) Cognitive behavioral therapy for insomnia enhances depression outcome in patients with comorbid major depressive disorder and insomnia. Sleep 31(4):489–495

Mills PJ, von Känel R, Norman D, Natarajan L, Ziegler MG, Dimsdale JE (2007) Inflammation and sleep in healthy individuals. Sleep 30:729–735

Motivala SJ, Sarfatti A, Olmos L, Irwin MR (2005) Inflammatory markers and sleep disturbance in major depression. Psychosom Med 67:187–194

Murray CJL, Lopez AD (1997) Alternative projections of mortality and disability by cause 1990–2020: Global Burden of Disease Study. Lancet 349(9064):1498–1504

Neckelmann D, Mykletun A, Dahl AA (2007) Chronic insomnia as a risk factor for developing anxiety and depression. Sleep 30(7):873–880

Novati A, Roman V, Cetin T, Hagewoud R, Den Boer JA, Luiten PGM, Meerlo P (2008) Chronically restricted sleep leads to depression-like changes in neurotransmitter receptor sensitivity and neuroendocrine stress reactivity in rats. Sleep 31(11):1579–1585

Ohayon MM (2002) Epidemiology of insomnia: what we know and what we still need to learn. Sleep Med Rev 6(2):97–111

Ohayon MM, Reynolds CF (2009) Epidemiological and clinical relevance of insomnia diagnosis algorithms according to the DSM-IV and the International Classification of Sleep Disorders (ICSD). Sleep Med 10(9):952–960

Okun ML, Hall M, Coussons-Read ME (2007) Sleep disturbances increase interleukin-6 production during pregnancy: implications for pregnancy complications. Reproductive Sci 14:560–567

Okun ML, Luther JF, Wisniewski SR, Wisner KL (2013) Disturbed sleep and inflammatory cytokines in depressed and nondepressed pregnant women: an exploratory analysis of pregnancy outcomes. Psychosom Med 75:670–681

Paine SJ, Gander PH, Harris R, Reid P (2004) Who reports insomnia? Relationships with age, sex, ethnicity and socio-economic deprivation. Sleep 27:1163–1169

R Development Core Team (2008) R: a language and environment for statistical computing. R Foundation for Statistical Computing, Vienna, ISBN 3-900051-07-0, URL http://www.R-project.org

Roane BM, Taylor DJ (2008) Adolescent insomnia as a risk factor for early adult depression and substance abuse. Sleep 31(10):1351–1356

Roberts RE, Duong HT (2013) Depression and insomnia among adolescents: a prospective perspective. J Affect Disord 148:66–71

Roberts RE, Ramsay Roberts C, Ger Chen I (2002) Impact of insomnia on future functioning of adolescents. J Psychosom Res 53(1):561–569

Roberts RE, Shema SJ, Kaplan GA, Strawbridge WJ (2000) Sleep complaints and depression in an aging cohort: a prospective perspective. Am J Psychiatry 157(1):81–88

Salo P, Sivertsen B, Oksanen T, Sjösten N, Pentti J, Virtanen M, Kivimäki M, Vahtera J (2012) Insomnia symptoms as a predictor of incident treatment for depression: prospective cohort study of 40,791 men and women. Sleep Med 13:278–284

Shochat T, Flint-Bretler O, Tzischinsky O (2010) Sleep patterns, electronic media exposure and daytime sleep-related behaviours among Israeli adolescents. Acta Paediatr 99(9):1396–1400

Spasojević J, Alloy LB (2001) Rumination as a common mechanism relating depressive risk factors to depression. Emotion 1(1):25–37

Szklo-Coxe M, Young T, Peppard PE, Finn LA, Benca RM (2010) Prospective associations of insomnia markers and symptoms with depression. Am J Epidemiol 171(6):709–720

Van Buuren S, Groothius-Oudshoorn K (2011) MICE: Multivariate Imputation by Chained Equations in R. J Statistical Software 43(3):1–67

Watson NF, Harden KP, Buchwald D, Vitiello MV, Pack AI, Strachan E, Goldberg J (2014) Sleep duration and depressive symptoms: a gene–environment interaction. Sleep 37(2):351–358

Weissman MM, Greenwald S, Niño-Murcia G, Dement WC (1997) The morbidity of insomnia uncomplicated by psychiatric disorders. Gen Hosp Psychiatry 19(4):245–250

Wittchen H-U, Knäuper B, Kessler RC (1994) Lifetime risk of depression. Br J Psychiatry 165(26):16–22

Yokoyama E, Kaneita Y, Saito Y, Uchiyama M, Matsuzaki Y, Tamaki T, Munezawa T, Ohida T (2010) Association between depression and insomnia subtypes: a longitudinal study on the elderly in Japan. Sleep 33(12):1693–1702

Yoo S-S, Gujar N, Hu P, Jolesz FA, Walker MP (2007) The human emotional brain without sleep—a prefrontal amygdala disconnect. Curr Biol 17(20):R877–R878
Acknowledgement
Dr. Jackson is funded by an Australian National Health and Medical Research Council Fellowship.
Conflict of interest
Dr. Jackson, Professor Byles, and Professor Bruck declare that they have no conflicts of interest. Dr. Diamond and Dr. Sztendur are the Directors of ESQANT Statistical Computing.
About this article
Cite this article
Jackson, M.L., Sztendur, E.M., Diamond, N.T. et al. Sleep difficulties and the development of depression and anxiety: a longitudinal study of young Australian women. Arch Womens Ment Health 17, 189–198 (2014). https://doi.org/10.1007/s00737-014-0417-8
Received:

Accepted:

Published:

Issue Date:

DOI: https://doi.org/10.1007/s00737-014-0417-8
Keywords
Sleep disturbance

Depression

Anxiety

Women

Insomnia

Longitudinal study