Abstract
Antenatal anxiety symptoms are not only a health problem for the expectant mother. Research has found that maternal anxiety may also have an impact on the developing baby. Therefore, it is important to estimate the prevalence of maternal anxiety and associated factors. The current study aims to estimate the prevalence of anxiety symptoms during the first trimester of pregnancy and to identify associated risk factors. Secondly, to investigate other factors associated with anxiety during early pregnancy including fear of childbirth and a preference for cesarean section. In a population-based community sample of 1,175 pregnant women, 916 women (78 %) were investigated in the first trimester (gestation week 8–12). The Hospital Anxiety Depression Scale (HADS-A) was used to measure anxiety symptoms. The prevalence of anxiety symptoms (HADS-A scores ≥8 during pregnancy) was 15.6 % in early pregnancy. Women under 25 years of age were at an increased risk of anxiety symptoms during early pregnancy (OR 2.6, CI 1.7–4.0). Women who reported a language other than Swedish as their native language (OR 4.2, CI 2.7–7.0), reported high school as their highest level of education (OR 1.6, CI 1.1–2.3), were unemployed (OR 3.5, CI 2.1–5.8), used nicotine before pregnancy (OR 1.7, CI 1.1–2.5), and had a self-reported psychiatric history of either depression (OR 3.8, CI 2.6–5.6) or anxiety (OR 5.2, CI 3.5–7.9) before their current pregnancy were all at an increased risk of anxiety symptoms during early pregnancy. Anxiety symptoms during pregnancy increased the rate of fear of birth (OR 3.0, CI 1.9–4.7) and a preference for cesarean section (OR 1.7, CI 1.0–2.8). Caregivers should pay careful attention to history of mental illness to be able to identify women with symptoms of anxiety during early pregnancy. When presenting with symptoms of anxiety, the women might need counseling and or treatment in order to decrease her anxiety.
Access options
Buy single article
Instant access to the full article PDF.
USD 39.95
Price includes VAT (USA)
Tax calculation will be finalised during checkout.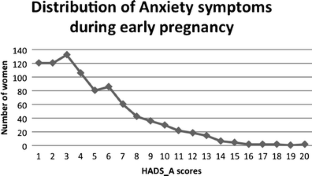 References
Alder J, Fink N, Bitzer J, Hözli I, Holzgreve W (2007) Depression and anxiety during pregnancy: a risk factor for obstetric, fetal, and neonatal outcome. A critical review of the literature. J Matern Fetal and Neonatal Med 20(3):89–209

American Psychiatric Association (2000) Diagnostic and statistical manual of mental disorders, 4th edn. American Psychiatric Association, Washington, DC

Andersson L, Sundström-Poromaa I, Bixo M, Wulff M, Bondestam K, Åström M (2003a) Point prevalence of psychiatric disorders during the second trimester of pregnancy: a population-based study. Am J Epidemiol 189:148–154

Andersson L, Sundström-Poromaa I, Wulf M, Åström M, Bixo M (2003b) Neonatal outcome following maternal antenatal depression and anxiety: a population-based study. Am J Epidemiol 159:872–881

Andersson L, Sundström-Poromaa I, Wulf M, Åström M, Bixo M (2004) Implications of antenatal depression and anxiety for obstetric outcome. Obstet Gynecol 104:467–476

Andersson L, Sundström-Poromaa I, Wulf M, Åström M, Bixo M (2006) Depression and anxiety during pregnancy and 6 month postpartum: a follow-up study. Acta Obstet Gynecol 85:937–944

Austin MP, Tully L, Parker G (2007) Examing the relationship between antenatal anxiety and postnatal depression. J Affect Disord 101:169–174

Berle JØ, Mykletun A, Daltveit AK, Rasmussen S, Holsten F, Dahl AA (2005) Neonatal outcomes in offspring of women with anxiety and depression during pregnancy: a Linkage Study from The TrØndelag Health Study (HUNT) and Medical Birth Registry of Norway. Arch Wom Mental Health 8:181–189

Bjelland I, Dahl AA, Haug TT, Neckelmann D (2002) The validity of the Hospital Anxiety and Depression Scale. An updated literature review. J Psychosom Res 52(2):69–77

Coleman V, Carter M, Morgan M, Schulkin J (2008) Obstetrician-gynecologists' screening patterns for anxiety during pregnancy. Depress Anxiety 25:114–123

Conde A, Figueiredo B, Tendais I, Teixeira C, Costa R, Pacheco A, Ceu Rodrigues M, Nogueira R (2010) Mother's anxiety and depression and associated risk factors during early pregnancy: effects on fetal growth and activity at 20–22 weeks of gestation. J Psychosom Obstet Gynecol 31(2):70–82

Copper LR, Goldenberg R, Das A, Elder N, Swain M, Norman G, Ramsey R, Cotroneo P (1996) The preterm prediction study: maternal stress is associated with spontaneous preterm birth at less than 35 weeks' gestation. Am J Obstet Gynecol 175:1286–1292

Goedart G, Snijders AC, Gavin AR et al (2010) Maternal depressive symptoms in relation to perinatal mortality and morbidity: results from a large multiethnic cohort study. Psychosom Med 72:769–776

Goodman J, Tyer-Viola L (2010) Detection, treatment, and referral of perinatal depression and anxiety by obstetrical providers. J Wom Health 19:477–490

Heron J, O'connor GT, Evens J, Golding J, Glover V (2004) The course of anxiety and depression through pregnancy and the postpartum in a community sample. J Affect Disord 80:65–73

Hildingsson I, Rådestad I, Rubertsson C, Waldenström U (2002) Few women wish to be delivered by cesarean section. Int J Obstet Gynael 109(6):618–623

Josefsson A, Berg G, Nordin C, Sydsjo G (2001) Prevalence of depressive symptoms in late pregnancy and postpartum. Acta Obstet Gynecol Scand 80(3):251–255

Kringeland T, Dalveit AK, Möller A (2009) What characterize women in Norway who wish to have a cesarean section? Scand J Publ Health 37:364–371

Kurki T, Hiilesmaa V, Raitasalo R, Mattila H, Ylikorkala O (2000) Depression and anxiety in early pregnancy and risk for preeclampsia. Obstet Gynecol 95(4):487–490

Larsson C, Sydsjo G, Josefsson A (2004) Health, sociodemographic data, and pregnancy outcome in women with antepartum depressive symptoms. Obstet Gynecol 104(3):459–466

Leight KL, Fitelson EM, Weston CA, Wisner KL (2010) Childbirth and mental disorders. Int Rev Psychiatry 22:453–471

Li D, Liu L, Odouli R (2009) Presence of depressive symptoms during early pregnancy and the risk of preterm delivery: a prospective cohort study. Hum Reprod 24(1):146–153

Lisspers J, Nygren A, Söderman E (1997) Hospital Anxiety and Depression Scale (HAD): some psychometric data for a Swedish sample. Acta Psychiatr Scand 96:281–286

Martini J, Knappe S, Beesdo-Baum K, Lieb R, Wittchen H-U (2010) Anxiety disorders before birth and self-perceived distress during pregnancy: associations with maternal depression and obstetric, neonatal, and early childhood outcomes. Early Hum Dev 86:305–310

Matthey S, Ross-Hamid C (2012) Repeat testing on the Edinburgh Depression Scale and the HADS-A in pregnancy: differentiating between transient and enduring distress. J Affect Disord 141:213–221

Matthey S, Barnett B, Howie P, Kavanagh KJ (2003) Diagnosing post-partum depression in mothers and fathers: Whatever happened to anxiety? J Affect Disord 74:139–147

Molarius A, Berglund K, Eriksson C, Eriksson HG, Lindén-Boström M, Nordström E, Persson C, Sahlqvist L, Starrin B, Ydreborg B (2009) Mental health symptoms in relation to socio-economic conditions and lifestyle factors—a population-based study in Sweden. BMC Public Health 9

O'Connor GT, Heron J, Glover V, The Alspac Study Team (2002) Antenatal anxiety predicts child behavioral/emotional problems independently of postnatal depression. Am Acad Child Adolesc Psychiatry 41(12):1470–1477

Qiu C, Williams MA, Calderon-Margalit R, Cripe SM, Sorensen TK (2009) Preeclampsia risk in relation to maternal mood and anxiety disorders diagnosed before or during early pregnancy. Am J Hypertens 22(4):397–402

Ross LE, McLean LM (2006) Anxiety disorders during pregnancy and the postpartum period: a systematic review. J Clin Psychiatry 67:1285–1298

Rubertsson C, Wickberg B, Gustavsson P, Radestad I (2005) Depressive symptoms in early pregnancy, 2 months and 1 year postpartum-prevalence and psychosocial risk factors in a national Swedish sample. Arch Wom Ment Health 8(2):97–104

Sjögren B, Thomassen P (1997) Obstetric outcome in 100 women with severe anxiety of childbirth. Acta Gynecol Scand 76(10):948–952

van Bussel CHJ, Spiz B, Demyttenaere K (2009) Anxiety in pregnant and postpartum women. An exploratory study of the role of maternal orientations. J Affect Disord 11:232–242

van den Bergh BRH, Marcoen A (2004) High antenatal maternal anxiety is related to ADHD symptoms, externalizing problems, and anxiety in 8 and 9 year olds. Child Dev 75:1085–1097

van den Bergh BRH, Mennes M, Oosterlaan J, Stevens V, Stiers P, Marcoen A, Lagae L (2004) High antenatal maternal anxiety is related to impulsivity during performance on cognitive tasks in 14 and 15 year olds. Neurosci Biobehav Rev 29:259–269

Vesga-Lopéz O, Blanco C, Keyes C, Olfson M, Grant FB, Hasin SD (2008) Psychiatric disorders in pregnant and postpartum women in the United States. Arch Gend Psychiatry 65(7):805–815

Wisner KL, Sit DK, Hanusa BH, Moses-Kolko EL, Bogen DL, Hunker DF et al (2009) Major depression and antidepressant treatment: impact on pregnancy and neonatal outcomes. Am J Psychiatry 166(5):557–566

Zigmond AS, Snaith RP (1983) The hospital anxiety and depression scale. Acta Psychiatr Scand 67(6):361–370
Acknowledgments
Thanks to Karin Monsen Börjesson and all the midwives who participated in the recruitment process to the Betti-study.
Conflict of interest
There are no conflicts of interest to report.
About this article
Cite this article
Rubertsson, C., Hellström, J., Cross, M. et al. Anxiety in early pregnancy: prevalence and contributing factors. Arch Womens Ment Health 17, 221–228 (2014). https://doi.org/10.1007/s00737-013-0409-0
Received:

Accepted:

Published:

Issue Date:
Keywords
Pregnancy

Anxiety

Anxiety disorder

Hospital anxiety and depression scale