Abstract
Women are at increased risk of developing mood disorders during the postpartum period, and poor postpartum sleep may be a modifiable risk factor for the development of depression. This longitudinal study investigated the relationship between sleep variables and postpartum depression symptoms using wrist actigraphy and self-report surveys. Twenty-five healthy primiparous women were recruited from their outpatient obstetricians' offices from July 2009 through March 2010. Subjects wore wrist actigraphs for 1 week during the third trimester of pregnancy and again during the 2nd, 6th, 10th, and 14th weeks postpartum while completing sleep logs and sleep surveys. Subjective assessments of mood were collected at the end of each actigraph week. Subjective sleep assessments were strongly predictive of depression severity scores as measured by the Edinburgh Postnatal Depression Scale (EPDS) across all weeks (p < 0.001). Actigraphic measures of sleep maintenance, such as sleep fragmentation, sleep efficiency, and wake time after sleep onset, were also significantly correlated with EPDS scores postpartum. However, there was no relationship between nocturnal sleep duration and EPDS scores. This study provides additional evidence that poor sleep maintenance as measured by wrist actigraphy, rather than lesser amounts of sleep, is associated with EPDS scores during the postpartum period and that subjective assessments of sleep may be more accurate predictors of postpartum depression symptoms than wrist actigraphy. It also supports the hypothesis that disrupted sleep may contribute to the development and extent of postpartum depression symptoms.
Access options
Buy single article
Instant access to the full article PDF.
US$ 39.95
Tax calculation will be finalised during checkout.
Subscribe to journal
Immediate online access to all issues from 2019. Subscription will auto renew annually.
US$ 79
Tax calculation will be finalised during checkout.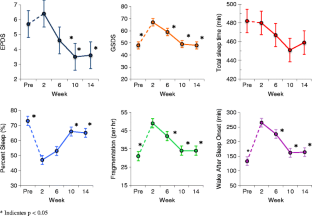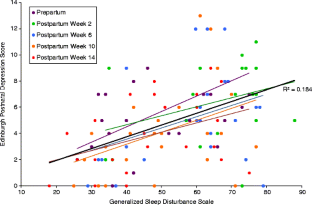 References
Armitage R, Flynn H, Hoffmann R, Vazquez D, Lopez J, Marcus S (2009) Early developmental changes in sleep in infants: the impact of maternal depression. Sleep 32(5):693–696

Armstrong KL, O'Donnell H, McCallum R, Dadds M (1998) Childhood sleep problems: association with prenatal factors and maternal distress/depression. J Paediatr Child Health 34(3):263–266

Bei B, Milgrom J, Ericksen J, Trinder J (2010) Subjective perception of sleep, but not its objective quality, is associated with immediate postpartum mood disturbances in healthy women. Sleep 33(4):531–538

Brunner DP, Munch M, Biedermann K, Huch R, Huch A, Borbely AA (1994) Changes in sleep and sleep electroencephalogram during pregnancy. Sleep 17(7):576–582

Cole RJ, Kripke DF, Gruen W, Mullaney DJ, Gillin JC (1992) Automatic sleep/wake identification from wrist activity. Sleep 15(5):461–469

Cox JL, Holden JM, Sagovsky R (1987) Detection of postnatal depression. Development of the 10-item Edinburgh Postnatal Depression Scale. Br J Psychiatry 150:782–786

Damato EG, Burant C (2008) Sleep patterns and fatigue in parents of twins. J Obstet Gynecol Neonatal Nurs 37(6):738–749. doi:10.1111/j.1552-6909.2008.00296.x

Dennis CL, Ross L (2005) Relationships among infant sleep patterns, maternal fatigue, and development of depressive symptomatology. Birth 32(3):187–193. doi:10.1111/j.0730-7659.2005.00368.x

Dorheim SK, Bondevik GT, Eberhard-Gran M, Bjorvatn B (2009a) Sleep and depression in postpartum women: a population-based study. Sleep 32(7):847–855

Dorheim SK, Bondevik GT, Eberhard-Gran M, Bjorvatn B (2009b) Subjective and objective sleep among depressed and non-depressed postnatal women. Acta Psychiatr Scand 119(2):128–136. doi:10.1111/j.1600-0447.2008.01272.x

Field T, Diego M, Hernandez-Reif M, Figueiredo B, Schanberg S, Kuhn C (2007) Sleep disturbances in depressed pregnant women and their newborns. Infant Behav Dev 30(1):127–133. doi:10.1016/j.infbeh.2006.08.002

Fitelson E, Kim S, Baker AS, Leight K (2010) Treatment of postpartum depression: clinical, psychological and pharmacological options. Int J Womens Health 3:1–14. doi:10.2147/IJWH.S6938

Goyal D, Gay C, Lee K (2009) Fragmented maternal sleep is more strongly correlated with depressive symptoms than infant temperament at three months postpartum. Arch Womens Ment Health 12(4):229–237. doi:10.1007/s00737-009-0070-9

Huang CM, Carter PA, Guo JL (2004) A comparison of sleep and daytime sleepiness in depressed and non-depressed mothers during the early postpartum period. J Nurs Res 12(4):287–296

Hunter LP, Rychnovsky JD, Yount SM (2009) A selective review of maternal sleep characteristics in the postpartum period. J Obstet Gynecol Neonatal Nurs 38(1):60–68. doi:10.1111/j.1552-6909.2008.00309.x

Lee KA (1992) Self-reported sleep disturbances in employed women. Sleep 15(6):493–498

Lee KA, McEnany G, Zaffke ME (2000) REM sleep and mood state in childbearing women: sleepy or weepy? Sleep 23(7):877–885

Marques M, Bos S, Soares MJ, Maia B, Pereira AT, Valente J, Gomes AA, Macedo A, Azevedo MH (2011) Is insomnia in late pregnancy a risk factor for postpartum depression/depressive symptomatology? Psychiatry Res 186:272–280. doi:10.1016/j.psychres.2010.06.029

Montgomery-Downs HE, Clawges HM, Santy EE (2010a) Infant feeding methods and maternal sleep and daytime functioning. Pediatrics 126(6):e1562–e1568. doi:10.1542/peds.2010-1269

Montgomery-Downs HE, Insana SP, Clegg-Kraynok MM, Mancini LM (2010b) Normative longitudinal maternal sleep: the first 4 postpartum months. Am J Obstet Gynecol 203(5):465.e1–465.e7. doi:10.1016/j.ajog.2010.06.057

Nishihara K, Horiuchi S (1998) Changes in sleep patterns of young women from late pregnancy to postpartum: relationships to their infants' movements. Percept Mot Skills 87(3 Pt 1):1043–1056

Posmontier B (2008) Sleep quality in women with and without postpartum depression. J Obstet Gynecol Neonatal Nurs 37(6):722–735, quiz 735–727

Radloff L (1977) The CES-D Scale: a self-report depression scale for research in the general population. Applied Psychological Measure 1:385–401

Respironics I (2009) Actiware and actiware CT software manual

Ross LE, Murray BJ, Steiner M (2005) Sleep and perinatal mood disorders: a critical review. J Psychiatry Neurosci 30(4):247–256

Rowe HJ, Fisher JR (2010) Development of a universal psycho-educational intervention to prevent common postpartum mental disorders in primiparous women: a multiple method approach. BMC Publ Health 10:499. doi:10.1186/1471-2458-10-499

Stremler R, Hodnett E, Lee K, MacMillan S, Mill C, Ongcangco L, Willan A (2006) A behavioral-educational intervention to promote maternal and infant sleep: a pilot randomized, controlled trial. Sleep 29(12):1609–1615

Swain AM, O'Hara MW, Starr KR, Gorman LL (1997) A prospective study of sleep, mood, and cognitive function in postpartum and nonpostpartum women. Obstet Gynecol 90(3):381–386

Swanson LM, Flynn HA, Wilburn K, Marcus S, Armitage R (2010) Maternal mood and sleep in children of women at risk for perinatal depression. Arch Womens Ment Health 13(6):531–534. doi:10.1007/s00737-010-0177-z

Swanson LM, Pickett SM, Flynn H, Armitage R (2011) Relationships among depression, anxiety, and insomnia symptoms in perinatal women seeking mental health treatment. J Womens Health (Larchmt) 20(4):553–558. doi:10.1089/jwh.2010.2371

Wilkie G, Shapiro CM (1992) Sleep deprivation and the postnatal blues. J Psychosom Res 36(4):309–316

Wisner KL, Parry BL, Piontek CM (2002) Clinical practice. Postpartum depression. N Engl J Med 347(3):194–199. doi:10.1056/NEJMcp011542347/3/194

Wolfson AR, Crowley SJ, Anwer U, Bassett JL (2003) Changes in sleep patterns and depressive symptoms in first-time mothers: last trimester to 1-year postpartum. Behav Sleep Med 1(1):54–67

Wright CE, Valdimarsdottir HB, Erblich J, Bovbjerg DH (2007) Poor sleep the night before an experimental stress task is associated with reduced cortisol reactivity in healthy women. Biol Psychol 74(3):319–327. doi:10.1016/j.biopsycho.2006.08.003

Yamazaki A (2007) Family synchronizers: predictors of sleep–wake rhythm for Japanese first-time mothers. Sleep Biol Rhythms 5:218–225
Acknowledgments
We would like to thank the women who generously participated in this study as well as the obstetrician–gynecologists at Beth Israel Deaconess Medical Center (BIDMC) and affiliated clinics. We especially thank Hope Ricciotti, MD of BIDMC, for her assistance with subject recruitment and Nam D Nguyen, MA of BIDMC, for his assistance with database preparation and statistical analysis. This study was supported by the Dupont-Warren and Livingston Research Fellowships awarded by Harvard Medical School (Boston, MA, USA) and NIH grant MH48832 (Bethesda, MD, USA).
Disclosures
Dr. Stickgold is a paid consultant of Actelion Pharmaceuticals of Switzerland, has spoken at Eli Lilly, and has received research support from Merck & Co. and Sepracor, Inc. Dr. Meltzer-Brody receives research grant support from NIH, Foundation of Hope, and Astra Zeneca.
About this article
Cite this article
Park, E.M., Meltzer-Brody, S. & Stickgold, R. Poor sleep maintenance and subjective sleep quality are associated with postpartum maternal depression symptom severity. Arch Womens Ment Health 16, 539–547 (2013). https://doi.org/10.1007/s00737-013-0356-9
Received:

Accepted:

Published:

Issue Date:
Keywords
Postpartum depression

Sleep

Maternal depression