Abstract
Some mothers experience neutral or negative feelings toward their new infant. This study examined the association between symptoms of postnatal depression and mother–infant bonding and the persistence of these feelings over the first year. Bonding was assessed using the Mother–Infant Bonding Scale (MIBQ), at four times postnatal, "early weeks" (1–4 weeks), 9 weeks, 16 weeks and 1 year, in 50 depressed, Edinburgh Postnatal Depression scale (EPDS) ≥13 at 4 weeks post natal, and 29 non-depressed mothers. A significant association between the EPDS score at 4 weeks and bonding score at 1–4 weeks, 9 weeks, and at 1 year postnatal, χ 2(1) = 9.85, p < 0.01, 5.44, p < 0.05 and 5.21, p < 0.05, respectively, was found, with a trend at 16 weeks. There was a strong association between bonding in the early weeks and all later time points χ 2(1) = 17.26, p < 0.001, 7.89, p < 0.01 and 13.69, p < 0.001, respectively. Regression showed early bonding rather than early depression was the major predictor of bonding at 1 year. Women who are depressed postnatally can fail to bond well with their baby and this can persist for a year. Early identification and intervention for poor bonding is indicated.
Access options
Buy single article
Instant access to the full article PDF.
USD 39.95
Price excludes VAT (USA)
Tax calculation will be finalised during checkout.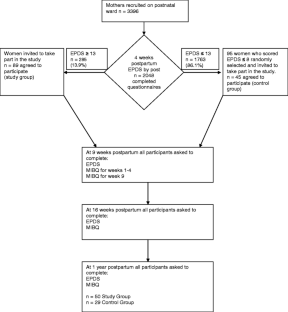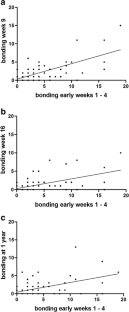 References
Ainsworth MDS, Bell SM (1974) Mother–infant interaction and the development of competence. The growth of competence. K. Connolly and J. Bruner. Academic Press, New York, pp 97–118

Bienfait M, Maury M et al (2011) Pertinence of the self-report mother-to-infant bonding scale in the neonatal unit of a maternity ward. Early Hum Dev 87:281–287

Bloch M, Daly RC et al (2003) Endocrine factors in the etiology of postpartum depression. Compr Psychiatry 44(3):234–246

Bowlby J (1969) Attachment and loss. Hogarth, London

Brockington I (1996) Motherhood and mental health. Oxford University Press, Oxford

Brockington I (2004) Postpartum psychiatric disorders. Lancet 363(9405):303–310

Brockington I (2008) Maternal attachment and bonding disorders. Perinatal and postpartum mood disorders. S. D. Stone and A. E. Menken, New York, Springer

Brockington I, Aucamp HM et al (2006) Severe disorders of the mother–infant relationship: definitions and frequency. Arch Womens Ment Health 9(5):243–251

Brockington I, Oates J et al (2001) A screening questionnaire for mother–infant bonding disorders. Archives of Women's Mental Health 3:133–140

Bur, V., A. Gozlan, et al. (1989). Preséntation de grilles d'évaluation des interactions précoces. A l'intention des consultations pédiatriques. L'évaluation des Interactions Précoces Entre le Bèbé et Ses Partenaires. S. Lebovici, P. Mazet and J. P. Visier. Paris, Eschel 427–462.

Clark R, Tluczek A et al (2003) Psychotherapy for postpartum depression: a preliminary report. Am J Orthopsychiatry 73(4):441–454

Cox JL, Chapman G et al (1996) Validation of the Edinburgh Postnatal Depression Scale (EPDS) in non-postnatal women. J Affect Disord 39(3):185–189

Cox JL, Holden JM et al (1987) Detection of postnatal depression. Development of the 10-item Edinburgh Postnatal Depression Scale. Br J Psychiatry 150:782–786

Cranley MS (1981) Development of a tool for the measurement of maternal attachment during pregnancy. Nurs Res 30(5):281–284

Delatte R, Cao H et al (2009) Universal screening for postpartum depression: an inquiry into provider attitudes and practice. Am J Obstet Gynecol 200(5):e63–64

Douglas AJ (2010) Baby love? Oxytocin–dopamine interactions in mother–infant bonding. Endocrinology 151(5):1978–1980

Feldman R (2007) Parent–infant synchrony and the construction of shared timing; physiological precursors, developmental outcomes, and risk conditions. J Child Psychol Psychiatry 48(3–4):329–354

Figueiredo B, Costa R et al (2007) Mother-to-infant and father-to-infant initial emotional involvement. Early Child Development and Care 177(5):521–532

Figueiredo B, Costa R et al (2009) Mother-to-infant emotional involvement at birth. Matern Child Health J 13(4):539–549

Fleming AS, Ruble DN et al (1988) Postpartum adjustment in first-time mothers: relations between mood, maternal attitudes, and mother–infant interactions. Dev Psychol 24:71–81

Guaraldi GP, Caffo E et al (1985) Analyse des indicateurs de distorsion relationnelle precoce mere–enfant pendant les trois premiers mois de vie. Neuropsy Enfance 33(2–3):129–133

Hay DF, Pawlby S et al (2001) Intellectual problems shown by 11-year-old children whose mothers had postnatal depression. J Child Psychol Psychiatry 42(7):871–889

Hewitt CE, Gilbody SM (2009) Is it clinically and cost effective to screen for postnatal depression: a systematic review of controlled clinical trials and economic evidence. BJOG 116(8):1019–1027

Hoffman Y, Drotar D (1991) The impact of postpartum depressed mood on mother–infant interactions: like mother like baby? Infant Mental Health J 12:65–80

Horowitz JA, Bell M et al (2001) Promoting responsiveness between mothers with depressive symptoms and their infants. J Nurs Scholarsh 33(4):323–329

Klier CM (2006) Mother–infant bonding disorders in patients with postnatal depression: the Postpartum Bonding Questionnaire in clinical practice. Arch Womens Ment Health 9(5):289–291

Kumar RC (1997) Anybody's child: severe disorders of mother-to-infant bonding. Br J Psychiatry 171:175–181

Mitchell AJ, Coyne J (2009) Screening for postnatal depression: barriers to success. BJOG 116(1):11–14

Moehler E, Brunner R et al (2006) Maternal depressive symptoms in the postnatal period are associated with long-term impairment of mother–child bonding. Arch Womens Ment Health 9(5):273–278

Muller ME (1993) Development of the Prenatal Attachment Inventory. West J Nurs Res 15(2):199–211, discussion 211–195

Murray L (1992) The impact of postnatal depression on infant development. J Child Psychol Psychiatry 33(3):543–561

Murray L, Fiori-Cowley A et al (1996) The impact of postnatal depression and associated adversity on early mother–infant interactions and later infant outcome. Child Dev 67(5):2512–2526

NICE (2007). Antenatal and Postnatal Mental Health: clinical management and service guidance. Health. London, National Institute for Health and Clinical Excellence CG45: 1–48.

O'Higgins M, St James Roberts I et al (2008) Postnatal depression and mother and infant outcomes after infant massage. J Affect Disord 109(1–2):189–192

Pawlby S, Sharp D et al (2008) Postnatal depression and child outcome at 11 years: the importance of accurate diagnosis. J Affect Disord 107(1–3):241–245

Poobalan AS, Aucott LS et al (2007) Effects of treating postnatal depression on mother infant interaction and child development: systematic review. Br J Psychiatry 191(5):378–386

Reck C, Klier CM et al (2006) The German version of the Postpartum Bonding Instrument: psychometric properties and association with postpartum depression. Arch Womens Ment Health 9(5):265–271

Righetti-Veltema M, Conne-Perreard E et al (2002) Postpartum depression and mother–infant relationship at 3months old. J Affect Disord 70(3):291–306

Robson KM, Kumar R (1980) Delayed onset of maternal affection after childbirth. Br J Psychiatry 136:347–353

Roisman GI, Padron E et al (2002) Earned-secure attachment status in retrospect and prospect. Child Development 73(4):1204–1219

Sharp D, Hay DF et al (1995) The impact of postnatal depression on boys' intellectual development. J Child Psychol Psychiatry 36(8):1315–1336

Spitzer R, Endicott J et al (1975) Research diagnostic criteria. New York State Psychiatric Institute, New York

Taylor A, Atkins R et al (2005) A new Mother-to-Infant Bonding Scale: links with early maternal mood. Arch Women Ment Health 8(1):45–51

Tharner A, Luijk MPC et al (2012) Maternal lifetime history of depression and depressive symptoms in the prenatal and early postnatal period do not predict infant–mother attachment quality in a large, population-based Dutch cohort study. Attachment & Human Development 14(1):63–81

Yoshida K, Yamashita H et al (2012) A Japanese version of Mother-to-Infant Bonding Scale: factor structure, longitudinal changes and links with maternal mood during the early postnatal period in Japanese mothers. Arch Womens Ment Health 15(5):343–352
Acknowledgements
Funding of this study was provided by the Foundation for Integrated Health. We thank Diana Adams for all her help on the project and also all the mothers and babies who took part.
About this article
Cite this article
O'Higgins, M., Roberts, I.S.J., Glover, V. et al. Mother-child bonding at 1 year; associations with symptoms of postnatal depression and bonding in the first few weeks. Arch Womens Ment Health 16, 381–389 (2013). https://doi.org/10.1007/s00737-013-0354-y
Received:

Accepted:

Published:

Issue Date:

DOI: https://doi.org/10.1007/s00737-013-0354-y
Keywords