Abstract
The study was designed to validate the Patient Health Questionnaire (PHQ-9) for depression risk identification among pregnant women. Pregnant women were routinely administered the Prenatal Risk Overview, a comprehensive psychosocial screening interview, which included the PHQ-9, at their prenatal intake appointment at three community clinics. Study participants completed the Structured Clinical Interview for DSM-IV (SCID) at a later appointment. PHQ-9 risk classifications were cross-tabulated with SCID diagnostic categories to examine concordance, sensitivity, specificity, and positive and negative predictive values. The study sample included 745 women. Prevalence of a current major depressive episode was 3.6 %; an additional 7.0 % were classified as meeting subdiagnostic criteria of three or more depressive symptoms. A PHQ-9 score cutoff of 10 yielded sensitivity and specificity rates of 85 and 84 %, respectively, for a depression diagnosis and 75 and 88 % for a subdiagnosis, respectively. Positive predictive value was higher for the expanded group (43 %) than that of the diagnosis-only group (17 %). The PHQ-9, embedded within a multidimensional risk screening interview, effectively identified pregnant women who met criteria for current depression. The moderate risk score cutoff also identified women with subdiagnostic symptom levels who may benefit from interventions to alleviate their distress and improve pregnancy outcomes.
This is a preview of subscription content, log in to check access.
Access options
Buy single article
Instant access to the full article PDF.
US$ 39.95
Price includes VAT for USA
Subscribe to journal
Immediate online access to all issues from 2019. Subscription will auto renew annually.
US$ 99
This is the net price. Taxes to be calculated in checkout.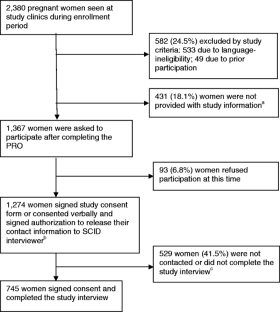 References
Adewuya AO, Ola BA, Afolabi OO (2006) Validity of the patient health questionnaire (PHQ-9) as a screening tool for depression amongst Nigerian university students. J Affect Disord 96(1–2):89–93. doi:10.1016/j.jad.2006.05.021

American Psychiatric Association (2000) Diagnostic and statistical manual of mental disorders, 4th edn. APA, Washington DC, DSM-IV

Bennett HA, Einarson A, Taddio A, Koren G, Einarson TR (2004) Prevalence of depression during pregnancy: systematic review. Obstet Gynecol 103(4):698–709. doi:10.1097/01.AOG.0000116689.75396.5f

Bonari L, Bennett H, Einarson A, Koren G (2004) Risks of untreated depression during pregnancy. Can Fam Physician 50:37–39

Chung TK, Lau TK, Yip AS, Chiu HF, Lee DT (2001) Antepartum depressive symptomatology is associated with adverse obstetric and neonatal outcomes. Psychosom Med 63(5):830–834

Committee opinion no. 453 (2010) Screening for depression during and after pregnancy. Obstet Gynecol 115(2 Pt 1):394–395. doi:10.1097/AOG.0b013e3181d035aa

Cox JL, Holden JM, Sagovsky R (1987) Detection of postnatal depression. Development of the 10-item Edinburgh postnatal depression scale. Br J Psychiatry 150:782–786

Damus K (2008) Prevention of preterm birth: a renewed national priority. Curr Opin Obstet Gynecol 20(6):590–596. doi:10.1097/GCO.0b013e3283186964

Davalos DB, Yadon CA, Tregellas HC (2012) Untreated prenatal maternal depression and the potential risks to offspring: a review. Arch Womens Ment Health 15(1):1–14. doi:10.1007/s00737-011-0251-1

Dayan J, Creveuil C, Herlicoviez M, Herbel C, Baranger E, Savoye C, Thouin A (2002) Role of anxiety and depression in the onset of spontaneous preterm labor. Am J Epidemiol 155(4):293–301

Evans J, Heron J, Francomb H, Oke S, Golding J (2001) Cohort study of depressed mood during pregnancy and after childbirth. BMJ 323(7307):257–260

First MS, Spitzer RL, Gibbon M, Williams J (2005) Structured clinical interview for DSM-IV-TR axis I disorders, research version-patient edition (SCID-I/P). Biometrics Research Department, New York State Psyciatric Institute, New York

Flynn HA, Sexton M, Ratliff S, Porter K, Zivin K (2011) Comparative performance of the Edinburgh Postnatal Depression Scale and the Patient Health Questionnaire-9 in pregnant and postpartum women seeking psychiatric services. Psychiatry Res 187(1–2):130–134. doi:10.1016/j.psychres.2010.10.022

Gilbody S, Richards D, Brealey S, Hewitt C (2007) Screening for depression in medical settings with the Patient Health Questionnaire (PHQ): a diagnostic meta-analysis. J Gen Intern Med 22(11):1596–1602. doi:10.1007/s11606-007-0333-y

Gjerdingen D, Crow S, McGovern P, Miner M, Center B (2009) Postpartum depression screening at well-child visits: validity of a 2-question screen and the PHQ-9. Ann Fam Med 7(1):63–70. doi:10.1370/afm.933

Goldenberg RL, Culhane JF (2007) Low birth weight in the United States. Am J Clin Nutr 85(2):584S–590S

Hanusa BH, Scholle SH, Haskett RF, Spadaro K, Wisner KL (2008) Screening for depression in the postpartum period: a comparison of three instruments. J Womens Health (Larchmt) 17(4):585–596. doi:10.1089/jwh.2006.0248

Harrison PA, Sidebottom AC (2008) Systematic prenatal screening for psychosocial risks. J Health Care Poor Underserved 19(1):258–276. doi:10.1353/hpu.2008.0003

Harrison PA, Godecker A, Sidebottom AC (2011a) Psychosocial risk screening during pregnancy: additional risks identified during a second interview. J Health Care Poor Underserved 22(4):1344–1357. doi:10.1353/hpu.2011.0122

Harrison PA, Godecker A, Sidebottom AC (2011b) Validation of the alcohol use module from a multidimensional prenatal psychosocial risk screening instrument. Matern Child Health J. doi:10.1007/s10995-011-0926-2

Hobfoll SE, Ritter C, Lavin J, Hulsizer MR, Cameron RP (1995) Depression prevalence and incidence among inner-city pregnant and postpartum women. J Consult Clin Psychol 63(3):445–453

Huang FY, Chung H, Kroenke K, Delucchi KL, Spitzer RL (2006) Using the Patient Health Questionnaire-9 to measure depression among racially and ethnically diverse primary care patients. J Gen Intern Med 21(6):547–552. doi:10.1111/j.1525-1497.2006.00409.x

Kotelchuck M (1994) The Adequacy of Prenatal Care Utilization Index: its US distribution and association with low birthweight. Am J Public Health 84(9):1486–1489

Kroenke K, Spitzer RL, Williams JB (2001) The PHQ-9: validity of a brief depression severity measure. J Gen Intern Med 16(9):606–613

Kroenke K, Spitzer RL, Williams JB, Lowe B (2010) The Patient Health Questionnaire Somatic, Anxiety, and Depressive Symptom Scales: a systematic review. Gen Hosp Psychiatry 32(4):345–359. doi:10.1016/j.genhosppsych.2010.03.006

Lee AM, Lam SK, Sze Mun Lau SM, Chong CS, Chui HW, Fong DY (2007) Prevalence, course, and risk factors for antenatal anxiety and depression. Obstet Gynecol 110(5):1102–1112. doi:10.1097/01.AOG.0000287065.59491.70

Lotrakul M, Sumrithe S, Saipanish R (2008) Reliability and validity of the Thai version of the PHQ-9. BMC Psychiatry 8:46. doi:10.1186/1471-244X-8-46

Lusskin SI, Pundiak TM, Habib SM (2007) Perinatal depression: hiding in plain sight. Can J Psychiatry 52(8):479–488

MacDorman MF (2011) Race and ethnic disparities in fetal mortality, preterm birth, and infant mortality in the United States: an overview. Semin Perinatol 35(4):200–208. doi:10.1053/j.semperi.2011.02.017

Marcus SM, Flynn HA, Blow FC, Barry KL (2003) Depressive symptoms among pregnant women screened in obstetrics settings. J Womens Health (Larchmt) 12(4):373–380. doi:10.1089/154099903765448880

Martin A, Rief W, Klaiberg A, Braehler E (2006) Validity of the Brief Patient Health Questionnaire Mood Scale (PHQ-9) in the general population. Gen Hosp Psychiatry 28(1):71–77. doi:10.1016/j.genhosppsych.2005.07.003

Melville JL, Gavin A, Guo Y, Fan MY, Katon WJ (2010) Depressive disorders during pregnancy: prevalence and risk factors in a large urban sample. Obstet Gynecol 116(5):1064–1070. doi:10.1097/AOG.0b013e3181f60b0a

Miller LJ (2002) Postpartum depression. JAMA 287(6):762–765

Monahan PO, Shacham E, Reece M, Kroenke K, Ong'or WO, Omollo O, Yebei VN, Ojwang C (2009) Validity/reliability of PHQ-9 and PHQ-2 depression scales among adults living with HIV/AIDS in western Kenya. J Gen Intern Med 24(2):189–197. doi:10.1007/s11606-008-0846-z

Murray DM, Cox JL (1990) Screening for depression during pregnancy with the Edinburgh Scale (EPDS). J Reprod Infant Psychol 8:99–107

Orr ST, James SA, Blackmore Prince C (2002) Maternal prenatal depressive symptoms and spontaneous preterm births among African-American women in Baltimore, Maryland. Am J Epidemiol 156(9):797–802

Preti A, Cardascia L, Zen T, Pellizzari P, Marchetti M, Favaretto G, Miotto P (2000) Obstetric complications in patients with depression—a population-based case-control study. J Affect Disord 61(1–2):101–106

Saenger P, Czernichow P, Hughes I, Reiter EO (2007) Small for gestational age: short stature and beyond. Endocr Rev 28(2):219–251. doi:10.1210/er.2006-0039

Scholle SH, Haskett RF, Hanusa BH, Pincus HA, Kupfer DJ (2003) Addressing depression in obstetrics/gynecology practice. Gen Hosp Psychiatry 25(2):83–90

Smith MV, Gotman N, Lin H, Yonkers KA (2010) Do the PHQ-8 and the PHQ-2 accurately screen for depressive disorders in a sample of pregnant women? Gen Hosp Psychiatry 32(5):544–548. doi:10.1016/j.genhosppsych.2010.04.011

Spitzer RL, Kroenke K, Williams JB (1999) Validation and utility of a self-report version of PRIME-MD: the PHQ primary care study. Primary Care Evaluation of Mental Disorders. Patient Health Questionnaire. JAMA 282(18):1737–1744

Steer RA, Scholl TO, Hediger ML, Fischer RL (1992) Self-reported depression and negative pregnancy outcomes. J Clin Epidemiol 45(10):1093–1099

Weobong B, Akpalu B, Doku V, Owusu-Agyei S, Hurt L, Kirkwood B, Prince M (2009) The comparative validity of screening scales for postnatal common mental disorder in Kintampo, Ghana. J Affect Disord 113(1–2):109–117. doi:10.1016/j.jad.2008.05.009

Wisner KL, Parry BL, Piontek CM (2002) Clinical practice. Postpartum depression. N Engl J Med 347(3):194–199. doi:10.1056/NEJMcp011542

Wittkampf KA, Naeije L, Schene AH, Huyser J, van Weert HC (2007) Diagnostic accuracy of the mood module of the Patient Health Questionnaire: a systematic review. Gen Hosp Psychiatry 29(5):388–395. doi:10.1016/j.genhosppsych.2007.06.004

Yeung A, Fung F, Yu SC, Vorono S, Ly M, Wu S, Fava M (2008) Validation of the Patient Health Questionnaire-9 for depression screening among Chinese Americans. Compr Psychiatry 49(2):211–217. doi:10.1016/j.comppsych.2006.06.002

Yonkers KA, Ramin SM, Rush AJ, Navarrete CA, Carmody T, March D, Heartwell SF, Leveno KJ (2001) Onset and persistence of postpartum depression in an inner-city maternal health clinic system. Am J Psychiatry 158(11):1856–1863
Acknowledgments
This research was funded by grant number R40MC07840 from the Department of Health and Human Services, Health Resources and Services Administration. The authors acknowledge Stacye Ballard for conducting the diagnostic interviews at study sites and Carol B. Peterson for providing SCID training to the research team. The Community University Health Care Center and NorthPoint Health and Wellness Center in Minneapolis and West Side Community Health Services East Side Family Clinic in St. Paul served as study sites.
Conflicts of interest
The authors have no financial conflicts of interest.
About this article
Cite this article
Sidebottom, A.C., Harrison, P.A., Godecker, A. et al. Validation of the Patient Health Questionnaire (PHQ)-9 for prenatal depression screening. Arch Womens Ment Health 15, 367–374 (2012). https://doi.org/10.1007/s00737-012-0295-x
Received:

Accepted:

Published:

Issue Date:
Keywords
Depression

Risk screening

Prenatal care

Healthy Start