Abstract
The absorption of dietary proteins affects the anabolic response, among others protein synthesis. For elderly, optimal amino acid absorption is warranted to preserve the amino acid pool of the body, especially skeletal muscle proteins. Therefore, the aim of this study was to characterize if hydrolyzing meat protein (HMP) would improve the amino acid absorption after ingestion of meat compared to equal amounts of the same meat proteins but present in a different structure; steak or minced meat. With a crossover study design on 12 healthy older adults (> 65 years of age, BMI 18.5–30), the amino acid absorption kinetics were explored by ingesting 0.55 g protein/kg LBM as a mixed meal together with intrinsically [2H5]phenylalanine labeled meat proteins prepared as a STEAK, MINCED meat, or HMP. Plasma [2H5]phenylalanine enrichment as well as AA concentrations were measured by mass spectrometry from blood samples drawn during a 5-h postprandial period. After HMP ingestion, [2H5]phenylalanine was faster absorbed in the initial 2 h compared to STEAK and MINCED. The peak time in AA concentrations was faster in HMP compared to STEAK and MINCED. However, the peak AA concentrations were not different between STEAK, MINCED, and HMP. Although HMP showed to have the fastest initial amino acid appearance in older adults, the peak EAA concentrations were similar after ingesting meal with either STEAK, MINCED, or HMP in the 5-h postprandial period.
Access options
Buy single article
Instant access to the full article PDF.
USD 39.95
Price excludes VAT (USA)
Tax calculation will be finalised during checkout.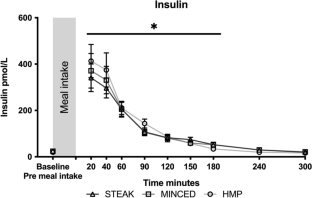 References
Baumgartner RN, Koehler KM, Gallagher D et al (1998) Epidemiology of sarcopenia among the elderly in New Mexico. Am J Epidemiol 147:755–763. https://doi.org/10.1186/1471-2318-7-5

Bax M-L, Buffière C, Hafnaoui N et al (2013) Effects of meat cooking, and of ingested amount, on protein digestion speed and entry of residual proteins into the colon: a study in minipigs. PLoS ONE 8:e61252. https://doi.org/10.1371/journal.pone.0061252

Bendtsen LQ, Thorning TK, Reitelseder S et al (2019) Human muscle protein synthesis rates after intake of hydrolyzed porcine-derived and cows' milk whey proteins-a randomized controlled trial. Nutrients 11:406. https://doi.org/10.3390/nu11050989

Bohé J, Low A, Wolfe RR, Rennie MJ (2003) Human muscle protein synthesis is modulated by extracellular, not intramuscular amino acid availability: a dose-response study. J Physiol 552:315–324. https://doi.org/10.1113/jphysiol.2003.050674

Boirie Y, Dangin M, Gachon P et al (1997) Slow and fast dietary proteins differently modulate postprandial protein accretion. Proc Natl Acad Sci 94:14930–14935. https://doi.org/10.1073/pnas.94.26.14930

Bornø A, van Hall G (2014) Quantitative amino acid profiling and stable isotopically labeled amino acid tracer enrichment used for in vivo human systemic and tissue kinetics measurements. J Chromatogr B Analyt Technol Biomed Life Sci 951–952:69–77. https://doi.org/10.1016/j.jchromb.2014.01.019

Buffière C, Gaudichon C, Hafnaoui N, et al (2017) In the elderly, meat protein assimilation from rare meat is lower than that from meat that is well done. Am J Clin Nutr Nov 106:1257–1266. https://doi.org/10.3945/ajcn.117.158113

Burd NA, Yang Y, Moore DR et al (2012) Greater stimulation of myofibrillar protein synthesis with ingestion of whey protein isolate v. micellar casein at rest and after resistance exercise in elderly men. Br J Nutr 108:958–962. https://doi.org/10.1017/S0007114511006271

Burd NA, Gorissen SH, van Vliet S et al (2015) Differences in postprandial protein handling after beef compared with milk ingestion during postexercise recovery: a randomized controlled trial. Am J Clin Nutr 102:828–836. https://doi.org/10.3945/ajcn.114.103184

Cruz-Jentoft AJ, Baeyens JP, Bauer JM et al (2010) Sarcopenia: European consensus on definition and diagnosis: report of the European working group on sarcopenia in older people. Age Ageing 39:412–423. https://doi.org/10.1093/ageing/afq034

Dangin M, Boirie Y, Garcia-Rodenas C et al (2001) The digestion rate of protein is an independent regulating factor of postprandial protein retention. Am J Physiol Endocrinol Metab 280:340–348

Deutz NEP, Bauer JM, Barazzoni R et al (2014) Protein intake and exercise for optimal muscle function with aging: recommendations from the ESPEN Expert Group. Clin Nutr 33:929–936. https://doi.org/10.1016/j.clnu.2014.04.007

Fielding RA, Vellas B, Evans WJ et al (2011) Sarcopenia: an undiagnosed condition in older adults. current consensus definition: prevalence, etiology, and consequences. International working group on sarcopenia. J Am Med Dir Assoc 12:249–256. https://doi.org/10.1016/j.jamda.2011.01.003

Gwin JA, Church DD, Wolfe RR et al (2020) Muscle protein synthesis and whole-body protein turnover responses to ingesting essential amino acids, intact protein, and protein-containing mixed meals with considerations for energy deficit. Nutrients 12:1–15. https://doi.org/10.3390/nu12082457

He T, Giuseppin MLF (2014) Slow and fast dietary proteins differentially modulate postprandial metabolism. Int J Food Sci Nutr 65:386–390. https://doi.org/10.3109/09637486.2013.866639

Holm L, Dideriksen K, Nielsen RH et al (2019) An exploration of the methods to determine the protein-specific synthesis and breakdown rates in vivo in humans. Physiol Rep 7:1–14. https://doi.org/10.14814/phy2.14143

Houston DK, Nicklas BJ, Ding J et al (2008) Dietary protein intake is associated with lean mass change in older, community-dwelling adults: the health, aging, and body composition (Health ABC) Study. Am J Clin Nutr 87:150–155. https://doi.org/10.1093/ajcn/87.1.150

Janssen I, Heymsfield SB, Wang ZM, Ross R (2000) Skeletal muscle mass and distribution in 468 men and women aged 18–88 yr. J Appl Physiol 89:81–88. https://doi.org/10.1152/jappl.2000.89.1.81

Morley JE, Abbatecola AM, Argiles JM et al (2011) Sarcopenia with limited mobility: an international consensus. J Am Med Dir Assoc 12:403–409. https://doi.org/10.1016/j.jamda.2011.04.014

Nordic Council of Ministers (2008) Nordic nutrition recommendations 2012. Nord Nutr Recomm 2012(5):1–3. https://doi.org/10.6027/Nord2014-002

Pedersen AN, Cederholm T (2014) Health effects of protein intake in healthy elderly populations: a systematic literature review. Food Nutr Res 58:1–39. https://doi.org/10.3402/fnr.v58.23364

Pennings B, Boirie Y, Senden JMG et al (2011a) Whey protein stimulates postprandial muscle protein accretion more effectively than do casein and casein hydrolysate in older men. Am J Clin Nutr 93:997–1005. https://doi.org/10.3945/ajcn.110.008102

Pennings B, Pellikaan WF, Senden JMG et al (2011b) The production of intrinsically labeled milk and meat protein is feasible and provides functional tools for human nutrition research. J Dairy Sci 94:4366–4373. https://doi.org/10.3168/jds.2011-4451

Pennings B, Groen BBL, van Dijk J-W et al (2013) Minced beef is more rapidly digested and absorbed than beef steak, resulting in greater postprandial protein retention in older men. Am J Clin Nutr 98:121–128. https://doi.org/10.3945/ajcn.112.051201

Reitelseder S, Agergaard J, Doessing S et al (2011) Whey and casein labeled with L-[1-13C]leucine and muscle protein synthesis: effect of resistance exercise and protein ingestion. Am J Physiol Endocrinol Metab 300:E231–E242. https://doi.org/10.1152/ajpendo.00513.2010

Reitelseder S, Tranberg B, Agergaard J et al (2020) Phenylalanine stable isotope tracer labeling of cow milk and meat and human experimental applications to study dietary protein-derived amino acid availability. Clin Nutr 39:3652–3662. https://doi.org/10.1016/j.clnu.2020.03.017

Rosenberg IH (1997) Sarcopenia: origins and clinical relevance. J Nutr 127:990S–991S
Acknowledgements
Thanks to the subjects volunteering for the study, and thanks to Pia Søderberg and Maria Bækgaard Kjær for administrative work on the project.
Funding
The Danish Innovation Fund and Danish Crown Ingredients A/S have funded the project.
Ethics declarations
Conflict of interest
At the time of the experiments, JA and EH were employed at the Danish Crown Ingredients A/S.
Informed consent
This research involved human participants, who were carefully informed of the procedures, risks, benefits of the study and that data would be published. The participants signed an informed consent approved by the Research Ethics Committee Region Hovedstaden (H-17021471, September 12, 2017) before participation.
Additional information
Handling editor: G. Wu.
Publisher's Note
Springer Nature remains neutral with regard to jurisdictional claims in published maps and institutional affiliations.
Supplementary Information
Below is the link to the electronic supplementary material.
About this article
Cite this article
Agergaard, J., Hansen, E.T., van Hall, G. et al. Postprandial amino acid availability after intake of intact or hydrolyzed meat protein in a mixed meal in healthy elderly subjects: a randomized, single blind crossover trial. Amino Acids 53, 951–959 (2021). https://doi.org/10.1007/s00726-021-03000-z
Received:

Accepted:

Published:

Issue Date:

DOI: https://doi.org/10.1007/s00726-021-03000-z
Keywords