Abstract
Protected 4-carboxyoxazolidines and thiazolidines (pseudoprolines) are derivatives of serine, threonine or cysteine amino acids. Such compounds are used in peptide synthesis among the other protected amino acids. They are usually practiced when a peptide sequence is readily aggregating during synthesis due to their ability to disrupt secondary structure formation. Such compounds are usually applied as dipeptides. In present work Fmoc-protected pseudoprolines were synthesized and applied in peptide synthesis not as dipeptides but as individual amino acids. Different acylation protocols and amino acids were tested to acylate pseudoprolines. Several "difficult" peptides were synthesized to confirm the efficacy of such constructions. It was shown that pseudoprolines could be easily synthesized and used in automated or manual synthesis not as dipeptides but as ordinary amino acids.
Access options
Buy single article
Instant access to the full article PDF.
US$ 39.95
Tax calculation will be finalised during checkout.
Subscribe to journal
Immediate online access to all issues from 2019. Subscription will auto renew annually.
US$ 119
Tax calculation will be finalised during checkout.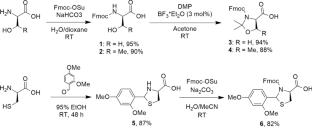 Abbreviations
BOP:

(Benzotriazol–1–yloxy)tris(dimethylamino)phosphonium hexafluorophosphate

DCM:

Dichloromethane

DIC:

N,N′-Diisopropylcarbodiimide

DIPEA:

N,N-Diisopropylethylamine

DMP:

2,2-Dimethoxypropane

DMF:

N,N-Dimethylformamide

EA:

Ethyl acetate

Fmoc:

Fluorenylmethoxycarbonyl

HATU:

1–[Bis(dimethylamino)methylene]–1H–1,2,3–triazolo[4,5–b]pyridinium 3–oxide hexafluorophosphate

HOAt:

1–Hydroxy–7–azabenzotriazole

HOBt:

1-Hydroxybenzotriazole

MTBE:

Methyl tert-butyl ether

NMP:

N-Methylpyrrolidone

PE:

Petroleum ether

PIP:

4-Methylpiperidine

PPTS:

P-toluenesulfonic acid

PTSA:

Pyridinium p-toluenesulfonate

SA:

Symmetrical anhydride

SPPS:

Solid phase peptide synthesis

TFA:

Trifluoroacetic acid

TFFH:

Fluoro–N,N,N′,N′–tetramethylformamidinium hexafluorophosphate

THF:

Tetrahydrofurane
Ethics declarations
Conflict of interest
The authors declare no conflict of interest.
Ethical standards
The study did not involve research with humans, animals or biological samples. Informed consent was not required.
Additional information
Publisher's Note
Springer Nature remains neutral with regard to jurisdictional claims in published maps and institutional affiliations.
Handling Editor: F. Albericio .
Supplementary Information
Below is the link to the electronic supplementary material.
About this article
Cite this article
Senko, D.A., Timofeev, N.D., Kasheverov, I.E. et al. Scope and limitations of pseudoprolines as individual amino acids in peptide synthesis. Amino Acids 53, 665–671 (2021). https://doi.org/10.1007/s00726-021-02973-1
Received:

Accepted:

Published:

Issue Date:
Keywords
Peptides

Solid-phase synthesis

Aggregation

Difficult sequences

Pseudoprolines